True enough, equipment and skill play a role in ensuring our golf play which is why knowing how Can golf shoes affect your swing is a common question asked in the golf community.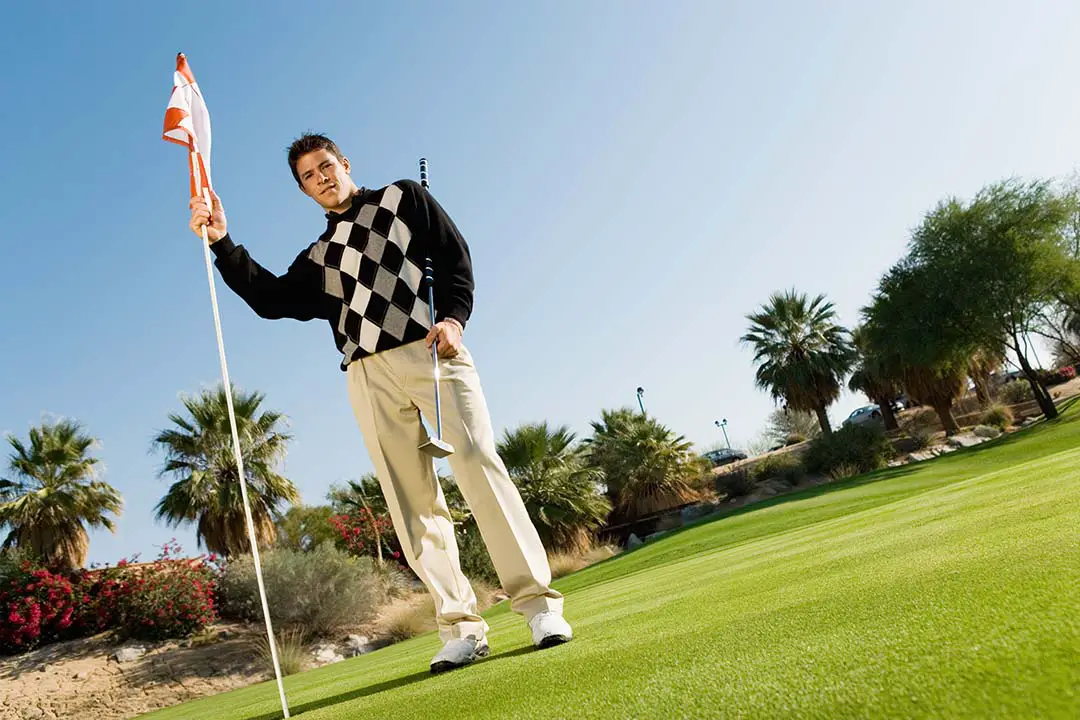 Can Golf Shoes Affect Your Swing
Some say it does, while others firmly believe that it's all about strategy and grip. Regardless, it is safe to say that either has its own pros and cons we can learn more about.
A lot of golf players and critics argue that golf shoes are merely for fashion instead of a performance booster.
However, some experts believe that finding the right shoes can actually calibrate or enhance the experience.
With this, let's begin to break it down!
Do Golf Courses Require Golf Shoes
Although the usage of golf shoes usually differ from player to player, in the actual golf course, it is not a requirement.
New golf players often get worried about the lack of budget for golf shoes.
However, this should not be a problem because it is allowed to wear running shoes or plain rubber shoes.
Just be cautious because community-wise, using sneakers in a golf course can be deemed improper by some.
Golf Shoes Versus Other Sports Footwear
Since a lot of sports enthusiasts wonder whether or not golf shoes are worth the price, it is important to tackle its purpose.
While many try to discover in which ways can golf shoes affect your swing, defining the anatomy of a golf shoe could be a good way to start in helping interested buyers make a well-informed decision.
There are three basic areas of golf shoe mainly the front, side, and bottom.
While many ask how can golf shoes affect your swing, rarely do people ask about what features of a golf shoe create an effect on one's performance.
Beyond style, it's important to understand its functionality, its ergonomics, and its usability once you're in the playing field.
Top Side
A golf shoe's top or front area is mainly composed of the lining, eyelets, eye stays, lacing, toe cover, upper, and heel panel, which all give structure and foundation to the golf shoe. But one unique portion of this unique area is the heel stabilizer which helps balance the heel of a golf shoe that not all shoes have.

Middle (Inner) Side
In the middle (inner) area, we have the collar, tongue, the insole, the midsole, the last, and the heel counter, which all enable the shoe to become sturdy and comfortable for the person's foot inside out.

Bottom (Sole) Side
Lastly, we have the bottom part where most people see spikes. However, what exactly are those spikes for? At the sole area of your golf shoe, there is an outsole and what we call the spikes or lungs. These durable pieces of a shoe more or less can be considered the highlight of a golf shoe that you cannot really find in other athletic shoes.
Since people are curious, it is important to understand the proper aspects of how can golf shoes affect your swing, all thanks to these parts of a golf shoe.
With the spikes and lungs present, it creates an effect on the ability of the player to balance on uneven surfaces, of course in positive and negative ways, depending on the shoe's individual features.
In extracting external and performance-related information on how can golf shoes affect your swing, we can know if it does affect one's swing.
However, it still depends if the effect is leaning towards something negative or something positive.
While we can say that it has an effect, the real question lies on its advantages and disadvantages. Is it a better choice? Do golf shoes help swing?
Or does it just cause more harm than good for golf players?
Do Golf Shoes Help Swing
Before purchasing, it's important to assess both sides. Again, in what ways can golf shoes affect your swing? In reality, do golf shoes help swing?
Using golf shoes while playing helps the player stabilize oneself when swinging.
Do golf shoes help swing? It allows the feet to stay intact instead of being wobbly, and the structure of the golf shoes itself was designed to regulate the distribution of force from your body weight to the ankles.
It boasts one's swinging power and creates proper placement of posture so you can have improved control of your body.
Can golf shoes affect your swing? Definitely.
Because of the spikes present, it helps players move more comfortably along wet terrains that can strongly boost your foot support.
More than just knowing how can golf shoes affect your swing, it can also be helpful in what other ways can golf shoes help you out as a golf player!
One unknown fact about golf shoes is that it is also designed to regulate foot sweat and moisture, alleviating the risk of having any foot odor or complications.
Since most recommended golf shoes are spiked, it would only be beneficial to use when you're on grass.
However, once you're done with the game and you have to travel back to your vehicle, it is highly discouraged to use your golf shoes on concrete.
This can damage them, which is why it is important to always have extra shoes on the go – which we all know can be a bit of a burden to some players.
Golf shoes can cause up to $300 and even then, there can be a possibility that you're not yet a star player.
It can be a little rough on one's budget if you aren't willing to go all out in maximizing its usability and end up just using it once or twice.
Again, it is not a requirement.
Some excellent golf players didn't start with golf shoes but were still able to perform well. One common argument is that it's only a fashion statement rather than a performance driver.
While we continue to ask how do golf shoes help swing, it does not ensure one's improvement since it's a combination of many factors.
If you have the wrong size, it might even sabotage your games just more.
Recommended Option
With everything said, let us ask ourselves once again: can golf shoes affect your swing? Yes.
Whether it is on a positive or negative note, it can do wonders or horrors for golf players.
But upon asking in which ways do golf shoes help swing, we have discovered that it has many factors to enhance such as stability, stance, support, and even sweat.
As we build our athletic careers in whichever field we are interested in, it is always important to assess the various pros and cons of each additional equipment.
Sports gears and equipment are no joke, but we can always find ways to make it worth the investment and not just an impulse buy.
Although having golf shoes is not a requirement in most golf courses, it is somewhat recommended to help in additional factors contributing to player performance.
However, let us also not fully depend on the shoes itself because factors such as practice, posture, and discipline are also other key factors that can help you turn into the star player you have always dreamed to be.