Generally, golf bag prices vary based on their brand and type, the golf bag you use may be one of the most significant factors in making your life on the course easier.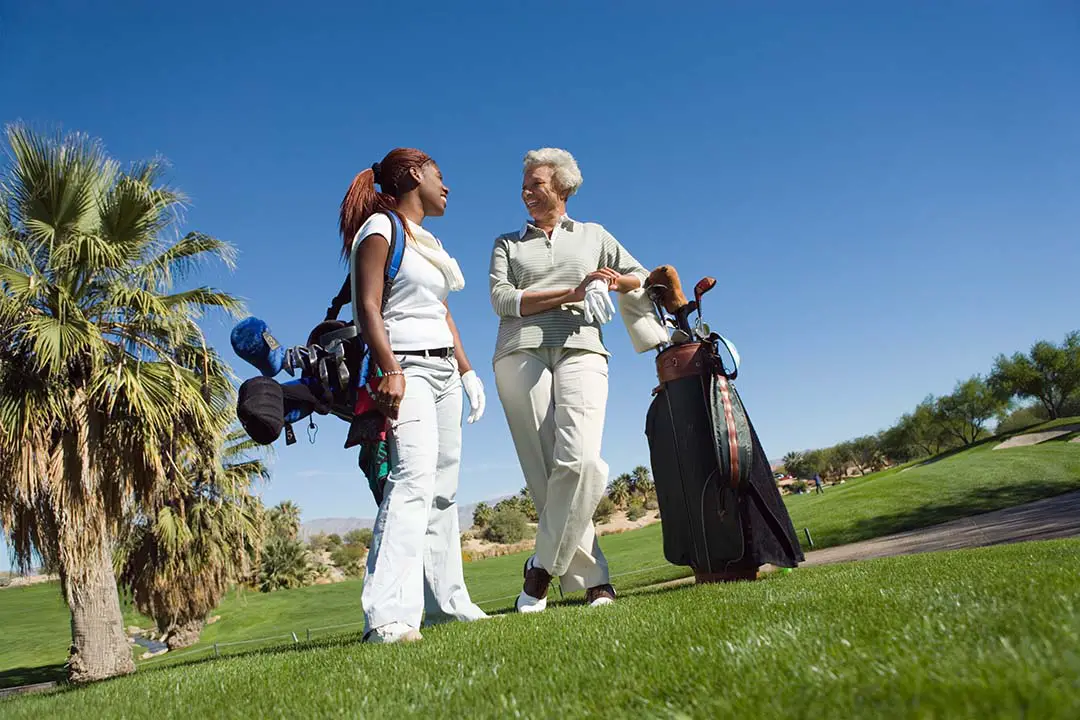 The right golf bag can help improve your game as it allows you to act quicker and concentrate on your game.
Golf Bag Prices – A Definitive Guideline
Before knowing the golf bags prices, it is essential to learn the different types of clubs first. Whether you are a beginner or seasoned pro, golf bags are necessary when you're on the course.
Aside from keeping your valuable golf clubs, it allows you to move around the course comfortably.
Before asking golf bags prices, you need to decide which type of golf bags you are going to buy. In this section, we'll list down the types of golf bags that you can choose from.
After that, you'll get to take a better look at golf bags prices to determine which type suits your needs.
How Much Do Golf Bags Cost & Types of Golf Bags
How much do golf bags cost largely depends on its brand and style? Generally, the most affordable for beginners are carry bags, and the most expensive are tour bags.
Then how much are golf bags of other types? Golf bag prices of other styles would usually play around the same range. How much do golf bags cost?
Here is a guide on golf bag prices that features the top brands in the market. It will help you get a vision on which one to purchase according to your budget and taste.
Carry Bags
Carry bags are lightest in weight among the types of golf bags.
It is usually structure-less; hence it is easiest to carry around. Carry bags are designed for beginners or casual golfers. It usually has shoulder straps to make it easy to move around the golf course.
I always suggest carry bags for golfers who prefer walking around the golf course. These bags are great for playing a quick round in the morning.
It also works best if you are going to a far golf course, but don't have enough storage.
How much do golf bags cost with this type of golf bag? Usually, carry bags are the cheapest among all golf bags. That's why how much are golf bags of this type are best for beginners.
However, you can also find expensive high-end carry bags, which seasoned players use.
Proactive Sports Sunday Golf Bag
This carry bag is made of polyester perfect for morning or afternoon light game of golf. It is super compact that allows users to fold it and keep it when you are not using it.
It has two zippered pockets and one large mesh pocket, so you'll have plenty of space for your accessories.

This model is lightweight, but it's super durable.

It is the most affordable among the golf bag prices on the list.


Ranger Carry Sunday Range Bag
It is made with ultra-durable 1680D denier nylon and has a one towel ring and three zippered pockets.
The top is protected by a padded top to ensure the safety of your golf club and accessories.

You can fit 7-9 golf clubs with its 5-inch rigid tube design.

It is a multi-functional bag that is perfect for course, range, and even for traveling.

The bag is covered by a one year warranty, which is only available for damage caused by an airline.


Titleist Lightweight Carry Bag
The Titleist Lightweight Carry Bag focuses on the essential need of a golfer. This bag offers the lightest option for golfers to play on the courses or ranges.
It has a dual strap that allows you to carry the bag with ease.

It has a 2-way top and four pockets for your golf clubs and golf accessories.

The Ping's MoonLite carry bag weighs at 2.5 pounds the lightest bag Ping can offer.
It has a 4-way top that can fit up to 14 clubs and 5pockets for your balls, accessories, and a water bottle.

It also has a water-resistant feature that provides extra protection and a convertible carry strap that makes it easier to carry around.

Sun Mountain 2018 Leather Collection
This carry bag is made from premium yak leather with an opening of 9-inch in circumference made with leather to protect golf club shafts.
It has four full-length dividers that will prevent your clubs from tangling.

The bag has a three pocket that includes a velour-lined pouch that protects your valuables.

It has an adjustable shoulder strap that will let you carry your bag with comfort.

Stand Bags
Stand bags are the most versatile types of golf bags.
While it is also lightweight, it is significantly heavier than a carry bag. These bags have retractable legs, so you can stand your bag and take out/put away your clubs with ease.
This bag is also great for golfers who prefer walking on the golf course.
When choosing a stand bag, it's imperative to check the stability of the stand before asking the golf bags prices in this quality. The quality of the stand varies in different golf bag brands.
It is essential to know which type of stand may be prone to falling over the wind. How much do golf bags cost for stand bags?
Or how much are golf bags of good quality cost for stand bags? It usually ranges around $100 to $400 depending on the brand and the features of the bag.
Titleist Players 4 Stand Bag
Titleist Players 4 Stand Bag has a four-way top and six pockets including a pocket dedicated for water bottle and range finder.
The stand is made of high-quality aluminum and advanced hinged bottom for the best stability. It's lightweight, only 3.8 pounds.

The bag has a 2-layer foam for lasting comfort and self-balancing, convertible strap.


Ogio Shadow Fuse 304 Stand Bag
The Ogio Shadow Fuse 304 main focus is to give the golfers the lightest and most comfortable bag for walking.
It is engineered with a Fit-Disc system, and a strap that has a better weight distribution and balance. The strap can be easily
adjusted to fit any golfer.

The bag is made out of 200D polyester rip-stop fabric, which prevents the bag from wearing.

It has a four-way club compartment and five zippered pockets for your accessories and valuables.


TaylorMade FlexTech Stand Bag
The TaylorMade FlexTech has a five-way top and 11 pockets for your golf clubs and valuables.
It has a micro-suede lining and water-resist to protect your valuables.

The TaylorMade FlexTech Stand Bag uses a FlexTech stand system that allows you to prop your bag easily and take out your club with ease.

The bag only weighs 4.5 pounds but has enough room to carry your must-haves on playing golf.


Ping Hoofer 14 Stand Bag
If you like an organized golf bag, Ping Hoofer 14 might be the best bag for you.
Boasting its 14-way top, you can put your clubs separately in each section.

It has 11 pockets where you can place all your valuables belongings. It has a SensorCool technology on the shoulder pad for a comfortable and relaxing walk.


Callaway Epic Flash Staff Double Strap Stand Bag
If you want to have a bag just like the one that professionals use, the Callaway Epic Flash Stand Bag is the one for you.
The Callaway Epic Flash Staff Double Strap Stand Bag looks just like a carry bag and has the same features, but it has a stand.

The bag has a four-way top and seven pockets for your golf clubs and accessories, including a soft velvet for your valuables.

Cart Bags
The base of cart bags is made to attach to a golf cart.
Cart bags are larger than stand bags and consist of pockets that provide a large amount of storage. This type of golf bag is the go-to bag of competitive golfers, including professionals.
With a design aimed towards experienced golfers, cart bags are bigger in size but fit rights onto a trolley. It also has a good price on the typical range of golf bags prices
Many younger golfers are realizing the benefits of having a cart bag. With golf bag prices that are affordable even for beginners, it is a good investment in the long run.
The pockets on a cart bag are made forward-facing, wherein the zippers are all accessible when you strap the bag into a cart. It often has a full-length club divider that keeps clubs organized and eases access.
How much are golf bags for cart bag styles? Similar to carry bags, the golf bags prices of cart bags make it a top choice for beginners.
Each club slot for the 14-way divider system has a protective rubberized surface that will keep your clubs from damage.
It is equipped with a large storage capacity of nine zippered pockets and two mesh pockets.

It includes features like an insulated cooler pocket, two expandable pockets for bulky gears, and two side velour-lined pockets for
valuables.


Bag Boy Golf Chiller Cart Bag
Bag Boy Golf Chiller Cart Bag boasts its 15-way top with full-length individual divider.
It has nine total pockets with an additional two large side storage.

It has an oversized ball pocket, a removable insulated cooler, and a fleece-lined valuables pocket.

Sun Mountain C-130 Cart Bag
The C-130, Sun Mountain's best-selling cart bag works best on a cart. The features were engineered with cart use in mind.
14-way club divider, including a dedicated compartment for the putter.

Full-length divider to ensure the safety of the clubs.

14 pockets, including a cooler pocket, two full-length apparel pockets, two velour-lined pockets, one of which is water-resistant.

Ping Golf Men's Pioneer Cart Bag
The Ping Pioneer Cart Bag is a cost-effective cart bag that you can utilize for a great game around the course.
It has a 15-way divider and a dedicated putter slot.

The 14 pockets include a magnetic drop-down ball pocket, cooler pocket for beverages, and range-finder pocket.

You can access every pocket because it has a cart-strap pass-thru.

Callaway Golf 2020 ORG 14 Cart Bag
The Org 14 is Callaway's top-selling cart bag. How much are golf clubs of this quality? It costs $259.99, which is a good steal for a high-quality golf bag.
Easy to organize and has plentiful storage because it has a 14-way top with full-length dividers and 11 pockets.

Separate full-length divider for the putter with TPE insert for shaft protection.

Travel Bags
Travel bags are made for golfers who enjoy traveling across the country or abroad to play golf.
These bags have designs that make it easy to carry and can protect golf club sets for golfers who continuously travel. These types of golf bags have cost-effective golf bags prices as it effectively keeps clubs safe from damages.
For this type of club, you can choose between a hard or soft travel bag.
The hard case golf bag is solid and much heavier than other travel bags. It will ensure the protection of your golf club set.

The soft travel bag has thick padding and lightweight but is still useful in protecting your golf clubs.
Quality Counts The Most
How much are golf bags?
If you are going to ask golfers for their estimate of golf bag prices, their answer will vary depending on their level.
Evaluate how you act around the course and what kind of golfer you are.
Some golfers want to walk on the course, and some like having a convenient cart, while others prefer the service of a caddy.
However, most players will probably suggest a strong and sturdy bag that is comfortable to carry and transport.
Remember, quality is the most important thing when it comes to your golf gear more than expensive golf bag prices.
Last Updated on March 2, 2023 by Paul Roger Steinberg