There is a wide range of choices in the market when it comes to golf bags accessories and that is why knowing the essentials and must-haves will help you choose the right ones for you.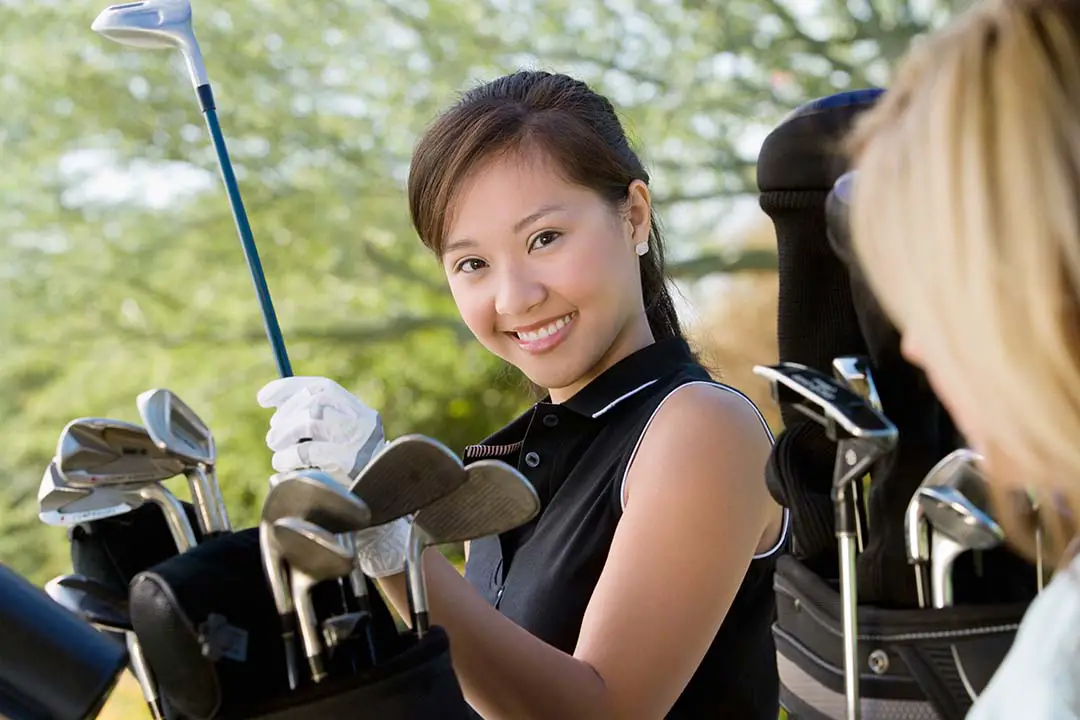 Aside from golf clubs, there are other essential things that golfers need during their play.
Most of these are the things you usually need when you are on the course.
What Golf Bags Accessories Do I Need?
Golf bags accessories are additional equipment that golfers use.
These will keep them prepared for different situations and weather conditions. It is true that having the right and complete equipment will give you an edge over your opponents.
Golf bags accessories are commonly used as support for your clubs. However, there are also golf bags and accessories that will enhance and improve your golfing experience.
With many golf bags and accessories available in shops, it is possible to just choose anything that you think you need.
By doing so, you will carry golf bags and accessories cramped up with various materials that you won't usually use.
Although it is good that you have many accessories since you might use it in the future, however, it is also good to not overdo it.
This will lighten the weight of your bag and save you some money as well!
Best Golf Bags Accessories
With the different innovations in golf, different golf bags accessories are now available in the market. These are accessories that you can use to keep your equipment on top and clean.
Here are some of the best golf bags accessories that you can purchase online or physically in stores.
Golf club brushes are commonly used by golfers. It is made of wire bristles to quickly clean your irons. It also has a sharp pick to remove dirt in the grooves.
For more efficient use, you can attach this brush in your golf bag since it has a keychain clip.
Golf Club Groove Sharpener
A club groove sharpener is a tool used to clean wedges and irons. This is suitable for those with U and V-grooves. This tool looks like a pen so you can easily bring it on the course.
Some golfers want to record their play so they can see how they generate pitches as well as their stances.
For this, cellphone holders are also considered as one of the golf bags accessories that are very useful.
It has a long rod that you can stick on the ground the holder is placed on top.
Slic Sticks are used for as an anti-slice or anti-hook compounds for golf clubs. By using this product, it can increase the distance reached and reduces adverse spin.
During your game, you will have your own scorecard. For those who wish to have their proper holder, you can use this material.
It is a good gift to give on your friend golfers since it has a pencil and scorecard holder that is made of leather.
It is portable and fits in your pocket like a small notebook.
Golf Bag Necesessities for Beginners
For beginner golfers, you might be stressed out on what golf bags accessories should you carry or bring on the course.
For a stress-free experience,  here is a simple guide on what are the golf bags accessories for beginner golfers.
Golf clubs are the most obvious equipment that you can add to your golf bags and accessories. You can check for golf clubs suitable for beginners in golf shops.
Beginner golfers may have a hard time carrying their golf bags and accessories around the course.
The recommended pushcart that you can buy is the one with three wheels because it is easier to push.
Pulling your golf bags and accessories from behind because it might cause pain on your shoulder and lower back.
You need to bring your own golf balls. For most golf courses, you can rent golf clubs and shoes but you need to purchase your own golf balls.
Towels are one of the most essential golf bags accessories because you will surely need it during your play. You can bring a minimum of two towels especially if it is a sunny day.
Golf tees are made of either plastic or wood.
You will use these to get the ball sitting perfectly above the ground so you can create a better shot. Make sure to bring a lot because you might break some along the way.
Adding silver coins to your golf bags and accessories will be useful during your game. Silver coins are used to mark your golf ball.
It is not advisable to use copper coins because it's hard to find it on the grass.
Golf Bag and Cart Accessories
Adding some tools to your golf bags will surely step up your golf bag equipment. This is similar to modifying your car and adding new features such as spoilers.
If you are looking for some golf bag equipment accessories,
With Clicgear Umbrella Angle Adjuster, you will have fewer worries about the weather condition. This innovative accessory can be added to your golf bag equipment.
It enables you to rotate the umbrella to better cover yourself and your golf clubs.
With this tool, you will get an additional 3" in the height that will provide a better canopy-like effect.
This Clicgear Cart Seat is perfect for break times. This allows you to sit down and relax for a bit if you are getting tired in your game.
It has a stable and secure seating experience with a high-quality finish as well. This tool cannot be added to your golf bag equipment but you can add it to your pushcart.
If you are bringing liquids on the course, you might want to consider installing a cup holder to your pushcart. This is an oversized holder that's designed for large water bottles and cups.
With the Bag Boy TriSwivel Carry Bag, you can maintain the cleanliness and freshness of your cart and trunk.
This is made with nylon that is durable and can ensure that the dirt can't get in or out.
This Clicgear GPS Holder can be installed on your umbrella mount. You can also use this as a cellphone holder so you won't have to carry it all the time.
For its structure, the mount is located on the left side of the handle so you can still push the cart.
The MGI Zip Rear Wheel Covers aims to keep your golf bag equipment clean. It has a snugly fitting over the rear wheels to keep its moisture despite moving it from time to time.
The Maxfli Rain Hood is a lightweight material that serves as a protective gear for your golf club equipment.
Easy to set up and attach so you won't have a hard time installing it, especially during rainy days.
The Maxfli Valuables Pouch is commonly used by golfers as well. It is made from heavy-duty nylon material with individual compartments.
You can use this additional space for your valuables such as wallets, phones, keys, jewelry, etc.
Latest Golf Bag Accessories
Given the technological innovations, golf bag accessories also improved through time.
Although it is not required to have the latest accessories, you can still check its new functions that might be useful for you.
Having the latest equipment may enhance your performance that is why knowing the latest accessories can somehow give you an edge over your competitors.
To help you with that, here are the latest golf bag accessories.
Gloves are helpful in having a stronger and firmer grip. With FootJoy Rain Grip, you can now achieve that firm grip regardless of the weather.
This tool provides a leather-like feel and is useful during rainy or sunny weather conditions.
If you want to generate a good shot supported by numbers and calculations, this tool might be the one for you.
The Bushnell Phantom provides you the front, middle, back, and up to four hazard yards per holes. You can also use this tool in measuring drives or approaches.
The Bushnell Pro XE is one of the best innovations in golf. This tool can measure yardage while taking other factors into consideration
Such factors are temperature, altitude, and slope so you can increase the accuracy of your shots.
With the Garmin Approach G30 GPS, you will get a complete package of GPS functions similar to the leading GPS devices.
What's good with this is that it's a pocket-sized unit that you can easily include in your golf accessories.
Groove Caddy Club Cleaner
Many golfers like to maintain their clubs after they play.
With the Groove Caddy Club Cleaner, you will have an electric device that can clean your clubs quickly. This cleaning tool will definitely make your life easier!
GAME GOLF LIVE Digital Tracking System
This tracking system allows you to connect your game just by installing tags on your grips. With this, you can track your shots in real-time via Bluetooth.
You can connect this tool to your smartphone or smartwatch. Since it is modern technology, expect that the price is expensive as well but it is considered as a good investment.
Brand Fusion Tour Alignment Sticks
These Brand Fusion Tour Alignment Sticks are golf accessories that are intended for alignment drills.
This tool will help you do the perfect position that can improve your performance. It comes in packs with 2 highly visible sticks inside.
The GolfBuddy Aim W10 is an accessory that golfers wear that provides specific measurements.
AIM stands for Accurate, Innovative, and Measurable. With this tool, you can easily pinpoint your current position and the device will provide you accurate yardages.
PuttOUT Mirror trainer with Gate
The PuttOUT Mirror Trainer with Gate is commonly used by golfers who wish to practice outside the course. You can use this at home and still get that visual feel of the golf course.
Best Carry Golf Bags
Aside from finding accessories, you might want to look at different golf bags as well.
For golfers, having a lightweight and practical bags are helpful because it conserves their energy. To help you not get exhausted walking around the course with a heavy golf bag,
Callaway Hyper-Lite Zero Stand Bag
The Callaway 2017 Hyper-Lite Zero Stand Bag is one of the easy-to-carry walking bags. The stand bag only weighs 2.4 pounds and has a comfort-tech system and soft mesh hip pad.
For the stands, the material is made from carbon fiber to ensure that the legs are strong and durable.
Pros: It is comfortable to hold and carry, has a full-size drink compartment, and contains a 4-way top with 2 full-length dividers.

Cons: It has no separate spots for your driver and putter. It is also a smaller bag compared to other bags so there is not enough space for many clubs.


Ping Golf Hooper Bag
This Ping Golf Hooper Bag also comes in with its lightweight structure and functionality.
This bag is ideal for both course walkers and cart riders. The bag weighs 5 pounds and has 12 pockets but is still not bulky in appearance. You can use these pockets for your valuables, beverages, and other accessories.
Pros: It contains 12 pockets that are water-resistant, has built-in moisture-wicking shoulder pads, and contains a 5-way top with 2-full length dividers.

Cons: This bag is the older version of Ping Hoofer Bag and some users said that the legs were not as durable compared to other bags.


TaylorMade Flextech Crossover Stand Bag
The Taylormade 2017 Flextech Crossover Stand Bag is also one of the ideal bags for both walkers and riders. It weighs around 5.5 pounds and has a total of 10 pockets.
What's good with this is that it has a large insulated beverage pocket and the rest are also water-resistant. It also includes special accessories such as a pen sleeve, umbrella holder, and a rain hood.
Pros: This bag is installed with many pockets for different materials. It also has a double-strap carrying system and is built with a 14-way top with full-length dividers.

Cons: Since TaylorMade is one of the leading brands, this product is expensive compared to other bags. Stands legs were not very strong and durable according to some users.


Cobra Golf 2019 Ultralight Stand Bag
If you want a more budget-friendly stand bag, the Cobra Golf 2019 Ultralight Stand Bag caters to the price and quality functions.
It weighs around 4.5 pounds and has a total of eight pockets which gives you enough storage for other accessories. All of the pockets are water-resistant, and also has an insulated beverage pocket.
Pros: It contains a 5-way top with full-length dividers and has a dual strap carry system. Having a dual strap carry system makes it easier to carry and comfortable to use. This prevents you from having shoulder and back pains.

Cons: Several users stated that the legs are not very durable and they have trouble getting the clubs our of the 5-way top.

Accessories Spark Golf Experience
One of the golfers' best friends is their golf equipment especially their golf bags. It is where they store their clubs and other accessories that they will need during their play.
Given the wide range of choices available in the market, finding and purchasing the right one for you tend to be difficult.
If you are a beginner golfer, you can consult from other golfers about the accessories that you should buy. They'll be able to give you useful insights based on their experiences.
You can also read through product reviews to know more about the effectiveness of the product.
I believe that functionality and the level of user-friendliness are the most important points to look for in a product.
The bag should be light enough for you to carry and it should be comfortable as well.
Also, I believe that the accessories should cater to your daily needs such as the cup holder and umbrella holder.
These are the things that you would most likely need so it is better to invest in those things first.
However, with all the latest innovations when it comes to golf accessories, it is understandable that the price is expensive.
I believe that it's also okay to not have the new ones as long as you are using the right tools for your play.
Just bring the essentials and you are good to go!
Last Updated on March 2, 2023 by Paul Roger Steinberg