Starters usually dwell on the questions, "How much does a good set of beginner golf clubs cost?" or "What is a great beginner golf club set?"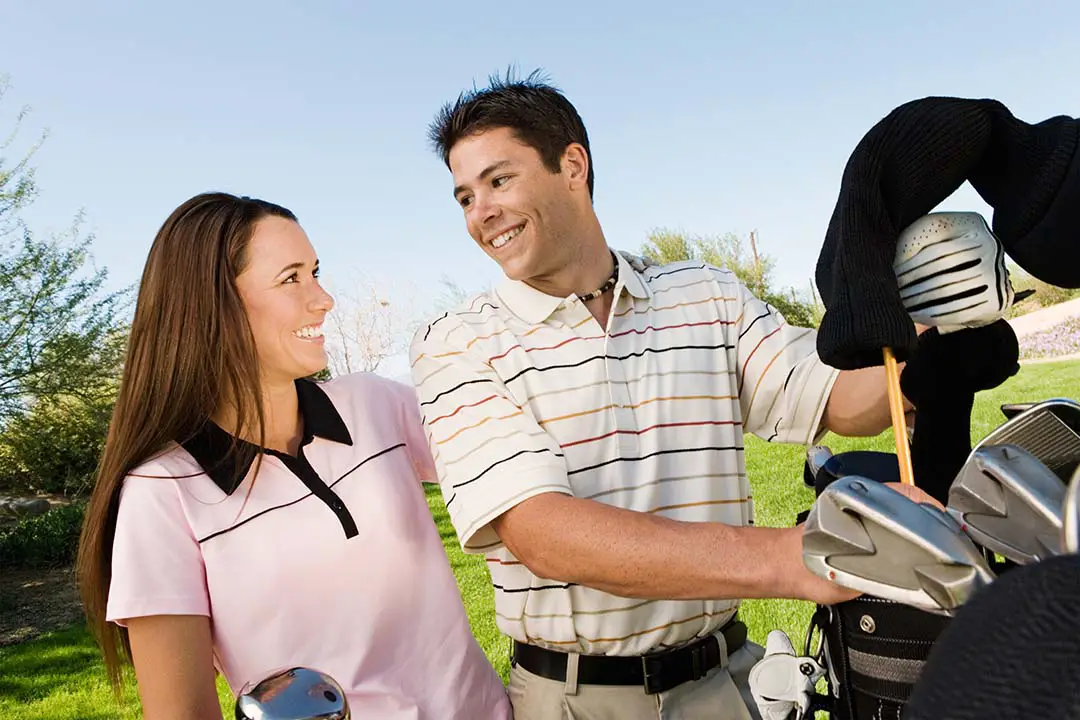 Golf is one of those sports that requires a wide array of equipment. Take note that you need to own a set of golf clubs, balls, and tees in order to play, and it's not going to be cheap.
This is why beginner golfers usually borrow or rent equipment.
Read on to learn more about how to find a good set of beginner golf clubs that won't break the bank and are guaranteed by experts to help improve your game.
What comprises a good set of beginner golf clubs?
First of all, beginner golfers don't really need to own a full set of golf clubs.
A complete set of golf clubs is comprised of 14 clubs. But that doesn't mean you have to own them all and lug them around in your golf bag for the duration of the game.
As a novice in the sport, you can narrow down your set of golf clubs to 9 or 10.
Not only will this allow you to save up on more equipment for future use, but you can also improve your performance since the time spent on selecting clubs for certain holes will be lessened.
However, once you have refined your techniques and skills in golfing, you may opt to gradually increase the number of your clubs until you reach the maximum quantity allowed in the game (14 clubs).
9 Different Clubs that all Beginner Golfers should have
Irons and Wedges (4-5 clubs)
There is no need to own irons that are numbered lower than 5 in a beginner set.
To make it easy to get your shots airborne in the fairway, the 5-iron is a good place to start. You can then add a 7-iron and a 9-iron, as these are considered essential as well.
The best-rated iron sets for beginners are:
Wedges, on the one hand, are the clubs used in hitting the ball high and sharp around the green or the fairway.
Three of the best wedges in the market:
Hybrid Clubs (2)
Hybrid clubs are a cross between a fairway wood and an iron. This kind of club allows players to hit more solidly and launch shots farther than just woods or irons alone.
Some of the best starter hybrid clubs include:
It is no secret that every golfer should own at least two wood clubs – a driver (#1 wood) and a fairway wood (#5 or #7).
These clubs are the most forgiving in the course, as they help correct a player's mishits and improve the launching and spinning of the golf ball, therefore getting solid hits and reaching long distances.
The most recommended woods are:
Last, but definitely not least is the putter. Since putters literally become your last shot in sinking a ball into the hole, choose a model that effectively assists in aim and alignment.
The best bang-for-the-buck putters in the market:
Now that you know which golf clubs should be in your starter set take a look at these highly-recommended golf beginner golf club sets that range in terms of performance and budget.
Take note that the following golf club sets are explicitly manufactured for beginners.
For the value-oriented beginner
This good beginner golf set is widely popular for beginners who want the best value for their money. It includes every club you might ever need on the course.
Comes with a bag, a driver, a pitching wedge, a 3-wood, a 5-hybrid, 6- to 9-irons, and a putter.
For the performance-minded beginner
Even though it is on the pricier side, this golf set has been named as one of the best golf sets that any beginner golfer can buy.
As its name suggests, this golf set features a comprehensive array of golf clubs to use all around the course.
It consists of a bag, a driver, a 3-wood, 4- and 5-hybrids, 6- to 9-irons, a pitching wedge, a sand wedge, and a putter.
For the budget-conscious beginner
Wilson is a brand known for making affordable yet high-quality golf clubs.
This excellent beginner golf club set features a bag and ten different clubs: a driver, a 3-wood, a 4-hybrid, 5- to 9- irons, a pitching wedge, and a putter.
Renting or borrowing golf equipment would not be much of a help if you're trying to ace this sport. Novice golfers almost always ask, "How much is a starter set of golf clubs?"
Truth be told, golf is quite an expensive sport. However, there are a lot of golf clubs and golf sets available in the market that are worth every dollar!
A typical beginner set of golf clubs cost from $200 for basic sets to around $800 to $1000 for high-end brands.
On the other hand, starter golf club sets for women average at about $200 to $800. It is also highly suggested for beginner golfers to set a budget for their initial purchase.
Those planning to practice golf regularly (twice or thrice a week) can invest more into complete golf club sets to get the best value for their money.
Players that only plan on playing from time to time may choose to buy specific clubs or 9-club sets.
Pre-owned golf equipment is also available in numerous listing sites like eBay and Amazon. These secondhand clubs and sets usually range from $50 to $350.
Ladies golf clubs sets for beginners
For lady golfers, clubs can be slightly different than those of men. Golf clubs for women are lightweight.
Featuring smaller and shorter grips (due to women's smaller hands), larger driver club heads, and graphite instead of steel shafts. Usually, ladies' golf clubs are 2 inches shorter than men's.
These differences help cater to different female body types with varying height, arm length, and hand size.
Callaway manufactures most of the top-rated beginner golf sets for ladies.
Top 5 best-selling ladies golf clubs sets for beginners
What is a good set of golf clubs for intermediate?
For intermediate-level golfers, a better set of golf clubs would further improve one's game. This means more clubs than the beginner 9 and a heftier price point (starts at $700+).
To get your money's worth, it is highly recommended for intermediate golfers to purchase high-quality clubs that could endure frequent and serious practice.
Some of the best intermediate golf club sets are
Tour Edge Bazooka Golf Club Set

Callaway Strata Tour Golf Club Set

Wilson Profile XD Golf Club Set
Final Thoughts
A good set of beginner golf clubs does not just rely on the brand, but it also depends highly on your skill.
Don't let your money go to waste by first buying golf clubs that are essential to the game.
From there, enough practice can elevate one's status to an intermediate level golfer.
Last Updated on May 17, 2023 by Paul Roger Steinberg