One of the most frequently asked questions is How do golf shoes improve your game. As with many sports, every competition requires that you have the right equipment. And the game of golf is not exempted.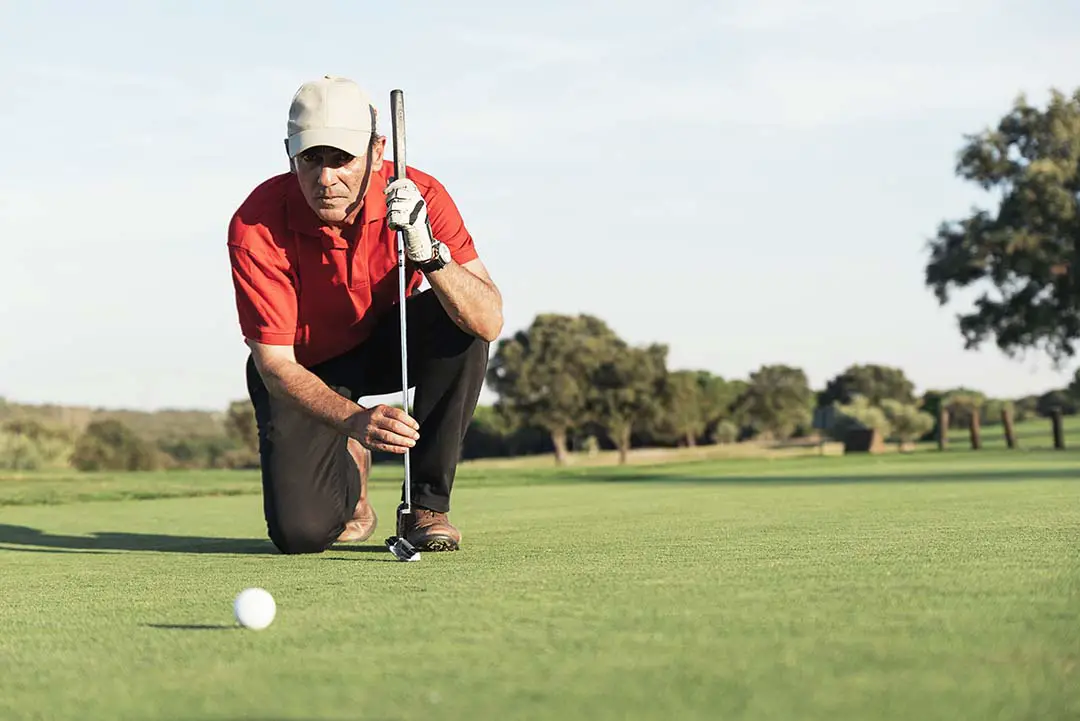 Quick Tip: Golf shoes are not compulsory, but really helpful.
How do golf shoes improve your game is one of the most asked questions among golfers among beginners and pro-golfers alike.
In golf, a thin line separates the winning side from the other side. The slightest mistake can cost you a lot.
One of them is not using golf shoes or using bare feet to play.
In this article, we're going to discuss why golf shoes help your game and the different benefits of using them.
How Do Golf Shoes Improve Your Game?
Golf is a psychological game, which means that you will play outstandingly well if you believe in your ability.
As mentioned earlier, the equipment you use and what you wear will influence your performance. One of the equipment is a golf shoe.
So, if you're thinking, 'will golf shoes improve my game?' Yes, it will!
Whether you believe it or not, golf shoes are just as important as other equipment. Not only are they important mentally, but also technically.
Golf swings can be stressful to the knees and ankles. That's why golf shoes help your game by providing the necessary stability to protect the joint.
Golf shoes help with balance, flexibility, and stability when swinging.
Note that – The subject of how do golf shoes improve your game does not depend on the type of golf shoe used. However, most golfers will prefer to go for the typical golf shoes.
How do golf shoes improve your game? Let's find out.
So will golf shoes improve my game and balance? Unlike most sports shoes, golf shoes come with a large sole and a broader dimension.
That's because your swing motion requires a solid platform to perform optimally. But other sports shoes require a narrow dimension as they are the perfect motion for running.
Yes, golf shoes can keep the feet stabilized during a swing.
You probably don't know the level of foot movement that occurs when you swing. You can test it out by try swinging barefooted; then, you'll understand that there is so much movement.
To oppose the movement, many golf shoes feature arches with stabilizers to prevent sideway movements. The spikes protect the leg when you slide on rough or wet surfaces.
Golf courses are designed to challenge the players. That's why most golf course has different hazards like water, sand, trees, and more.
When it comes to knowing how do golf shoes improve your game, always note that golf shoes are flexible to withstand any type of ground on the course.
They are different from other sports shoes designed for specific purposes. A typical golf round might take up to four hours and during these times, you have to walk many miles.
So how do golf shoes improve your game here? With golf shoes, you can walk long distances while maintaining stability, comfort, and feet breathability.
The ability to provide traction is the main benefit of golf shoes. Traction prevents the golfer's shoe from slipping when swinging.
Not all golfers believed that plastic spikes could offer better traction than the modern metal spikes.
So even with the banning of metal spikes from many courses, they were allowed for use during tournament competition.
Most PGA professionals prefer to use metal spikes as they believed that it provided better stability than any spike type.
And by 2010, a plastic golf spike took the wheel completely.
One of the ways golf shoes help your game is in the aspect of stiffness. A typical golf shoe is stiff in important places of the shoe to provide the necessary stability of a strong golf swing.
At some point, casual, soft, and released golf shoe was becoming popular. Comfort was almost becoming the king.
Apart from comfort, manufacturers began to add more structural support to comfort.
The golf shoes that features the best of both world provides the necessary rigidity for a balanced swing. An excellent example of this is the FootJoy Hyperflex II.
It features a nylon mesh fabric located in a polyurethane exoskeleton, which provides stiffness in important spots and meshes for flexion.
The belief that stiffness can be optimized is incorporated in modern days golf shoes.
While only a few companies embraced this technology at first, today, other companies are beginning to buy into the idea.
Have several other features
The waterproof feature protects the feet during inclement weather. Golf shoes are designed and manufactured directly, unlike the past ones with metal spikes.
But today's golf shoes look exactly like every other outdoor shoe. It has plastic spikes, and manufacturers use modern materials in their construction.
A quick tip: Be sure to buy the golf shoe that is within your budget. They'll last longer, and golf shoes help your game.
Are golf shoes compulsory?
Sam Snead is globally known to have the best natural swing ever. He started with playing barefooted.
"I grew up playing golf with my barefoot," he added, "I love how it made me wiggle my toes. When you step on the course, you feel connected to the terrain. It feels like the roots are going down. Apart from that, it stops you from swinging so hard. Your swing feels so easy. "
Snead never wore golf shoes until frost got in the way of the season.
Everyone is not Sam Snead. Golf shoes do not make compulsory the use of golf shoes.
However, many players prefer to go the clad way. The rules also do not mandate the use of a particular golf shoe to play with.
Pete Dye, a popular golf tournament winner, also plays the game in sneakers.
No rule forbids the use of golf shoes as they are for everyone. But there are several ways on how do golf shoes improve your game.
You can use every day running shoe if you've never seen the course covered with dew or never played in the rain.
Ever wondered why brands like Adidas, FootJoy, or Nike invested that much technology into their golf shoes?
That's because great golf shoes can save you from unforeseen problems associated with golfing.
Apart from the traction and other typical benefits of golf shoes, they also feature built-in stabilizers that stop the shoes from shifting.
Golf shoes with technically infused functions support the rotation of the body and help with a proper swing.
The modern golf swing generates torque to help the body stay firms to the ground.
In Conclusion
How do golf shoes improve your game? This question has been a consistent debate among professionals and amateurs alike.
While many golfers believe in the underlying value of going foot-clad, others still prefer the Sam Snead way.
The golf swing requires a lot of footwork.
Many golfers don't know how do golf shoes improve your game. That's why they underestimate the power of these shoes.
To test the waters, swing with your barefoot. You'll see the amount of movement invested to perform.
It's inarguably obvious that golf shoes play a critical role in providing stability, balance, and flexibility during a swing.
Besides the traction and other reasons golf shoes help your game, you can also enjoy the built-in stabilizers that stop the shoe from shifting when playing.
Last Updated on March 2, 2023 by Paul Roger Steinberg