How Often Should You Change Golf Shoes? Nothing lasts forever and this may sound bitter but this is true even for your golf equipment.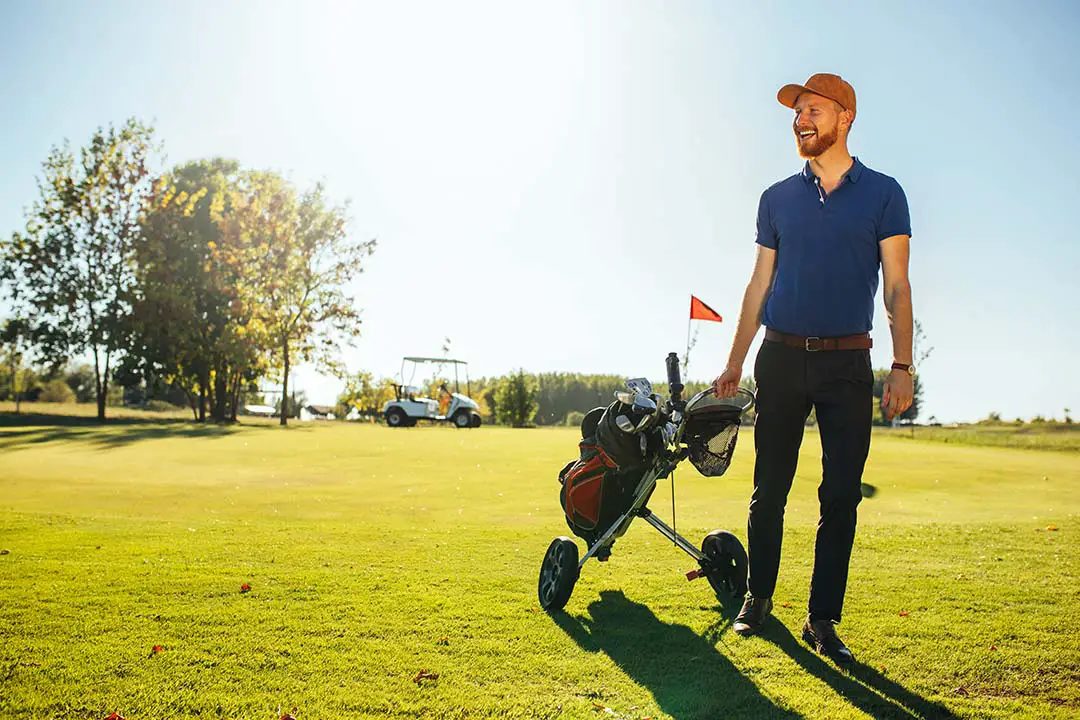 There will come a time for your golf clubs, bags, and even your shoes to wear out.
Once they wear out, they can no longer perform like the way they do before. Sometimes, there is no remedy for that, and the only choice left is to buy a new one.
In this article, let us discuss why and how often.
How Often Should You Change Golf Shoes
You might wonder about How often should you change golf shoes. However, to tell you the truth, there is no definite answer to that question.
The life span of your golf shoes will depend on how often to do you play golf.
So, ask yourself, are you a player who trains every day to join professional matches someday?
Or, are you a golfer only when you have spare time? If you are the latter, then your golf shoes will probably last for a more extended period.
But, the frequency of usage is not the only factor that you should consider to determine how often should you change golf shoes.
What Affects the Wear & Tear of Your Golf Shoes
In this section, we will discuss how those other factors can affect the wear-and-tear of your golf shoes.
Do you love playing golf during the rainy season?
If yes, then that could be a reason for you to start asking how often to change golf shoes when they are always soaked on water?
When your golf shoes are always submerged on water, the quality of it will surely be compromised.
Not to mention when the insides of your golf shoes, especially the foam insoles, have sucked up too much water can lead to damage that is beyond repair.
Water-coaked foam is a perfect breeding ground for bacteria.
When you fail to dry it properly or if it is always wet, it will lead to a foul odor and you will surely not want that!
Golf shoes could last a year or more if it is properly maintained. Proper maintenance is also one of the factors that affect how often to change golf shoes.
To make sure that your golf shoes will last longer, you must practice a habit of cleaning your golf shoes every after your game.
This will avoid permanent scuff and dirt marks that your golf shoes can get when you allow the dirt or grass particles and mud to dry.
You must always remember to carry a damp towel with you and scrub off the dirt and grass particles right after your match.
Also, if your golf shoes are scheduled for wash day today, you must know that you should not allow it to dry under direct sunlight.
Too much exposure from the sun will affect the quality of the material of your golf shoes. If you have a pair of leather golf shoes, then worry about it chipping off.
On the other hand, if you have golf shoes made from other materials, those will surely crisp after being exposed to direct sunlight.
Storing your golf shoes is a critical factor that can affect how often to change golf shoes.
After cleaning your golf shoes, you must keep them inside a shoebox. The room temperature must not be too hot and it also must have proper ventilation to avoid moisture.
Doing so will prevent molds from flocking on your golf shoes.
If you have a leather golf shoe, you must put a shoe tree inside it before storing it in a shoebox. This will help your leather golf shoe maintain its form and sharpness.
Number of Rounds You Play
If you have a pair of spiked golf shoes, then you should know that the traction that its cleats give is not the same every after a round of golf.
This is because the spikes also have a wear-and-tear period. The lifespan of your spikes golf shoes will depend on the number of rounds that you will play.
If you are playing eighteen holes, then you are walking for at least five miles to finish that.
In addition to that, the course that you will be traversing has different kinds of textures: grassy, sandy, and many more.
The friction that is caused by stepping onto those different textures will result in worn cleats.
The good news here is you can change the spikes of your golf shoes so you can get the same traction again. You can play twelve to twenty rounds before needing to replace it.
How you use it also has an effect on the lifespan of your golf shoes. If you don't want your golf shoes to easily deteriorate, you must wear it only while playing.
If you do not want to ask the question, How often should you change golf shoes every now and then, here are the things that you can do to make it last longer.
As they always say, prevention is better than cure. It is better to prevent your golf shoes from wearing out rather than spending too much on buying a new pair regularly, right?
Tips to Make Your Golf Shoes Last Longer
Tired of inquiring about, How often should you change golf shoes? Then don't treat it like a regular shoe or your favorite go-to snickers! Don't wear them while you are leaving home, driving, or going to a mall after a game. You must wear it only inside the course and while playing golf. Allot a separate pair of shoes for your other activities!

Remember to have a dedicated pocket in your bag to place your golf shoes after playing. But, before keeping it, you must make sure to wipe off any debris.

You must give importance to the features while shopping for golf shoes. Is the brand trusted? Are the features written on the brochure true? Does it have positive reviews from people who bought it before? Is it recommended by experts?

If you are fond of wearing spiked golf shoes because you are more confident about the traction that it gives, then you must choose a pair that offers replaceable spikes. Instead of asking how often should you change golf shoes, you will only have to worry about when to replace the spikes!

On the other hand, if you find spike replacement a bit of a hassle, then you must consider having two pairs of golf shoes and use them alternately. This is also important if you are regularly playing golf. This way, your golf shoes will not be worn out quickly.
Let's go shopping. Maybe!
You must remember that the answer to that boggling question in your mind,
How often should you change golf shoes depends on what kind of owner you are.
If you want your shoes to last longer, just go over this article again and follow the tips to make your golf shoes last longer.
Last Updated on March 2, 2023 by Paul Roger Steinberg