It may seem pretty obvious but you'd be surprised at the high number of golf players who haven't a clue how to arrange golf clubs in bag.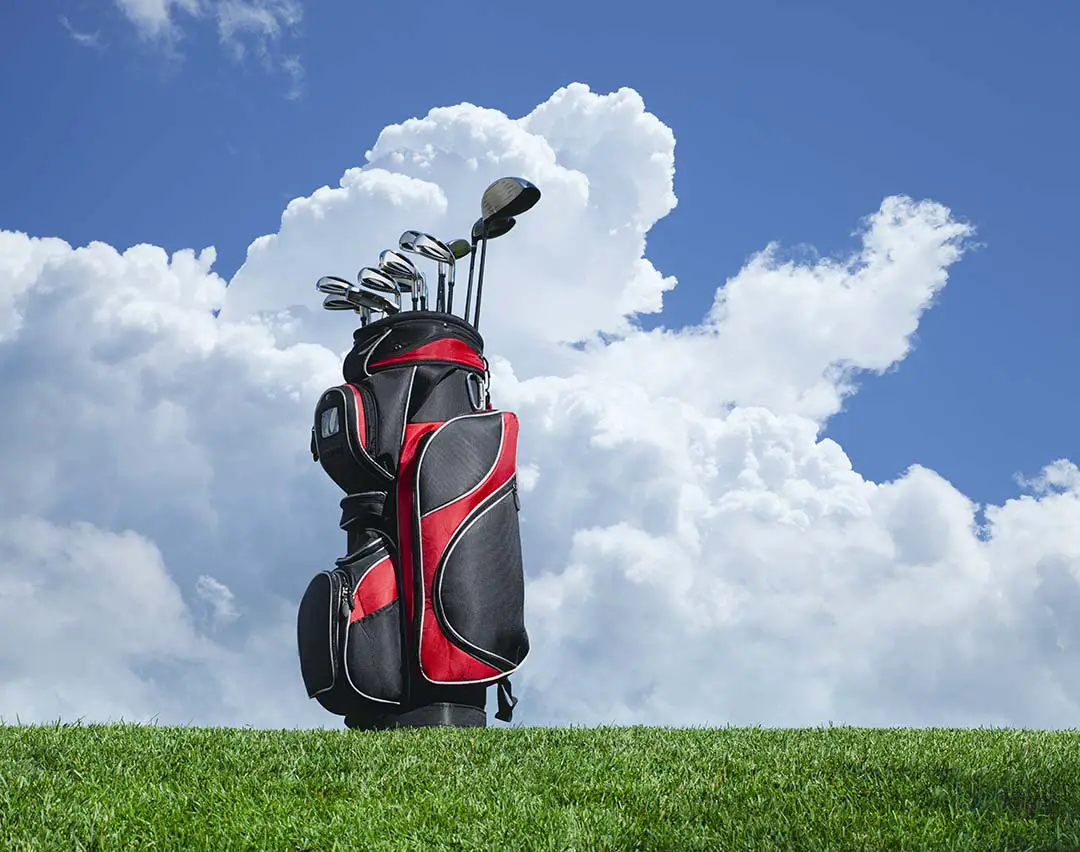 How to Arrange Golf Clubs in Bag
A golf bag and all its content is a player's entire world, so to speak. It, therefore, makes sense that you know how to arrange it, right?
Knowing what goes where may seem irrelevant.
But it's not until you are reaching for a particular club that you have to break focus and realize that you don't know how to arrange golf clubs in bag.
Inside a standard golf bag, you will find 14 clubs, golf balls, an umbrella, gloves, an extra t-shirt, a cap, water, and maybe some snacks. Other accessories include keys, torch, phone, and so on.
Most golf bags are designed with different sized compartments to accommodate all the essentials that you may want to bring along to practice.
However, different manufacturers design their golf bags differently. So to help you figure out how to arrange golf clubs in bag, here are a few pointers.
Which Clubs Go Where in a Golf Bag?
Having a hard time determining how to arrange golf clubs in bag?
Chances are you just bought a new bag and it looks nothing like your other golf bag. It's easy to get confused and put clubs in the wrong designated compartment.
It's great that most golf bag designers have bags that have sections and dividers where different clubs are supposed to go.
Some are even labeled to make it easier to understand which clubs go where in a golf bag. However, when yours is not labeled,
Here's how to arrange golf clubs in a trolley bag.
Woods Go to The Back Section
Place all of your woods in the back areas of your golf bag. Usually, there are at least three and as many as fourteen spaces or slots for you to put your clubs.
One slot should only fit one club.
Hybrids and Low Irons Go to the Middle Section
The hybrids are medium length and fit perfectly in the middle section of your golf bag.
Short Irons and the Wedges Go to the Front Section
The short irons and the wedges aren't that long and can, therefore, fit very well at the shorter front end of your golf club compartment.
Putters can fit at the front or the back sections of the golf bag. Some bags feature a special tube-like slot on the side of the bag which you could also put your putter.
The golf balls belong in the larger zippered pocket while the smaller sized zippered pockets are reserved for items such as green repair tools, ball markers, gloves, and spike wrench among other things.
The rain jacket, golf hat, an extra pair of pants or shoes go on the longer pocket on your golf bag.
Hopefully, this short description gives you a clear idea in regard to which clubs go where in a golf bag?
Why You Should Arrange Your Golf Clubs in Bag
Nothing is more frustrating than fumbling through each section of the golf club compartment frantically searching for a golf club that you want to use.
Even worse is to realize that there's no trace of certain golf clubs you need in the bag. Below are simple tips on how to arrange golf clubs in bag.
When you make a habit of organizing your golf bag properly, it's going to be very easy to notice when one is misplaced or inside the wrong compartment.
If your golf bag is always a disorganized mess, here are a few reasons why it is in your best interest to keep them organized.
Organizing Your Clubs Prolongs their Durability
By organizing your clubs, you keep the clubs from grinding against each other which can make them weak and reduce their effectiveness.
You also protect the shorter clubs from bumping into the longer ones by reserving the back sections for the longer clubs and the front section for the shorter ones.
Note that longer clubs like the hybrids, driver and fairway wood are much lighter than the shorter clubs.
This makes them more vulnerable and likely to get damaged if you arrange them haphazardly in different sections of the golf club compartment.
You Know Exactly Where each Club Is
There's a sense of peace you gain when you know where each one of your clubs is. Arranging your golf bag should not only happen before or after your game.
It should also happen during the game. Imagine not being able to find a club that you need yet you know you have it because you used it not so long ago.
The problem here is you didn't care much where you put it hence you have to stop and sift through each club to find it.
Why don't you save yourself all this trouble and learn how to arrange golf clubs in bag. When you do this, you can maintain focus and avoid distractions.
You'll Realize Quickly if you Lose a Golf Club
A golf club may fall off without you noticing. Better yet, you may leave it at home or in the car.
When you know how to arrange golf clubs in a 14 divider bag, it becomes easier to notice when one or two clubs are missing. Losing even one club can distort your entire game.
It's even more disturbing when you realize only in the middle of your round that you are missing a club.
The sooner you are aware that you have a club missing the earlier you can try and look for it or find a replacement.
Quick Tips on Arranging Golf Clubs in Your Bag
When you don't want to take so much time arranging and disarranging your golf clubs, there are a few quick tips that can help ease your process
In figuring out how to arrange golf clubs in a trolley bag or how to arrange golf clubs in a 14 divider bag. They include:
The longer lighter clubs should go in the longer slots or sections of the bag because they are more cushioned and protected

Have your own unique way of arranging your golf clubs in your bag. Some people prefer to arrange their clubs from left to right or the other way round. Choose which direction or order you like best.

Make sure that no two clubs go in the same slot. Also, work your way down instead of putting different clubs anywhere

It's advisable to keep the headcover on your putter whenever you are not using it. Place your putter in a side compartment or inside the shortest section of the bag. This will keep it protected from grinding or getting knocked by the other clubs.
Conclusion
Arranging your golf clubs in your golf bag is simple, once you get the hang of it you'll know how to arrange golf clubs in bag.
If you notice, scarring, dents, or paint chipping on some of your clubs, it's a good indicator that you don't know how to arrange golf clubs in a 14 divider bag or a trolley bag.
As a result, they are bumping into each other and that you are not arranging them properly. Be sure to place each club where it was after each hole.
Considering how pricey a good set of clubs can be, it's much more convenient to always keep your clubs organized.
Last Updated on March 2, 2023 by Paul Roger Steinberg