You're looking for what are the best golf clubs for ladies because you're are a lady and because you want to buy golf clubs. I get it, for ladies, getting a golf club is a huge investment.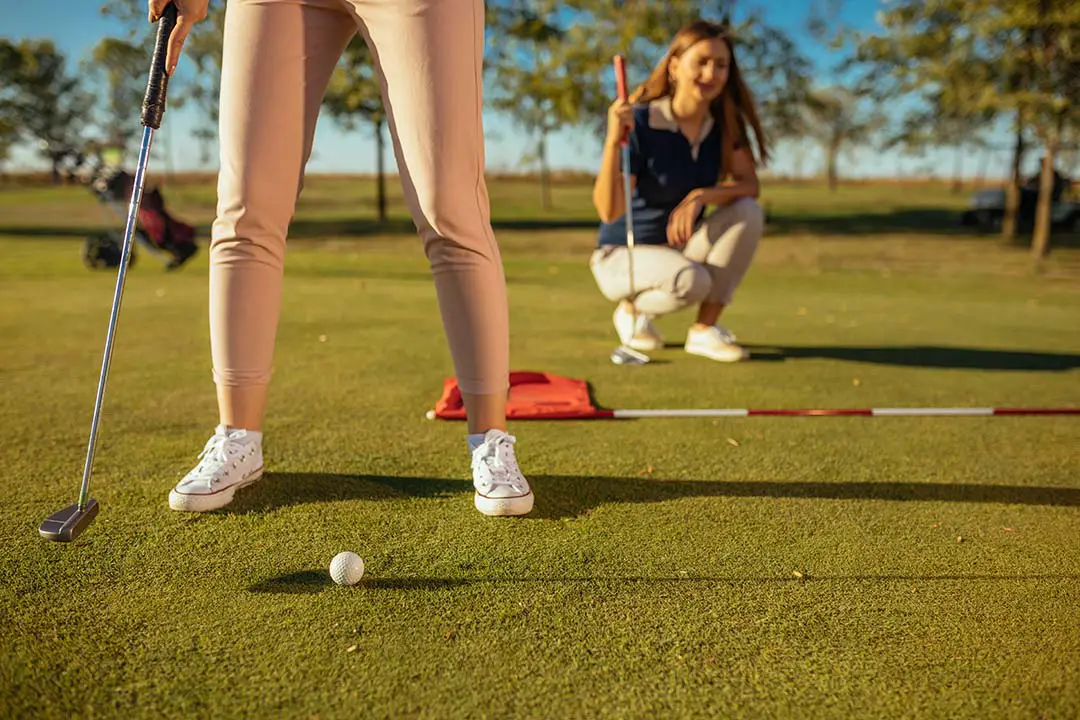 What are the best golf clubs for ladies?
As with buying any product, the main concerns are price and quality. You're looking for the best golf clubs that encompass all the features of a high-quality golf clubs – one that improves your swing.
You must have had your eye on a specific brand, or you already had certain features and specifications in mind. Apart from that, the price of the model you want to buy is also important.
However, you can still find some lady's golf clubs at a pretty affordable price. Golf technology has skyrocketed lately, so it's not surprising seeing different makes and models of golf clubs in the market.
Sifting through all the available options can be overwhelming. If your priority is aesthetics, you can find several attractive pastel colors too.
That said; let's see what are the best golf clubs for ladies.
Standard sets of golf clubs for women
Let's begin with the obvious. The standard golf sets for women are 7 irons, 3 kinds of wood, 2 wedges, and a putter.
For the woods, they are the 3-wood, 5-wood, and driver. Also, 4,5,6,7,8,9 and pitching wedge are the seven irons.
There's also the putter and hybrid, which makes a total of 12 clubs set. One spectacular thing about women's golf clubs is that it has more of hybrids (hybrids combines iron length shaft and wood head design)
And of course, they are easier to hit than traditional irons. To clear your doubts, put both hybrids and irons to the test in the same range to determine which one will support your golf course.
Men vs. women golf clubs – the difference
Before buying your golf club sets, there are certain differences between men and women's golf clubs that you should know.
The variation in men's and women's body type and some golf mechanics contribute to these differences.
Certain features of our body type allow us to swing a lot better than with the men's club.
Check out the differences;
Graphite is used to make high-quality golf clubs out there.
So you should go to clubs which shaft is made with graphics when looking for which ladies' golf clubs are best. That's because graphite is lighter than men's club's shaft, which is mostly made of steel.
Women are typically shorter than men, so shorter clubs would do better swings than longer ones. You'll be able to fully maximize your swing power and take charge of the ball.
The flex defines how well the club can bend. Flex is a critical criterion to consider when looking for what are the best golf clubs for ladies. The shaft flex on women's shaft has two labels – L and A.
The L is springier and a little hard to control for beginners, while the A is not as flexible as the L flex.
Ladies generally have smaller hands compared to men. Hence, most golf clubs for ladies comes with smaller club grips to help you deliver a smooth grip when swinging.
Golf sets for ladies are lighter, and the lofts are higher 13 degrees lofts or higher are considered a great start.
Ladies golf also has a lighter and soft driver's head. So let's get straight up to what are the best golf clubs for ladies in 2020.
Coates Golf
The goal of Coates golf is to create a golf club world in women where the performance will outweigh forgiveness.
Their clubs specifically focus on women's swing – plus, women at all skill levels can now master their golfing craft with Coates Golf.
Impressive forgiveness.

Full control over swing

Great loft and trajectory

Appealing design
Quick note – I don't think Coates Golf still makes golf club sets. But you can still get their golf clubs on Amazon.
If you're looking for what are the best golf clubs for ladies, these clubs from Callaway offers a premium, high-quality design, performance, and fit to assist you in hitting your best shot.
The brand designed this golf clubs set for recreational golfers. You won't go wrong with this one from Callaway.
What we like
Achieve an impressive balk fight with these clubs

The shaft is made of graphite – suitable for ladies

Clubs have impeccable grips
The well-balanced fit and the lightweight graphite shaft of the tour edge Moda silk golf set makes it a club set worth giving a try.
Available in a portable sized bag with zipped pockets enjoy the swing of your life with this club sets.
What we like
Enjoy a lifetime warranty on your purchase

The graphite shaft is rugged and durable

Get head covers as a bonus extra
Beginners and average level golfer would do anything to have these golf clubs in their bags.
Pitching wedge, three wood, seven iron, 5l hybrid, eight iron, sand wedge, putter, nine iron, driver, 6I hybrid, and nine irons, just name it, are available in stock from Cleveland Golf bloom.
What we like
Lightweight

Aesthetically pleasing

Deliver impressive trajectory launch
When looking for which ladies golf clubs are best, this one from belief is right up your alley.
Delivering excellent swing and high forgiveness, believe ladies' golf set is available in beautiful cart design and zippered pockets. Its 14-way divider encourages secure storage.
What we love
The bonus headcovers for hybrid, woods, and rain hood is worth mentioning

Their golf club bag comes with a glove holder, towel ring, and umbrella sleeve.

Graphite shafts material for long-lasting use
How to find the best ladies golf clubs
This is pretty much subjective! So do your research. If your club is too long or too short, it can result in an awkward swing. You're looking for which ladies golf clubs are best for swinging and for better accuracy.
Your goal is the first thing you need to come in terms with before deciding which ladies' golf clubs are best. Be sure you're setting realistic goals.
If you're going to play for only a few times, then there's no point in sweating out the dust. Just make a decent choice.
But if you're going to play for a long time, we suggest doing thorough research of what are the best golf clubs for ladies.
While there are expensive golf clubs, budget-friendly options are still available. Decide how much you can afford. We suggest that beginners should begin with lower prized golf clubs.
Alternatively, you can get a used club sets if you're comfortable with it.
In Summary
If you still feel to know more about what are the best golf clubs for ladies, read a review of the best golfs for ladies, ask questions from friends, identify what other female golfers are using, and more.
Last Updated on May 22, 2023 by Paul Roger Steinberg