Finding out what are the best waterproof golf shoes to buy is a wise move when it comes to choosing golf shoes. Most golfers tend to overlook the importance of having good quality golf shoes that can withstand water.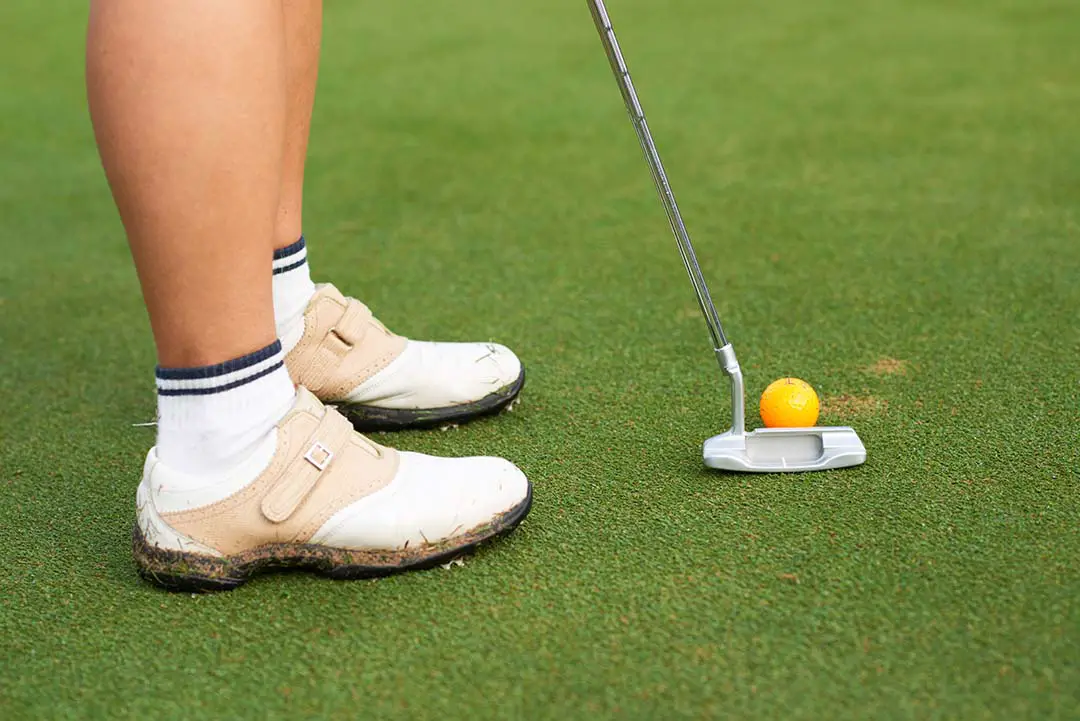 From playing in the rain, walking in a golf course with a fresh layer of dew, to accidentally touching a water hazard — being prepared for different conditions is a must in this sport.
What are the best waterproof golf shoes to buy?
The benefits of wearing waterproof golf shoes are endless.
Aside from keeping your feet dry, these shoes can also improve your performance throughout the game. They maintain your stability, posture, and grip.
So, instead of wearing subpar shoes and letting it affect your game, it is time to look at what golf shoes are waterproof.
These kinds of pairs are specially built to keep you upright and safe in the golf course, making each move easy and comfortable.
Wet conditions are not a problem once you wear waterproof shoes!
Now, which are the best waterproof golf shoes available out there? Well, we have found 10 incredible pairs.
Here is the complete list!
At the top of our what are the best waterproof golf shoes to buy is the FootJoy Pro SL.
This outstanding spikeless golf shoe features the ChromoSkin technology in its leather upper, making it lightweight, sturdy, and waterproof.
It achieves both functionality and comfort through its lace-up closure system that allows you to experience a customizable fit.
This is the best waterproof pair because of its three-piece, TPU molded outsole and Fine Tuned Foam that provides cushioned comfort and stability.
It also uses an advanced Laser Plus Last technology.
Another stylish and durable pair is the Adidas Tour 360 Boost-M.
It is famous for its Climaproof technology and re-designed 360 WRAP which gives a lightweight, comfortable, and flexible heel.
While GEO collar and tongue are padded with Fitfoam and internal lining fabric which protects your feet from heat, moisture, and unwanted friction.
It also incorporates dual-density TPU outsoles that enable traction and stability. The torsion tunnel and Thintech cleats are added for a great grip and control.
The Adidas Powerband BOA Boost is also a great option if you want another waterproof and high-quality pair from Adidas.
Apart from lifestyle wear, PUMA is also known for its Titantour Ignite golf shoes that offer you waterproof, strong, and flexible experience while wearing it.
Its ultrathin TPU PWFRAME and EVA midsole makes the pair lightweight but still durable.  The PWR Cool insoles protect your feet from the heat and keep it cool at all times.
The proprietary Ignite foam guarantees an enhanced performance through its stable cushioning, responsiveness, and energy return.
Performance, style, and comfort are what the Cage Pro is all about.
Its waterproof capacity is powered by the HydroMax leather upper and GORE-TEX membrane that repels water, sweat, and moisture.
It accentuates the natural contours of your feet and allows you to adjust the fit of the shoes through the removable inlay soles.
While the outlay soles are incorporated with the ECCO SPYDR-GRIP, giving you stability and comfort throughout any game.
The ECCO Biom Natural Motion is a unique and advanced technology that protects you from fatigue, discomfort, and injury risks.
Another addition to our list of what are the best waterproof golf shoes to buy is from the iconic brand, Nike.
The highly versatile Golf Lunar Control Vapor Shoes can be worn by both men and women on the golf course.
It is known for its sophisticated design and advanced technology that enables you to have the best control throughout your game.
It uses Lunarlon midsole inserts for lightweight cushioning.
This waterproof golf shoe from Nike features the Flywire and NIKESKIN technology, giving you a secure fit, traction, and grip on any surface.
Its waterproof ability is powered by the membrane-embedded in the upper and beneath the footbed.
What are the best waterproof golf shoes to buy and also quite affordable? Meet the Men's NGB1701 Spiked Golf Shoes from New Balance.
It is made with high-quality, water-resistant, and pure microfiber leather.
It also includes an EVA midsole, guaranteed to help you move your best while keeping your feet dry and comfortable!
With its lightweight and thin locking cleat system, playing in damp or moist golf courses is no problem.
As a bonus, the cleats are removable which allows you to switch to spikeless shoes.
Best Waterproof Golf Shoes: Runner-ups
Ashworth Men's Cardiff Leather Golf Shoes
Aside from retail and popular brands, we have also featured unique pairs as part of what are the best waterproof golf shoes to buy list.
One is the Ashworth Cardiff Leather Golf Shoes, which is very captivating because of its polished look.
You won't feel tired and uncomfortable from a full day of walking with its soft EVA midsole.
Its outsoles are also very flexible through its soft material, plus you can pick from a variety of colors to match different outfits.
Another incredible feature it's the spikeless outsoles that boost traction no matter what surface.
Callaway is a staple golf brand for many years, and their Balboa Vent Golf Shoes are proof of their capacity to create high-quality golf gear.
This has dura-rubber spikeless outsoles that secure our footing and traction. Its top-notch Opti-soft EVA midsole and sock liner add more support and care.
For its water resistance, the upper is crafted with 100% opti-vent mesh material that manages the heat inside and dries out the moisture.
Rest assured that your feet will remain cool and dry the whole day.
A standout creation from Under Armour is the Spieth 2, known for having good value for money and high-quality materials.
Its upper is built with Clarino Microfiber leather integrated with the iconic Smartweave, allowing it to be lightweight and durable.
Golfers can experience a locked-in fit through the lacing system. The Gore-Tex construction enables it to be waterproof, but still breathable.
Lastly, its removable EVA footbed gives you amazing underfoot comfort and flexibility in every stride.
The rotational assistance built in the spikes also provides traction to keep you stable.
Oregon Mudders Men's CM200 Waterproof Golf Oxford
Last on our what are the best waterproof golf shoes to buy list is the Oregon Mudders CM200 Waterproof Golf Oxford.
Although it's more expensive than others, these Oxford golf shoes are the best-looking ones.
Apart from its stylish looks, it is also made of waterproof microfiber and is designed with a sealed membrane to protect the insides from water and moisture.
It also features removable insoles with sufficient cushion and support in the midsole.
While the rubber outsole is built with spikes to keep your grip tight on the course. The pair is definitely an epitome of style and functionality.
While there are pairs who have gained a reputation for being water-resistant, identifying what are the best waterproof golf shoes to buy may still depend on your preference.
There are many qualities you can pay attention to such as material, durability, design, built, value for money, and the list goes on.
Play Golf Rain or Shine
This wraps up our must-have list. Hopefully, we have answered the question, what are the best waterproof golf shoes to buy on the market.
Are you eyeing a pair already?
By knowing which golf shoes are waterproof, you now have an idea of what pair you need to purchase in order to keep steady in the golf field.
Consider waterproof golf shoes as an investment because it will keep you prepared for any situation.
Apart from supporting your golf technique, these pairs can protect you from the rain, splashes, and other incidents caused by water.
Comfort, protection, and improved performance?
Indeed, buying a pair of waterproof shoes is a must-have in golf.
Last Updated on March 2, 2023 by Paul Roger Steinberg