Whether you are a newly-minted golfer or a professional player who has won several trophies, one question that can frequently bug you is "what golf clubs should I carry".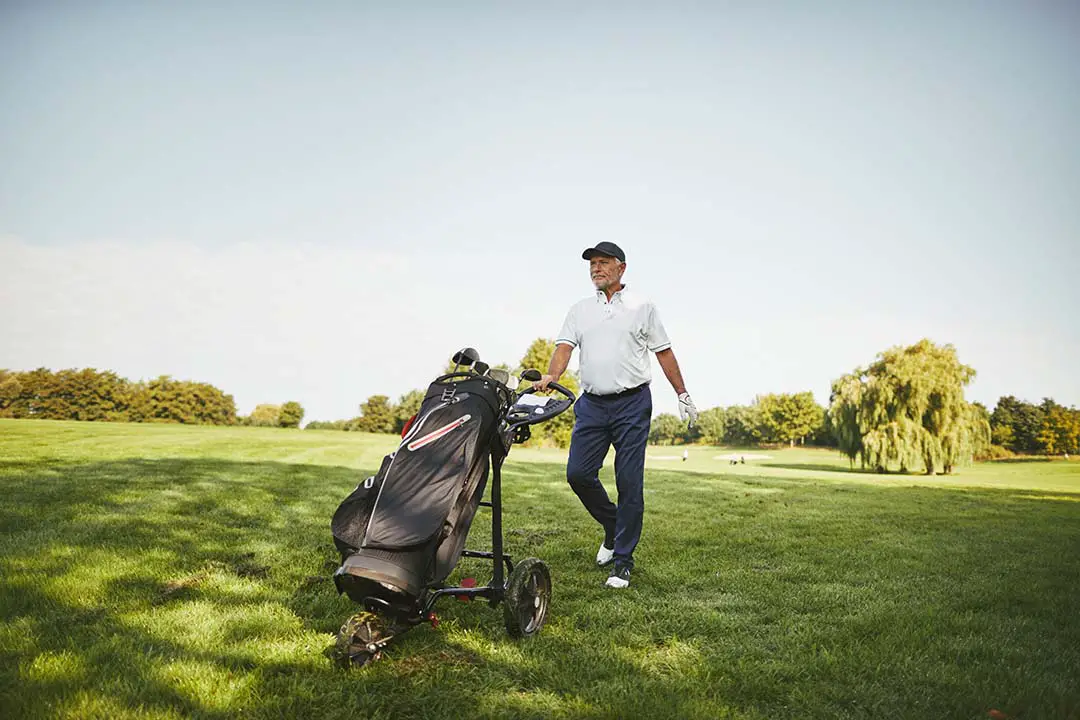 I have been playing golf for years, and I am not a stranger to the difficulty that comes with choosing your golf gear.
To help ease your burden, I compiled some tips you can follow in deciding which clubs are worth bringing to your next tournament with family, friends, or work colleagues.
What Golf Clubs Should I Carry?
The golf club is to the golfer as the sword is to the warrior. This analogy shows how important it is for you to curate as many "weapons" as you can.
According to the rules imposed by the US Golf Association, however, a golfer can only bring a maximum of 14 clubs to an official golf event.
This means that no matter how many clubs you have at your disposal, you will be required to pick at most 14 of those clubs.
Deciding which golf clubs to carry may sound like an arduous task, but the key to this is really just knowing the tools that you can use.
When I was just starting to play golf, I found myself asking "what golf clubs should I carry with me" and "what golf clubs should I have in my bag" every time I had a game.
My friends who have been playing golf for years advised me to familiarize myself with the classifications of golf clubs so that I can know a club's specific purpose.
If you try to look online, sources will not agree about how many types of golf clubs there are, but the classification I have gotten used to.
Now that you know these different types, what golf clubs should you have in your bag?
All seasoned golfers can answer this question by heart, and I think that is one of the main reasons why they are good at their craft.
Knowing your golf clubs is like a swordsman knowing his weapon intimately. It will make you able to respond to anyone who asks you what golf clubs to carry.
Advantages of Grouping your Gear
Since I started golfing, I began categorizing golf clubs into five main types. Knowing these categories will help you to figure out which golf clubs should I carry.
These clubs are characterized by large heads and long shafts which aid in giving longer yardage. The drivers and fairway woods are under this category. Most golfers use a driver for hitting the ball off the tee, whereas fairway woods are used for fairway shots.

If the driver is used to set the ball off the tee, the putter is used for shooting it into the hole. The head of putters is designed with low lofts to help in ensuring that the ball stays on the ground as it rolls.

These clubs come in different lengths and lofts. The long irons are generally used for shots requiring high yardage while short irons are for shots wherein the ball needs to stay close to the ground.

As specialized irons, wedges are designed with large angles and high lofts for getting the ball out of tricky spots. The most common wedges are the pitching wedge and the sand wedge.

This type is the most recent category recognized by the golfing community. Hybrids function similar to the long irons but they are much easier to use.
As for me, being familiar with these types helps me prepare my gear every time I am confronted with the quandary of what golf clubs should I have in my bag.
Aside from knowing your golf clubs, you must also know yourself as a player.
Your physical attributes such as height, length of appendages, and skill level are pivotal aspects to consider when you want to purchase golf clubs.
For instance, if you stand below 5-foot-9, which is the average height of males in the US, you may opt to use irons or hybrids which have shorter shafts.
Another important thing to be aware of is your budget allotment for golf gear.
Budgeting the cost of your Gear
Let's face it, golf is not a cheap sport. You have to sign up for a membership and buy expensive equipment to sustain this hobby.
If you are just beginning to play golf and you are wondering "what golf clubs should I carry to my first recreational game?", then you might want to buy second-hand golf clubs.
Using golf clubs that have already been owned by another person can be a little off-putting, but trust me, this is one good way to discover your preferences.
After a couple of games, you will figure out the specifics of the clubs that suits you, and that is when you can buy brand new clubs.
Should you discover that golf is not for you, it would not be much of a loss because you did not spend a lot of money with the second-hand golf clubs.
There is a myriad of factors that can help you determine the best golf clubs to use. Just knowing the different types of clubs will not be enough.
You have to always ask yourself "what golf clubs should I carry given this certain constraint?" or "what golf clubs should I have in my bag if I consider this aspect?".
Make sure that you take all of these things into consideration so that your golfing experience will be extraordinary.
Now that you have an idea about the different types of clubs, I hope you can already visualize what golf clubs to bring around with you.
But if you still find yourself undecided, you might get some wisdom from the choices of highly-successful professional golf players.
Elite golfers playing in the PGA Tour, which organizes the biggest professional golf competitions in the United States, took years in putting together their ensemble of equipment.
Just like neophytes, they used to ask themselves "what golf clubs should I carry?" every now and then.
As they played in more tournaments over the years, however, they acquired a certain preference for golf clubs which enabled them to put together their equipment instinctively.
It is funny how if you ask these six professional golfers what golf clubs they carry around in their bags, you'll get six different answers because they themselves do not use the same set of gear.
As you may have noticed, all of them use just one driver and one putter, and the other types of golf clubs vary in number, with the irons having the most number.
What Golf Clubs Professional Golfers' Recommends
Here are some of USA's greatest golfers' responses if they were to answer the question "what golf clubs should I carry?".
Tommy Fleetwood: one driver, two fairway woods, six irons, four wedges, and one putter

Webb Simpson: one driver, two fairway woods, two hybrids, six irons, two wedges, and one putter

Patrick Reed: one driver, one fairway wood, one hybrid, seven irons, three wedges, and one putter

Patrick Cantlay: one driver, one fairway wood, one hybrid, six irons, four wedges, and one putter

Jon Rahm: one driver, one fairway wood, eight irons, three wedges, and one putter

Rory McIlroy: one driver, two fairway woods, eight irons, two wedges, and one putter
If you are like me who plays golf just for fun, you might ask "what golf clubs should I carry if I am not really playing competitively?".
A simple answer is that you can still bring with you the full set of golf clubs but that is not required.
Numerous casual golfers do not arm themselves with a 14-piece ensemble because they would just want to play a friendly game without all the technicalities of a professional tournament.
For the purposes of recreational golf, a half set consisting of seven golf clubs will be sufficient for playing.
The half set is pretty common that some manufacturers have released a complete half set so that amateurs and casual golf players can get their equipment all packed up and ready to play.
An example is the Wilson Prostaff Beginner Half Set, which consists of one wood, three irons, one wedge, and one putter.
Bring It On!
Next time you find yourself asking, What golf clubs should I carry to the tournament?
Remember that it takes both knowledge and practical experience to be able to answer these questions for yourself.
All my years of playing golf have taught me that piece of wisdom.
You should never stop educating yourself about golf, and it can be done by reading golf-related articles on the internet or even by discussing with your colleagues who play.
You can also follow some of the best professional golfers in their social media accounts so that you will have access to whatever tips and tricks they share.
Of course, you also have to continuously play golf, regardless of whether it is a friendly game or a professional tournament.
When you use your golf clubs, you will get to know them better compared to just reading about them in books or online articles.
What are you waiting for?
Prepare your full set or half set of equipment and get ready for the next golf tournament.
Don't forget to bring your driver and putter!
Last Updated on March 2, 2023 by Paul Roger Steinberg