So do you want to know what is the best brand of golf bags? Everyone knows that a golf bag plays a vital role in the game of golf. After all, where would you put your fourteen heavy clubs and other necessities without it?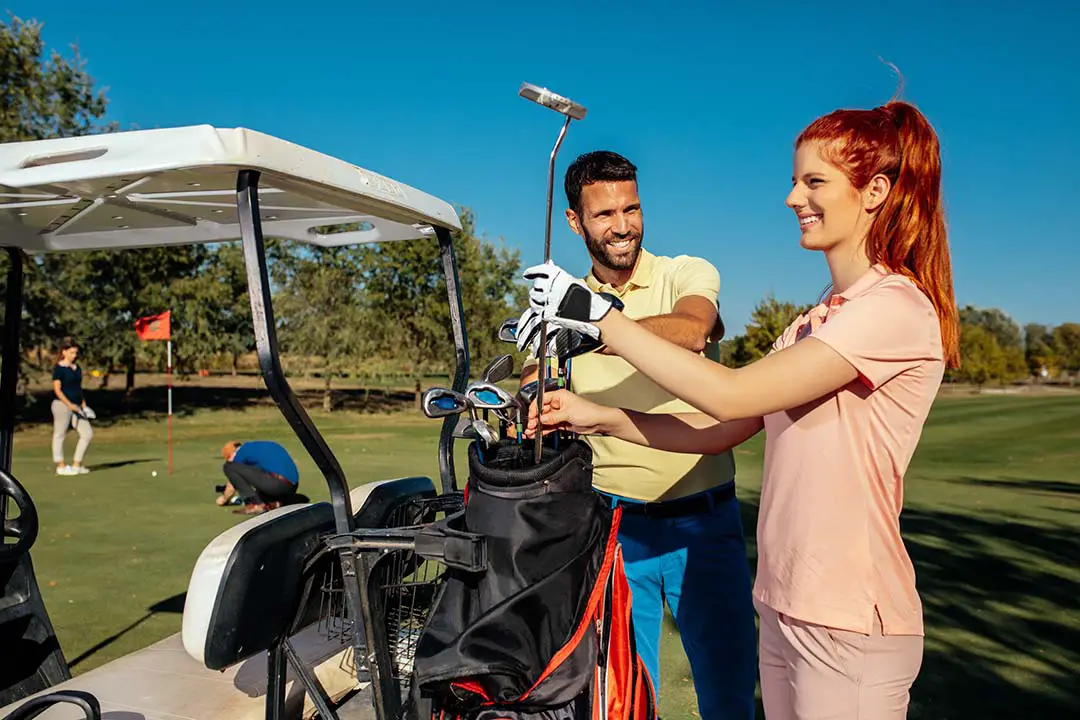 Check out these brands that professional golfers trust so you can see for yourself!
What is the Best Brand of Golf Bags?
Choosing the right golf bag is a pretty tough thing to do, considering that there are various brands and models to choose from.
This article aims to help you with that dilemma by discussing what is the best gold bags brand.
Are you excited? If yes, then here are the best brands where you can get your golf bag from!
If you are an avid golf fan, then you know that Callaway comes out on top whenever someone asks,
What golf bag is the best? Ely Callaway, the founder of Callaway, has an imperative to his company to release only the best products.
So if you are wondering, Which golf bag is best, try checking out Callaway golf bags to see the difference for yourself.
Whether you are a beginner or a veteran in the golf game, you will be surprised that you can find a Callaway golf bag that will be suitable for your needs.
If you are curious about what golf bag is the best in Callaway's catalog, you could check out the Callaway Org 14 Cart Bag.
It has received the highest ratings from golfers around the world and has been ordered countless times already.
This golf bag may be a bit expensive, but it is worth every dollar that you would spend on it!
Another trailblazer in the world of golf is the Sun Mountain company. You can find Sun Mountain whenever you search for what golf is the best at any search engine on your computer or on your phone.
Sun Mountain started out from Montana and has been creating high-quality golf equipment and bags ever since.
If you want to check out the best bag Sun Mountain offers, you can look at the Sun Mountain C-130 golf bag.
With the C-130 golf bag, you get all the space that you need for your golf equipment.
You can make use of more than ten dividers that can fit any golf club in your arsenal. Also, you have big pockets to store every golf equipment that you need for every game.
You can also choose among 11 different color combinations, such as Black, Navy, and Iron-Cement.
It also has a weight of 7 pounds, which may not be advisable to be used as a carry bag, but is definitely perfect if you have a golf cart with you during your games.
As a bonus, you get a beverage cooler for your water bottles.
You no longer have to worry about water seeping into your bag too because the Sun Mountain C-130 has water-resistant pockets.
The next on the list that you should check out if you are wondering what is the best brand of golf bags, is PING.
This brand started with Karsten Solheim as a modest garage seller of golf bags in 1959. However, by the year 2000s PING became one of the biggest golf brands in the world.
If you want to check the best bag out of PING's catalog, try out the 2008 Ping Hoofer golf bag. It is a lightweight bag that can give you excellent storage space for your golf equipment.
Enjoy a 4.8 bag that has water-resistant pockets, and a body made from a combination of polypropylene material and fabric that can give you protection to your golf equipment and comfort to your shoulders.
Its shoulder straps are made with PING's SensorCool technology that does not wear out quickly, and also helps to provide a cooling sensation to your shoulders.
What Should You Look For in a Golf Bag?
What are the factors that you must consider before you can conclude what is the best brand of golf bags?
Let us discuss the different factors in this section!
Remember that you will be walking around the golf course and swinging your clubs to hit eighteen holes, which is why the golf bag's weight is a crucial factor to consider before you can say that it is the best of all.
You must be able to select a lightweight golf bag without limiting your storage capacity.
The storage is also an important factor for discussion when it comes to selecting what is the best brand of golf bags.
You must have a place to put your valuables, other golf accessories, a change of clothes, and many more. The best bag will also feature an insulated pocket so your drinks can stay cold.
However, you should keep in mind not to choose a bag with too many pockets as that will only tempt you to put unnecessary things.
Those things can only add weight to your golf bag and to your back!
Your bag has an essential purpose: to protect your golf clubs!
You can have peace of mind knowing that your clubs won't collide with each other. Which can result in unwanted scratches if your golf bag features full-length dividers.
Half or three-quarter dividers can still cause damage to your golf clubs and grips.
Also, you will likely encounter a problem in pulling out your golf clubs as they might entangle with one another.
Putters can be sharp and can damage the other golf clubs, which is why a putter well is added to the golf bag by several manufacturers.
This is a separate space for a putter so it won't cause any damage to the other golf clubs.
Multiple pockets add big points in choosing what is the best brand of golf bags. The size of those pockets also matters.
Big pockets enable you to carry larger and much-needed items such as beverages, snacks, a change of clothes, and your rain gear for the unexpected weather.
Larger pockets are more helpful in the longer term, so you must look at the size of the pockets before deciding which golf bag is the best.
If you are going to struggle in reaching the pockets of your golf bag, then that is not the best golf bag. T
he best golf bag would give you easy access to your needs, so you won't be in a hassle during a game.
If you opt for a cart bag, then you must take note of its bag locking system.
Who wants to see their golf bags and other stuff up the air when they make an unexpected turn, right?
Buying a golf bag could hurt someone's pocket, that is why you should look for quality golf bags before buying one.
You should treat your bag as an investment, so durability must be on the top of your list.
Why Should you Choose the Best Brand of Golf Bag?
Do you wonder why the brand matters in selecting the best golf bag? Well, here are some reasons why:
The existing golf brands who manufacture bags are already trusted by professionals.
Pro golfers use those brands themselves so you can trust that they really deliver the functionality that they claim in their promotional materials.
Those brands of golf bags have already made a name in equipping PGA and LPGA players who have proven the quality of their products.
The manufacturer of golf bags spent decades innovating and leveling up their products. They continuously research the changing and evolving needs of the players and continue to cater to those.
The founder of these brands poured their whole life in developing their products and looking for new ventures.
It took them several years to establish the brand that we are looking up to today, and it is a symbol of their infallible commitment.
They committed themselves to fulfill the mission and visions of the company that they built from humble beginnings.
Do you think that what they say on commercials and billboards are just catchphrases to make you buy from them?
Well, put that old mentality in the trash can because these brands would not make this far if they are not true to their words.
They deliver everything they claim about their products. What better way to prove that than trying their golf bags to see for yourself, right?
So, hurry now and get the best brand of golf bags!
Get the Best Golf Bag!
Playing golf would never be complete without a golf bag; it is like the peanut butter to the jelly.
So, if you are planning to purchase a new golf bag, treat it as an investment. Always search about what is the best brand of golf bags.
After all, you and your golf clubs deserve the best golf bag in the world!
Last Updated on March 2, 2023 by Paul Roger Steinberg