For amateur and professional golfers alike, it is an unwritten rule that you should always be on the lookout for someone who sells golf shoes.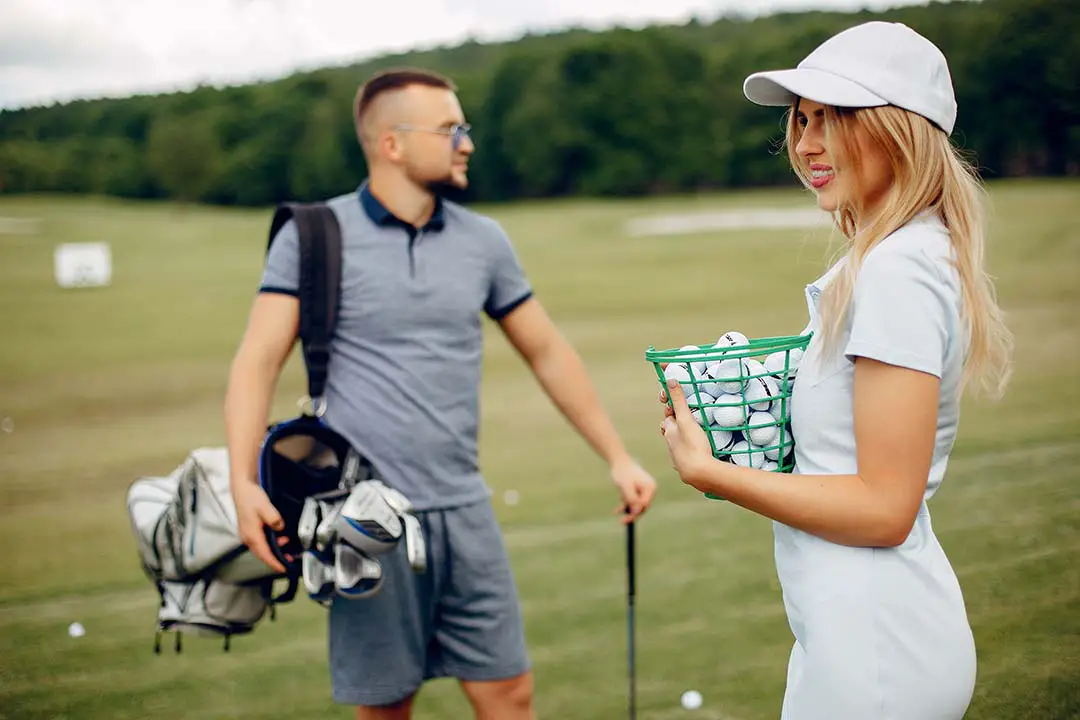 After all, your shoes are the most important article of clothing that you need when playing golf.
You should not worry, though – we will be here with you throughout your search for the golf footwear that suits you well.
Who Sells Golf Shoes?
Imagine going to a golf tournament with all your clubs completely packed up and your shirt and pants well pressed.
Then, when you start walking across the fairway, you suddenly realize that you are just wearing your everyday sneakers to the golf course. What a nightmare that would be!
This scenario explains why almost all golfers should know someone who sells golf shoes. They need to be able to buy a pair of golf shoes from trusted people or stores any time they need it.
The good news is that, nowadays, golfers have a wide array of choices when it comes to golf footwear. They can shop online or go to the physical store.
They can buy brand new or pre-used shoes. The possibilities are practically limitless.
Online Shopping vs. Physical Shopping
For those who want to buy golf shoes, one thing that you may want to consider is your method of purchasing.
Yes, gone are the days when you have to go to a shop, line up, and pay through cash. Today, you can have your desired golf shoes delivered to your doorstep with just a few clicks.
The worldwide reception of online shopping is so positive that most of the giants in the golf merchandise industry like Callaway and FootJoy have set up online stores through their websites.
And of course, Amazon has also started selling different golf gear to meet the global demand.
Despite this growing popularity of online shopping, there are still people who are more comfortable doing their shopping physically.
For them, going to the actual store and touching the actual product before buying it gives them an assurance that the product they are purchasing is of excellent quality.
That is actually one of the advantages of physical shopping compared to online shopping.
Going to the store would enable you to fit the shoes and ask the salespeople for tips on choosing the best shoes. These things you can't do in online shopping.
Buying Brand New Shoes
Aside from the method of purchasing golf shoes, another important factor to consider is whether you want brand new or second-hand.
If you prefer buying brand new shoes, you have to stick to the stores that have been tested and proven by many consumers through time.
Here are some of the world's most favorite brands when it comes to golf shoes. All of these brands have physical stores as well as online shops where you can purchase their products.
This brand of golf shoes can make your feet joyful.
If you ask someone who sells golf shoes about their opinion about FootJoy's products, he will probably say that they are one of the best.
FootJoy boasts of its wide variety of styles and novel shoe designs that are optimized to enhance your golf performance.
Callaway is actually known for their golf clubs, but people have come to realize that their golf shoes are also top-notch.
The aesthetics of Callaway's golf shoes are more traditional looking, perfect for those who play pro golf.
Millions of people know Adidas because of its high-quality sports gear, though their golf footwear doesn't seem to be getting the limelight.
However, anyone who sells golf shoes would know how good Adidas' golf shoes are.
Similar to Adidas, this brand might be known for sports apparel in general, but their golf shoes have also established a reputation for being both functional and very fashionable.
Buying Second-Hand Shoes
If you are working on a tight budget but still want to have a great pair of golf shoes, then your option is to buy second-hand golf shoes.
A lot of people are against this idea because they think that buying pre-owned items means that you are getting something of low quality.
However, even if you ask someone who sells golf shoes, they will tell you that buying second hand is perfectly fine.
There are several shops selling second-hand golf shoes that are still in their optimum condition.
These shops mostly operate online through websites, making them more accessible and giving you more choices.
Here are some of these shops.
This shop is actually a platform where athletes buy and sell their pre-owned golf gear. Their collection of golf shoes is pretty wide.
Initially, this shop was concentrated on selling second-hand golf clubs. Later on, they began selling pre-owned shoes as well, and people do love them.
Everyone knows what eBay is capable of offering, so if you are looking for good-as-new second-hand golf footwear, you have to check out this online shop.
Characteristics High-Quality Pair of Golf Shoes
Why are golf shoes so expensive? Well, upon consulting any golf shoes guide, you'll see that good golf shoes cost a lot because of several factors.
It is not enough to just know where to get golf shoes. You should also learn how to distinguish the characteristics of a high-quality pair of golf shoes.
Performance-Oriented Design
Companies pay millions for the design of golf shoes since they have a specific purpose – to give golfer support and traction.
Golf shoes are not like any other shoes in the sense that making golf shoes requires sophisticated design procedures.
For instance, golf footwear has designated midsole thickness, number of spikes, the arrangement of spikes, length of spikes, and many other design parameters.
These parameters have to be thoroughly consulted from a golf shoes guide to ensure that they will improve a golfer's performance.
Materials of Construction
Why are golf shoes so expensive? Mainly because of what they are made of.
Golf footwear is highly specialized, so they also need to be made of special materials, which are oftentimes pricey.
For instance, golf shoes used by pro golfers have uppers that are made of genuine leather.
Any golf shoes guide would recommend this material because it is not only durable, it also offers breathability that keeps players' feet comfortable.
Companies also develop their own materials for making their golf shoes.
Callaway boasts of its Opti-Soft Polymer material which is formulated to be used in the midsoles of some of their golf shoes.
Puma, on the other hand, invented the Ignite Foam to improve energy transfer throughout the foot contour of the golfers.
Researching and developing these materials come at a hefty price, so there is no need to wonder "why are golf shoes so expensive?".
Wearing a pair of golf shoes that bear a specific logo elicits a positive psychological response for most people.
That is why when you think of who sells golf shoes or where to get golf shoes, you immediately think of brands like ECCO or FootJoy.
You think you become a better golfer when you are wearing those brands.
Why are golf shoes so expensive, you ask? One good answer is that you are paying for the brand name that comes imprinted on the shoes.
You might not be an extraordinary golfer, but when people see you wearing footwear sold by the same brand used by professional athletes, then their regard for your changes.
Making it Fit Like Cinderella
If you want to know where to get golf shoes that fit you the way Cinderella's slippers fit her feet, then you have to consult a golf shoes guide.
There are a couple of things you can do to ensure that your shoes won't be too snug or too loose.
Measure your feet before you even shop. Always.
Any golf shoes guide would recommend that you take the length, width, and arch height of your foot so that you would have an idea about the right shoe size for you.
And then, once you know where to get golf shoes, it will be easier to choose from all the shoes at your disposal.
Let's Go & Get Some Shoes!
Now that you know who sells golf shoes and where to get golf shoes, you can go and purchase your own pair.
Whether you shop online or physically, and whether you get a brand new or second hand is completely up to you.
Just a reminder: don't ask "why are golf shoes so expensive".
You know that a pair of high-quality shoes might be pricey, but they will surely last for a long, long time.
What's stopping you from buying your own pair of shoes?
Look for someone who sells golf shoes, and then buy that footwear right away.
Last Updated on March 2, 2023 by Paul Roger Steinberg