Why wear golf shoes when you can swing with the bare feet? Or you would rather gain some improvement from your performance. This has been a consistent argument among golfers of different skill levels.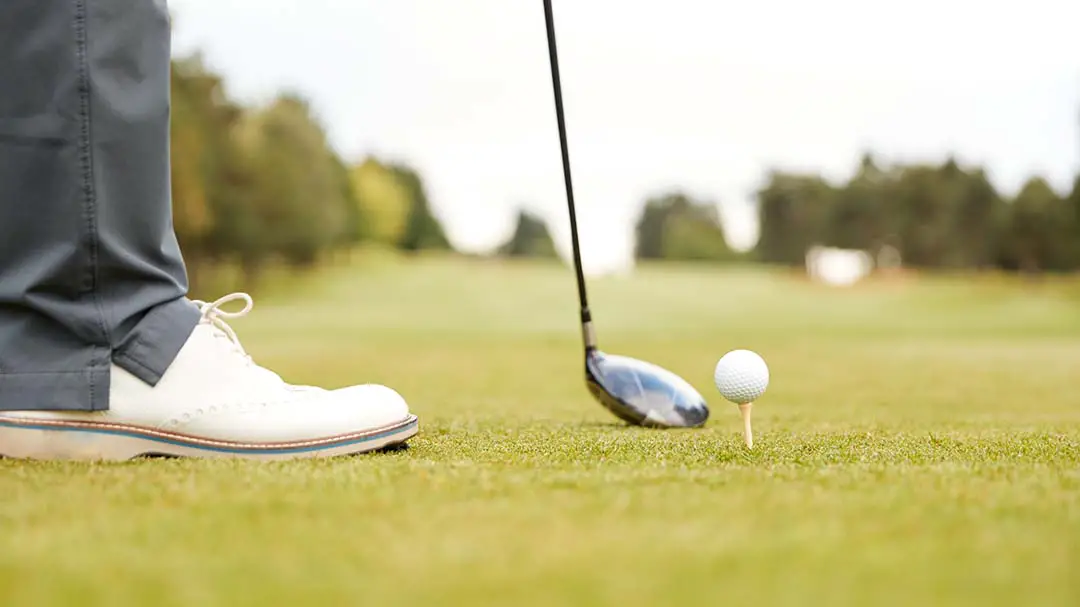 Why Wear Golf Shoes?
Golf shoes are designed for wearing on golf courses and can be expensive than regular sports shoes. So, why should you wear golf shoes in the first instance?
Before we get started, here are some pointers on what wearing golf shoes can do for you.
Golf shoes prevent feet movement during the swinging.

Provides a smart look to the game.

They are strong, and the spike reduces the issue of slipping.

Shoes support the interior area of the shoe for stability.

Have a Waterproof feature to prevent wet feet.

You can get better traction on rough terrains.
Any golfer looking to improve on performance should not underestimate the value of golf shoes.
The golf shoe's purpose is to control your feet' flexibility, stability, and traction during a swing.
A properly fitted golf shoe will minimize the movement inside the shoe and support foot movements during a swing. This alone is a good reason why to wear golf shoes.
Walking in the morning, you'll notice the dews on grasses, which can affect your swing (on the negative side). This is where the golf shoe purpose comes in.
Without shoes, there's a higher chance of slipping off when doing the downward swing.
Golf shoes look fittingly good
Back then, golf shoes were another piece of ugly sports shoes. These shoes are black and available in boring styles.
Today, golf shoes look attractive and fittingly good, which is why should you wear golf shoes for the modern-day golf game.
Besides, they are available in different styles and at an increased comfort level. You won't feel any pain even after 20 holes.
You can start noticing pain when swinging on the hilly course. Thankfully, golf shoes provide extra support for walking on rough terrains.
Some of the most comfortable shoes feature advanced foam to stabilize the shoe spikes while providing extra support.
While wearing golf shoes is not a compulsory requirement to play on the course, its benefits are outstanding.
You can start with cheaper models, and once you get a full hang of their features, go for the premium models.
Available in different materials
While golf shoes have been around for decades, there have been several ongoing research for improved developments, and this is a good reason why wear golf shoes.
Golfing shoes encompass different types of materials, including the leather, synthetic, and waterproofing lining. Many people prefer leather-material shoes;
However, the production cost of high-quality leather is a bit higher. Most prefer leather shoes for the summer because of the breathability they offer, compared to other materials.
Synthetic shoes are the alternative and a much cheaper option. Reason? Because they contain artificially-made materials.
Obviously, the cheaper option takes a toll on quality. You're not going to get similar quality with the leather material (The thinner nonporous polyester is low quality).
But here's the good news; they'll feel lighter on the feet.
Available in different types
The two common types of golf shoes are the spiked and spikeless type.
The spiked golf shoes are the most widely used for all seasons, but many golfers prefer spikeless during the summer season.
So, why do you need to wear golf shoes – spikeless or spiked? That's because they are more comfortable than spiked shoes and feel light on the feet.
Now, I'm not saying that spiked shoes aren't comfortable as well. You can use them all day long.
But, you won't get the necessary stability when you walk or swing with the spikeless shoe on a wet golf course.
Golf Shoes – are they really a necessity?
Golfers beyond the amateur to the pro level have, at a time in their golfing life, used a golf shoe (at least a pair).
But why should you wear golf shoes? Are they really required? Quick answer: No! Or maybe, yes!
I've seen some golf courses compulsory the use of golf shoes. Although most people do not buy into the idea of a shoe, wearing them might give you an edge over your opponent.
The stability, flexibility, and stiffness you're going to get, give you the upper hand over the opponent swinging on barefoot.
As wide as the golf world can be, limitation on certain types of golf shoes is uncommon.
However, there are exceptions to these as some fancy golf courses such as the luxury resorts, and private clubs can restrict the use of specific golf shoes or, ultimately, place a ban on using some golf type.
If you're playing on a golf course for the first time and you're shoeless, always check the course's website or seek information regarding their shoe restriction rule.
Also, the most high-end course features the shoe rental option that allows golfers who don't own a shoe to rent one.
Recommended Golf Shoes
What if you don't have a golf shoe? Is it compulsory on why should you wear golf shoes?
Or, maybe you don't have the money to spend on a pair. There's hope. You can still play with bare feet. Just get ready to slip and slide occasionally.
Check your closet and see if you have a regular pair of shoes with a good 'gripping' sole. That answers the question of why do you need to wear golf shoes.
Have you got a shoe with rubber soles and many bumps? They might be an alternative to a golf shoe.
That said, if you're looking for excellent quality shoes, check out the following Adidas golf shoes.
The upper part of this athletic-fitted shoe Is made with textile and leather.
That way, you're enjoying two features—first, the lightweight textiles. Second, the breathability and stability of leather.
Still, thinking of why should you wear golf shoes? This shoe from Adidas should convince you.
Love sneakers? You'll love this Adidas shoe. Adidas designed the Crossknit DPR to be lightweight and fit comfortably to your feet.
The brand fortified the textile upper to improve its stability.
You're going to want to choose this golf shoe if prefer the street-style golf shoe to the normal golf shoe.
Looking at it from the outsole, this golf shoe looks like it's got all your swing covered (definitely). You're getting 108 tractions elements – obviously, that's better grips.
Think a knit shoe cannot be waterproofed? Think again.
Instead of the typical coating of the shoe, Adidas used waterproofed yarn on its upper part.
What's the Street-styled shoe blended with a waterproofed feature and a traction pattern to create a golf shoe that is wearable to the course and beyond?
That's the Adidas Adicross retro!
In Conclusion
When it comes to why wear golf shoes, keep in mind that wearing golf shoes is important.
If you don't own a golf shoe; tennis shoes, cross trainers, running shoes can come to your rescue.
Or you can also play barefoot. However, wearing golf shoes is a good idea because they do well at keeping your feet stable during a swing.
In other words, perfectly fitted golf shoes will prevent your feet from dangling back and forth inside the shoe, and also control your feet from slipping or sliding during a golf swing.
During a swing, you experience a rotational, lateral, and downward pressure shift.
That's why should you wear golf shoes. They stabilize your feet during the occurrence of these pressure shifts.
Else, if your feet slip or slide during a swing, you can expect a terrible shot.
Last Updated on March 2, 2023 by Paul Roger Steinberg