Most modern bags come with partition for golf clubs, so if you're using an older bag and looking for a DIY approach to making bag tubes, you need to learn how to make golf bag tubes.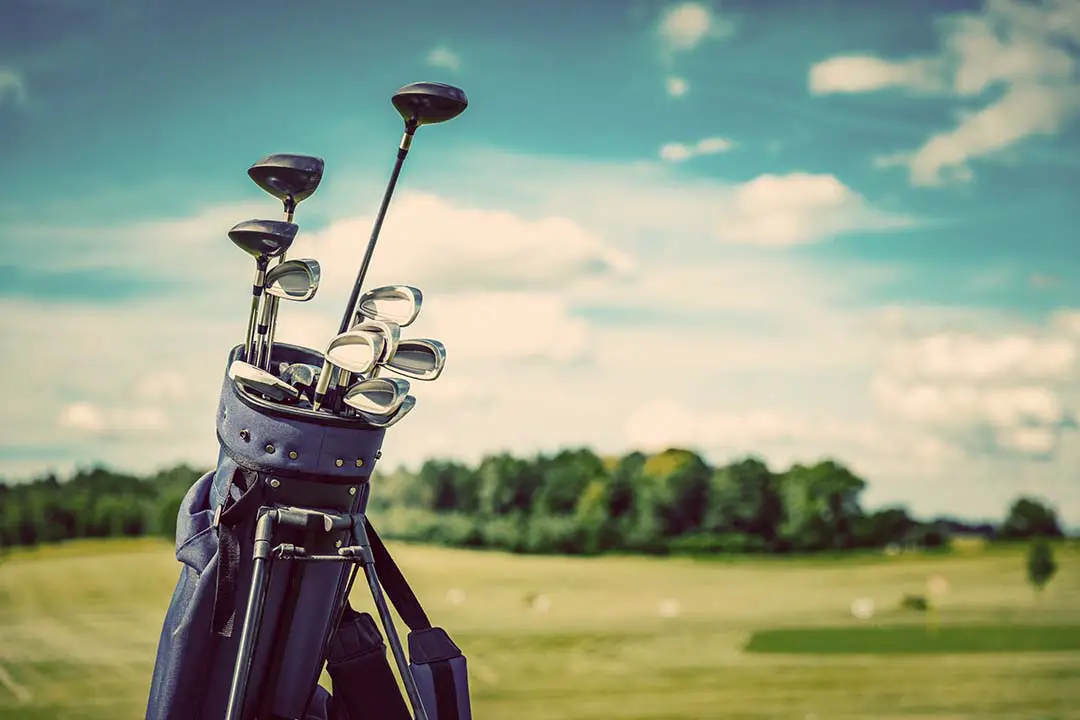 Golf bag tubes are essential for any golfer who wants to keep their golf clubs organized and protected.
Golf bag tubes offer protection for the shafts of your irons, wedges, and other golf clubs by preventing them from being damaged as you transport them to and from the course.
The golf bag tube inserts also help keep your clubs from moving around in your golf bag, making it easier to find the club you need quickly.
Additionally, they help keep your clubs in an orderly fashion which makes it much easier when choosing the right club for a shot.
How to Make Golf Bag Tubes
Golf bag tubes offer special protection to the golf clubs and prevent them from cluttering up to become disorganized. These tubes or dividers separate your iron, woods, wedges, and other clubs to keep your golf clubs organized.
If you've ever been caught looking for a particular club in the middle of a golf round, you'll understand why it is important to keep an organized club.
Or if you've broken your golf club because of improper protection, you'll know that having a golf bag tube should be a priority.
Because organizing a club in a golf bag can be difficult if they are not properly partitioned.
These Golf bag tube inserts are usually made from durable plastic material and provide a hassle-free way to keep your golf bag organized.
They are easy to install and can be used on any type of golf bag, making them a must-have item for any golfer looking to stay organized while they play.
Making golf bag tubes for clubs is a great way to ensure your clubs stay organized and protected. Begin by choosing the type of bag you would like to use, as well as the type of wood you want to use.
Next, measure the length of your golf club and make sure to add an extra few inches in order for the tube to fit properly. You will also need to cut holes on both sides of the wood in order for it to fit into the golf bag.
Once that is done, you can proceed with adding a divider or snap closure on one side so that it can securely stay in place.
Finally, make sure that when you are cutting round edges during this process, you take extra care to avoid any sharp corners that could potentially damage your bag.
With all of these steps followed carefully, your homemade golf bag tube should fit perfectly into your golf bag!
Why do you need to learn how to make golf bag tubes
That said, before we delve into how to make golf bag tubes, let's discuss the importance of keeping your golf club organized.
Why do you think manufacturers tiered the top of most golf bag at an angle? It is to make sure that the clubs are well organized by height.
And prevent the small, heavier clubs from damaging your long clubs' long shafts.
Once you've learned how to make golf bag tubes, be sure to position your drivers, hybrids, fairway woods, and long golf clubs accordingly.
It'll prevent the club from pushing against the irons. Plus, it also protects the individual granite shaft and prevents 'scarring' near the hosel.
Organizing your golf bag keeps the clubs protected, and you can know where to find each club during or after play.
If you arrange your golf bag carelessly, then don't be surprised to see your shaft break in the middle of a swing during a golf game.
Pits and scars on the shaft weaken with every swing.
If you fail to place your long clubs into the area of your bag with a longer slot, you may have to pay heavily for this nonchalant attitude.
Know where to find your golf clubs when needed
Did you try to reach out to your club in the bag but doesn't seem to find it? For sure, you know you kept it somewhere in the bag but don't know where.
The time you're wasting on looking for a golf club is when you should have dedicated to organizing them for easy reach during a golf match.
Organizing your clubs properly can help you to easily reach out to the exact club you need, whenever you need it. This keeps you focused and concentrated on what's important – the next shot.
When you're distracted by searching for a club, your brain also follows the same pattern and becomes discouraged. Processing the next shot can be difficult.
And that's unfavorable for your overall success in the game.
Easily spot a misplaced or lost golf club
How would it feel if you reach out to your golf bag in the middle of a round only to notice that you can't find a particular club? It's devastating.
You'll be losing that particular round, if not your entire round.
Knowing how to make golf bag tubes for the proper organization allows you to quickly discover any missing club on time.
You'll quickly spot the open club tube in the bag and know the exact missing club. You will easily remember where you kept the misplaced club.
It will be easier to know where those clubs are kept, whether it's beside the green or near the incomplete building next to the golf station
Making Golf Bag Tubes
Cut the plywood correctly and to the right shape to fit perfectly on top of the golf bag

From the perimeter of the wood, measure about half an inch, and drill four holes. Ensure the hole is drilled in four opposite corners (the exact shape may vary depending on your bag's shape). A circular bag will take the shape of a square while the noncircular will be a trapezoid.

Draw a partition of your bag on the wood and be sure to leave half inch borders. Partition for the fairway woods and driver should occupy the top third of the wood on full width. Wedge partition should occupy the bottom third of the wood and also occupy the full-width Partition for the iron should take up the mid-third of the plywood.

Use a jigsaw to cut through these partitions

Insert the ribbon into the hole and tie it to the base of the plastic hook

Hang these hooks over the bag's lip and keep the partition hanged inside.
Masters Bag Tube
Organize your club with the master bag tube artificial divider. The light, protective, and affordable golf bag tubes is designed to put an end to the clumping and clattering of your clubs.
Protect your club shaft without adding more weight to your bag.
Plus, show off your creativity by customizing the divider system according to what rocks the boat for your next game.
Features
Durable

Divides clubs

Easy to organize

Lightweight
However, if you use graphite shafts, then stay away from this product.
The tube is designed for the optimal protection of the golf club.
Most customers buy 14 tubes and have them inserted into the bag (mostly cart bag) for optimal club protection.
DIY Golf Bag Dividers
DIY golf bag dividers are a great way to help organize your clubs and make sure you can easily find the right club when it's time to play. Golf bag tubes dividers come in different styles, but most involve tubes that divide the golf bag into sections. A 14-way golf bag tubes divider is the most common type, and it allows a golfer to separate their putter, wedge, and other clubs into their own sections at the bottom of the bag. This makes it easier for a golfer to keep their clubs organized while using a push cart or carrying the golf bag. With DIY golf bag dividers, any golfer can customize how they want to organize their clubs for easy access during a round of golf. So if you're looking for an easy way to make sure you have all your clubs quickly on hand, consider making your own DIY golf bag dividers.
Making DIY golf bag dividers is a great way to keep your golf bag organized and save money. Here are the steps to make your own golf bag dividers:
Gather your supplies: golf bag tubes, scissors, tape, and a ruler.
Measure the length of the golf bag tubes and cut them to size.
Line up the golf bag tubes in the desired pattern and secure them together with tape.
Place the dividers in the golf bag and make sure they fit snugly.
Secure the dividers to the bag using more tape.
Label each divider to designate which clubs should go in each section.
Put your clubs in the newly organized golf bag and hit the links!
Making your golf bag tubes dividers is a great way to save money and keep your golf bag organized. With some basic supplies and a bit of time, you can make your own DIY golf bag dividers and be ready to hit the links in no time!
Making Golf Bag Tubes for Graphite Shafts
They provide the necessary protection and storage for your golf clubs with graphite shafts when you travel to different golf courses.
These tubes feature a durable construction that ensures your graphite shafts will remain safe from harm during transport. The tubes usually come with an adjustable shoulder strap, making it easy and comfortable to carry around.
Additionally, they have plenty of space for storing other golf accessories such as tees, ball markers, gloves, and head covers. With these tubes, you can rest assured that your graphite shafts will be in top condition no matter where you go.
A great benefit of golf club storage tubes is their portability. Many of these tubes are lightweight and compact, making them perfect for taking on the go. Most are also designed to fit easily in a bag or backpack.
Some even come with extra pockets and compartments for storing additional items such as golf balls and accessories. This makes it easy to quickly grab your clubs and head out for a round of golf.
Furthermore, many of these tubes are designed with waterproof materials, allowing your clubs to remain protected from the elements.
Golf bag tubes are a great way to store and transport your graphite shafts. Here are some simple steps on how to use golf bag tubes for graphite shafts:
Slide the tube onto your golf bag. Make sure the tube is securely attached to the bag, so it doesn't move around.
Remove the top of the tube and carefully place your graphite shafts inside the tube. It's important to ensure the shafts are laying flat and not overlapping each other.
Replace the top of the tube and make sure it is securely fastened.
If you need to transport your graphite shafts, you can easily take the tube off your golf bag and carry it with you.
By following these simple steps, you can easily use golf bag tubes to store and transport your graphite shafts. This way, your graphite shafts will stay safe and protected while you're on the go.
Protect those Golf Clubs
Golf bag tubes are an excellent way to organize and store your golf clubs. Not only do they make your golf bag look more organized, but they also help keep your clubs from banging against each other in the bag when you move it.
Golf bag tubes are also a great way to protect your golf clubs from the elements. By keeping them in the bag tubes, you can ensure that your clubs are safe from the rain, sun, and other elements.
You can even customize your bag tubes with different colors, logos, or designs to make your bag stand out.
Additionally, you can add additional compartments to your bag tubes so that you can store items like tees and golf balls. With golf bag tubes, you can make sure that your clubs are always secure and organized.
With a few simple materials and a little time, you can make your own golf bag tubes and take your golf game to the next level.
Last Updated on May 17, 2023 by Paul Roger Steinberg