The reason why are golf bags so big primarily lies in the content that we put on our bags. An average golfer would carry at least ten clubs in their bag, among other gear.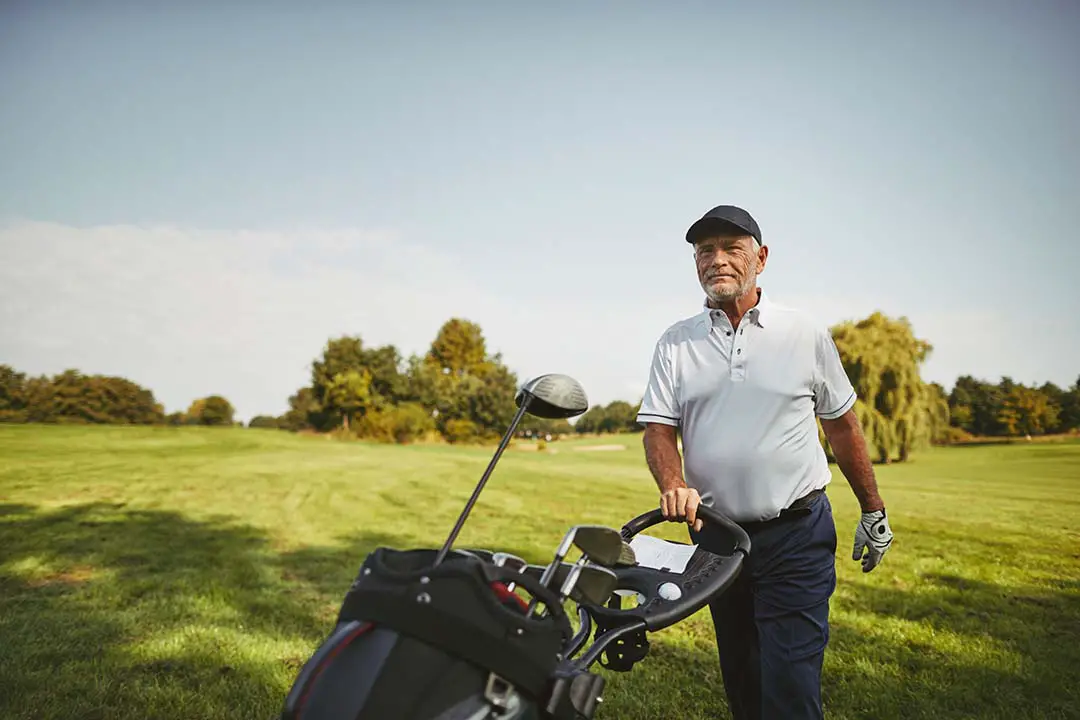 With all these equipment and accessories, it's no surprise why are golf bags so big.
Let's take a closer look at the anatomy of a golf bag in the following section.
Why are Golf Bags so Big – Choosing the Right Size
A standard golf bag in itself typically weighs around 3 to 5 pounds. While modern golf bags weigh much less than older models, there is a reason why are golf bags so big.
An average number of clubs in one set would play around 10 to 14 clubs, with each of those clubs weighing approximately 0.73 pounds.
Along with that, you would also need to bring other gear that can help you in your game.
Once you put your complete set of clubs and essentials, the bag would then weigh around 25 to 30 pounds. And so, you would need a bag that can hold all these things in one place.
With that, let's take a look at the anatomy of a golf bag:
The primary characteristics of golf clubs are being long and sturdy. This means that they require enough space inside the bag for them not to crash into one another.
Why are golf bags so big is because it is typically divided into sections that separate these different types of clubs.
These sections could range from 3 up to 14 individual compartments, which allows for convenience when choosing which club to use during a round.
Since golf bags with four compartments are the most popular in the market, let's use it as an example.
Here's what it usually looks like:
Rear section: Woods and putter

Middle left section: 3-, 4-, 5- irons

Middle right section: 6-, 7-, 8-, 9- irons

Front section: Wedges

Different Pockets
Next, why are golf bags so big is because of its various pockets. The built of golf bags incorporates several pockets where you can put different golf accessories.
These typically include three categories of pockets: small pockets, side pockets, and medium pockets. Here are the common golf accessories that you can in each of these pockets:
Small Pockets
Tee marker

Ball markers

Divot tool

Sharpie

Scorecard

Pen

Golf shoe spike

Spike tool

Pocket knife

Lip balm

Golf clubs wrench

Medications and band-aids

Side Pockets
Socks

Gloves

Shirt

Hats

Jackets or sweaters

Rain gear

Sunglasses

Sunscreen

Medium Pockets
Other Features
Aside from the convenient pockets of golf bags, another factor why are golfs so big is because of its extra features.
You can usually find these at the bag's exterior, which manufacturers integrate to make the golfing experience much better.
Some of the additional features and functions that a golf bag has are:
Bottle holder

Cupholder

Towel ring

Umbrella holder
Types of Golf Bag
Finally, when looking at why are golf bags so big, it's crucial to look at the types of golf bags and their characteristics.
Note that each type of bag has unique features that address the needs of different types of players.
Some golf bags have the presence of wheels with steel reinforcements that make it appear bulkier than usual.
Meanwhile, some models are relatively more compact but are still bigger compared to an average sports bag.
With that, we can say that why are golf bags so big is for golfers to navigate the course easier along with their stuff.
To understand this better, here are the different types of golf bags and their key features:
This type of golf bag can be pushed and pulled and provides a large storage option.
This is considered the traditional golf bag with compact and lightweight characteristics that allow players to carry it with ease.
This is the most flexible type of golf bag. It has legs that allow it to stand upright independently during a round.
This bag is usually used by tour players and is the largest and most luxurious golf bag model.
It can serve as an alternative to carry bags and is the slimmest among all types of golf bags.
Why are Pro Golf Bags So Big?
Pro golf bags are also called the staff bag. It is the most spacious and luxurious type of golf bag that you can buy in the market.
But why are golf tour bags so big compared to other types of golf bag?
Let's take a look at the different factors:
Unlike the average weight of golf bags, why are golf tour bags so big is because it weighs around 10 to 12 pounds.
This is because it requires adequate storage space to ensure that it can cater to all the essentials of a pro player.
It's also important to note that brand sponsors can be a huge factor in why are golf tour bags so big. What this entails is that they will need to bring a lot of sponsored items in their bag.
Once they sign a contract to a brand, they will then be obliged to showcase the brand's gears during tournaments.
With expensive clubs and expensive equipment, why are golf tour bags so big is also for extra protection.
Since tour players generally use sponsored equipment, they have to own a secure and well-protected bag.
To address that, most staff bags are made of high-quality materials and usually have extra padding and cushioning.
That said, why are pro golf bags so big also plays a role in why it is the most expensive type of bag.
What Pros Bring in their Bags
Why are pro golf bags so big even shoots up once you put all the clubs inside.
By that time, the weight of the bag would reach up to 40 pounds. It's important to note that most pro players would bring the maximum 14 clubs during tournaments to expand their choices.
This number of clubs could add to the factor of why are pro golf bags so big.
In addition to that, unlike an average player, a tour player would also bring way more equipment with them during tournaments.
Generally, why are golf tour bags so big is for them to prepare for any unforeseen circumstances on the course.
With that, let's take a look at why are pro golf bags so big based on the extra accessories they keep in their bags:
Spare balls

Tee marker

Extra gloves

Extra clothes

Spare golf shoe spike

Towel

Snack

Water

Umbrella

Rain gear
With all these gears, why are pro golf bags so big is also the reason why most pros require the assistance of a caddie.
What are Some Lightweight Golf Bags?
Even though golf bags are generally on the larger and heavier side, you can still find lightweight bag models.
Here are some of the best lightweight golf bags you can find in the market:
Cobra Golf 2018 Ultralight Cart Bag
This sturdy bag has an easy-to-hang strap that ensures a sturdy grip on your cart.
Since it's a single strap golf bag, you can enjoy its stable grip with its high-quality foam strap. It also has top grab handles that allow players to carry it with ease.
The bag has a 14-way top divider, which allows for a convenient grab of each club. It also features numerous fleece-lined pockets to protect all your accessories.
Pros
The size of the dividers can handle oversized grips

Smoothly running zippers

Sturdy and durable
Cons
Only three dividers are full-length

The strap slightly blocks the putter pocket


Sun Mountain 2019 4.5 Ls 14-Way Stand Bag
The Sun Mountain 2019 4.5 Ls 14-Way Stand Bag is a great lightweight bag for organized golfers who want to keep everything in place.
Each of its 14 compartments is full-length and has enough room for accessories with its nine pockets.
The bag comes with a strap that allows you to carry it and secure it in your cart.
You can also remove its detachable aluminum legs for convenience. It has a hood mechanism to protect your bag and gears from all weather conditions.
Furthermore, its Air Flow hip pad ensures proper air ventilation for maintaining your equipment.
Pros
Has 14 separate sections for each clubs

Tough and sturdy

Convenient pockets

Has a hood mechanism

Air Flow hip pad
Cons
Although it is lightweight, it has a bulky design

A bit pricy


Titleist Carry Bag
The Titleist Carry Bag is the most lightweight bag in this list. It is ultra-lightweight and has a straightforward and functional design.
The bag has a two-way top cuff and three pockets that can hold all your golf essentials.  It also has a convertible strap with foam cushioning that provides extra comfort.
Pros
Convertible strap system with foam cushioning

Has a premium quality material

Ultra-lightweight design

Waterproof
Cons
Difficulty with the bag's straps
Go Big with Golf Bags
By now, you're more aware that why are golf bags so big depend solely on its functionality.
It allows for convenience since golfers are required to bring a lot of stuff in the course.
Looking at the anatomy of a golf bag enables you to understand this better.
On the other hand, if you're not a fan of bulky bags, you can still find lightweight bags that offer enough space for your gears.
Hopefully, this article sheds light on the reason why you should bring big golf bags every time you go on the course.
Last Updated on March 2, 2023 by Paul Roger Steinberg