Have you recently been searching for golf bags USA because you want to patronize our local products? If yes, then you have come to the right place as we will be discussing the best golf bags that are proudly American made and why you should buy them!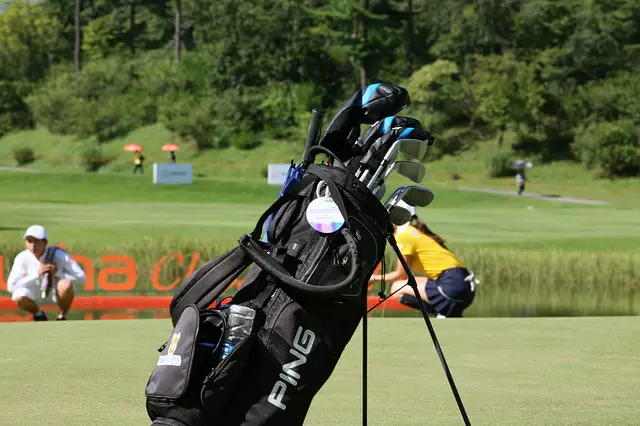 As a bonus, we will also tackle some tips to help you when shopping for new golf bags!
Golf Bags USA – Golf Bag Manufacturers Based in the US
Golf bag manufacturers are companies that specialize in designing, creating and selling golf bags.
These companies have been around for many years and have become experts in the field of golf bags manufacturing. Many of these companies also offer customized design options for those looking for something unique and special.
Golf bag manufacturers use a variety of materials to create their products, including nylon, leather, and canvas.
They also use multiple designs and colors to make their bags more appealing to consumers. Specialize in creating high-quality, affordable golf bags that meet the needs of players all over the country.
What Are the Top Golf Bag Manufacturers Based in the US
American made golf bags are becoming increasingly popular due to their superior quality and craftsmanship. These brands have established themselves as leaders in the industry by providing quality products that last for years.
When considering buying from a golf bags manufacturers, it is important to look into the reputation of the manufacturer as well as the design and features offered by the different types available.
Choosing a reliable golf bag manufacturer who offers a wide range of options will ensure that you get a great product that meets your needs perfectly.
With a wide variety of styles and colors available, it is easy to find a golf bag that suits your style and budget. Whether you're looking for a basic bag or a luxury model, most golf bag manufacturers offer something to fit every player's needs.
If you want to purchase golf bags USA, then it would be interesting for you to learn about what golf bags are made in the USA.
Well, check out this list for you to find out the next brand of golf bag that you will carry in a game with you!
When you ask about what golf bags are made in the USA, then check out Sun Mountain. This golf bag manufacturers are from Missoula, Montana.
They are literally based in a mountain town that fits the name of the company. Sun Mountain was founded by Rick Reimers and he is motivated to innovate the game of golf.
Golfers actually design Sun Mountain products. They know what a player of golf needs and that their product is designed to deliver the best functionality.
Knowing first-hand that each player has their own preferences when it comes to design and color.
They also know that golf equipment can be so heavy, so they integrated a belt technology to shift the weight from your shoulders to your hips, so say goodbye to back sores!
Moreover, their choice of fabric is based on data and not just on the assumption that it will look good on their golf bags.
So, if you are looking for high-quality golf bags USA, come to Sun Mountain!
Where Are MNML Golf Bags Made?, MNML stands for Modern Natural Materials LLC. Their products are manufactured in the USA using only natural materials. And they're made in small batches, so you know you're getting a unique product every time.
Their golf bags are available in two models: the Stand Bag and the Carry Bag. Both feature a built-in solar panel and a Bluetooth speaker. You can also add a custom logo to any of their bags.
They also sell accessories, including a golf ball retriever, a golf towel, and a golf glove. These items are sold separately, so if you'd rather spend your money elsewhere, you can still buy a golf bag without them.
Where Are CatFore Golf Bags Made? CatFore golf bags are made right here in North Carolina. You can find out where they're made by checking out their website.
They're proud to say that their products are made in America, and they're committed to keeping jobs here in our country. Their products are built tough, and they're guaranteed to keep your gear safe and dry in any conditions.
Their Torrent 14 line of waterproof bags come in six eye-catching colors, including one called "born lucky" that incorporates the colors associated with the Irish flag.
Since 1965, Belding has been known as a  strong American brand for golf bags, travel luggage, and other sports bags.
Their golf bags are made with high-quality materials and excellent craftsmanship. Belding USA golf bag manufacturer are famous for their hand-crafted leather golf bags.
You can be assured that these bags are sturdy and stylish. Also, do not give in to the stereotype that machine-made bags are the best golf bags, or that they are cheaper.
Every dollar that you will spend on Belding's hand-crafted leather golf bags is worth it.
So if you are feeling patriotic and you want to use one of the finest golf bags in the USA, then consider shopping for Belding bags the next time!
Where Are Flag Bag Co. Golf Bags Made? Flag Bag Co. makes custom golf bags using pin flags. These unique golf bags are handcrafted by skilled artisans in the United States.
Each bag is created using only high-quality materials and comes with a lifetime warranty.
Flags are sewn together to form the body and handle of the golf bag. Then, the handles are attached and the bag is finished. You can customize the color scheme and add any graphics or logos that you'd like.
Flags come in a variety of sizes, shapes and colors. There are no limits to how creative you can be.
Customers can order their flag bags online through the company's website. Prices start at $1,000. But if you're willing to spend a little bit more, you can get a custom golf bag that's truly one-of-a kind.
There are lots of reasons why you should consider getting a custom golf bag instead of buying a pre-made one. First, there are no limitations to how creative you can get with your golf bag.
Second, you can personalize your golf bag with whatever graphics or logos you'd like. And finally, you can get a lifetime warranty on your custom golf bag.
Where Are Sunday Golf Golf Bags Made? Sunday Golf makes their golf bags right here in America. All of their products are manufactured in the USA using American materials and components.
You know that you're getting a product that was built right here in the United States.
They're known for being lightweight and affordable, so they're great options for those who enjoy playing shorter courses or simply prefer a lighter bag. And since they're made in the USA, you know that you're supporting American jobs.
They also make sure that every single part of their golf bags is 100% recyclable. That means that after you're finished playing with your golf bag, you can recycle it again and again. And that's great news for our environment!
The next to our recommended lists of golf bags USA, is the Steurer & Jacoby golf bags. They started out manufacturing traditional or vintage bags out of Louisville, Kentucky.
But now they are one of the top results when someone searches for what golf bags are made in the USA in their phones or on their computers.
Steurer & Jacoby pride themselves as golf bag manufacturers that are 100% American. Their raw materials are sourced from their own tanneries and not from overseas.
They also craft every product in their workshops at Louisville, Kentucky.
You can expect nothing less from the brand that brought high-quality and stylish bags to golf professionals such as Tom Watson and Jack Nicklaus.
This is also the go-to brand for CEOs who love golf, even royalty so you can be sure that this brand is something that you should definitely not miss out on.
Where Are ORCA Golf Bags Made? ORCA makes high-quality golf bags for women. Their products include stand bags and staff bags.
Stand bags are typically smaller than staff bags, and they come in a variety of sizes. Staff bags are larger and usually feature a divider between the main compartment and the side pockets.
ORCA stands for Original Racket Company. Deborah and Erica Bennett founded the company in 2009. They wanted to bring value to the market place by offering high-quality bags that were affordable. And they did just that.
Their bags are stylish, functional and attractive. You won't find any stereotypical designs or gendered colors. Instead, you'll find bags that are eye-catching and substantial.
They're also affordable. Prices start at $335 for a stand bag and go up to more than $500 for a staff bag.
ORCA bags are available online and through retailers including Amazon, Golfsmith, Sports Authority and Walmart.
The owner of Jones Golf Bags, George Jones, the once 40-year old cab driver that started out selling his hand-stitched bags at the trunk of his cab in Oregon Portland.
He literally took his golf bags from the basement, from where he started stitching them, to countries where golf is big.
Now about 40 years later, Jones Golf Bags have sold millions of golf bags to golf enthusiasts, and even prominent golf professionals.
With Jones Golf Bags, you get a very straightforward golf bag. You will not be paying for an overpromising and overpriced golf bag just because they are golf bag manufacturers that are 100% American Made.
Where Are Nelson Hill Golf Bags Made? Nelson Hill makes its bags right here in the United States. All of the company's products are made in America using American materials.
And if you live in the Kansas City area, you can pick up your Nelson Hill bag directly from the company's headquarters.
Nelson Hill's Edition No. 0001 bag is made of a stylish combination between Holween leather and wax-finished canvas.
It retails for $850. But if you'd prefer to purchase a bag online, you can order yours through the company's website. You can also request a free delivery service if you live within the Kansas City area.
Another great feature of Nelson Hill bags is that they come with a lifetime warranty. If anything goes wrong with your bag, simply send it back to the company and they'll fix or replace it.
Last, and definitely not the least on our list, is Vessel Golf Bags.
Where Are Vessel Golf Bags Made? Vessel makes high-quality golf bags that are available online or through retailers like Amazon. Their bags are made in the USA, and they come in white and black.
They're priced well above the big retail brands, and they emphasize quality over quantity. And if you're looking for a more minimalist look, then you should definitely consider buying a Vessel bag.
Aside from being included in the top results when someone searches on their phones or computers the question " what golf bags are made in the USA", this brand is also actually a charitable brand.
With Vessel's  Buy a Bag, Give a Bag program, you are not just helping yourself get one of the best golf bags USA, but you are also helping less fortunate students from all over the world to have their backpacks.
There are many golf enthusiasts and even professionals that have been keen on buying Vessel Golf Bags because of its design, performance, and even stability.
So, the next you ask yourself, "What golf bags are made in the USA?" keep in mind this amazing golf bag that will not only help you to store your golf clubs perfectly, but you can also help others.
Where Are Mackenzie Golf Bags Made? Mackenzie Golf makes high-quality golf bags that are built to last. Their products are made in America using only the finest materials. And they're available in several styles and sizes.
Their initial all-leather line of bags were made with leathers sourced from tanneries in Texas and California. These bags are priced between $1,000 and $2,500.
But now they're offering a line of bags made with ballistic nylon. Ballistic nylon is a strong material that's used in military applications. It's also great for outdoor gear because it doesn't rot or mildew.
These bags start at $425 and include a lifetime warranty. You can customize the color of the lining and exterior fabric. And if you'd prefer a bag without pockets, you can opt for a carry strap instead.
Mackenzie Golf offers a wide variety of options for every golfer. Whether you're looking for a classic style or a modern look, there's a bag for you.
Choosing the Right Golf Bag
The first step in any purchase is to decide or finalize on what product to buy. In this case, you need to decide on which type of golf bag you need, and want.
You can choose from these 4 types of bags:
Tips Before Buying a Golf Bag
Check if the bag that you want to buy contains enough dividers and their dividers are of the optimum size for your golf clubs.
It is highly recommended to decide on how many slots that you need on a golf bag, before actually buying one.
If you want to add more slots after purchasing a golf bag, you might find it hard or more expensive to stitch in or to install extra dividers to get you more slots.
Sufficient Amount of Pockets
Aside from slots, you also have to think about the pockets of a golf club before buying one.
There are many essential items aside from golf clubs that should be stored safely and easily inside a golf club
You should decide on which equipment you would want to put inside your bag so that you can find the appropriate pockets for this equipment.
Need to decide on how many pockets you would want on a golf bag before buying one. Just like dividers, it is not that easy to add extra pockets on a golf bag.
The next consideration that you have to make is the weight of the golf bag.
This is extremely important if you want to buy a carry bag, or you are used to carrying your golf bag by yourself.
A heavier golf bag will add to the weight of your golf clubs. When you are carrying at least 5 golf clubs inside a heavy golf bag, your shoulder and back will take so much stress.
It is highly recommended that you purchase any golf bag with a weight that will not exceed 6 pounds.
If you are being offered golf bags that weigh more than these, you might have to take a step back and choose a lighter one.
Lastly, you have to consider your budget. There are many online stores out there that claim to have the best golf bags USA, but they will charge you for a high price.
Never get carried away by such offers. Always remember what a golf bag's purpose is, which is to carry your golf equipment.
You do not necessarily need golf bags laced with diamond, gold, or any other expensive materials. As long as it is fit for all the golf equipment you plan to carry, it should be good to go.
Beware of fakes!
Now that you have a general idea of the things you need to consider before buying golf bags USA and the list of American-made golf bags, there is one last thing that you should not forget.
Always check if your golf bag is fake or not.
There are a lot of online stores out there that can pop out when you search for "what golf bags are made in the USA" on your internet browser.
Most of these stores offer golf bags that are cheaper than what is being sold by most of the USA golf bag brands.
While it may be tempting to grab their offer, remember that legitimate golf bags can last up to years while some of the fakes can break down after being used for a few games or after being under the sun too much.
Here is some helpful information that can help you to check if the golf bag that you are about to buy, or have purchased already, is fake or not:
Scrutinize carefully all of the details of a legitimate branded golf bag and compare it to the golf bag that you are planning to buy, or have bought already.
If you notice some details that are misaligned, faded, or have incorrect design elements, then there is a good chance the golf bag is fake.
The logo is one of the easiest elements of a golf bag that many people can miss out on if they are not being extra careful.
Most of the time, the ratings are given by other buyers on a certain seller are a good indicator of whether a golf bag is fake, or not.
Satisfied buyers will leave out good feedback for the seller to increase the seller's credibility, as well as the products' credibility.
If you come across a seller with a low rating then it is highly likely that the golf bags being sold are fake, or worse, have so many defects.
No other information is given
Extremely important that you are given an opportunity to view the product and check it first-hand before buying it.
If you are being offered golf bags by any online store or seller, and they refuse to send you details, pictures, and other relevant information of the golf bag, then you should refuse immediately.
Not only is this a breach of legal procedures required for a sale of any product, but this is also a sign saying the golf bag is fake, and they just want to get some money out of you.
It is your right to view and request for relevant information or details regarding a golf bag before buying it.
If you really want to avoid fake golf bags or be tricked into buying fake golf bags, then head straight to official stores of USA golf bag brands.
Not only do they offer affordable prices, but they also have an after-sales or customer care hotline to take care of your needs immediately after purchasing any golf bag from them.
Proud Owner of Golf Bags USA Made
Who says being patriotic is only limited to becoming a good citizen? Be a patriot even through golf.
You can support the USA by simply buying purely golf bags USA made to play your favorite game of golf.
Keep in mind this list of recommended golf bag brands, the next time you go out shopping for your golf bag.
Not only will you help yourself store golf equipment in an orderly and secure manner, but you are also helping American companies and the whole American economy.
There are also USA golf bag brands that donate to charitable causes across the world.
Also, remember the tips before buying any golf bags to avoid wasting your dollars and to harbor regrets about it in the long run.
Make sure that the golf bag that you would be getting is legitimate and not just some cheap knock-off from the best USA golf bags out there.
Last Updated on May 25, 2023 by Paul Roger Steinberg