As you visit a golf store or browse online and go through the golf bags section, you'll be quick to notice how Taylormade golf bags are part of the top pick.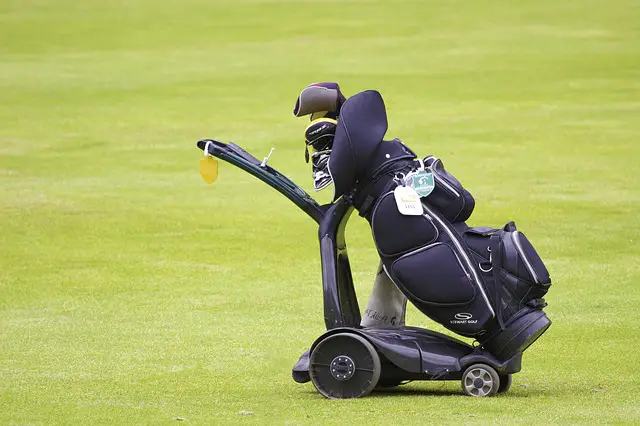 Since 1979, the Taylormade Golf Company has been home to the best performing golf products globally.
Among the wide variety of choices, we'll look at the brand's best golf bags and see which one fits your needs.
Taylormade Golf Bags
When it comes to selecting and purchasing a new golf bag, golfer's preferences greatly vary. Some consider the brand, while others don't forget to check the price first.
Yet, no matter what your checklist contains, the most important thing you should consider is your need.
How many golf clubs will you carry?

Do you prefer walking or riding when on the golf course?

What other equipment or accessories do you usually bring when playing?
These are just some of the questions you need to look at concerning your golf bag choice and how many golf clubs you can carry.
Fortunately, regardless of your needs or preferences, you'll never run out of choices with Taylormade golf bags.
Even if you consider yourself picky, you'll surely find yourself busy checking them out.
Besides, what could go wrong if even the best Tour Professional, Tiger Woods, uses the high-quality golf equipment from Taylormade? This, in addition to their large consumer following.
Maybe the only thing that might concern you is the price: How much are Taylormade golf bags? Well, discover it for yourself, as we unveil the seven best Taylormade golf bags right on this list.
Taylormade Supreme Golf Cart Bag
The Supreme 2018 Golf Cart Bag comes with several colors to choose from: black, blue, navy, gray/blue, black/red, and gray/orange.
But aside from this, this model boasts its fade-resistant UV fabric. Thus, rest assured that the great color of your cart bag will last, even longer than your past golf bags.
It can also hold and protect a variety of your clubs with the mesh 15-way top that's made from high-quality materials.
However, the umbrella slot is a bit smaller compared to other golf bags. But overall, it's quite affordable.
Key Features
Large storage space

Six different colors options

Mesh top that is built with materials that last 3x longer than a regular cart bag

10 total zip-off pockets

Internal insulated cooler pocket for your drinks

Taylormade Golf Select Cart Bag
From the Taylormade golf bags, particularly for a cart bag, Golf 2019 Select Cart Bag is a bit lightweight at only 5-7 pounds. Despite the lightweight design, it doesn't sacrifice its storage.
The golf bag is also divided into sections to keep each club from rubbing each other.
Don't worry because the pockets are also positioned in a way that is convenient for you. You can easily reach out to your things even when the bag is placed in a golf cart.
But compared to the previous cart bag, this model doesn't contain a cooler compartment.
Key Features
Seven different pockets including a line protected valuables pocket for your cell phone

Comes in a variety of colors

Multiple grab handles for additional mobility

14-way padded top with full-length dividers


 Taylormade Quiver Carry Bag
Speaking of lightweight golf bags, carry bags are known for being engineered for golfers who enjoy walking. That's why Quiver Carry Bags are one of the lightest golf bags Taylormade has produced.
Now, it also comes with a mini retractable stand and an extended grab handle. If it would have a motto, it's probably "grab and go".
If you're still thinking about "How much are Taylormade golf bags?", this Quiver carry bag is the cheapest one in this list. Enjoy the great features of this golf bag.
Key Features
3 pounds

3-way top

Mini stand system

Six total pockets including pockets for valuables, garment, accessory, ball, beverage, and scorecard/pen sleeve

Crush resistant and air mesh padded hip cushion


Taylormade Lite Tech 3.0 Carry Bag
Similar to the Quiver Bags, Lite Tech 3.0 also just weighs at 3 pounds. Still, you can carry your things comfortably in the field and enjoy the walk as if you're walking in the park.
In case you're curious why it's in the 3.0 version, this specific model uses materials that are 3x lighter than FlexTech Lite.
Don't worry though because this still maintains its durable, high-strength construction.
The only limitation you'll have is the small storage space. But this is a great choice particularly if you're a beginner or you want to lighten your load for a quick game.
Key Features
3 pounds

4-way top

Six total pockets including a water-resistant valuables pocket

Self-adjusting strap system


 Taylormade Flextech Crossover Stand Golf Bag
Although this golf bag can stand on its own, as its name implies, you can easily attach this to any golf cart as well. One of the unique features of this golf bag is the collapsible base system.
Now, you can move from one place to another without taking too much time disengaging the stand.
The pockets of Flextech Crossover Stand Golf Bag are also strategically placed for you to conveniently access your golf equipment.
In terms of storage, there's enough room to house all your golf accessories. But, there's also a drawback to having several pockets.
This golf bag might be too bulky when carried. If you think that a stand golf bag is the one for you.
Key Features
Organize up to 14 clubs with dividers

10 total pockets including a water-resistant valuables pocket and an extra-large cooler pocket

Durable and weather-resistant fabrics

Self-adjusting strap system


Taylormade Flextech Lite Stand Golf Bag
Compared to the other versions of the Flextech golf bags, Flextech Lite Stand Golf Bag adopted a smaller size, which proves to be suitable especially for beginners.
Are you afraid that the golf bag's smaller capacity may be disadvantageous for you? Well, the brand made sure that the essential features weren't sacrificed.
Besides, you might need to be more concerned with stability rather than space.
Some users reported that despite the Flextech stand system, this golf bag wasn't designed to overcome the harshest environment, not even strong winds.
Yet, if for you, the advantages override this issue, then don't think twice about adding to your shopping cart!
Key Features
Decent amount of space (not too big or too little storage)

Several colors to choose from

Comfort strap to handle heavy equipment


Taylormade Tour Staff Bag
When talking about Taylormade golf bags, it's nearly impossible not to include their tour staff bag. Once we've covered the different types of golf bags later, you'll realize why.
But now, suffice it to say that in terms of branding and premium designs, a tour staff bag seems to be essential, particularly for professional players.
Taylormade Tour Staff Bag comes with various specialized pockets that are made for your convenience and efficient storage.
Think about all the classic golf bag amenities and it's all included here.
Not to mention the Tour-caliber upgrades this bag has. But for this one, you might want to ask the same question you raised earlier.
How much are Taylormade golf bags? You know by now that it depends on the features and the type of bag. And with that, a tour staff bag comes with a hefty price.
The features might be great, but don't even bother thinking about getting this if you're still in the beginning phases.
Key Features
11 pounds weight

6-way velour top

A 3-point shoulder strap system

Umbrella sleeve

12 total pockets including the following: two velour-lined valuables pockets, two garment pockets, two accessories pockets, two insulated cooler pockets, two hard shell accessories pockets for extra protection, and a ball and tee pocket

Types of Golf Bags
Now that you've known the top seven Taylormade golf bags that golfers prefer, it's time to get you acquainted with the different types of golf bags.
Understanding these types could help you decide, which among those seven featured golf bags should you choose. Again, it's not just about the brand, price, or features.
One of the most crucial things to consider is your need. Here, functionality is key. Every golf bag style differs because it depends upon the purpose upon which it is built.
For instance, if you want to lessen the number of clubs you want to bring because you prefer walking, then a cart bag isn't for you. So, among the variety of Taylormade golf bags, which one is for you?
Check out these four general types of golf bags and try to figure it out.
Merely basing on its name, you'll know that cart bags are designed to be placed on a golf push or pull cart.
Because of the bulky and large size of this golf bag, it's not recommended to carry it. So, if you're one of the golfers who usually rides a golf cart, then this might be the perfect one for you.
In case you still insist on carrying it, it does have a strap that allows you to put it in your shoulder. However, it can't stand effectively on uneven surfaces, so might as well just put it in a cart.
Additionally, with its typical large size, it has plenty of storage space for you to put all your equipment and accessories. Club dividers also make it convenient to organize and access your things.
Also known as Sunday bags, carry bags are quite the opposite of cart bags in terms of purpose. If you want to get some exercise and walk through the field, then consider buying this type.
Typically carry bags are structureless, that's why these can be carried easily and be folded for easy storage.
Also, it's becoming more popular for golfers who don't want the hassle of bringing all the 14 clubs.
It's for golfers who want to stick with the essentials. Some carry bags also have extra pockets for your golf towel or ball but don't expect any more pockets.
Besides, carry bags can be great especially for some quick or spontaneous games.
What's unique about stand bags are their retractable legs. Since cart bags will incur additional costs for buying or renting golf carts, stand bags are your next great option.
Take note, however, that stand bags are smaller and more compact than cart bags.
Stand bags are especially suitable if you're looking for a golf bag with large storage, yet can stand on its own. But don't be mistaken. Stand bags can also be placed in a golf cart.
If you prefer carrying it around, its strap or backpack-style harness will come handy.
Staff bags are designed to hold a complete 14-club set. It also has several pockets, so you can include all the golf accessories you would probably need.
One of the key characteristics of a staff bag is its prominent logo.
As mentioned earlier, most professional golfers use staff bags. But more than the features like storage space, staff bags are also mostly about brand positioning.
Imagine if a known professional golfer, like Tiger Woods, would use Taylormade staff bags. Wouldn't it drive the price as well as the consumer following?
That explains why it comes with a hefty price.
Invest in a Taylormade Golf Bags
Surely, depending on the type of golf bags, Taylormade golf bags might be a bit pricey for some.
But if you're looking for a golf bag whose price translates into great value, then stop thinking twice about investing in this.
The top seven golf bags featured in this list are just a few of the options you have.
Whether you'll get the one from this list or do your search, you'll never go wrong with a Taylormade golf bag.
Most are resistant to damage and can even protect your golf equipment against the harshest environment.
Go ahead and explore your options!
Last Updated on May 23, 2023 by Paul Roger Steinberg