In this article, we will discuss how do ECCO golf shoes fit and share the Ecco golf shoes fitting guide on how to know your correct size.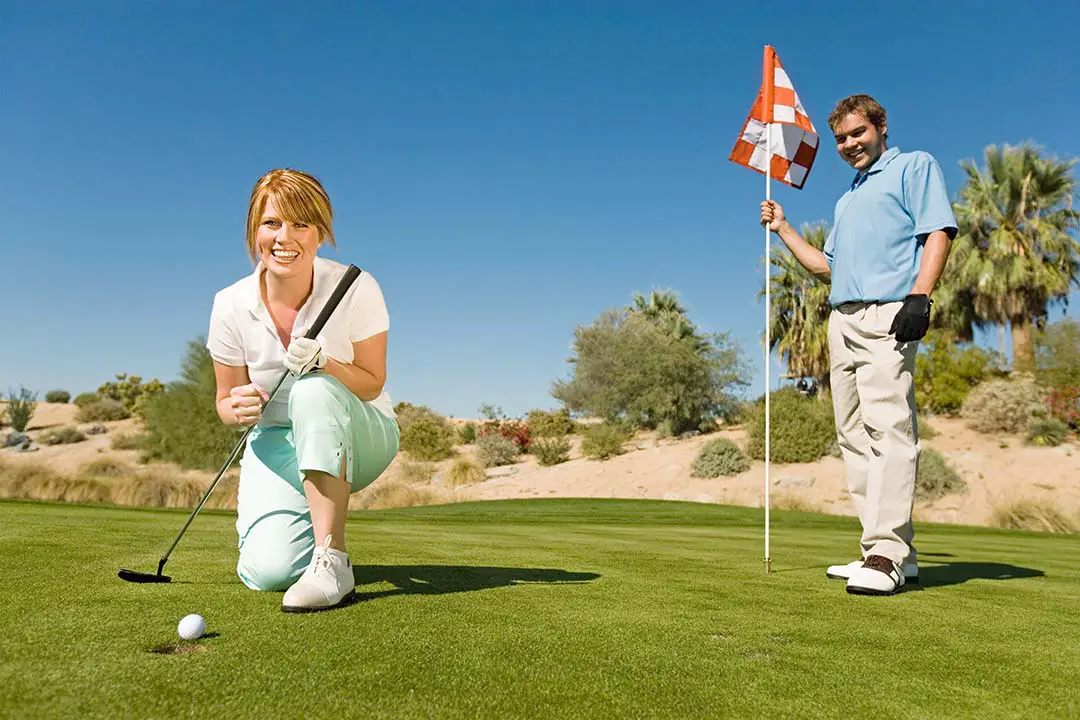 It is already given that ECCO is a great brand, but having their high-quality shoes wouldn't matter if they do not even fit you in the first place!
Before you purchase ECCO golf shoes, you should first determine the right fit and size that you need.
How Do ECCO Golf Shoes Fit?
Ecco traces its roots in Denmark, back in 1963. Their reputation is built on creating quality golf shoes that achieve comfort, style, and functionality.
Apart from being known as the first brand to produce spikeless golf shoes and is famous for their waterproof Hydromax technology.
ECCO is also praised for using premium materials and paying attention to every detail.
How do ECCO golf shoes fit? Well, the answer lies in the characteristics of the golf shoes and the technologies used in creating them.
Here is the information you need to know before identifying your correct size and before buying golf shoes from ECCO.
ECCO is a European brand which means they do not manufacture their golf shoes in half sizes and different widths. Despite this, the brand still has a wide selection of sizes.
Explaining how do ECCO golf shoes fit is made easier through their Freedom Fit technology.
It was developed to enable more room in the toe box and keep a narrower fit in the instep and heel, but still able to fit larger widths.
Through this technology, your toe can fit and spread naturally to support your weight.
ECCO designs their footwear using Freedom Fit so customers like you can fit the heel forward to the instep, which is not possible in most shoes that fit across the toes.
Shoes without this technology restrict the natural spreading of your toes while walking or running.
The Freedom Fit allows ECCO golf shoes to fit different feet widths and sizes!
One famous and most purchased ECCO golf shoes is the Biom Hybrid 2 Goretex GTX which incorporates the Freedom Fit technology.
A key component in our discussion on how do ECCO golf shoes fit is the brand's Scandinavian design.
Their design principle prioritizes comfort and durability, so each pair of golf shoes deliver a superior fit and good arch support.
ECCO believes that golf shoes should be designed to fit the foot instead of letting the foot mold into the shape of the shoe.
Wearing ECCO golf shoes will give you a perfect fit and a polished look.
The brand ensures that you are comfortable on the golf course, no matter how long.
Unique shoe-making process
ECCO has a unique ECCO golf shoes fitting guide and shoe-making process that allows them to provide maximum comfort and performance in every golf shoe.
They maintain high standards and quality control in their production process.
But how does this relate to the question, how do ECCO golf shoes fit?
Well because of their shoe-making process, ECCO is able to incorporate the Freedom Fit technology. It also enables them to provide amazing flexibility and lightweight soles.
Each pair is produced as an anatomically-correct fit and true to size shoes for every golfer. ECCO is committed to giving its customers a quality shopping experience.
The brand provides comprehensive instructions to ensure that customers will order and purchase golf shoes with the right size.
ECCO Golf Shoes Fitting Guide
The ecco golf shoes size guide helps customers find the perfect fit for their footwear. It includes a detailed size chart that lists US sizes, as well as European and UK sizes.
The design of the chart is easy to read and understand, making it simple to identify which size shoe is best suited for any particular foot shape or size.
Customers can also use the brand's online store to view product details and sizing information before buying a pair of Ecco shoes.
The Ecco Golf Shoes Size Guide ensures that customers are able to select the perfect fit for their feet. Ecco golf shoe sizing is one of the most important factors when selecting a golf shoe.
Ecco golf shoes offer a wide range of sizes for men, women, and children.
From size 5 to 15 in US sizes, Ecco has you covered. The Ecco freedom fit system even allows you to customize the width of your shoes based on your foot size.
Unlike other brands such as Adidas or Footjoy, Ecco is one of the only brands that offers half sizes so that you can get the best fit possible.
When it comes to finding the right size and width for your feet, Ecco Golf Shoes run true to size and are based on US sizing standards.
With so many options available it makes sense to shop with Ecco Golf Shoes for all of your golfing needs.
To help you get accurate measurements.
Prepare to measure your feet
The first step in our guide is to prepare the materials you need to precisely measure your feet. You will need a piece of paper, pen, ruler, and a flat surface.
Before you measure your feet, it is advised that you wear socks that have the same thickness as you typically wear in golf.
Socks affect the fit and size of your golf shoes. Wearing ones that are too thick or thin may result in inaccurate measurements.
Use a foot-measuring technique
There are two ways to determine how do ECCO golf shoes fit, either by using a foot-measuring device or doing it on your own using paper.
For measuring it manually, you must find a flat surface. You can sit on a chair with your feet placed flatly on the ground or you do it on a floor against the wall.
The latter is more convenient and accurate. Place the paper on the floor against a wall, then put your foot on the piece of paper.
Make sure your heel is placed against the wall. Using a well-tinted pen, mark the longest part of your foot on the paper.
Do this for both feet since it is possible that they can have different sizes.
Measure the length of the distance until the mark. You may use centimeter or inch since ECCO provides conversions for different units.
Foot-measuring devices are available in most retail stores
First, place your socked foot on the foot-measuring device.
Put your heel into each cup for both the right and left feet. Remember to push until your heel feels comfortable.
Slide the width bar and touch the side of your foot. Take note of the measurement at the tip of your big toe, as it is the longest.
The foot-measuring device has marks that tell your size. It is optional to refer to the width bar to identify whether you have a thin, average, or wide feet.
You need not worry about the width of your feet since ECCO has proprietary technology, the Freedom Fit.
Again, repeat the process with the other foot to double-check if they are in the same size or if they differ by a slight inch.
Now with your recorded measurement, compare how do ECCO golf shoes fit in your size with ECCO's standard size chart. It is available on its website and physical stores.
Use the measurement of your longest foot in picking which size to purchase. They provide all three measurement systems, UK, US, and EU for both men and women.
Take note of the measurements
Last but definitely not the least in our ECCO golf shoes fitting guide is to take note of the measurements and remember it.
Make sure to remember your measurement as you purchase your ECCO golf shoes. You may even bring the measuring paper when you shop. Golf shoes come in many different sizes.
Some manufacturers cater to golfers with wide and even narrow feet. ECCO is one of them. Thanks to their advanced technologies, they are able to produce an ample selection of golf shoes.
Simply try pairs as much as you can. You will definitely find a pair that fits your size and satisfies both comfort and style.
Do Ecco Golf Shoes Run Big or Small
Ecco golf shoes are a popular choice among golfers, but you may be wondering whether they run big or small. The answer is that it depends on the specific shoe.
Compared to Nike and other brands, Ecco golf shoes typically run true to size, so if you are a US size 8, you should buy an Ecco golf shoe in a size 8.
That said, there may be some variations between different Ecco models — for example, the BIOM Hybrid line might fit slightly bigger than other styles due to its thicker cushioning.
If you are unsure about what size to get, it is always best to try them on in person or order two sizes and return the one that doesn't fit.
The Freedom Fit design of Ecco shoes gives them an extra roomy toe box, so your feet have plenty of space and freedom of movement. You can also use the Ecco size chart to determine your perfect fit.
When fitting the shoes, make sure there is enough room around the heel and instep area and that the toes have enough room to move freely in the toe box.
With a pair of Ecco shoes, you can expect a perfect fit with plenty of room – not too tight, not too loose – so you can enjoy all-day comfort without sacrificing style.
ECCO Golf Shoes — Fit and Functionality
By answering the question, how do ECCO golf shoes fit?
We hope that you have learned the characteristics behind ECCO's sizing system and the different technologies they use in producing golf shoes with high-quality fit and functionality.
Wearing golf shoes in your right size keeps your feet comfortable, allowing you to move freely across the golf course.
It also lets you focus on the game which can improve your performance.
Picking golf shoes that are too small or large will just irritate your feet and will ruin your rounds.
Golf is an enjoyable sport, don't let it turn into an annoying experience!
Last Updated on May 25, 2023 by Paul Roger Steinberg