The fairway can sometimes be a runway, and one of the common fashion woes of golfers is knowing what shoes to wear with golf pants.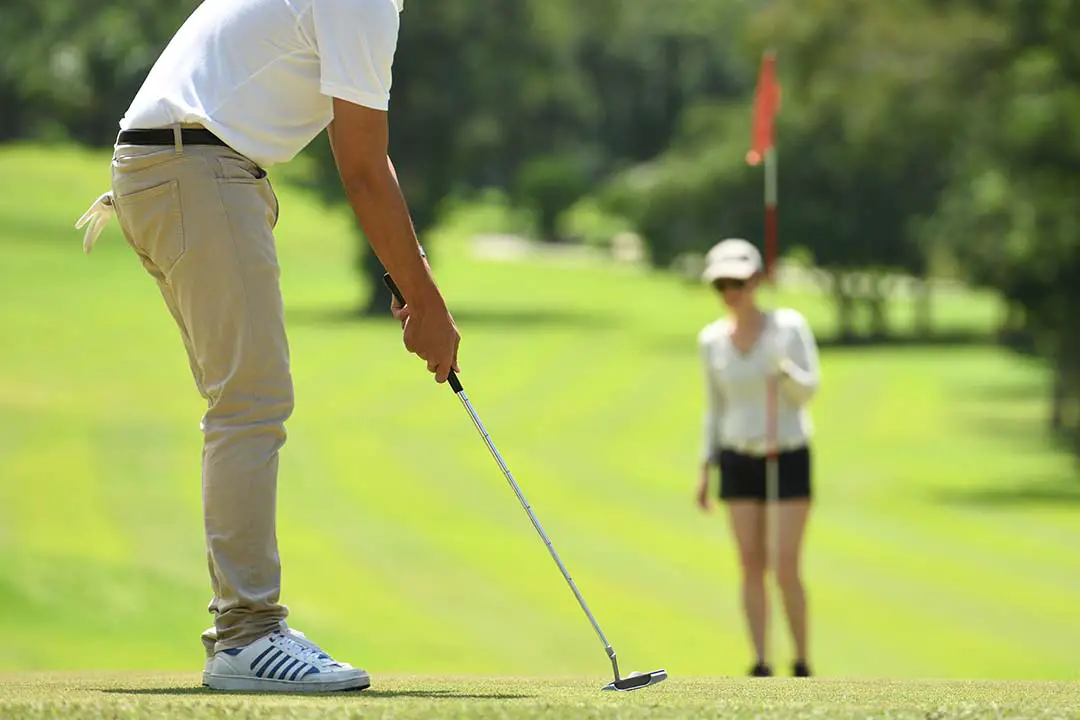 Of course, people want to look their best when playing golf because it makes them play better.
But, comfort and style are important, so you need to consider both in choosing your golf apparel.
What Shoes to Wear with Golf Pants
While golf is considered a highly professional sport, a lot of golfers actually play it for recreation. And casually playing golf with friends can be an opportunity to dress up.
For instance, golf shoes and pants should be paired meticulously.
How would you know what shoes to wear with golf pants? Simple. Just look at what you have, and then pair them up.
Know your golf shoes options
Golf shoes are generally classified as either spiked or spikeless.
Spiked golf shoes have metal or plastic protrusions embedded at the outsole which helps give the players more traction and stability.
On the other hand, spikeless shoes are more contemporary, and they look similar to regular sneakers.
Deciding what shoes to wear with golf pants starts by knowing your options. Whether you want spikeless or spiked golf shoes,
Here are a couple of brands to look out for:
ECCO: This company manufactures different golf paraphernalia, but their shoes are probably one of their best sellers. Both spikeless and spiked golf shoes are sold by ECCO. Moreover, their shoes feature a variety of colors and styles that appeal to most millennials.

Callaway: Most golfers know Callaway by their golf clubs, but this company also manufactures top-notch golf shoes. Similar to ECCO, both spiked and spikeless shoes are offered by Callaway, though their styles are more formal and sleek.

Adidas: This company is well known as a producer of high-quality sports goods, and their product line for golf shoes uphold this reputation. Both their spiked and spikeless golf shoes are created to look like casual Adidas shoes – exuding the spirit of modern design.
As you've seen, the market for golf shoes is extremely well-populated.
That is why if you don't have one yet, there is no need to worry because you will have a wide array of options to choose from.
Know your golf pants options
Most gofers consider the pants' material to be the most important factor.
After all, the breathability, stretchability, and wrinkle resistance of a pair of pants will depend on what material it is made of.
Breathable and stretchable golf pants will help improve your mobility, whereas wrinkle resistance will make your pants stay well-pressed. There are also a lot of companies producing golf pants.
Here are some of the best brands to consider if you want to buy them. 
Nike: golf pants are made mostly of polyester and spandex to provide comfort and complement the movement of the golfers. They are also machine washable, which is suited for golfers who are on-the-go.

Under Armour: Made of nylon, polyester, and elastane, the golf pants of Under Armour surely maximize the mobility of whoever is wearing them. They also come in various neutral colors for more formality.

PGA Tour Superstore: PGA Tour organizes the biggest professional golf tours in the US, and its Superstore is known for a variety of golf merchandise. Their golf pants are made for professional golfers, so you can expect them to be of unparalleled quality.
Pairing Golf Pants & Golf Shoes
Now that you know your choices for golf shoes and pants, the next step is deciding what shoes to wear with golf pants.
Just a disclaimer, there is really no one-size-fits-all formula for this. People wear what they want mainly depending on their preferences.
However, there are a couple of rules of thumb for matching your golf shoes and pants.
Comfort before style. Yes, we all want to look our best, but style shouldn't be prioritized over comfort and functionality. Remember that golf is a sporting event, and you cannot play a sport if you are not comfortable with what you are wearing.

Avoid monochromatic combinations. It might be tempting to wear white pants and white shoes, but don't fall for this mistake. Same-color pairing is lousy. Opt for a little bit of contrast.

No flashy colors. Most millennials are fond of dazzling patterns, but if you want to look like a pro, stick to plains or at least limit the prints. For instance, if your shoes are already colorful, try to wear plain-colored pants.

Stick to the classics. Brown leather golf shoes and khaki pants are a go-to combination for most golfers. There are other classic outfit pairings, and if you are not really into experimenting with your own style, just stick to the classics.
Taking Care of your Golf Shoes and Pants
For golfers, it is nice if they know what shoes to wear with golf pants, but they should also be concerned with how to care for golf shoes and pants.
Caring for your golf shoes
Do you know how to care for golf shoes? Well, this is very doable, but it requires some work. After all, taking care of your golf shoes should be done regularly.
If you have new shoes, they might not fit you well initially, so you have to know how to break in golf shoes.
There are many golf shoes accessories on the market for breaking in golf shoes without damaging it.
And in case you are wondering how to break in golf shoes, a quick search on the internet will give you tips.
Just input "how to break in golf shoes" and you will surely see a roster of tips to help your shoes adjust with your foot.
Now, if you own older shoes, they have already acclimatized to your feet's dimensions, so breaking in is not an issue anymore. The best thing to do is to maintain them.
Keep them clean by brushing the outsoles after every golf game. And periodically change some of the golf shoes accessories like the spikes and laces.
Golf shoes are expensive, so it is really integral that you know how to care for golf shoes. Taking care of them means, they last longer and you get more of your money's worth.
Aside from learning about how to care for golf shoes, maintaining your golf pants in pristine condition is another important skill.
Fortunately, pants are easier to maintain than shoes. All you have to do is to wash it after every game and to strictly follow the washing instructions.
Most golf pants can be put into a laundry machine, but be careful since some require handwashing. You should also use the appropriate soap or detergent.
Bleach or bleach-based cleansers are usually not used because they cause discoloration.
As for ironing your golf pants, make sure to look at the material that is used for making it. Different materials require different levels of heat.
And some golf pants are actually not meant for ironing, so you have to really know the product.
Just because golf pants are cheaper than does not mean that they need less care. It is equally important to know how to care for golf shoes and golf pants as well.
As mentioned earlier, keeping your golf paraphernalia well-kept will prolong their service life and will make them worth your cash.
Other Important Golf Gear
There is other essential golf gear on top of shoes and pants.
It is wise to invest in these golf shoes accessories and add-ons because they can make your golfing experience more enjoyable and fun.
Bags are required golf shoes accessories. Where will you put your shoes after a game?
Of course, in a golf bag. So, make sure you have a golf bag that is durable, waterproof, and lightweight.
Socks are also required golf shoes accessories. You really need to wear socks during a game unless you want blisters all over your foot.
Take hold of soft golf socks for maximum comfort.
Breaking-in New Golf Shoes
A quick search on how to break in golf shoes will give you a list of products that you can use. These are also necessary products since they help you adjust to your new footwear.
Some of these products include balms, anti-blister tapes, patches, and cushions.
If you are familiar with how to break in golf shoes, you'll know that these products actually prevent you from some discomfort and even minor injury.
Golfing in Style
Now, have you mastered the art of choosing what shoes to wear with golf pants?
In case you haven't, do not fret. It is really easy to decide what shoes to wear with golf pants.
All you have to do is to assess your options, and then pair them according to your preferences.
However, don't forget that comfort and functionality are prerequisites so that you can go golfing in style.
Last Updated on May 22, 2023 by Paul Roger Steinberg