Perhaps, you have wondered about what golf shoes are made in America, at some point. It is because American products have stood the best against different product quality tests.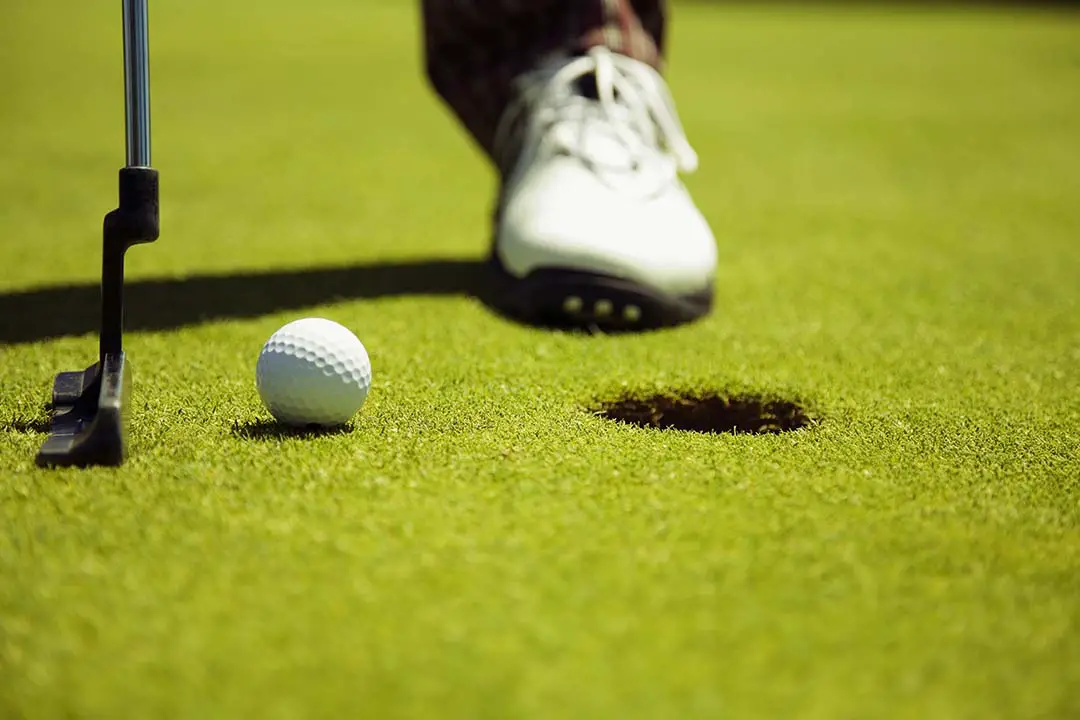 Many people support items manufactured in America since the country has long established its credibility for the products that they sell such as bags and shoes.
Of course, no one wants a substandard gear, especially if you plan to use the item for sports like golf.
Fortunately, we are here to unfold what golf shoes are made in America, so you can shortlist your options when it comes to athletic footwear.
What Golf Shoes Are Made in America
When you search online about which golf shoes are made in USA, only a few actual results show up.
That is because the United States had taken a ten-year hiatus in the production of golf shoes.
Nonetheless, original American golf shoes are out on the market again so there is no need to fret anymore.
However, you should know that there is only one store in the country that originally produces golf shoes since the early 1920s.
Typing which golf shoes are made in USA on Google will lead you to different golf stores but make sure to carefully review the websites you visit.
Some stores have golf shoes that appear to be manufactured in America when they are not. Click the model first to check if the shoes are indeed created in the USA.
If there is no information about the manufacturing place, it is most likely misleading. As of writing, there is only one shoe company that has been making American golf shoes.
Allen Edmonds is considered to be the leading men shoe company in the United States. The answer to the question of what golf shoes are made in America used to be multiple brands.
Indeed, there is only one company left that is committed to manufacturing American golf shoes.
Although the options are limited, Allen Edmonds has proven its reliability since it has been on the market for almost ten decades already.
This golf shoes America high-end shoe manufacturing and retail company is headquartered in Port Washington, Wisconsin. It was first established in 1922.
The brand gained its large market base when it provided shoes to the US army and navy during World War II.
As a sign of gratitude, those who have received a pair of shoes at the time remained loyal to the company.
Consequently, Allen Edmonds continued to progress and compete with other shoe brands.
Many companies in America produced their items overseas but this golf shoes america brand domestically manufactures all their shoes.
Hence, it is considered as the only company producing original American golf shoes.
Brands like Nike might have distributed golf shoes made in the USA before but they do not manufacture any of that anymore.
Golf Shoes from Allen Edmonds
Again, what golf shoes are made in America? Allen Edmonds started making high-quality and classic golf shoes in late 2011.
Many players describe their footwear as sleek and snug because of how they are engineered.
These golf shoes from the aforementioned company are often lightweight but well-constructed and solid.
It is to ensure that players are comfortable when wearing it without compromising its function.
When you purchase your golf shoes from Allen Edmonds, it would feel as if the footwear you have is worn by PGA Tour players. It is because of the quality of the product.
And the catch is, you get to enjoy the same caliber of golf shoes like that of professional players without paying as much as them.
Allen Edmonds golf shoes are more affordable than other brands that sell golf footwear.
As far as selection is concerned, all the golf shoes that the company sells are under the Honors Collection.
What they have there are mostly golf shoes with a combination of leather and rubber full-length sole. This is where Allen Edmonds and most of the other brands differ.
The company does not provide a partial length rubberized sole to ensure optimum shoe quality.
When you visit their site, you would see that the style they often go for in golf footwear is typically wingtips or saddle shoes. Into the bargain, they all have soft spikes.
So, which golf shoes are made in USA? Of course, it is those shoes that belong in the Allen Edmonds collection.
Allen Edmonds Compared to Other Brands
What golf shoes are made in America?
Although Allen Edmonds is the only golf shoes america shoe company that manufactures golf shoes domestically, their products can undoubtedly compete with those produced overseas.
They can even face even the most popular shoe brands such as FootJoy, Adidas, and Nike.
Those golfers who are meticulous when it comes to the gear that they use typically put Allen Edmonds above any other brands.
It is because the company equally influences your performance as much as other athletic footwear does.
But with Allen Edmonds, you can enjoy more stylish golf shoes that you can wear on and off the course.
Types of Allen Edmonds Golf Shoes
The answer to what golf shoes are made in America lies within the Honors Collection of Allen Edmonds.
The company offers seven different types of golf shoes. While the selection is limited, you would not be disappointed with the quality.
The Up models would be the first type, and they take inspiration from Byron Nelson, who was a famous American golfer from the mid-1930s to the late 1940s.
These golf shoes may appear heavy because of their durable-looking appearance, but they are precisely lightweight.
What they call the next type of Allen Edmonds golf shoes. They are inspired by Gene Sarazen. You can either get golf footwear with a brown mesh on a brown wingtip or grey mesh on a brown wingtip.
Shoes are inspired by Bobby Jones and Sam Snead, who are also professional golfers from way back. These are wingtip saddle shoes.
If you see model shoes with distressed leather appearance, that would be the first cut golf shoes.
Another series of golf shoes from the Honors collection. It was named after the golf course that Bill Coore and Ben Crenshaw designed.
A very elegant and classy golf shoe that was named after the father of the modern golf ball, who is Coburn Haskell.
The last golf shoes in the Honors Collection is the Redan that was named after Ben Hogan.
Where are FootJoy Shoes Made
Footjoy is a company that specializes in golf shoes and apparel. They are based out of Boston, Massachusetts, and were founded in 1857.
Footjoy has been making high-quality products for over 150+ years now, so it's not surprising that they have an excellent reputation among golfers.
Footjoy is a popular golf shoe brand for many reasons. Footjoy golf shoes were first made in England, but production later moved to Asia and now Mexico.
Footjoy shoes are still made in different parts of the world, but most FootJoy golf shoes are manufactured in Mexico. FootJoy golf shoes are also made with a variety of different materials, including leather and synthetic material.
The footbeds that Footjoy uses for their golf shoes vary by model but many come with hand stitching on them for added comfort and durability.
FootJoy golf shoes come in a variety of styles and colors, so you're sure to find the perfect pair for your needs.
The soles on FootJoy are designed with high traction that's excellent at preventing slips while walking or standing around during those crucial moments before tee time!
Where are Sqairz Golf Shoes Made
You might be surprised to find out that they're not made in the United States. Sqairz is a company based out of Canada and their shoes are manufactured overseas.
The Sqairz golf shoes are made in China, and the company has been creating quality footwear since 1985. The shoes are sold online and in select sporting goods stores across the United States.
The good news is that Sqairz has been around for over 25 years, so they've had plenty of time to perfect their product.
Their high-tech shoe design will keep your feet comfortable and cool all day long on the course, even if it's hot outside!
For golfers, there is a never-ending search for the right equipment to improve their game. This includes everything from clubs and balls to shoes.
Shoes are particularly important because they can help individuals play better by maintaining a stable stance on the grass while also providing protection from hazards like rocks or uneven ground.
Sqairz Golf Shoes have been designed specifically with these needs in mind and offer durable traction without sacrificing comfort or style.
What Golf Shoes Are NOT Made in China
You might have been searching for what golf shoes are not made in China.
Golf shoes might not be required at all times when playing golf, but wearing this footwear can influence how well you play the sport.
Hence, it is essential to buy a quality pair of golf shoes for a price within your budget.
When you type golf shoes on Google, the majority of brands that show up manufacture their products from China. Of course, you would at some point wonder if you have other options.
You do it not because you assume they are of poor quality but because it is better to have a wide selection. It allows you to get the best fitting footwear for you.
Fortunately, we will cover the answer to the question — what golf shoes are not made in China in this article.
Many shoe brands used to mass-produce their items from China because it used to be cheaper than any other country. But as time progressed, so are the production rates.
Consequently, many brands such as Nike and Adidas gradually pull out their manufacturing processes in China and transfer to other countries such as Vietnam.
So to answer – what golf shoes are not made in China, here are some of the brands you may check out.
Nike used to sell golf-related equipment and gear, but now, it only produces golf shoes and other regular footwear and clothes.
As far as the manufacturing place is concerned, the company has over 700 shops across Asian countries.
Nonetheless, the shoes that they produced predominantly come from Vietnam.
At present, Nike still has manufacturing factories in China, but they are slowly transferring all of their operations to other Asian borders due to increasing costs.
So when buying Nike golf shoes, make sure to check its manufacturing place.
Although most of their golf shoes are made from other Asian countries, it is best to verify first since it is still possible to receive model shoes produced from China.
The company is stepping up in producing more golf shoes to provide golf players with more options when it comes to their footwear.
So, what shoes are not made in China? In case you are not aware, Duca Del Cosma is an Italian designed footwear brand.
Four of its manufacturing factories are now being set up to release more of their handmade leather golf shoes.
If you visit their site, you would see that they sell both soft spike and spikeless golf shoes.
Duca Del Cosma will be boosting the production of their Spring/Summer collection since the golf season is fast approaching already.
The company reassured its customers that items will be efficiently delivered or within three to five days to be precise.
In terms of Men's collection, the Italian brand showcases two waterproof soft spikes, namely the Heritage and the Masters that can both be purchased in two color options.
About 15 spikeless model shoes are also included in the collection along with Belair waterproof shoes and the sneaker-style Monterosso. You will be given eight color options.
Of course, there is also a ladies' collection so female golfers can also enjoy high-quality golf shoes. It includes a soft spike called Cypress, which is also waterproof and comes in four color options.
As for the 13 spikeless shoes, you may opt to buy the Kubana waterproof golf shoes. It comes in six different color styles.
Purchasing footwear from Duca Del Cosma is worth it because all the golf shoes in their collection are high-quality. They have high breathability.
Hence, you can have better foot movement when you wear their products since you are more at ease when playing. It is also comfortable to wear, so it can help you focus more on the game.
So, what golf shoes are not made in China? Of course, Duca Del Cosma's footwear is one of them.
If you are looking for more answers to what golf shoes are not made in China, you should visit Lambda footwear.
It is also a good option when buying your golf shoes because of how their products are designed.
Lambda is a golf footwear brand that is based in Europe. They sell premium quality and waterproof handmade golf shoes.
What is good about the company is they cater to all types of players. Of course, golfers have different swing mechanics and body types.
Because of these factors, it is only logical that what works on you might not precisely work on other players.
Fortunately, Lambda has taken that into account. They offer a wide selection of golf shoes to accommodate every golfer.
The European brand offers luxurious golf shoes for players who highly value comfort but do not want to sacrifice a traditional style.
What makes the company different from other brands is its goal to equally provide players with stylishness and a performance boost.
Lambda mostly produces golf shoes made from genuine leather material to promote classic aesthetics and at the same time, great function.
If you would compare Lambda footwear from other known brands such as FootJoy, Nike, and Adidas, it can beat them in terms of style.
Many people even said that the company manufactures the most beautiful pairs of golf shoes.
So, what golf shoes are not made in China? Lambda footwears are all handmade in Europe using genuine leather and Aquastop layers, so they can withstand any weather.
Of course, the company wants you to keep playing as much as you want to.
 Pros of Lambda Golf shoes
To give you more information about this brand, here are some of the advantages of owning a pair.
Lambda shoes might not be as popular as options such as Nike and Adidas, it can also compete globally in terms of supplying players with the best golf shoes.
As mentioned, Lambda footwears are all premium and handmade golf leather shoes. Aside from the fact that it looks good, the model shoes are also very durable. You can use it regardless of the weather since it has extra protection.

It has TPU molded soles. So, you do not have to worry about excessive foot action since it can keep your feet anchored to the ground while you take a swing.
The Original American Golf Shoes
When you search about what golf shoes are made in America, there is often no direct result because most shoe companies choose to produce golf shoes overseas.
Fortunately, there is one brand that commits to producing golf footwear domestically.
So if you are a fan of original American golf shoes, purchasing your footwear from Allen Edmonds would be your best option.
Needless to say, you can always purchase from other stores if it is only the price and quality that you are after and not the brand.
Just make sure the golf shoes you purchase fit you well, so you would not regret buying it later.