A decent pair of golf shoes is fundamental to allow you to make the most of your time on the course, let me walk you thru and explore What are the best golf shoes?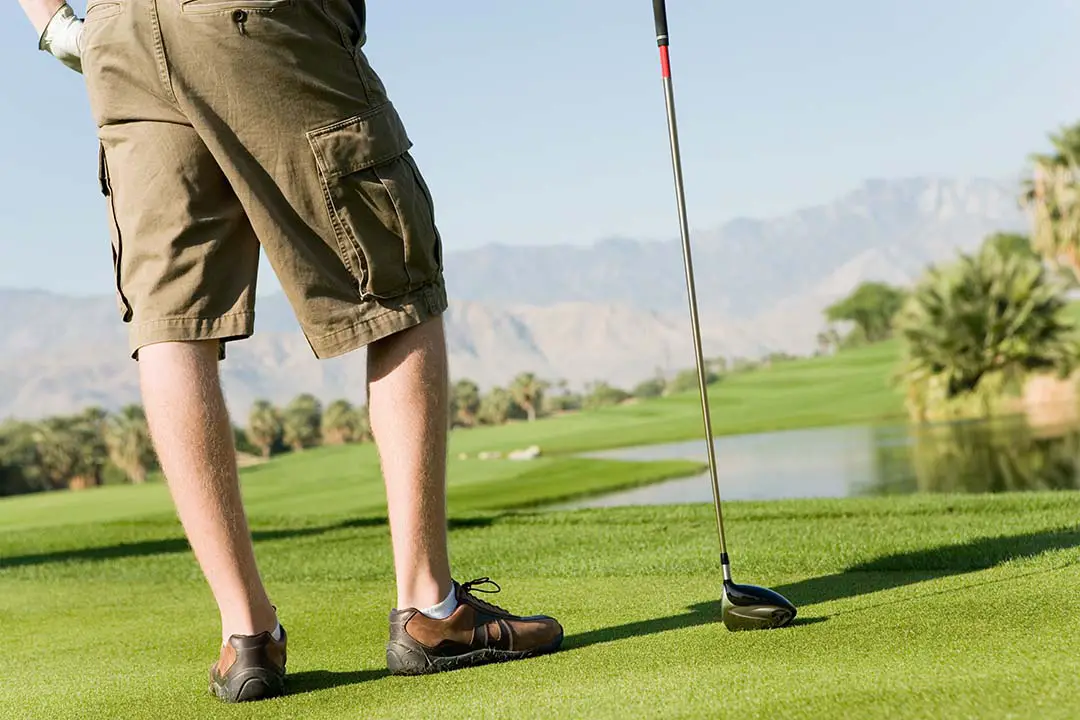 Many golf players walk around the golf course, and golf shoes guarantee comfort while helping you improve your play.
First, we're going to introduce the types of golf shoes, and then we will give examples of which golf shoes are the best.
What are the Best Golf Shoes: Types Of Golf Shoe
What are the best golf shoes to buy? You can choose the best golf shoe based on your taste and the features you're personally looking for.
In this section, let's talk about the different models and designs of golf shoes that the majority of golfers wear. This information will help you decide which type suits your taste.
Spiked or Cleated Golf Shoes
Modern technology takes traditional shoes to the next level and develops shoes that are both lightweight and stable, which serious players demand.
Spiked golf shoes provide comfort, water resistance, breathability, style, and traction.
The main advantage of spiked golf shoes is its balance. It can bring you stability when doing swings because the upper part of the shoe is very stable.
Spikeless or street shoes are the latest development in the golf shoe market. It's continually gaining fame with a successful introduction.
Spikeless Golf Shoes are basically designed for comfort and style.
It is lightweight and flat-soled, which is perfectly fit for solid surfaces. The sole mostly uses rubber studs or dimple soles in place of standard golf spikes.
What are the best golf shoes in the market?
Nowadays, even professional golfers wear spikeless golf shoes because of their looks and the comfort it provides. These shoes are not just for casual golfers.
However, there are some downsides to spikeless golf shoes. It includes:
Less stability and durability

Weaker grip

Inefficient waterproofing

The rarest type of golf shoe in the list, the golf boots, gives complete protection to any kind of weather for optimal performance.
The golf boot is most suited for wet places because it has the highest water-resistant capability of all shoe types. These types of shoes are a lot heavier and have a tighter fit on your feet.
They can be very expensive, due to its thick waterproof material.
The creation of golf sandals is inspired by golfers living in hot climates. Hence, golf shoe makers came up with a golf shoe sandal version for the summer weather.
The primary feature of this golf shoe is it is breathable and perfect for hot summer weather. It is cheaper than other golf shoes, but it allows your feet to feel fresh and cool.
The downside of this golf shoe is they are not waterproof and have less lateral support.
Golf Shoe Materials
Golf shoe materials have grown enormously in recent years with various man-made products.
These materials are used in both the upper and outsole to give a combination of comfort, stability, and waterproofing. What are the best golf shoes to buy?
Before purchasing, you need to know what is your preferred material for your shoes.
You can choose shoes made of leather, which is the most popular material used in golf shoes. The processed leather is added to the exterior of the shoe to create waterproof footwear.
Golf shoes made with leather are usually more pricey than other material, but it will ensure the quality.
Synthetic material is a cheaper alternative for leather.
It is a non-porous polyester that covers the shoe to protect the outer shell of the shoe. Since it is lighter and thinner, it's a great and more affordable substitute for authentic leather.
The most popular type of shoe spike used on golf shoes is the plastic spike. Plastic spikes are more lightweight and unlikely to tear up green that metal spikes do.
This type of spike is ideal for the summer weather. The advanced plastic spike technology makes the plastic spike have the same traction as metal spikes.
The spike is flexible, so it's more comfortable to walk on them. They can be easily changed, and almost all golf shoe shops have available plastic spikes.
These days metal spikes are becoming less common, but many tour pros still use it. Metal spikes have more traction than plastic because they have a longer and sharper spike.
However, metal spikes are notorious for tearing up greens and fairways. It may also cause discomfort on firm grounds.
Top Golf Shoes In The Market
What are the best golf shoes on the market? A lightweight shoe? A waterproof shoe? Stylish? Soft or metal Spikes?
You will find all kinds of golf shoes with different features in the market.
Hence, it is important to have golf shoes buying guide. In this section, we're going to list down some of the best golf shoes out there.
Here is a golf shoes buying guide that will help you choose the best golf shoes.
Comfort

Durability

Convenience

Water-resistance

Material

Weight

Breathability
With that in mind, here's a golf shoes buying guide on the top golf shoes in the market:
Adidas Tech Response 4.0WD Cleated Golf Shoes are a pair of cleated golf shoes providing traction, breathability, and comfort.
When you wear this pair of shoes, you will comfortably walk on the course because of the support you will give to you.
This innovation of Adidas makes them one of the companies that makes the best golf shoes. The cleats provide the user with a great feeling of stability.
If it wears out, it has removable cleats that you can change them easily, or if you want to switch to a more stylish and fancier cleat.
Who makes the best golf shoes for durability? The Callaway Balboa Vent Golf Shoes is probably one of the most durable golf shoes among competitors, truly a marvelous shoe.
You will never feel your feet suffocating because for maximum comfort it has a synthetic mesh. The dura-rubber ensures that the outsole to last many walks across the course.
Inside the shoes, it has an option-soft EVA midsole that will keep you having cramps on your feet and offers a perfect fit.
This is a big golf shoe for the majority of golfers that are crafted to fit. It also helps with heat management. These shoes ensure breathability due to having an opti-vent liner.
With these innovations, this shoe ticks off all the items in our golf shoes buying guide.
Who makes the best golf shoes for comfort? These shoes have distinct characteristics having a cushion foam technology known explicitly as "5Gen".
The 5Gen features cushioning that makes the shoe lightweight and has a responsive midsole crafted for performance and convenience.
Skechers Women's Go Golf Birdie Golf Shoe has mesh fabrics that are water-resistant.
Moreover, soft thermoplastic polyurethane outsole (TPU outsole) is known for its lightweight grip, chemical resistance, and abrasion.
These features are important when evaluating your golf shoes buying guide.
The Puma Men's Ignite Spikeless Sport Disc Shoes is crafted with materials that are premium. It uses leather that is full-grain on the shoes topmost part.
Textile thread is designed in a 4-way stretch on other parts of the shoes.
Moreover, it features upgrades on water-resistance, durability, and functionality. It also has an outsole that is made of rubber with several spikes that give efficient traction and grip.
It is a one of a kind shoes with its creative padded sole innovation designed for enhanced exhibitions and responsiveness
The Under Armour Spieth 2 is made with Clarino microfiber leather, which gives incredible durability. Its UA smart weave system gives you vital support in the heel.
Enforced with a Gore-Tex material, it ensures that the shoe is waterproof.
Skechers is undoubtedly one of the companies that makes the best golf shoes.
This shoe is made from high-quality leather, combined with a synthetic sole that will let you feel the advantages of different materials in one shoe.
It is an excellent shoe for golfers who were having a hard time choosing a golf shoe. This shoe will allow them to reap the benefits of both materials.
Moreover, it can keep you dry even in heavy rain. If you are going to ask what are the best golf shoes on the market for water-resistance, this shoe is the answer.
Choose a Shoe that Fits
What are the best golf shoes?
In order to know what are the best golf shoes to buy, you need to know the materials used and its added features.
With this, you can maximize your potential with the right pair of shoes.
The best golf shoes are the ones that can provide comfort, grip, durability, and have a waterproof feature.
Here's a helpful guide: Buy shoes with features that will fit your play style.
Buying the wrong shoe can significantly affect your performance negatively in the long run.
Last Updated on March 2, 2023 by Paul Roger Steinberg