If your golf regularly, one of the critical questions that come to mind is, how often should you replace golf shoes. This article will discuss how long golf shoes typically last and when is the right time to visit the golf shop for another set of shoes.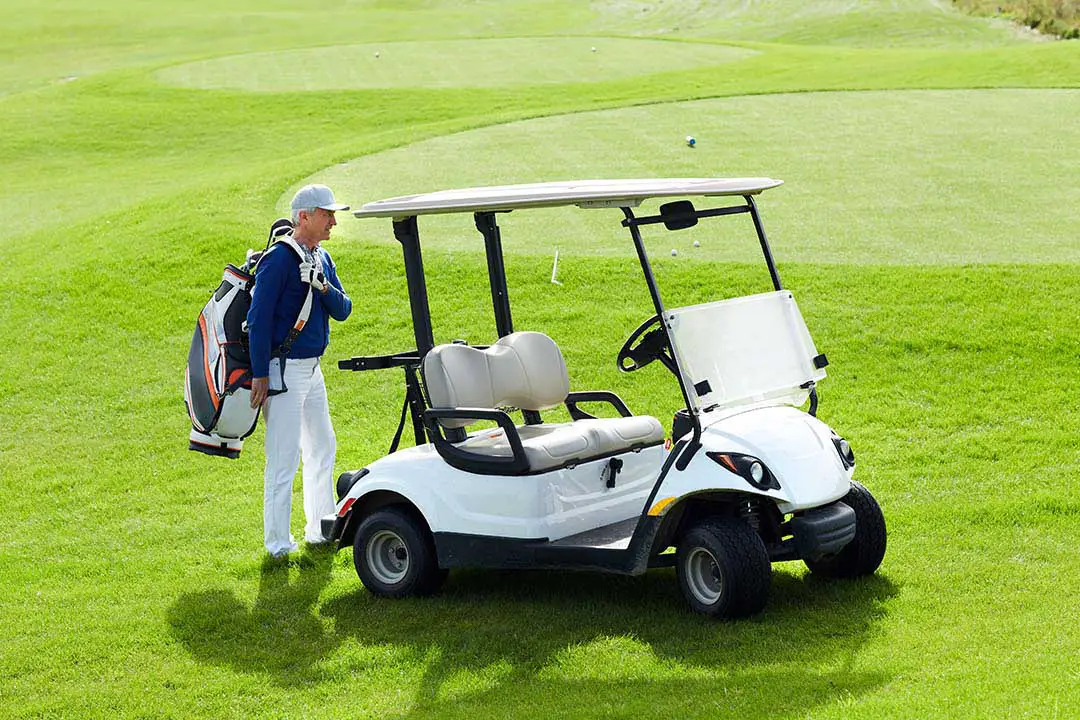 How Often Should You Replace Golf Shoes
So you've noticed a downplay in your game. You no longer take those astonishing swings.
Your legs slip easily whenever you're taking your swing. Maybe it's time to change your golf shoes.
Golf shoes are one of the expenses associated with playing golf. Prices of golf equipment increase regularly, and it doesn't look like it's stopping soon.
Golf shoes are one of the most expensive equipment in the game. They determine the success level of gameplay. A golf shoe will typically last for an average of between two to four years.
However, there are exceptions to these. One of them is the maintenance level. How often should you replace golf shoes will depend on his well they are treated.
This also applies to virtually all golf equipment. However, the most determinant factor of how often to replace golf shoes is how you maintain the shoes.
If you're able to maintain your shoes, you can expect to add plenty more years of use to it.
After using the shoes, always store in a garage. Doing this, you can expect a prolonged span of use.
How Long Can You Use Spikeless Golf Shoes
You can expect a spikeless shoe to last for at least two years, although it depends on how often you use them.
If you play golf twice every week and don't do more, you can expect them to last many years.
On the other hand, if your spikeless shoes are your best companion and you even wear them to hike on the winter day, then you should get ready to buy another set of shoes within one year of use.
The sole will begin to wear and start becoming slippery, which will, in turn, affect your swing in the course.
The best thing you can do with these shoes at this point is to wear them for every purpose except for the golf course.
The subject of how often should you replace golf shoes is also subjected to brand differences. Some brands last more than the other.
Some shoes are manufactured by shoe brands, while golf brands manufacture others. You can find golf shoes in different styles.
Just as you can find golf clubs in value or premium version, it's also the same with golf shoes. Check out these golf shoe brands and how long they have been proven to last.
Also, this observation is based on the assumption that you play with golf shoes twice a week.
Provides players with ease and comfort since this model is designed with full-grain leather.
It is both waterproof and highly breathable. Moreover, these golf shoes have laser cut fit.
Can help you maximize your swing. This model boasts of flexible midsole cushioning, making it more comfortable to use.
What makes it unique is its innovative closure system that allows you to adjust the fit easily
Waterproof golf shoes that provide great fit because of its microfiber upper. It also has a highly-responsive rubber that increases energy return.
While it offers great power, it also boasts of its extreme comfort.
One of the most common choices of golfers when selecting shoes that can both be worn on and off the course because of the ultimate comfort that it offers.
Into the bargain, its mesh is highly breathable and waterproof.
Might be traditional but it offers cutting-edge stability. It is a good option because it can guarantee that your feet stay dry as you play.
Hence, you would not have to worry about excessive foot action when you wear this.
How Often to Replace Golf Shoes
Think of it as your favorite sneakers: your latest workout or running shoes. I'm sure you don't wait for several years to replace them.
After one or two years of aggressive use, they tend to depreciate. The soles become uncomfortable.
Athletic sneakers like cleats might require hasty replacement as the spike start to wear off. This problem also occurs with golf shoes.
When it comes to how often should you replace golf shoes, there are certain guidelines that should be followed.
A rule of thumb is that you should try to replace your golf shoes regularly if you play with it too often.
For example, if you play between three to four times weekly, you can expect to buy new shoes yearly.
If you walk up to 5 miles to a golf course to play every week, that's a whole lot of miles on your shoes to survive a year.
However, if you're a golfer who plays just about once a week, your shoe should last longer than a year.
Here's advice when it comes to how often should you replace golf shoes, be sure to get more than a pair of shoes.
Dedicate a pair for your high-end course and another for those muddy days on the green.
Always avoid running your shoes when the golf course is waterlogged. Many people are guilty of using the same golf bag for many years (I am, too).
Multiple Pairs for Alternate Use
I remembered using the same shoes for almost four years. Golf shoes wear and tears so easily.
As said earlier, a golf round of over 18 holes might take up to 5 miles of the walk. So if you golf regularly, the miles might add up.
The shoe spikes will start to get damaged and provide less support.
It might get a point where there will be little to no difference between your typical tennis shoes and your golf shoe, because of the damaged grip.
When it comes to how often should you replace golf shoes, there are no one-size-fits-all solutions. Always monitor the quality of the inner soles, treads, and spikes.
Follow this checklist to know if your golf shoe is in proper condition and how often to replace golf shoes. Always wear your shoes only when you want to golf.
Wearing them in the parking lot, in the car, or as every day should damage them in no time. By doing this, you're only reducing the lifespan of the shoes.
Instead, put them in the pocket of your bag or in a dedicated space. Cover them up until you're ready to use them on the course.
Always Shop Cautiously
While you need to care about your golf shoe's aesthetics, you don't want to sacrifice the quality of looks.
Because if you go for better-looking golf shoes that are uncomfortable, you're going to regret it.
Choose comfort overlooks. Test different brands of shoes before you settle for your favorite. Remember, you're going to wear them for some long walks.
Another thing to take notice of when it comes to how often to replace golf shoes is that when buying shoes, always go for shoes with replaceable spikes.
This way, your golf shoes can last longer since you'll be able to replace the spike rather than buying a new golf shoe.
This is more important if you're using extremely comfortable golf shoes. Always buy an additional pair of spikes so you can easily fall back to them.
Also, if you found an excellent shoe with low-quality spikes, consider getting two pairs of the shoe and wear them interchangeably.
Top Quality Shoes Only!
When it comes to how often should you replace golf shoes, there's no rule of thumb.
Just replace them when you no longer feel comfortable or notice excessive slipping of the shoe whenever you swing.
Golf shoes are equally as important as the swing. Having the wrong type of golf shoes can impede your game success.
Always go for top-quality golf shoes.