We all have heard of Japanese and European golf brands like Honma, Mizuno, and Scottsdale — but what golf clubs are made in the USA?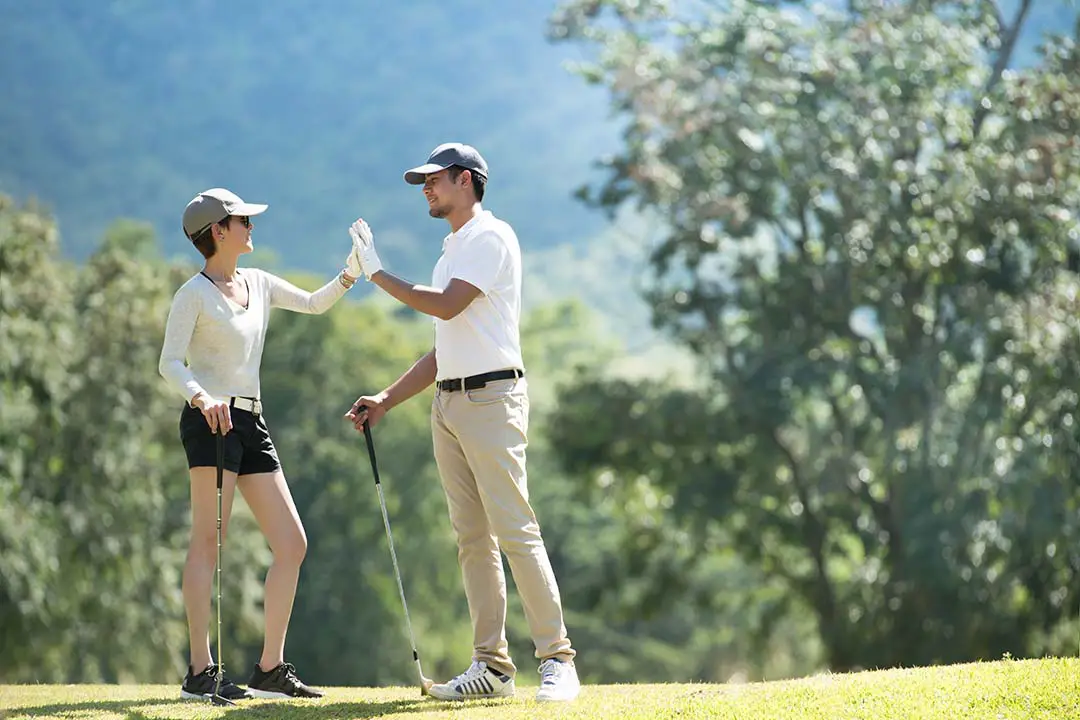 For the past 25 years, golf clubs have been produced in different locations overseas and this trend is continuously growing.
However, it is still important to recognize the remaining golf clubs that are proudly manufactured in America. Knowing which golf clubs are made in the USA and which ones are not might surprise you!
Golf is one of the most popular sports in America. There are many prominent American golf companies that produce equipment for this sport and provide top-notch courses for players to enjoy.
In this article, we will take a look at some American golf brands and what they offer their customers.
We will also explore how these American golf companies have managed to stay successful over the years despite economic downturns and other challenges.
What Golf Clubs are Made in the USA?
In the golf industry, it's always been known that there are a few major American golf brands and then everyone else.
This is because the four major American golf brands from companies such as: TaylorMade Golf Company, PING Inc., Callaway Golf Company, and Acushnet Corporation (the company that owns Titleist) have dominated the market for decades.
In the 1990s, there was a resurgence in American golf brands as companies like Nike Golf and Adidas created their own equipment lines.
There are many factors that go into making up an American golf brand: their history, their location, their founders and the quality of products they produce.
American golf clubs are designed and manufactured by leading engineers who use state-of-the-art computer-aided design (CAD) software.
They also employ specialized craftsmen that can handcraft each one from start to finish. American golf clubs are designed with a "face" that is perfectly square to the club's shaft.
This configuration creates consistent, reliable contact between the ball and club at impact for maximum distance off the tee or fairway grass.
While the world of golf is dominated by American golf brands, not all of their clothing and equipment are produced in the country.
What golf clubs are made in the USA? With the increasing amount of foreign investments and factories overseas, it is not easy to answer this question.
Most of them transfer manufacturing operations abroad to cut down on costs and abide by certain laws that restrict their production.
Surprisingly, these are even top-tier brands. But for now, we will pay attention to all-American brands. Let's find out which golf clubs are made in America:
What golf clubs are made in the USA and are also used worldwide? Ping is one of the very few authentic, mainstream, and proudly USA made golf clubs.
One of the leading American golf brands in the world is Ping. Based in Phoenix, Arizona, Ping also stands out as the only family-owned golf club manufacturers in USA.
Their roots are traced back to Redwood City, where Karsten Solheim built the company out of their home garage. If you were to ask what golf clubs are made in the USA, Ping immediately comes to mind.
From beginners and leisure golfers to professional and advanced players of the sport, PING remains as a staple brand of choice for everyone.
While PING makes their golf clubs in the US, they have also expanded their brand overseas.
They have plants in Japan and Vietnam, but they are run by their international subsidiary. Some employees abroad are American Citizens, many of which have already worked in Arizona.
Because of this, PING has gained a reputation for having extremely loyal employees.
Here are some notable all-American creations from Ping:
Ping's steel shafts and pure golf grips are all made in the USA.
They produce all replacement iron heads in every style right at home in Arizona.

Their famous Groove for Gorge wedges is machined in the country.

Milled putters such as Nome, Anser, and Sydney are built from scratch in the USA.
Ping's best-selling G10, G15, G20, and G25 sets are all-American. Plus, One of their newest creations, the P53 is made from scratch here in the US.
The designer, Christopher Griffin says it's their strongest and finest golf club yet. It can also be customized depending on the customer's needs.
It's considered as a true, classic, American iron. One of Ping's major challenges is finding chrome plating services in the country.
Because of EPA regulations, sourcing carcinogens and other chemicals are more difficult. It is no doubt that being part of which golf clubs are made in the USA is getting harder year by year.
Despite this, the brand has managed to stay on track with its protocols and follow manufacturing laws in the state.
This brand is known for its Dolphin foundry and manufacturing plant in Phoenix, which always performs at full capacity. From forging irons and repairing golf clubs,
Ping definitely tries its best to be proudly American.
That's why it is part of our which golf clubs are made in the USA list!
What golf clubs are made in the USA? Well, you should know that Titleist is one of them. Titleist is an all-American brand that manufactures equipment and apparel in the United States.
It is based in Fairhaven, Massachusetts. If you're wondering where are golf clubs made, Titleist has its own golf club manufacturing plant in Carlsbad, California.
They also produce their world-renowned golf clubs near the headquarters in Bedford, Massachusetts.
Titleist' reputation and commitment to produce the best-quality golf clubs remain untarnished because of their highly skilled craftsmen.
Their engineers and artisans are one of the best in the world. It is no doubt that Titleist golf clubs are considered top-tier and used by many elite golf players.
Titleist surely make a mark in our what golf clubs are made in the USA list. Through the years, Titleist has made advancements in its process technologies and have improved their craft.
The brand has also developed stringent manufacturing policies to abide by the enforced EPA Law. As a result, it is harder to produce golf clubs made in USA.
This is even a greater challenge for golf club manufacturers in USA who sell in retail and have bulk orders to fulfill.
But Titleist continues to work hard so there are many golf clubs made in USA that they can provide to the market.
Despite facing many challenges in production in the states, they continuously produced a state of the art golf clubs and other equipment.
Smaller, local brands
Let's further discuss the question, what golf clubs are made in the USA? With the ever-growing number of brands, it is quite hard to distinguish which golf clubs are made in USA.
But that's the edge of up and coming local brands, most of them are supporting homegrown talent and resources by developing their brand in the country.
Some brands which golf clubs are made in USA are:
Sassy Malassy golf clubs are produced in Philadelphia
What golf clubs are made in the USA? Sassy Malassy is one of them. Based in Philadelphia, they manufacture right at the heart of the country.
Their putters are priced at approximately $200 and come with a "Made in the USA" headcover. There's no question that they are proudly American made golf clubs.
Next on our what golf clubs are made in the USA list is Club Champion, a club fitting company that also creates customize golf clubs made in the USA.
This company has partnered with a Chicago-based venture capital firm KB Partners to kickstart its manufacturing. Currently, they have over 30 locations in the country.
This brand is making a name of itself in the field of American made golf clubs.
Based in Omaha Nebraska, Prairie Golf mills
If there are any golf clubs made in USA that you should know about, it's Prairie Golf. Their putter heads right at their own manufacturing plant.
They may be a small brand, but their golf clubs are top-notch and highly durable.
An All-American brand is Louisville Golf
Known for its unique Hickory Shafted Persimmon Wood Head driver. If you buy golf clubs made in USA, you can guarantee that it will not be an overrated and generic piece.
Take for example Louisville Golf, a brand that creates one of a kind, all-American made golf clubs.
They can also make customized golf clubs.
What golf clubs are made in the USA but are also affordable and high quality?
Look no further, Dandy Putters is a brand known for its American made golf clubs. The True Temper American Shaft is one of their famous pieces. It is known to have the iconic "American grip".
Mills out of a metal bar including their famous True Temper American Shaft
Which golf clubs are made in the USA? Clearly there's not a lot. It is understandable due to the many factors that come into play, leaving many brands with no other option.
Later on, we will discuss the benefits of golf clubs made in USA and why it is important to support American made golf clubs.
But on the bright side, some American brands still assemble their golf clubs in their home country. They just don't produce them from scratch in the US.
What golf clubs are Made in China?
If not in the United States, where are golf clubs made? Let us move on and talk about the other side of the world.
It's normal for us to see "Made in China" inscribed in most of our purchases. From toys to clothes and even to our appliances, almost everything is produced in China.
As mentioned earlier, many American golf companies are manufacturing their golf clubs abroad. This has caused a decline among USA made golf clubs.
Most of them pick China as their production hub due to inexpensive costs, higher productivity, and more importantly — more lenient environmental and commercial laws.
Compared to where are golf clubs made in the US, Chinese golf club manufacturers are faster and cheaper. Surprisingly, TaylorMade is not an USA made golf clubs. If you are curious about what golf clubs are made in China, here are some of the popular ones:
Almost everyone who is familiar with golf has heard of TaylorMade. It is a long-standing golf brand based in Carlsbad, California. They are known for designing iconic and top-notch irons.
Last 2017, TaylorMade Golf was sold by Adidas to KPS Capital Partners. Nonetheless, they remain a go-to brand for all golf-related equipment.
Surprisingly, TaylorMade is not a USA made golf clubs. Before TaylorMade shifted its manufacturing in China, they partnered with a local golf club manufacturer named Fu Sheng first to test the process.
Since then TaylorMade has been producing its golf clubs and golf balls in China. Some golf clubs, however, are assembled back in the US.
Currently, all of their golf clubs are considered legally manufactured in China.
Callaway is an American brand, which most people have thought is included as part of what golf clubs are made in America.
This golf club manufacturer is well-loved by professional players and veterans due to its long and rich history.
While its management and artisans are mostly American, the components of their golf clubs are all produced in China. This also applies to other Callaway equipment and apparel.
Another addition to what golf clubs are made in China list are the ones from Cobra. It is a well-recognized brand that is now partly owned by Puma.
When it comes to producing golf clubs, the heads, shafts, and grips are made in China. Then the golf club components are shipped to their headquarters in California, where they are assembled.
Since it was founded, Cobra has been making millions of dollars in golf club sales alone.
In 1995, they were the first American golf club manufacturers to develop graphite shafts and sets of oversized irons into the market.
But due to several challenges, they shifted their production operations to China since it was a more practical choice.
Completing our inside look at what golf clubs are made in China are MacGregor golf clubs. MacGregor is a more affordable line, but their golf clubs are still high quality.
They have been producing their golf clubs in China for many years already. Despite suffering turnover and management issues, MacGregor continues to have steady sales in the golf industry.
The golf club industry is definitely growing in China and it's not only in major cities. Development is seen even in towns like Guangzhou, Zhuhai, Zhongshan, and Dongguan.
This is why the question  "what golf clubs are made in China?" is hard to answer because there is simply a lot!
Most Frequently Asked Questions About Golf Clubs
This section is a compilation of the most frequently asked questions about where popular golf club brands are made and manufactured.
You can find the answers to some of these questions in other parts of our site, but we thought it would be helpful for you if they were all gathered together here in one section.
Where Are Callaway Golf Clubs Made
Callaway golf clubs are a popular choice for avid and amateur golfers alike. But where exactly do they come from?
Where Are Callaway Clubs Made? The answer is surprising! Most people assume that Callaway manufactures their own clubs in the United States or Canada, but this couldn't be further from the truth.
Where Are Callaway Golf Clubs Manufactured? Well, the company actually outsources production to China, Korea and Taiwan.
This has caused many customers to express concern over the quality of these products; however, there are no shortages in reviews praising Callaway as an excellent brand with high-quality products.
Is Callaway an American Company
Callaway Golf, an American company based in Carlsbad, California is one of the world's most popular golf brands.
The Callaway Company was founded in 1982 by Ely Callaway Jr., who were looking to create a new brand that would be different from other American golf companies on the market.
Since then they have come up with some of the most innovative golf equipment pieces including drivers, irons, wedges, and putters.
Where Are Ping Golf Clubs Made
Ping Golf Clubs are one of the most popular golf club brands in the world. Ping is best known for its irons, but also produces putters and drivers as well.
It's probably not surprising that many people want to know where their clubs were made.
Where Are Ping Golf Clubs Manufactured? The answer might surprise you. Ping Golf Clubs are actually manufactured in USA and China despite being an American company with headquarters in Arizona.
Are Ping Golf Clubs Made in USA
Today all the components of Ping golf clubs are made in China, including Ping Irons and Ping drivers.
Like many other American golf companies, Ping also moved some of its production and factory to China 10 years ago for cheap labor and materials.
However, quality remains the same just higher profit margins.
Where Are Titleist Golf Clubs Made
Where Are Titleist Clubs Made and Manufactured? Titleist golf clubs are manufactured exclusively in the United States and Canada.
The manufacturing process starts with raw materials like steel, copper, nickel, aluminum, titanium and other alloys that go through a series of processes including forging, casting, machining and finishing to produce an elite level golf club.
Are Titleist Golf Clubs Made in USA
You may have wondered if Titleist golf clubs are made in America. The answer is yes, they're all made in the USA.
Their goal was to make quality equipment for other professionals who wanted to play better than their competitors.
They started with only one product – a wooden putter – but it wasn't long before they were making everything from drivers and irons to shoes and clothes.
Where Are PXG Golf Clubs Made
PXG is a high-end golf club company with one of the most loyal followings in the industry.
The PXG acronym stands for Performance eXperience, which really speaks to what this brand is all about: delivering unmatched performance and an experience for the player that's second to none.
Where Are PXG Golf Clubs Manufactured? PXG Golf clubs are made in the USA, and that's where they should stay. PXG is a company founded by Bob Parsons, the founder of GoDaddy.
The PXG headquarters is located in Scottsdale, Arizona. Here they make their golf clubs using only premium materials and craftsmanship to achieve maximum performance for every golfer who tries them out.
Are PXG Clubs Made in China
PXG is a golf club company that has been on the rise as of late. With their high price tag, they have left many wondering where are PXG clubs made? Well I am here to tell you that it's not in China!
Are PXG Made in USA? PXG is a golf club manufacturer that has gained popularity in the last few years.
PXG clubs are known for their sleek and sexy design, as well as being Made in USA, using the latest materials available in order to give you an edge over your opponents on the course.
Where Are Cleveland Golf Clubs Made
Golfers love their Cleveland golf clubs. They tend to be a little more expensive than other brands, but they are worth the investment.
In 2014, Cleveland Golf ranked 3rd in total market share with 18% of the U.S. market (based on retail value).
The company's success is due in part to its innovative designs and high-quality materials that make it easier for golfers to play their best game possible.
Where Are Cleveland Golf Clubs Manufactured? Components are manufactured overseas and all golf clubs are assembled and shipped out of our Cleveland Golf Headquarters in Huntington Beach, CA.
Are Cleveland Golf Clubs Made in China
Most people assume that all Cleveland golf clubs are made in the US, but there is a small chance they're actually manufactured in China.
And while some companies try to hide this information from consumers by not disclosing their country of origin.
It's important for players to know because there's no guarantee that Chinese-made golf clubs will be as high quality as those produced domestically.
Where Are Cobra Golf Clubs Made
Cobra Golf has been crafting some of the best golf clubs since 1979. They are a company that strives to make the highest quality and longest lasting equipment for their customers, and they do this with integrity because it's important to them.
Where Are Cobra Golf Clubs Manufactured? Cobra is one of the few American golf companies in today's market that assembled all of their products in America.
Which means you can feel good about not only how your game is going but also about what country your purchase was made in.
However, individual components who makes Cobra golf clubs are made in China.
Where Are King Cobra Golf Clubs Made
Cobra, a well-recognized golf manufacturer that is partly owned by Puma, has now begun to produce their clubs in China. Golf club components are made in China and assembled in California.
Cobra first began developing graphite shafts and oversized irons in 1995. The company shifted their production operations from the U.S. to China since it was more practical for them.
Where Are Wilson Golf Clubs Made
Golf season is in full swing and many golfers are looking for new clubs. Wilson Golf Clubs have been a solid choice for many players over the course of their history, but do you know where are Wilson golf clubs made?
Most golfers are unaware that Wilson Golf clubs are made in the United States. It is not a widely known fact, which may be why Wilson has been able to maintain its market share for so long.
What are Taylormade R Made Golf Clubs
They have been designed with an innovative design so that you can hit the ball further than ever before.
This new design is called "R-MADE" and it is a patented system that allows for more stability, control, and consistency when hitting the ball.
As we all know, golf is a competitive and challenging sport. As such it requires the use of high quality equipment to ensure success and help you improve your game. A great set of clubs can make for many wins on the course.
However, not everyone has the money or time to keep up with their club needs in order to stay competitive in this modern age of technology and innovation that have made newer models better than ever before!
Is Taylormade an American Company
TaylorMade Golf Company, popularly known as just TaylorMade, is an American sports equipment manufacturing company that produces golf clubs and other goods.
The company achieved its popularity specifically for their high quality products which are great to use in the game of golf. Known worldwide for producing top-notch gear like balls and clothing items too!
TaylorMade Golf Company produces the best golf clubs, balls and clothing. They're based in Carlsbad, California with a focus on only one thing – making sure their customers have fun!
The Taylor Made company has been around since 1979 to produce three things: great products for people who play golf.
With an excellent customer service that provides superb equipment selections and knowledge about our product line; as well as competitive prices so everyone can enjoy what we offer from beginner to pro golfer.
Where Are Taylormade Golf Balls Made
Many people are surprised to find out that Taylormade golf balls are actually manufactured in China. The company has been outsourcing manufacturing since the 1980s, when they first opened plants in Taiwan and Mexico.
The decision to manufacture in Asia was made for a number of reasons:
Labor costs were low, there was increased access to raw materials and suppliers, transportation costs were reduced due to being closer than American factories, and Asian countries had less stringent regulations relating to product safety.
In 1996 production moved from Taiwan back into China once again because of the Chinese government's business-friendly policies as well as its ability to produce more high quality goods at a lower cost than other countries can offer.
Where Are Sassy Malassy Golf Clubs Made
Sassy Malassy Golf Clubs are manufactured in Philadelphia. Just like your typical American golf club manufacturer, these clubs are hand-crafted and assembled by skilled workers using some of the finest materials available anywhere.
These include steel from Nucor Steel Company and titanium from Carpenter Technology Corporation. The founder himself still oversees production to ensure that every detail is taken care of with utmost attention to quality control.
When not at work he can often be found tinkering around on one of his many vehicles or
Are Jazz Golf Clubs Still Made
It's been a long time since anyone has heard of Jazz golf clubs, but they were once the most popular type of club in golf.
These days, it is hard to find one for sale at all. There are some people who still play with them though and there are even new Jazz clubs being made today.
Jazz golf clubs have their own unique feel and many people prefer that to modern day clubs so they can still enjoy playing the game of golf without having to give up on what they love about it.
Where Are Prairie Golf Mills Clubs Manufactured
Prairie Golf Mill golf clubs are made in the USA. They are manufactured by a company that has been producing quality golf equipment for over 100 years.
Their history is rooted in innovation, and with their dedication to production excellence they continue to make some of the best golf products on the market today.
Prairie Golf Mills has been designing and manufacturing golf clubs for over 30 years, but it wasn't until recently that the company began to bring their production in-house.
Prairie Golf Mills is located Omaha, Nebraska where they make all of their clubs from start to finish.
Where Are Srixon Golf Clubs Made
Srixon is a Japanese company that manufactures golf clubs in Japan. Srixon's main headquarters are located in the city of Tokyo, Japan, and it exports all over the world.
The majority of their manufacturing plants are located on Honshu Island, with three factories on Kyushu Island and two factories on Shikoku island as well.
The company has been producing golf equipment since 1957 when they were first established as "Maruman." They changed their name to Srixon Company Ltd., which is now an international corporation with operations around the world.
Are Tour Edge Golf Clubs Made in USA
Golf is a sport that requires precision and skill, but it also takes the right gear. Tour Edge Golf Clubs are made in USA with pride and quality, so you can be sure your game will be on point.
The company's mission statement is "Tour Edge Golf clubs are designed to help golfers of all abilities play better golf." This means that they are not just for professionals; Tour Edge Golf Clubs can help any golfer improve their game.
They have been around since 1986, which gives them plenty of experience making these clubs. They offer a wide variety of products from wedges to putters – there's something for every golfer.
Where Are Odyssey Putters Made
The Odyssey putters are made in the USA by a company with over 50 years of experience. They are one of the few American golf companies that still manufacture their products domestically and have been doing so for decades.
Odyssey has made some of the best putters in history, including the White Hot XG #2 which is used on many PGA tours. The tour-proven design makes it easy to use and guarantees an improved putting game all across America.
Where Are Top Flite Golf Clubs Made
Are you a golf enthusiast? Do you love the sport, but are not sure where to go for your clubs?
Top Flite is one of the most trusted names in golf equipment. They have been making quality products since 1976 and have helped countless people enjoy the game.
Top Flite Golf Clubs are manufactured and assembled at the Top Flite Golf Club Company headquarters in Costa Mesa, California.
A state-of-the-art facility that combines quality manufacturing with a high level of environmental responsibility, it is here where you'll find every single club and accessory that bears the iconic "T" logo.
Where Are Mizuno Golf Clubs Made
Mizuno Golf is a company that manufactures golf clubs in Japan. Mizuno Golf Clubs are made by hand with the highest quality materials.
Mizuno's manufacturing process is a closely guarded secret, but here are some things we know about the production of Mizuno golf clubs.
The company takes great care in selecting the raw materials used to make their products and sources them from around the world.
They also carefully select suppliers who share their commitment to excellence, which means they only use parts made by companies that can provide consistent quality with a high level of innovation.
Mizuno has been making golf equipment for over 35 years and has manufactured more than 50 million golf clubs during this time frame.
They have developed an innovative forging process called "MX-3" which produces steel club heads with thin faces without sacrificing strength or durability, giving you maximum power while maintaining control on shots off center.
Does it matter? Our Opinion
Many people ask if there are any golf clubs made in USA, well now you know that there are many American made golf clubs and even golf apparel.
These brands are widely available in the market, we just need to pay more attention! Knowing where are golf clubs made can also help you decide what to buy.
Through knowing what golf clubs are made in the USA, we can be aware of these American brands and support them as well.
Clearly, the art of creating golf clubs is still alive in America.
Whether you play professionally or just for leisure, using golf clubs forged in the USA is a way of helping American workers and golf club manufacturers.
It also promotes American made golf clubs and encourages other people to use them as well.
While we can't deny that many American golf companies choose to manufacture overseas because of cheaper labor and production costs, there are also numerous benefits from staying in the United States.
Golf clubs made in USA are definitely better, especially in terms of logistics. The advantages can streamline the entire production process and make it convenient for companies.
These include shorter lead times, faster delivery, lower taxes, and the list goes on.
If these golf brands continue producing overseas, the industry might slowly disappear in the country. It's time that American brands go back to their roots and thrive in their home.
Hopefully the next time someone asks what golf clubs are made in the USA, we can provide a longer list.