If you have just started your golf journey, you might be wondering where to buy golf clubs. With hundreds of golf clubs to choose from, there are also various ways and places to buy your clubs.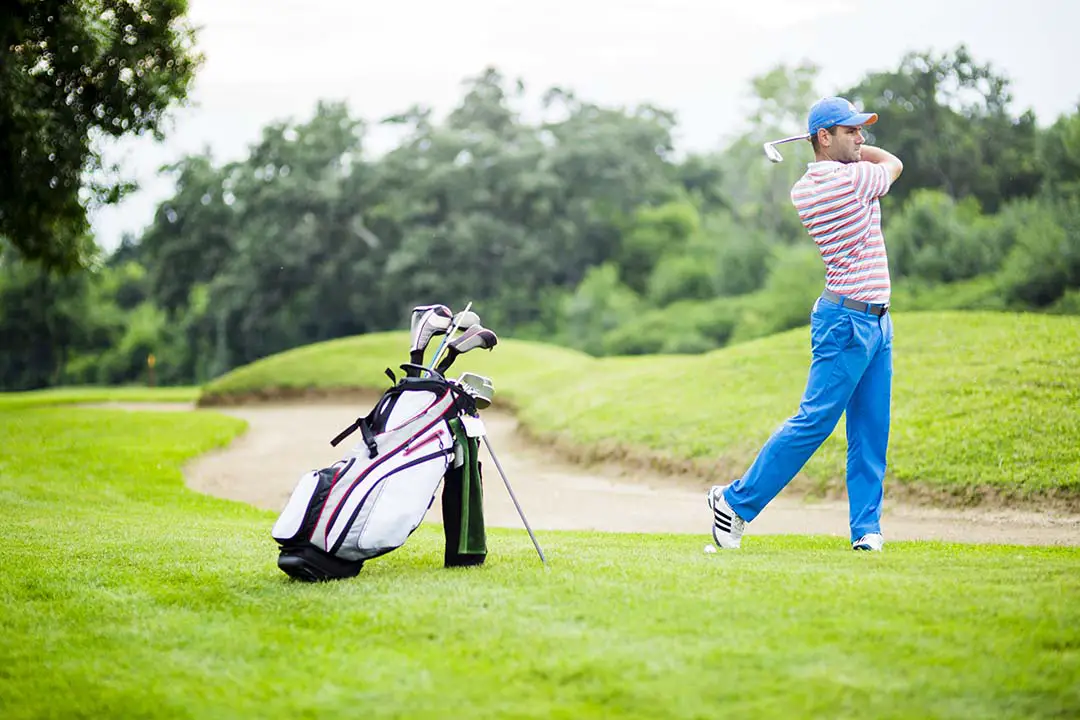 It can be challenging to know where to start when buying clubs, so here's a helpful guide for you.
Where to Buy Golf Clubs
Let's start by narrowing your list of places where to buy golf clubs. You can find a lot of sport equipment stores or specialized golf equipment stores.
While you can explore physical stores for accuracy, you can start by browsing online stores for reference.
A lot of search results would come up with a simple "where buy golf clubs" or "where to buy golf clubs near me?"
It's important to compare many choices to know where it is best to buy your clubs, depending on your preference.
With that, here are some of the most popular places where to buy golf clubs:
Retail stores are either sports equipment stores or other shops that cover a wide range of sports needs. A lot of these retail stores offer great deals on golf clubs.
However, since they also provide other sports goods, they often lack the range of golf supplies in golf specialty shops.
You may find more options from retail stores that specialize in selling golf clubs and equipment.
Furthermore, if you are buying in bulk or reselling clubs, you can score a discount on top of the price. It is typically the go-to route of beginners on where to buy golf clubs.
Online stores are ideal for browsing various club choices at once. Simply type "where buy golf clubs," and it will display numerous relevant search results.
What are the benefits of shopping for your clubs online?
You can immediately read helpful reviews on whether a particular club matches your style.

Even if you're from another side of the world, you can order clubs from foreign brand sellers.

It's a good option for those who don't immediately need their clubs as delivery can take some time.

You can easily browse through golf equipment online stores and know which clubs are available and which are not.

You can narrow down your search on a specific brand or color or any attributes. It is relatively easier than picking clubs on and off the rack to assess if it suits you.

You will receive the clubs at your doorstep without extra hassles on your part.


Official Golf Club Manufacturers
Original equipment manufacturers or OEMs offer golf clubs that have been subject to multiple tests and trials. You can rest easy knowing that you're buying high-quality clubs when you buy from OEMs.
Furthermore, the clubs they made are also those used by professional Tour players. It would allow you to assess the club conveniently you're buying from numerous reviews.
Some of the most popular OEMs that would appear in you "where buy golf clubs" search are:
If you don't want to go far then, you can easily buy your clubs at pro shops at the course. It is best for those players who have limited time to shop.
While the selections are not as extensive as the other options, you can restock your gear easier.
Most of these pro shops offer all the essential clubs that you need for your rounds. The downside is you cannot shop around for prices or bargain and read comprehensive reviews.
Local Sports Equipment Stores
Probably one question in your mind is, "How about where to buy golf clubs near me?"
With a simple search of "where to buy golf clubs near me," you can get relevant search results on store locations.
Most official golf club manufacturer websites put a complete list of the location of their official retailers.
These directories are very helpful if you want to explore multiple retail and official stores physically.
Where to Buy Discounted Golf Clubs
Replacing even just your driver or iron can already be costly, what more if you're buying a new set of clubs?
The price range of a single usually plays around $100 to $1000, depending on the brand.
If you're quite short on budget, you may want to know where to buy golf clubs at a discounted price.
You can shop for discounted golf clubs without compromising the quality of the club you will receive. Be wary of clones and knockoffs as they usually lack the quality of regular clubs you can buy at stores.
Here are some ways you can buy golf clubs at a discounted price:
Online Stores of Original Golf Club Manufacturers
OEMs usually put up discounts and promos both on their official stores and websites.
You can score great deals with these promos and get a brand new club on a whim. However, you have to watch out for these special events as they are usually up for only a limited time.
Some OEMs offer free shipping charges, so you won't need to worry about additional expenses.
Online retailers on their own websites or on eBay or Amazon also often sell clubs at a discounted price. These clubs may be previous year's club models or stock of new club arrivals.
Just be wary of buying from retailers that are selling clones or knock-off clubs. It is essential to check and review the return policy of the seller you're buying from.
It will save you hassle when the club you receive is not to your liking.
Make sure to calculate the total shipping charge and other fees before checking out your order. These extra expenses can usually determine if you are indeed getting a great deal.
You can scout online auction sites that are offering golf clubs. The mechanics for auctions is the item will be sold to the highest bidder.
If you don't have much competition and find a decent club at an auction site, this may suit you well.
You can save a lot of money if no one's willing to bid for the club other than you.
Here are some tips on buying clubs from auction sites:
You will usually need to pay for your item on site.

You can't return the club you won after winning the bid.

Auction items are usually up for viewing before the actual auction so you can check it in advance. You can ask for detailed photos or descriptions.

Similar to the above mentioned, make sure to check for the cost of shipping.


Discontinued Club Models
While discontinued models are still in the high range, you can still save money compared if you bought it from its initial release.
Previous models of golf clubs usually drop in price when OEMs release new models for the next year.
By doing your research, you can haunt golf stores that sell older club models at a low price. You can also check out official OEM stores for their clearance sales.
You can purchase a good set of brand new clubs this way and still be able to save money.
You can make the most out of discount stores that sell clubs straight from warehouses. It usually includes sporting equipment warehouses, closeout stores, gold supply outlets, and big box stores.
It's highly convenient, and you can choose from among a list of club choices for a low price.
The downside here is the stocks are usually varied, so it's possible not to find a specific brand.
Finally, you can score discounted clubs at estate sales.
Here, you can find new and classic clubs or even collectibles. How you can proceed with this is to check for classified ads in your local newspaper or at advertising sites.
It usually has a segment that is city-by-city so that you can find deals near you.
You will often need to pay by cash since it is an actual deal, so as much as possible, don't use checks or credit cards.
The risk with estate sales is you may quickly lose the deal to someone else if you don't act soon.
Where to Buy Used Golf Clubs
There are a lot of places to explore when it comes to buying used golf clubs.
These clubs are usually cheaper and easy to find with just one Internet search. If you're into collecting vintage models, this section may also be helpful for you.
Here's where to buy golf clubs that are secondhand:
Garage and yard sales usually offer items that are under the sun. These are often items that have been unused for years inside the house that house owners found when they decluttered.
You can score highly great deals in this case at a bargain price. The sellers would usually promote their sale in the community newspaper and the neighborhood signage.
Golf course pro shops also sell used clubs that are in good condition. You can contact your home golf course to check if there are available second-hand clubs for sale.
Some golf courses also allow players to post a notice on bulletin boards to sell their used clubs.
You can find good quality clubs at a reasonable price while also gaining advice from the previous owner.
Online Buy-and-Sell Website
There are a lot of online buy-and-sell websites that offer excellent deals for golf clubs. You can talk directly to the seller for the description of clubs and how you'll receive it.
The risk for these sites is buying seemingly great deals, but the club you will receive is a counterfeit.
Watch for offers that are too good to be true. Counterfeit clubs are far inferior in quality and materials but bear the name of top brands.
Here are some popular trade and buy-and-sell marketplaces to get your club:
eBay

2ndSwing

Golf Club Brokers

GolfWRX


Thrift Stores and Surplus Sales
You can't beat the price and option assortment when it comes to thrift stores and surplus sales. A lot of these stores offer old clubs that are still in good quality or are easy-to-mend.
Furthermore, a lot of the clubs you may find are from top brands. If you're lucky, you may score old clubs that are still in good condition at an affordable price.
Aside from online buy-and-sell websites, you can also purchase second-hand clubs from online classified sites.
These sites sell used goods and surplus items at an affordable price, including golf equipment.
You can tailor your search to nearby areas and your price range. It will come up with a detailed list of available items that you can choose from.
Here are some popular online classified sites where you can buy golf clubs:
Craigslist

Oodle

Adpost

Hoobly

Yahoo Classified


Goodwill
After purchasing a new set of clubs, some golfers dispose of their older clubs at Goodwill Industries. The company accepts donations that they will put up for sale at a discounted price.
You can find a lot of Goodwill locations where you can check for the availability of second-hand clubs.
Callaway is one of the top brands in the world when it comes to producing golf equipment.
The company has offered more choices for golfers by offering pre-owned and refurbished clubs at discounted prices. You can score a good club at as low as $10.
Aside from clubs, you can also check other second-hand golf equipment for sale.
Guide on Buying Golf Clubs
Of course, you can't just go straight and purchase a club spontaneously. Be as keen as possible when it comes to buying golf clubs.
Think of your clubs as an investment that can improve your game for good. For any investments, you don't want to make any rash decisions.
With that, here are some crucial guidelines on buying golf clubs:
Make Good Use of Research
If you have noticed, this article has repeatedly mentioned the word "research." It is because there is no more significant preparation when buying golf clubs than researching.
You have to understand all the small details on the equipment itself and your method of purchase.
Among other factors, you have to understand the specifications of the clubs you're buying comprehensively. It will save you the hassle of buying the wrong clubs.
Ask for Guidance from Experienced Golfer
Along with the first tip, it's also essential to ask for guidance from experienced people in the field. Sometimes it's not enough to know the technologies of the club.
An actual person can guide you better on whether a club is right for you or not. You can also get advice from them on which purchasing route is best to buy your clubs.
You can also get support from a custom fitter that can help you form an action plan on which club to buy.
With custom fitting, your fitter can provide you with a club that precisely suits your unique style.
If you're shopping online, you can check out online reviews of golfers who have already bought the club you're interested in.
It allows you to make a more informed decision on whether to buy a club or not.
Only Purchase When You Feel That It is Right for You
If you think the seller you're dealing with is suspicious, then always trust your gut.
You may find an unbelievably good deal online that can be exciting. Who wouldn't be? But it is best to check for the legitimacy of the offer if you feel like it's too good to be true.
You can ask them to take pictures of the club in a certain way or ask essential information before purchasing.
Also, while custom fitting is beneficial, some clubs may not just match your feel. In this case, you can confide on your fitter that you don't think it's the right club for you.
They will be more than happy to provide you with another club.
Watch Out for the Best Seasons to Buy Golf Clubs
Do you know that there are certain seasons when it's best to buy golf clubs?
As we all know, the usual golf season is during warm seasons. It can affect when the best and worst time is to score great deals for clubs.
With that, here is a quick guide on when is the best time to buy golf clubs
Holidays

Spring

Winter

End of fall
The critical thing to note here is to avoid buying clubs during the summer. Summer is the time when players are starting to go back to the course.
Hence, clubs have higher demands, which means the prices are also higher.
You now know that there are vast options on where to buy golf clubs.
You can use all the information in this article until you become a seasoned player.
After all, you will always be needing to uplevel your clubs if you're serious with the sports.
Where you buy your clubs may depend on your standard and requirements.
But wherever it is that you may buy your club, it is always important to do your research beforehand.
Last Updated on March 2, 2023 by Paul Roger Steinberg