If you are looking for ways on how to convert golf push cart to electric, I got your back. Of course, we have some already electric golf push carts out there. However, they might cost you a few extra bucks.
How about saving and converting your regular golf push cart into an electric one. That might not sound like an easy task for most people, but it is.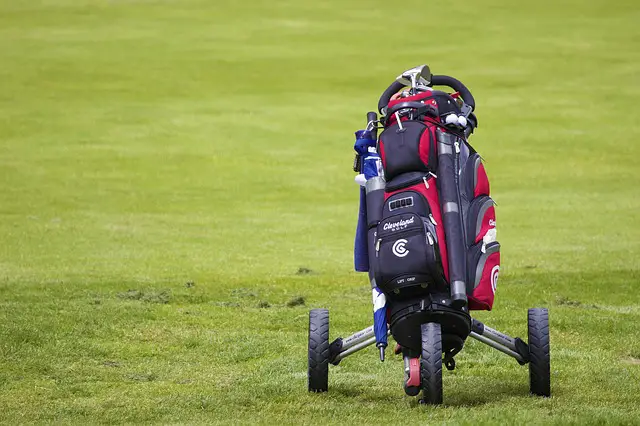 This is only with eWheels. They turn the normal golf push bag into an excellent electric model. However, they are an added expense, although not as much as purchasing an electric pushcart.
Therefore, eWheels are a way of killing two birds with one stone. What do I mean? Well, you enjoy the convenience of an electric golf push cart, while also saving some the extra bucks.
How do I convert golf push cart to electric?
Well, like earlier said, you need eWheels. They easily attach to your pushcart for easy movement. Of course, we all know the benefits of walking around.
However, walking around with a load over your shoulders isn't healthy. Therefore, eWheels offer the convenience of having your bag whenever you need without much hassle.
They eliminate the need for you to carry or push your golf bag. This way, you get less exhausted while on the course.
With their lightweight and compact design, most eWheels offer easy assembling on the golf pushcart. Therefore, you take less time making your pushcart electric.
With a full charge, eWheels convert your golf push cart into an electric masterpiece and move it around the course with ease.
What are the benefits of converting your golf push cart to electric?
There are many reasons why people opt to change their golf push cart to electric. Perhaps, they are the same reasons why you searched for ways on how to convert golf push cart to electric.
Therefore, are there any benefits to doing this? Or, is it just another trick to look cool on the course? Frankly, there are many benefits of converting your pushcart to electric.
Let's look at some of them below!
Less Fatigue
You probably don't fancy the idea of pushing your cart up and down the hilly surfaces on the course. It'd take away the thrill of comfortable playing.
This is where eWheels come in. By converting the push cart to electric, they spare you the agony of pushing and pulling.
At the end of the day, you enjoy playing more. You also end up being less fatigued.
Enhanced Focus
Of course, heavy loads on your neck and shoulders can be devastating. They could affect your overall performance and focus.
The constant stops and starts to affect morale and concentration. However, with an electric golf push cart, all that won't affect you.
They let you worry about the game, as they work on ensuring your items are at the right place and at the right time.
They are perfect for hilly surfaces and will reduce the time take to finalize a single round of play. Of course, they also keep you focused on the play and not the pain of carrying heavy loads on your shoulders.
Walk freely and enjoy the play
With an electric golf push cart, you enjoy some freedom. You walk freely without heavy loads over your shoulders.
It's just an easy task. You just finish your play, grab your putter then send your cart off to your next tee. That sounds like a thing I'd enjoy doing.
With the device, you just focus on making perfect shots and not on how your items will get to their destination.
How to identify the right eWheels?
If you are wondering if converting your regular golf push cart into an electric one is worth it, then I answer to the affirmation.
The material
EWheels are worth the few extra bucks. Most of them boast a tough aircraft-grade aluminum construction. With this material, you are guaranteed years of service.
Before making a purchase, ensure you check their material keenly. You don't want something that will break after a few uses, do you? For that reason, settle for high-quality materials.
The motor
EWheels fitted with excellent brushless motors guarantee better performances on the course. However, we also have flops. For that reason, ensure you check the power of the motor before settling for any model.
Battery Life
Most high-end models come with long-lasting batteries. However, we also have some flops which won't crank an entire round without running out of juice.
You don't want to face the inconveniences that come with less effective batteries. For that reason, I advise you to pick eWheels with a powerful battery.
They will ensure you play for longer and don't run out of power.
What is the best electric push golf cart?
Besides converting a push cart to electric, we also have originally electric push golf carts. In this case, they offer electric functions with the help of remote control.
While we have many models, getting the best options is an uphill task. Therefore, what is the best electric push golf cart?
Several features define a good electric push golf cart. Let's take a look at some of their features!
Material
What is the material used in the manufacture of the electric push golf cart? Different companies used different materials. For instance, some use aluminum while others use titanium.
Both of these two materials are amazing. However, each has its own benefits and disadvantages. For instance, Aluminum boasts a lightweight design which makes it ideal for use in the manufacture of golf carts.
Aluminum also slides easily thus offering increased maneuverability. For that reason, this is an ideal material and I'd highly recommend.
On the other hand, we have Titanium. This material is super-lightweight. For that reason, it makes your golf cart even lighter.
Being one of the strongest materials, Titanium also gives your golf cart unmatched strength. However, choosing these two materials depends on personal preferences. It also depends on the weight of your pockets.
The batteries
An electric golf push cart uses batteries for its operations. You want a battery that lasts longer. In that case, always test the batteries before making a purchase.
There are several battery types. For instance, we have a Li-ION battery. The batteries are lighter, they also don't discharge.
Unfortunately, these batteries don't last long and are somewhat more expensive. Therefore, they might not be the best option.
Then we have the lead-acid batteries. These are conventional batteries which last longer than the other types. Therefore, they offer a longer range. They are heavier and thicker compared to the LI-Ion options.
It is upon you to settle for one of the types. However, for long-lasting service, choose lead-acid
Control Features
The variable forward and reverse controls also determine how suitable a certain electric push golf cart is. You also need to look at speed memory which then greatly influences the suitability of a certain golf push cart.
Other features like cruise control and electronic brakes also affect the ease of use of your device. They also affect the appropriateness of the device.
Performance
How able is the electric golf cart? This is determined by its ability to carry loads with ease around the course. Ensure you pick something appropriate for the task. Consider the operating range and the number of holes you can reach with the cart.
The climb capability also determines the effectiveness of the device. For that reason, ensure you check all these parameters. Any electric golf push cart offering these functions qualifies to be among the best.
The Drive Wheels
When looking at the wheels, ensure they have anti-slip features. This way, you will roam freely without hassle. The wheels shouldn't slip easily on the course,
Of course, there are single and dual-drive wheels. Choose between the two. However, single-wheels offer easy control. On the other hand, dual-drive wheels work independently. Therefore, you might not do anything manually.
Therefore, the best models opt to give perfect drive wheels.
The handle
Ideally, the handles don't greatly affect the functions of an electric golf cart. Why is that? This is because you rarely use them.
However, handles are also quite significant. First, you still use the handles once in a while. Therefore, they need to offer comfort. Also, getting handles with mounted controls makes your work easier.
Ability to fold
Sometimes, you want to transport or store your electric golf push cart. Therefore, getting a foldable model makes things easier for you.
Folded electric push carts save space when stored. They also offer easy carrying to different places. For that reason, you should consider getting something foldable.
The weight
Weight also affects several factors. Things like transportation. Therefore, which is the most appropriate weight? Well, just ensure it isn't the heaviest model.
Those carts made using Titanium or Aluminum boast an ultra-light frame. Therefore, consider settling for those ones.
Conclusion
The fact that you want to know how to convert golf push carts to electric tells a lot. You probably don't like the idea of pushing and pulling heavy loads. Or, you just want comfort and added focus when playing.
The idea is simple, you need eWheels. Having given all the details above, the ball is in your court. Try out some models. For more tips on how to improve your skills, peruse through.
Last Updated on

by