Do you think you know how to put a golf bag on a push cart? Well, we shall compare notes and see whether you, indeed, do or not. I have compiled this guide to ensure that you do it perfectly, without mistakes.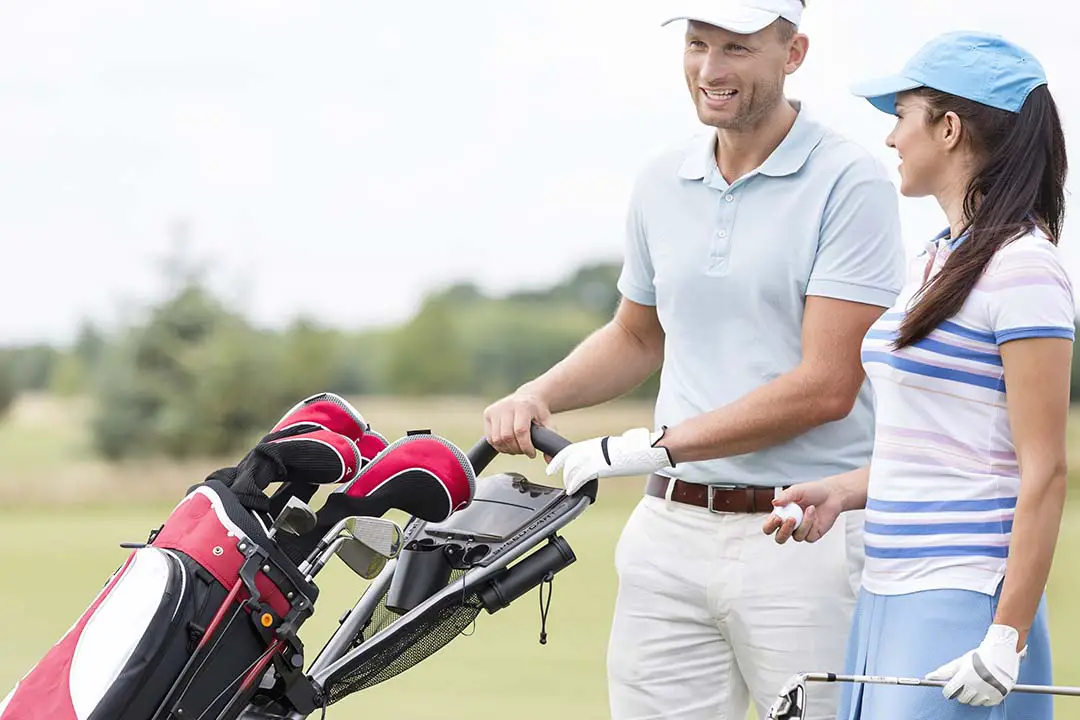 Of course, amateur golfers might gain the most out of this guide. However, professionals will also pick one or two tips.
I tend to believe, in golf, no one knows everything. I have spent three-quarters of my life in the course, but I still learn new things each day.
Therefore, going through this guide will be of the utmost benefit to learners and professional golfers.
How to put a Golf Bag on a Push Cart
This is an interesting discussion, one which I will dissect fully and ensure that you have all the knowledge.
First, we have had a few issues lately. There's this huge debate about whether to push, ride, or carry golf bags. Several factors affect each person's argument. For instance, the elderly fund carrying heavy loads over their shoulders pain in the rear.
On the other hand, younger guys wish to carry their golf bags on their shoulders. Of course, they say it's some form of an exercise, a way to keep fit and avoid the common lifestyle ailments. However, we are at liberty to choose the one we wish to settle for, don't we?
To balance the equation, we have the golf push carts. They are the newest craze right now. They are cheaper than electric models and better than carrying bags. Therefore, they offer the convenience of an electric golf cart and still eliminate the inconveniences of a carrying bag.
However, even with their instant rise to popularity amongst many golfers, most people don't know how to put a golf bag on a push cart. Below, I shall give five steps on how to do this.
But First, What is a Golf Push Cart?
A golf push cart is a gadget, an item, some sort of cart, which you just push but not drive. Typically, it is a three-wheel device, although some models have four wheels. It is designed to carry golf bags around the course, but you have to push it.
Made from tough powder-coated aluminum, it resists rusting and corrosion. Of course, the aluminum is in the form of tubing. Therefore, the device weighs less and is convenient for use.
Of course, recent models boast advanced features, those which weren't included in previous models. Some advanced golf push carts feature a full console, a design that holds pencils, tees, and golf balls.
On the other hand, we have more advanced models which come with tough storage netting for shirts, towel, and apparel. They even include an umbrella mount just in case there's rain or too much sun.
Other golf push carts even have bottle holders and a flexible cup holder. Therefore, a push cart is a fully-packed device for golfers.
Just like the name suggests, these push cart only move by being pushed. They have no electrical features, so you won't drive them. They also fold to a compact size for easy storage and transportation.
Placing a Golf Bag on a Push Cart
To the elephant in the house: how to put a golf bag on a push cart. Before you even put the golf bag on the push cart, there are various things you will require.
You will need; A golf push cart & the empty golf bag
First, you unfold your golf push cart. How do you do that? Well, you only release the two handles. That way, you will have a fully unfolded golf push cart.
After unfolding, ensure the longer side faces away from you as you unfold. This way, you will have more effective results.
Then put a single foot on its front wheel, then lift its front handle. Then push the two rear wheels outwards. While doing this, wait keenly for the click.
After that, lock the midsection of the lever. Now push the button on the front wheel. As you do that, pull the wheel up. Finally, lock the lever.
Now you have an unfolded golf push cart!
To put the bag, ensure it is empty. Strap the bottom and upper straps. Of course, you ensure that the bag is securely strapped before anything else.
After that, you are now ready to add your items inside the bag.
Follow the right procedure when adding the clubs and the other accessories.
Are there any benefits of using a Push Golf Cart?
Between a push golf cart and an electric one, most people would fall for the electric model because of the ease movement.
However, electric models come with many advantages and disadvantages. Therefore, the manual push cart tries to balance between the carry bag and the electric golf cart,
Unlike electric carts and carry bags, push carts offer light exercises. However, carry bags offer more strenuous exercises that might not be conducive for most people.
As for electric carts, you literally undertake no exercise at all. This could be a good thing for the elderly and sick persons. However, for healthy people, the push cart would be an ideal purchase.
In fact, doctors recommend this device for those who aren't actively involved in other exercising activities. Therefore, they are a form of exercise for golfer5s.
Before we look at How to put a golf bag on a push cart, I must also mention that modern push cart are effective and more reliable than their predecessors. They boast a sleeker and lighter design making them a perfect investment.
Golf push carts also fold to a compact size. Therefore, storing is easy. And, carrying is a breeze. They are more convenient than carry bags or electric golf carts.
Features of a Modern Golf Push Cart
With advanced technology, most push carts have seen some improvements. Modern carts have several things in common. They are more sophisticated and have better features.
Here are some of the functional features
With hand or foot brakes
This is an improvement on the modern cart. The rake system offers easy parking of the cart even on uneven terrain. You can even park it on a hilly surface.
You don't need to keep your hand on the handle for it to stay in place. Therefore, you have more freedom to concentrate on the game and other things.
Additionally, modern design also reduces damage due to wearing. This is because of the excellent cable design, and unique pivot assembling. The features ensure that you get a longer service.
Maintenance-free wheels
The modern carts come with airless wheels. This is unlike their predecessors which came with air tires. Therefore, the wheels require no maintenance.
They are super-strong and rigid. They can hardly get damaged. The wheels also offer a firm grip on the ground, and they won't even slip on the grass or damage it.
They are also designed to smoothly slide with ease. With the excellent front/back wheel swivel design, you get an easier operation.
Slide-to-close design
This is another feature of a modern push cart. The mechanism offers easy closing and opening of the cart. With a slide-to-open design, you won't be lifting heavy lids to access your items. Therefore, you enjoy a more relaxed and comfortable operation.
Have easy-clip straps for the bag:
The modern golf push carts come with built-in straps for effective attachment of the bag. The straps ensure that your bag sticks to its position, and it doesn't fall off.
The straps also offer easy adjustment to suit any bag, regardless of the size and dimensions. They make your golf bag secure.
Bigger cargo net storage
Manufacturers bowed to the pressure from most golfers and increased the cargo net capacity by up to 80%. This way, you have more space and room for other items and tools.
Replaceable parts
This is another feature of a modern p golf push cart. The replaceable parts are independent and not bind together. Therefore, each part can be removed and replaced with ease. This is an advantage since you won't be replacing the entire push cart after a single part is damaged.
How do you push a dead golf cart?
Let's assume you just ran out of power, or you just had a mechanical issue, what do you do? In this case, we are referring to an electric cart that is dead.
You first check and ensure that it is on a freewheel function. For those powered by gas, let be on neutral mode.
Standing on the right side of the cart, place your right arm on the steering wheel for easier control. With your left arm on the frame, push the cart in the desired direction.
That's how to push a dead golf push cart.
Final Thoughts
You now know how to put a golf bag on a push cart, right?
That's why I'm here!
I hope the knowledge and tips included in this guide help you become a better golfer. We have more tips around, you can peruse through.
Drop us a comment or a suggestion.
Last Updated on May 22, 2023 by Paul Roger Steinberg