3-wheel VS 4-wheel golf push cart – which one should I settle for? Most people often ask me this question. Of course, various factors come to play when addressing this issue.
For instance, what are the benefits of the 3-wheel golf push carts? What are the benefits of the 4-wheel golf push cart? And finally, what are the disadvantages of the two?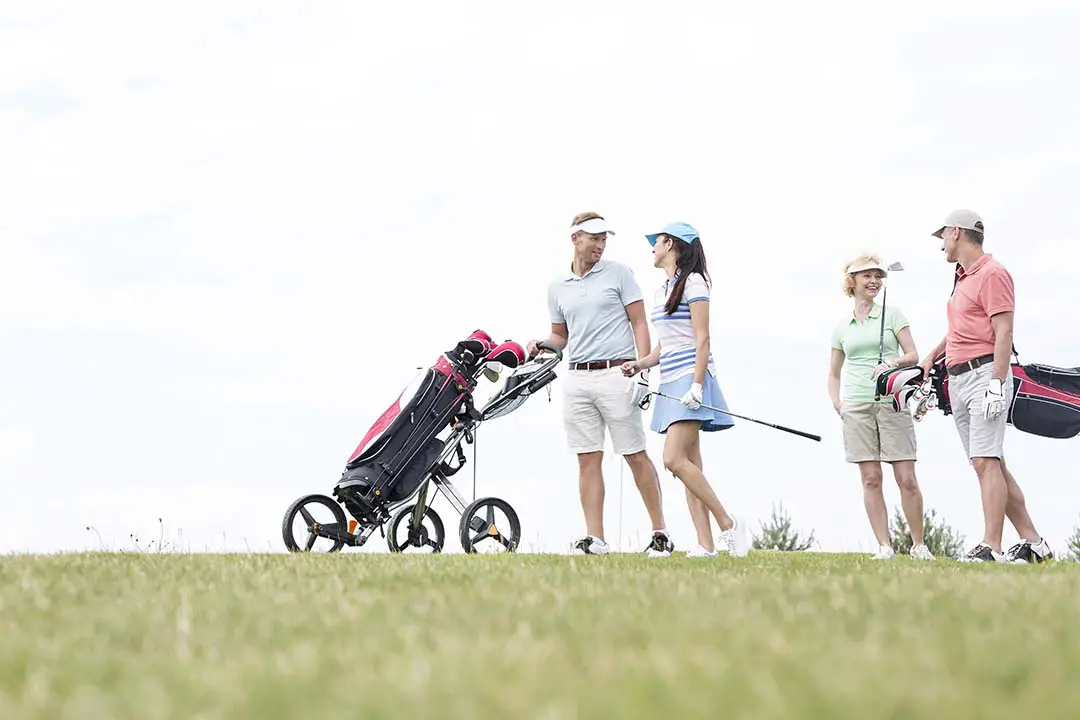 These are some of the questions I will seek to answer for you. In order to exhaustively answer the question, we shall delve deeper into details concerning these two golf push cart designs.
Which is better 3-wheel vs 4-wheel Golf Push Cart?
While there aren't so many differences between the two models, they still differ in various features. Of course, the decision to pick any of them solely depends on the nature of your needs.
However, both of these two designs offer better results. Unfortunately, they exhibit some few functional differences which make them distinct.
What are some of these differences?
4-wheel golf push carts are more stable
Needless to say, the 4-wheel golf push carts offer more stability. Of course, this is because of the wide base created by the four wheels.
However, this doesn't make their 3-wheel counterparts extremely unstable. Some manufacturers manipulate the base of the 3-wheel push carts making them wider.
Generally, though, the 4-wheel golf push carts offer more stability. This way, they guarantee increased safety for your golf bags and other accessories.
Therefore, on stability, I give it to the 4-wheel models.
3-Wheel golf push carts are easily maneuverable
For obvious reasons, 3-wheel push carts offer easy maneuverability. Unlike the 4-wheel options which are more rigid, these ones allow for easy movement.
For instance, taking some negotiating sharp corners is easier with the 3-wheel golf push carts. At the end of the day, we don't want something that's going to take too much of our energy moving around.
In that case, when we talk of ease of use, the 3-wheel design carries the day. Of course, ease of use is also an important factor.
3-wheel golf push carts offer faster speeds
You don't want to spend the whole day getting to your final destination, do you? For that reason, we want something moving faster.
This point is tied to the previous one on ease of use. Without the ease of use, you will definitely take more time to get to your destination.
This translates to the 3-wheel carts being faster than their 4-wheel counterparts. However, this doesn't mean the 4-wheel models don't get the job done.
It's just that they may take a longer time, and probably require more effort to move around.
Most 4-wheels fold compactly
This is a common observation I made with most 4-wheel golf push carts. They fold to a sizeable design which makes them easy to store and carry.
Unlike 3-wheel models, the 4-wheels save space and also offer easy carrying. For that reason, anyone looking for something they can carry easily, the 4-wheel models carry the day.
Most 3-wheels come with straps
To keep your golf bags secured, most 3-wheel push carts come with straps. This isn't the case with most 4-wheels.
Perhaps the reason being 4-wheels are believed to be stable and safe. However, some people have bags with an uneven shape. Without straps, the golf bag could fall off easily.
In light of that, I recommend the 3-wheel if you need straps to keep your golf bag in place at all times. However, this doesn't mean the 4-wheels are less safe.
The straps work perfectly with bags bearing uneven shape. In that case, when comparing a 3-wheel VS 4-wheel golf push cart, be sure to consider the straps.
How to push E-Z-Go golf cart?
How do you push E-Z-Go golf cart? Well, there are various steps to ensuring that you push your cart perfectly.
It isn't just a matter of getting your hands on the handle and moving around. First, we have the electric models and the push models.
If you are using the electric model, it can also fail and you have to push. In that case, how do you go about it?
Once your E-Z-Go golf cart breaks down, the first step would be moving it to a safe location. Most people take the bad decision of removing some of the parts.
Of course, pushing the cart requires energy, hard work, and dedication. It won't be an easy task, so you prepare for it.
To push, ensure it has the freewheel feature. With this function, you won't be working against the heavy mechanical functions.
The only thing that makes pushing the golf cart easy is the presence of the freewheel feature. Otherwise, that would be an uphill responsibility.
With a little effort and the freewheel mode, you can easily push your cart. What do you? Well, you should ensure the cart isn't on a reverse gear. That would create more issues for you.
As for gas-powered models, always ensure it is on a neutral gear for the wheels to move freely. Then exert some power in the right direction and you will easily get the device to the desired location.
To get better results, stand on the left sides of the cart. Then steer it using the right hand in the right direction.
For leverage, just hold on to the cart's frame. The frame is sturdy so you won't cause any negative effects on it. With all your strength, push it forward and you will move the E-Z-Go golf cart to the desired location.
Automatic golf push cart
Manual golf push carts pose quite some challenge for the users. They require strength to move around. However, with the automatic golf push carts, things become easier.
Therefore, what are these automatic golf push carts? Well, they include remote controlled electric carts and the normal electric carts.
That's confusing, right? Well, the remote-controlled electric carts use a small remote for easy control. They are capable of reversing, moving forward, moving left and also moving to the right.
With the remote-controlled models, safety features and the range play an important role. For that reason, before making a purchase, consider their safety features and the range of operation. With range, I mean from how far the remote operates the cart.
With the purely electric models, you don't get the remote. However, you use buttons to operate it. That's just the difference between the two automatic golf push carts.
Advanced models come with advanced features. Therefore, they make the experience more enjoyable for users.
Of course, when looking for an automatic golf push cart, it's always about your preferences. Various factors would influence your decision.
Final Thoughts
Comparing the 3-wheel VS 4-wheel golf push cart is never an easy task. At the end of the day, almost equal numbers prefer one over the other.
However, it all depends on what you value most. If ease of use is what you need, the 3-wheel models carry the day.
On the other hand, if stability is your main concern, you settle for the 4-wheel golf push carts. Therefore, it all depends on your personal preferences.
Having used both models, I'd say I love both in equal measure. However, I currently use a 3-wheel model for speed and maneuverability.
In conclusion, I wouldn't give a solid reason why you should get one design and not the other. Simply compare the benefits of each, as stipulated above, then make a personal decision.
Last Updated on

by