If you want to extend the life of your FootJoy footwear, you should be asking yourself how to clean FootJoy golf shoes.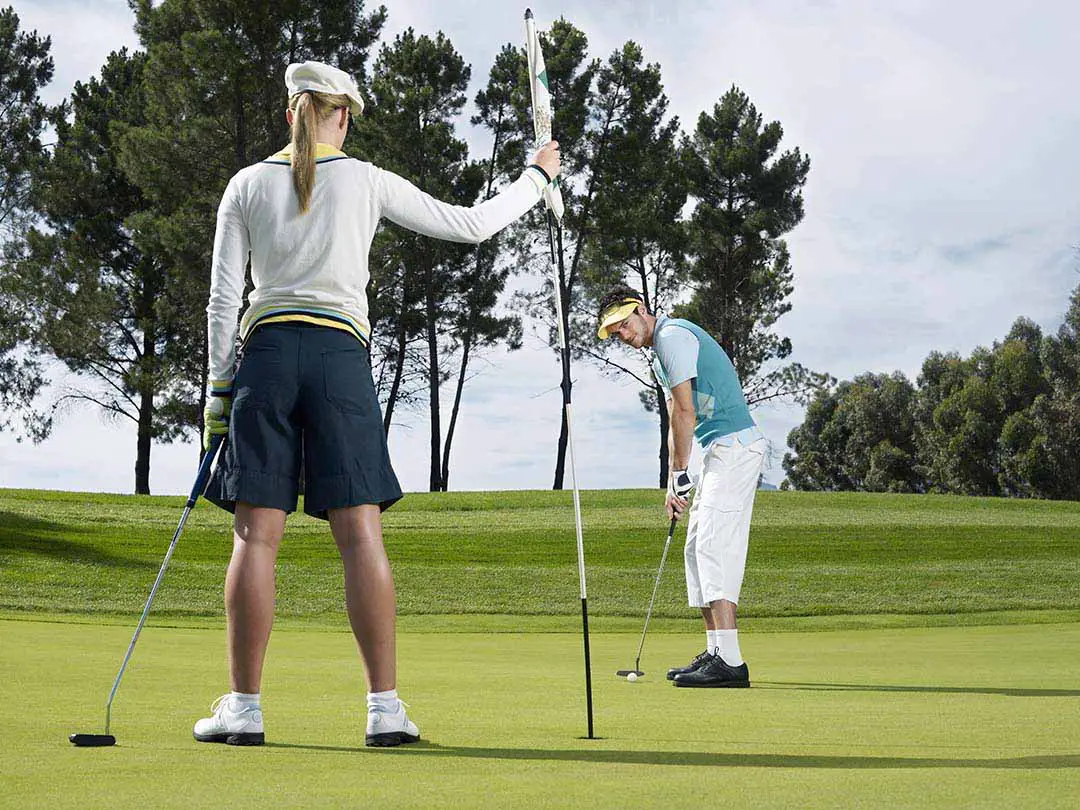 Like any other golf equipment and merchandise, it needs utmost care and attention.
The good news is that you don't need to figure it out alone because we'll cover all the things you need to get started.
How to Clean Footjoy Golf Shoes
Buying a golf shoe can be expensive but also worth it, especially if you're getting it from one of the best golf shoe brands in the market.
But there are maintenance aspects for your expensive golf shoe to last.
With that, you need to start practicing the basic guidelines in terms of how to clean FootJoy golf shoes.
Not only that, but you also have to be familiar with how to care for FootJoy golf shoes.
Golf Shoes Cleaning Guidelines
After a round of playing golf, a muddy or sandy golf shoe isn't a new view for you.
It does not even include the grass and other particles your golf shoes picked up. Indeed, cleaning your golf shoes may be dirty work.
Additionally, apart from knowing how to clean FootJoy golf shoes is to check the shoe material.
You might need to use a different approach when dealing with golf shoes made of leather, synthetic materials, or mesh.
Cleaning a white golf shoe would also be different from cleaning darker colored shoes.
It's also a different scenario when you accidentally soaked them in water. Besides, are FootJoy golf shoes waterproof?
But before anything else, remember that cleaning your golf shoes right after the game is essential if you want it to last longer.
Besides this, here are the other things that you need to follow on how to care for FootJoy golf shoes based on the type of material used.
Cleaning Leather or Synthetic Leather Golf Shoes
Uppers
Soak a towel or soft cloth to a mixture of mild soap and water or a shoe cleaner.

Using the towel, remove any dirt or residue you can find in your golfing shoes.

Allow it to air dry at room temperature.

Reminder on how to clean FootJoy golf shoes: Never soak your shoes directly on the cleaner as this can damage your golf shoe's material.
Spikes and Outsoles
Remove the grass and wipe away the dirt from the outsoles with the same mixture that you used for the uppers.

If you're using golf shoes with spikes, unscrew each one, if necessary, to reach other trapped dirt.
White Shoes
Besides the usual soap and water mixture, apply a white shoe cleaner.

Cracks and dirt are more evident in white leather shoes. Thus, focus on areas with unwanted scuff marks.

White shoe cleaners could also help condition the leather materials, so make sure to buy only from reputable golf stores.
Dark Shoes
Use a golf shoe cleaner to make sure that your golf shoes will be dirt-free.

For proper maintenance, apply a shoe cream as well. Since shoe creams come with various colors, get the most appropriate one depending on your golf shoes.
Wet Shoes
Before we even get on this part, you might be wondering, are FootJoy golf shoes waterproof? The simple answer is no.
With that, here are the things you should remember when cleaning your wet shoes
Clean the shoes quickly after being soaked during your game.

Place newspapers inside your shoes. Please wait for a couple of hours and let it absorb all the excess water.

Remove the crumpled newspapers then place FootJoy Cedar Shoe Trees. Given cedar's absorption properties, your uppers will be back to its standard shape in no time. The remaining water and foul smell will be absorbed as well.
Other than these, one of the best ways on how to care for FootJoy golf shoes is to treat them with leather conditioners or leather oil.
These golf shoe treatments allow your footwear to look clean and new. Just apply a small amount of leather conditioner or oil to your uppers and outsoles.
It's also incredibly beneficial if you love wearing white golf shoes. You'll be needing this after knowing that no is the answer to, are FootJoy golf shoes waterproof.
Cleaning Mesh Golf Shoes
Still, on the topic of the basic guidelines on how to clean FootJoy golf shoes, you can choose between two options when dealing with mesh.
You can either do it through a handwash or a cleaning machine.
Handwash Mesh Shoes Cleaning
With a mixture of warm water and mild laundry detergent or liquid dish soap, soak your FootJoy golf shoes.

For excess dirt, scrub the mesh using a soft cloth or soft-bristled brush.

Remove the soap residue using a cloth dampened with cold water.

 Allow it to be air-dry indoors or in a shaded area.
Machine Mesh Shoes Cleaning
Remove your shoelaces and the inner soles, whenever possible.

Similar to handwashing your mesh shoes, dampen a soft cloth with warm water and soap. Wipe your mesh shoes lightly.

For tougher stains, you can use a soft-bristled brush.

Get a mesh washing bag, place your FootJoy golf shoes and laces, and wash them in a gentle cycle.

Allow it to be air-dry indoors or in a shaded area. If you need it to be dried quickly, newspapers could help absorb the moisture. Leave it for half an hour.

Remove the wet newspapers and place FootJoy Cedar Shoe Trees while still damp.
Footjoy Golf Shoe Care Tips For Starters
If you noticed, we've mentioned several times in the previous section that golf shoes should be air-dried indoors or in a shaded area after cleaning them.
Part of how to clean FootJoy golf shoes is not putting them directly in an external heat source.
That's a no, no, whether it concerns direct sunlight or blow dryers. Too much heat may damage your shoe outsoles and uppers.
Likewise, by now, you know the answer to this: are FootJoy golf shoes waterproof? So, you should follow the same guideline when drying your golf shoes after being soaked in rainwater.
As part of maintenance, we also recommend you to have two pairs of golf shoes, if and when your budget allows.
Rotating your golf shoes between rounds can help your footwear extend its life compared to just using one.
Make it a habit to inspect your golf spikes as well. Do it as frequently as possible, which means checking it after every round. This way, you would also know if you need to replace them.
The inside of your shoes is also equally important.
Thus, depending on how you frequently wear your golf shoes, you can opt to change your insoles once or twice per season. Consider its appearance.
Does it look flat? Can you see heavy toe marks? Have the insoles lost their bounce and firmness?
If you've answered yes to more than one of these, maybe it's about time to get them changed.
Now, in terms of proper storage, here are three essential things to keep in mind:
Stop storing your golf shoes in a car trunk. Again, high temperatures can affect your shoe materials and consequently shorten their lifespan.

Consider using Footjoy Cedar Shoe Trees. Leave them on your shoes every time you're not using them.

Keep your shoes safe in a golf shoe bag. Always have it around so you can place your footwear here while waiting for your game. Find a well-ventilated design for moisture and bacteria build-up prevention.
For starters, these guidelines concerning how to clean FootJoy golf shoes may be a bit time-consuming and tiring.
But if you want to get the most of your FootJoy golf shoes, cleaning and maintaining them will always be part of the equation.
When Is the Time to Get A New Pair?
It's inevitable for your golf shoes to be subjected to wear and tear. But with regular and proper cleaning and maintenance, you'll surely enjoy your FootJoy golf shoes for years.
However, it would help if you also take note that sometimes, cleaning your shoes won't simply be enough.
Well, mainly if you habitually throw your shoes in your car trunk or golf bag after each game, leave it as is for couple more days before cleaning them.
If it was part of your habit and you're feeling a little off-balance when swinging, noticing soles are worn down, or experiencing some water seeping in your shoes, you need to get a new one.
You could also check each aspect of your golf shoes like spikes, treads, cleats, and insoles for confirmation.
Once you decided that indeed, you need to buy a new pair, remember how to clean, maintain, and store them properly.
You wouldn't want to commit the same mistakes again, right?
Clean it Now or Regret Later!
The condition of your golf shoes will significantly affect your performance.
But your attitude and action on how to clean FootJoy golf shoes are as good as the brand.
Regardless of Footjoy's high-quality construction, the leather, synthetic, or mesh golf shoes you own won't last long without adequately caring for them.
It's won't even count whether are FootJoy golf shoes waterproof.
So, what are you planning to do now?