Whether you've been playing golf for decades or you're just setting your feet on the ground, knowing what golf clubs to buy requires having solid knowledge of the game.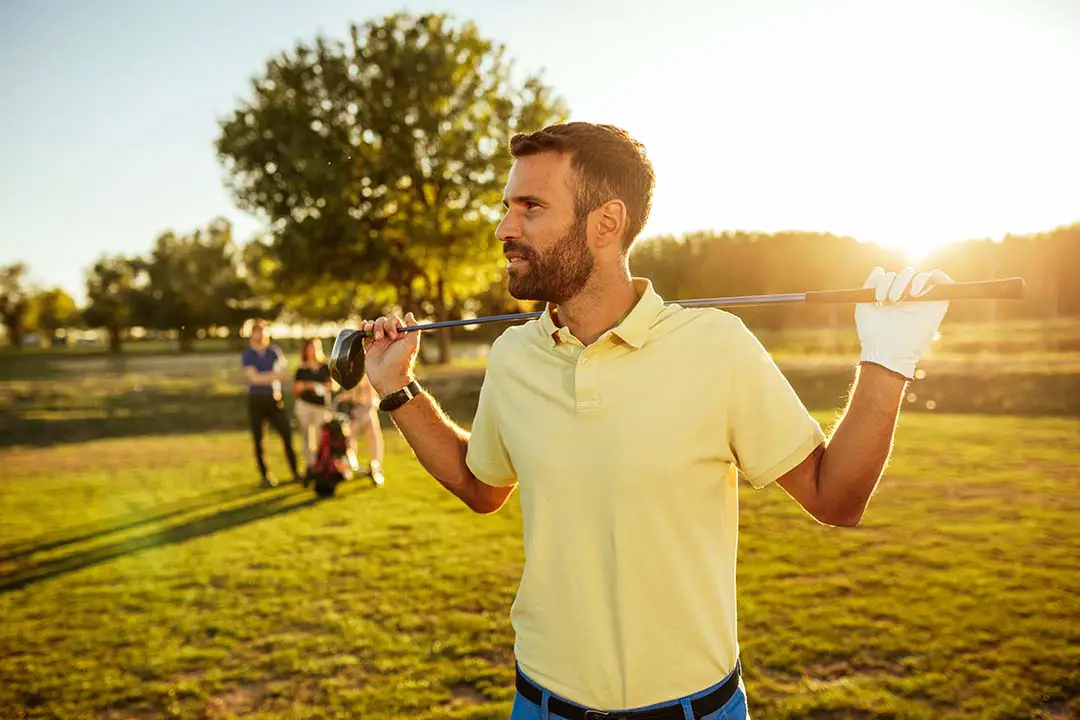 The golf market is a little complicated and might leave you confused about what golf clubs should I buy.
We've put together a guide to carefully answer your question on what golf clubs should I buy.
What Golf Clubs Should I Buy
When looking for which golf clubs to buy, knowing what you need is the first step to your purchasing success. Follow the guidelines below when looking for what golf clubs to buy;
Know your ability and your handicap. Contact a PGA professional if you're not sure of your handicap or ability. Have a good knowledge of what a complete golf club set and accessories are made up of.
Golf rules do not permit to have more than 14 clubs in a golf bag. This doesn't mean you should have the complete 14 club sets in your bag, but don't exceed the maximum allowed.
If you're looking for what golf clubs should I buy, the following baseline set should help:
Driver (9.5 – 13 degrees)

Hybrid (19 – 21 degrees)

Fairway Wood (15 – 17 degrees)

Iron Set (4 – PW, SW or AW)

Wedge

Putter (33″, 34″ or 35″ )
Choose these baseline sets for a starter; later on, you can start going for golf sets based on your improved ability or handicap.
While I listed these numbers as a standard guideline, be flexible enough to choose your number of clubs based on your preference and your golf strategy.
You can replace a long iron with woods or hybrids, or replace woods with iron. And you can decide to put any number of wedges into the bag.
Stay versatile – there are lots of switches you can make with your golf club. Just keep to the maximum 14 clubs in a golf bag.
Understand what golf clubs you are comfortable with and which of them can help improve your game. There's a lot you can do, but I suggest starting with the basic set.
Going forward, you can give other clubs sets a try. The next thing to know when looking for what golf clubs should I buy is the components of the clubs and its terminologies.
Club Components and Terminologies
Since we already dived through the basic sets of a golf club, let's go into the things you need to look at when looking for which golf clubs to buy.
Golf clubs are available in four different categories: 
Irons, Wood, Putters, and Wedges
These club categories have specific components that are similar to all of them. They include:
The club grip is a rubber handle located above the shaft which you can hold or grip when playing. The mid-size, oversize, and standard grips are some of the types of grips on clubs.
You should consider the size of your hand before selecting the grips. These grips are available in different colors, designs, and texture;
However, they all serve one purpose – to grip the club effectively.
The shaft is located below the grip, and it is the second most crucial component of a golf club.
This is cylindrical U-shaped graphite or metallic material, and its length depends on the type of club it is installed on.
The shafts are available in different flexes, with some being more flexible and the other stiffer.
The speed of your clubhead will determine the type of flex suitable for your swing.
The club manufactures represent the stiffness level with different letters: 'L,' represents ladies, 'M or A' represents senior or Amateur, R represents regular, 'S' is for stuff, and extra stiff is represented by 'X.'
Men commonly use the 'R' letter while most women use the 'L'
The hosel is another component to keep in mind when looking for what golf clubs should I buy. It connects the clubhead to the shaft to control the club's lie angle.
Players may need to ensure that their lie angle goes in tandem with their length, the height of swing style. There's also the adjustable hotel, which performs the same function as the hosel.
You can easily adjust the loft and lie angle of your club with the adjustable hosel.
And lastly is the clubhead, which hits the ball. The clubhead controls the height and how far the ball can travel.
They are the primary feature of a club, and ultimately, the first thing a player would consider when searching for what kind of golf clubs should I buy.
Clubheads are designed to strike the ball; however, they are usually created for a specific player's ability.
In a nutshell, knowing how these components work plays a critical role in your overall golf success.
What are the categories of golf clubs?
Since we've been able to identify the golf clubs' components, the next step to determining what golf clubs should I buy is to understand the categories of these clubs.
Let's check them out.
Drivers were formally called 'woods' because they were made of wood in the past.
Even till now, drivers are still called woods, although they are now mostly made of steel, titanium, and other great materials.
The biggest clubhead in a golf bag is the "1 wood' which is a driver.
Drivers are what you use off the tee box when aiming for a long distance (because of their length), especially for your first shot.
Drivers are designed with graphite shafts, and they are the longest club in a golf bag.
You can select from different kinds of the clubhead in a driver. According to the rules by the governing body, 460cc remains the largest clubhead any player can have.
Surprisingly, 460cc is the most commonly used size among players. Smaller sizes in the 440cc range are not common among golfers as they are mostly used among professionals.
Higher cc numbers of the clubheads are more forgiving than the ones with lower cc. The main benefit of the clubhead with lower cc is in its shot-making ability.
And that's why professional players mostly embrace them.
Also called fairway metal or fairway woods, we won't but include them in this category. Some of the clubs included in the fairway wood are the 3 wood, 5 kinds of wood, and 7-wood club.
The higher the fairway woods number, the higher the loft of the clubhead, which means the higher or shorter the distance traveled.
Most fairway woods are made with granite shafts, only in a few occasions are some made with steel shaft. Most clubheads of the fairway woods are typically similar to a driver.
Players typically use the fairway woods for long fairway shots. Players struggling to use the drivers may turn to fairway woods as a saver.
That's possible because the added loft helps their shot travel straighter.
As mentioned in most of my articles, hybrids are the best of both the iron and the wood. The shape of hybrids is similar to the wood, and they are easier to hit.
Their length and loft are similar to that of the iron so that they can go as far as irons would go.
We suggest replacing your 3 and 4 irons with a hybrid, as they can improve your playability and provide excellent forgiveness.
While many people prefer to replace the 3-4 iron, you can improve your playability and club forgiveness by replacing other irons with the hybrid.
Irons are also important categories of the golf club to learn about when looking for what kind of golf clubs should I buy.
Iron covers every hole and everything ranging from long to short-range shots.
Irons are usually available in sets, including 6-8 irons. Here's what to expect with the individual sets of iron ( 3,4, 5, 6, 7,8, and 9 irons, including the gap wedge and pitching wedge)
When you're shopping for which golf clubs to buy, these iron clubs are typically labeled as 3-PW, 4PW, 5PW).
Iron sets are available in graphite or steel shaft.
Wedges are similar to irons in terms of look and build; however, they have different lofts. The lofts in wedges are higher and accurate than the average iron.
Wedges are available in different types. But the most common of them are the lob wedge, sand wedge, and the gap wedge.
The putter is inarguably one of the must-have clubs in a golf bag. Putters generally have steel shafts, and some models come with flat grips.
Putters are also flat and are probably the smallest club in your golf bag. Golfers need a putter when they need to roll the ball into the hole.
Quick tips for buying a golf club
When you understand what golf clubs to buy, you'll buy a club because it works for you, not just the one your buddies are buying.
Going for what others are buying might be the wrong reason to purchase a golf club. That's why I've explained the different categories and components of golf clubs.
While it's essential to know the different kinds of golf clubs in a bag, seeking advice from an expert can really help.
They should be able to guide you on which golfer will work best for you. Interactive selection tools can also guide you on your preferences.
You can as well give the online fitting sessions a try. There's a big chance of getting expert advice from top-notch fitting companies with thousands of completed fittings.
Having proper knowledge will guide you in making the right purchasing decision, and that's what you should be doing.
However, in-person fitting still makes sense, especially from a professional club fitting company. And they are pretty much comfortable.
When it comes to what type of golf clubs should I buy, it's important to trust your decisions.
That you're buying a new club or switching to another club means it is your first time giving the product a try.
Before you buy a driver, always consider the shorter drivers. Most drivers today come with a shaft of 45 inches or longer. Most drivers use the 44.5 inches driver.
There are certain things professional drivers know that others don't, which is longer clubs are usually difficult for hitting the ball squarely.
Avoid the 3, 4, and even the 5 iron like a plague. Don't bother including them in your club set. Why?
For decades, many manufacturers are beginning to reduce the loft on their irons for people to believe that their clubs hit farther.
That's why the 3,4 irons have the lowest lofts, which make them difficult to hit for a typical golfer.
What's the way out? Hybrids! Check below…
Replace your irons with matching hybrids
Purchase hybrids that match with the long irons that you already have. Make sure the hybrids can cover the same distance with the irons you're replacing.
Hybrids are not fairway woods
Avoid confusion. They are both different beasts. Although there are some hybrids with the same length and loft with fairway woods, the difference still abounds.
Hybrids are best for those with steeper swing, while players who shot cleared off the turf should go for fairway woods.
Play Your Best Game
When it comes to what golf clubs should I buy, there are lots of factors to consider.
It does not matter if you've been playing golf for decades or you're just starting out.
Knowing what golf clubs to buy requires having solid knowledge of the game.
We hope this guide will put walk you through what you should know before shelling out your money on a golf club.