For a beginner golfer or even a seasoned professional, figuring out What are the 14 clubs in a golf bag Every Golfer Should Choose can be worrisome, but why is that?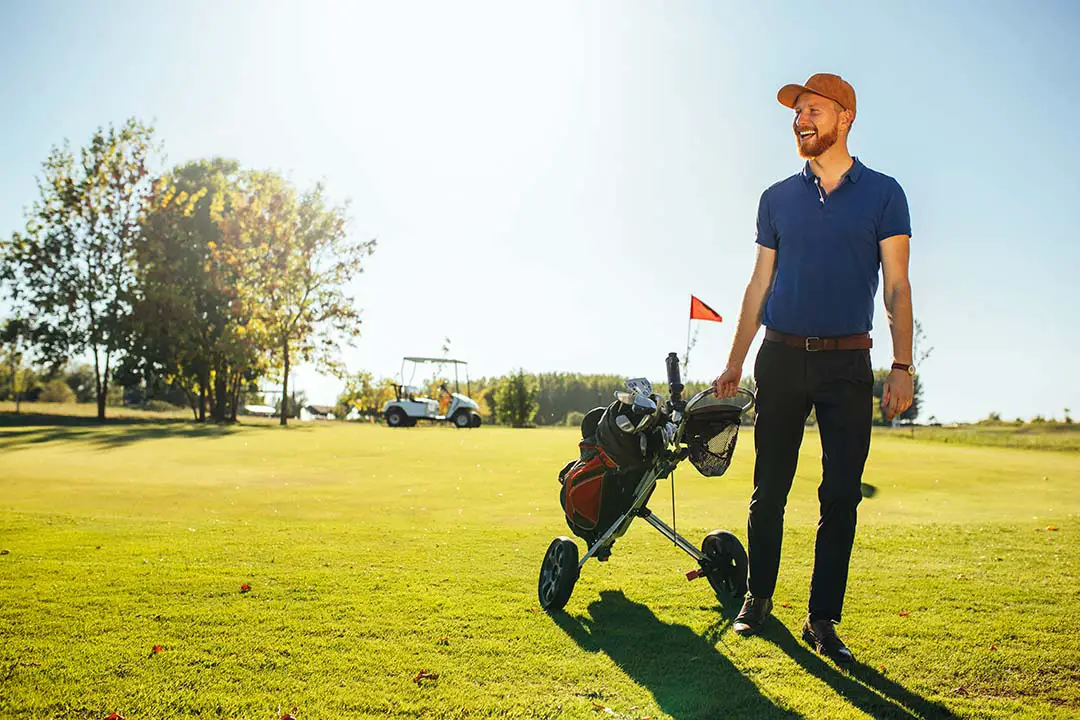 Because golf rules are a little complicated.
However, the USGA's rule about the use of golf clubs is pretty clear: you can only carry along not more than fourteen clubs for the green. You can use less. But not more.
What are the 14 clubs in a golf bag?
So what are the 14 clubs in a golf bag which you can carry and what is the minimum number of golf clubs in a bag?
This depends on the kind of golfing course you're playing and your golfing strategy.
Do you want to carry the entire club sets along? Yes, you can.
Would you love to have up to 3 putters? No problem.
The rule of golf is versatile – you can plan your sets according to your golfing style. Just be sure to not exceed the maximum 14 total clubs.
This article will comprehensively answer the most frequently asked question of "what 14 golf clubs should I carry."
Choosing Your Clubs Wisely
What are the 14 clubs in a golf bag? Firstly, have it in mind that you will never see a professional golfer play with all drivers or use more than a single putter.
There's always a variation on how golfers use a standard club set – for example, one driver, one putter, or a set of irons.
The club sets you to choose can play a huge role in how well you're able to hit the shot on the green. Consequently, the club settings you use will play a critical role in the score you can shoot.
If you're always hit with several shots that you have no perfect set of clubs for, then you need to make a change.
The wrong sets of clubs can diminish your golf playing progress, while the right clubs will drastically skyrocket your golf strategy.
Your strength, weakness, and your golfing skills should determine the type of clubs you carry. Flow with your strength and never undermine your weaknesses.
The golfing priorities of a professional golfer are quite different from that of a beginner. Some clubs are easier to control while others can be a pain in the neck.
As a seasoned golfer, I recommend going for simple-to-shoot clubs like the hybrids. Long irons or 3 or 5 wood can be a bad rap.
Choosing Clubs Based on Expertise
Now that we are able to answer the question of 'what are the 14 clubs in a golf bag,' we also created a list of the clubs that you should choose depending on your skill level.
However, this list is general. If you hit well with a particular club and you can't find it on our list, be sure to always have them in your bag.
The result is what matters, and if you find a club that gives your desired outcome, stick to it. There's no must-have club for every golfer. Choose whatever rocks your boat.
Golf Clubs for Professional Level Golfers
What are the 14 clubs in a golf bag for the seasoned professional golfer:
Hybrids – 4, 5, and 6
3 wood
1 Pitching wedge
Iron- 7,8, and 9
So if you're a seasoned professional, this list answers your question of 'what 14 golf clubs should I carry."
What are the 14 clubs in a golf bag for the intermediate level golfer?
3 – wood
Pitching wedge
Sandy wedge
4 and 5 hybrids.
6,7, 8, and 9 putters
I've noticed that not only do many intermediate golfers hit the wood off the tee better than a driver, but they also control the driver better than a beginner would.
Intermediate golfers are often at their optimal skill level during short games. They are as well stronger when using hybrids rather than long irons.
We hope the above list has also helped intermediate golfers answer the question of – what 14 golf clubs should I carry.
What are the 14 clubs in a golf bag for beginners?
3 and 9 iron
Putter
Putting wedge
Gap wedge
Driver
Lob wedge
We recommend a cutting edge rather than 3 wood or hybrid. Lob and gap wedges are additional options for players on the course.
Professional golfers tend to be flexible with their sets, changing them from week to week (some even change them between rounds), to brush up their golf skills and challenge their weaknesses.
This act alone can drastically skyrocket your way into becoming a better golfer. Focus more on your area of struggle, while you continue to play to your strength.
With time, you'll be amazed at your level of expertise.
Is hybrid and fairway wood compulsory?
Most golfers use hybrids and fairway woods to survive the tight spots. But there's more to these clubs – they are able to fire up the distance to your swing.
But many golfers seem to not care about adding the hybrid to their golf arsenal. Most prefer the typical 3 wood or just go for traditional options like the long iron.
But here's the secret – seasoned professional golfers understand how critical it is to have hybrids for their game.
As a beginner golfer, you should ensure that the hybrid earns more than a single spot in your bag.
While hybrids share similarities with small woods, they tend to be different from long irons especially when it comes to being versatile and incredible.
Yes, fairway woods can still earn a spot in your bags, too. Fairways are an incredibly accurate club for golfers looking to improve their golf-playing ability off the tee.
You should think of hybrids as a club that combines the best of both the wood and iron world. The hybrid's center of gravity is lower compared to long iron. And, it's sole tends to be wider.
The hybrid is designed for easy hitting, with their shorter length helping golfers to control their swing. The hybrid's shaft is about 3 inches shorter than the iron.
For many golfers, hybrids were able to earn a spot in their bags because they can replace the long irons. Some brands designed their hybrids to offer similar loft and distance with irons.
Today, the popularity of hybrids has spread like wildfire, with over 50% of seasoned golfers replacing a couple of their long irons with hybrids.
Fairways vs Hybrids
Between Fairways and hybrids, what are the 14 clubs in a golf bag to be included the most? Fairway woods had long taken the lead before hybrid came into the limelight.
It remains a tradition among most golfers to include at least one fairway in their bag because this club takes shots that hybrids cannot.
Today, most Fairway brands make their clubs with steel or titanium. And that's because of the lesser weight of these materials, which increase the swing speed.
But other fairway brands exhibit a design that is similar to a driver. These designs increase the gameplay accuracy and also increase the swing speed.
Consequently, we advise you to give both clubs a try in order to decide which one works best for you and your playing style.
Many golfers would prefer to go with both, in order to apply both interchangeably, especially when they face the green challenge that requires a precise level of range and accuracy.
What 14 golf clubs should I carry?
The choice of golf club depends on the player's preference, skill level, and the course. And when it comes to choosing a club set, there's no one-size fit rule.
What works for a golfer might not work for the other.
You can get started with the standard club sets, but the club sets we mentioned earlier can help guide your gameplay, challenge your weaknesses, and improve your overall performance.
So let that sink in.
What is the minimum number of golf clubs in a bag?
One of the most common questions we get asked is 'what is the minimum number of golf clubs in a bag?'
When it comes to the number of clubs you can carry, there's no minimum—only maximum. So if you wish to play with only a single putter, yes, you can.
Rules of Borrowing Clubs
The USGA, in 1988 changed its borrowing rules, where a player is allowed to borrow a club from an opponent for use throughout the tournament.
However, the rule was reversed in 1988, where players are allowed to only borrow from their teammates during a round.
Penalties for Carrying excess Clubs
The penalty for carrying excess clubs cuts across all corners of golf formats.
Golfers who failed to know what is the minimum number of clubs in a bag and decided to carry more than the maximum club limit would have to face penalties.
The excess club will be taken off and declared as "out of play". The competitor declares the excess clubs as out of play in stroke play golf competition.
The maximum penalty of a typical golf round is four-stroke and a single hole where the excess club was used will attract two strokes.
So chances are a golfer might lose a whole round if he has more excess clubs. For match play, a golfer would have a hole deducted for each excess club.
Mind you, each round requires two holes maximum.  That could be a potential loss.
Customizing your set of club
Not all golf players are right-handed. Some are lefties.
Are you a lefty who is challenged with using right-handed clubs and thinking which 14 golf clubs in bag should I carry? You're using the wrong clubs.
There are clubs dedicated to left-handed golfers. Also, if you're a new golfer, chances are you're struggling with using hybrids. Hybrids are generally not beginner-friendly.
They are more geared toward seasoned professional golfers who can take great shots with just about any club. In fact, they can be terrible for beginners.
Wrapping it all up
If you're sitting on the fence on which 14 golf clubs in the bag, don't hesitate to seek the opinion of an experienced player in regards to
What are the 14 clubs in a golf bag, What club is the best for the short game, and Why you should or not go for hybrids?
Every golfer has a unique skill set.
The type of club sets that looks good with you might be total garbage to another golfer. That's why golf club brands created a different range of options to select from.
Love bigger hybrids or compact hybrids or bigger fairway woods? Just go for it. The options are endless.
Avoid club sets that do not meet your design needs as you may end up abandoning them in the bag. The golf club sets to carry depends on your expertise level and what works for you.
Remember, your perfect clubs are the ones you hit best.
Last Updated on November 17, 2022 by Paul Roger Steinberg