By being new to the game of golf, I am sure that you have lots of questions in mind such as how many golf clubs can you have in your bag.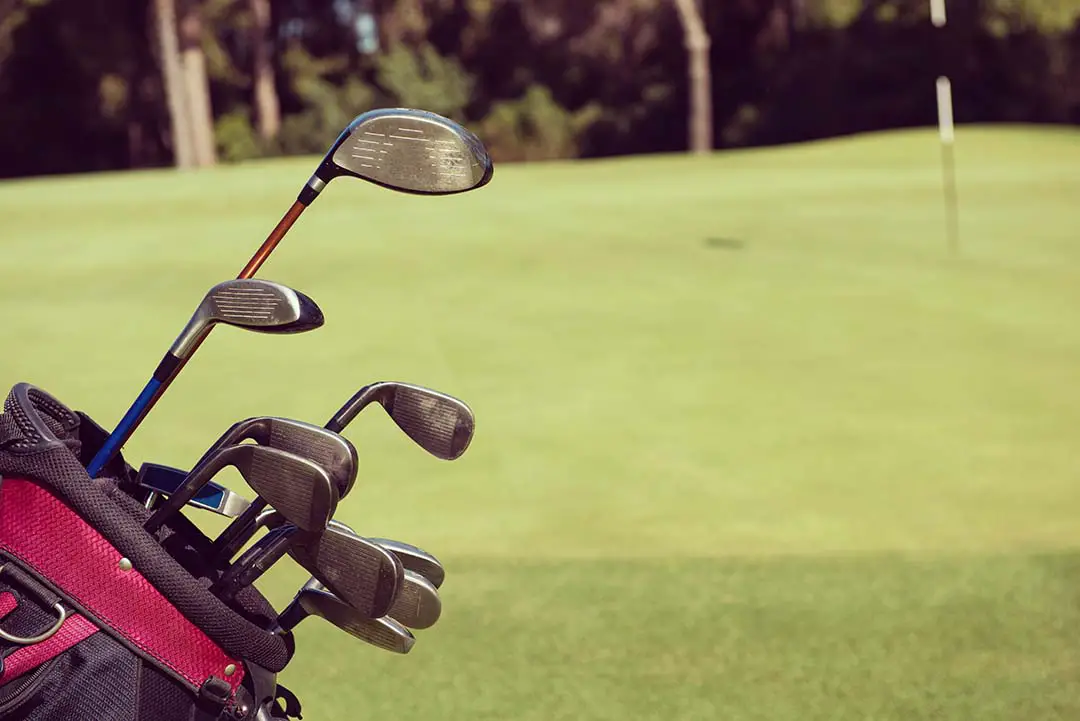 With all the high-tech and aesthetically pleasing clubs out there, I am sure you want to carry as much as you want when you play.
However, just like any other game, golf is bounded by rules and one of those rules is the limitation to the clubs that you can carry.
How many golf clubs can you carry in your bag?
You might think that carrying as many golf clubs with you can help you with your game as you can have many options to choose from.
But, I hate to break it to you, there is a maximum number of clubs that you can carry in the field with you.
So, how many golf clubs can you carry in your bag? Let's answer that here!
Minimum number of golf clubs
There is no minimum to how many golf clubs can you carry in your bag. You can carry two, four, ten, or any as long as it will not exceed fourteen.
However, carrying a number of golf clubs that are less than fourteen will not be a practical choice.
The reason behind this is because you will need a driver, fairway wood, hybrid, iron, putter, and wedge. All of these types of golf clubs serve a different purpose and are needed for certain instances.
I am sure that you don't want to miss out on a shot just because you don't have the right equipment for it!
How many golf clubs can you have in a bag when you carry one of each? The answer is six clubs. But, you should take note that there are different types of fairway woods and irons.
Each varies according to loft, length, and lie-angle. This means that each type of fairway woods and irons are made to reach a certain distance.
It would not be a good thing for your shot to get short, right?
Also, you should be reminded that carrying less than fourteen golf clubs is not allowed when you are in a competitive round and when the round of golf has already commenced.
But, if you start with clubs less than fourteen, you can add clubs up to the limit. The only two rules there are one: make sure you won't cause any delays, and two: do not borrow from another player.
Maximum number of golf clubs
As mentioned before, there is a maximum number of how many golf clubs can you carry in a bag and according to the Rules of Golf, that number is fourteen.
If you bring more than that to a game, then you will earn a penalty which we will discuss more later.
The only time that the answer to how many clubs can you have in a bag is fourteen golf clubs is when you are practicing.
This way, you can actually get a feel of your clubs and learn which one fits your gameplay and body structure the most.
So, if you are heading on a driving range or playing a practice round, then you can definitely carry all the clubs you want.
Now that you know that the maximum clubs in your bag is limited to fourteen, let us fill up those spots!
Actually, there are no standard rules on what type of golf clubs should comprise those fourteen spots in your bag.
You can have any type of clubs that you want and no one would really care to tell you to stop. But, as mentioned before, each type of golf club has its own purpose.
It's there in your bag for a reason so you must optimize your bag in a way that will cater to your needs. The first two spots in your golf bag should be dedicated to a driver and a putter.
These clubs are the most common items in every golfer's bag. The driver will be used for teeing off while the putter is for hitting a ball directly to the hole.
Up next, you should carry two fairway woods. A 3-wood should never miss a place in your bag.
While, for the last fairway wood spot in your bag, you can choose between a 5- or 7-wood. These clubs are used when you want the ball to traverse a certain distance.
For the irons, you should dedicate spots for the 7-, 8-, 9-iron, and a pitching wedge. It is a known fact that irons are the most versatile of all clubs as they can hit any range of distance from the tee.
You should also allot spots for the 6-, 5-, 4-, and 3- hybrids which will replace your long irons. They are more forgiving and easier to hit.
Lastly, you can choose to fill up the last spots with wedges that will cater to your different gapping needs.
Why is there a limit to the number of golf clubs that you can carry?
If you are going to ask the question "How many golf clubs can you have in your bag?" a century ago, the answer will be "L-I-M-I-T-L-E-S-S". Yes, you read that right!
There are no rules in the 1900s about how many golf clubs you can carry.
If you would dig deeper into the history of golf, you will find out that Francis Quiment became champion of the US Open way back in 1913 by carrying only seven clubs!
Fast forward to twenty-one years after, the British Amateur was aced by Lawson Little. I am sure you will be astounded if you would ask him how many clubs he brought there with him.
He just brought thirty-one clubs with him in that competition! That's quite a lot and really heavy, right? So, how come we can only use fourteen clubs in the present?
As mentioned before, there were no existing rules limiting the number of golf clubs a golfer could use before.
However, this changed when the 13th edition of the rules of golf came out in September 1939.
This edition features addition to Rule 1 which says "The clubs used by a player during a round shall not exceed 14, and the clubs carried shall be restricted to that number."
Why did they come with such a rule?
Well, if you would look back in 1924, you will learn that Herbert C. Lagerblade was the first golf player to use a club in which shaft was made of steel in a US Open.
The steel-shafted clubs were already out open in the market two years before that but there were a lot of professional players who were not a fan of the new steel-shafted clubs
Initially, the shafts of the golf clubs were made of hickory and if they won't use a new one other than them, they already knew exactly where the ball will land when shot.
However, they have also became tempted by the longer and more consistent ball flight that steel-shafted clubs can provide.
So, to deal with this dilemma, the golf players just simply started to bring both sets of hickory- and steel-shafted clubs to the tournaments.
From 1942 to 1935, you will notice that the number of clubs players brought with them into the tournaments increased exorbitantly.
I bet most of the caddies during those times experienced back pain from being forced to carry two golf bags!
In a survey about "how many golf clubs can you have in your bag" conducted in the US Open and Amateur, it is found that most of the players carry eighteen clubs with them.
Meanwhile, the highest number of golf clubs ever recorded was an astounding thirty-two clubs!
After the 1935 US Open, the USGA started deciding on limiting the number of golf clubs a player can bring and they had three reasons for doing so:
Reduce the skill level of the game
Solving the inequality between rich players and the average ones who cannot buy new and high-tech clubs
Caddies forced to carry a lot of weight
What are the golf clubs that should be on your bag based on your skill set?
How many golf clubs can you have in your bag if you are a professional or a beginner? The answer here is still fourteen; nothing more, nothing less.
The only difference here would be the type of clubs that you will be carrying in your bag.
So, what are the golf clubs that should be in your bag based on your skill set?
Seasoned golfer
4-, 5-, and 6- hybrids
3-wood
7-, 8-, and 9-irons
Pitching wedge
Best golf club brands that you should carry in your bag
It may not be enough to just know how many golf clubs can you have in your bag so, we made a little effort to compile the best brands of golf clubs that you should use to fill in those fourteen spots.
Here is a list of the best golf club brands that you should carry in your bag:
Callaway started as the best manufacturers of high-quality wedges and putters way back in 1982.
Now, with the help of Artificial Intelligence, they are able to cater to any golfer's needs by designing equipment that really fits the player. Indeed, they are game-changers in the field of golf.
This is the reason why Callaway is a worldwide renowned brand of golf clubs and other golf accessories.
Taylormade started in the year 1979 and sold a single type of golf club which is the driver. They are known to produce the number one driver in the world.
However, when they became a subsidiary of the Adidas group, they also started to sell other types of golf clubs and accessories.
If you want custom-fit golf clubs to really aces that precision, then you should go for Warrior Custom.
They are based on Irvine, California and they have already sold 1 Million high-quality, custom clubs all over the world.
The designer and founder of Cobra Golf was a golf champion and his name is Thomas Crow.
As a part of his advocacy to help grow the game, he offers huge discounts and custom fittings to high school and collegiate golf players.
The famous mantra of Ping is "Play your best". So if you will be asking how many golf clubs to bring if you want to be best, then the answer will be fourteen Ping clubs.
This golf manufacturer and seller offers clubs for men, women, and juniors.
If you want class-leading equipment that is used by professional golf players, then you should aim to lay your hand on Mizuno golf clubs.
They manufacture and distribute high-quality golf accessories all over the world.
Initially sellers of golf balls in 1931, they expand into selling golf clubs in 1972.
What's good with Bridgestone is they give their clients the chance to explore and see what golf clubs are fit for them. They offer a 21-day trial period before committing to a purchase.
Cleveland became popular in 1979 by creating high-quality replicas of classic golf clubs.
Moreover, they are very innovative in all the golf equipment that they sell and this includes completely customized wedges.
Who doesn't know Nike? This brand has been advertised by the most popular celebrities that you can think of. You can buy customized or pre-built golf clubs from them online!
Penalty for exceeding the number of golf clubs that you can carry
If you ever wonder why we pay so much attention to the question "How many golf clubs can you have in your bag?", then the reason is because of the penalty.
If you carry more than fourteen clubs in a round of golf, you will have to face a certain disciplinary action.
So, keep in mind all the time that you should count your clubs and make sure that it would not exceed fourteen before participating in a competitive golf round.
The penalty for not paying attention to how much golf clubs can you carry in your bag depends on what golf game you are playing:
If you are playing a match play and forgot about the extra club in your bag, then you will be penalized for that.
In exchange for not following the fourteen-club limit, you will receive a deduction of points for every hole where you used that excess club.
As a rule, you can only less a maximum of two holes from your score, but believe me, that's a lot! For example, you are leading with a 3-up score but, you will be deducted by two holes.
What do you think your score will be? Well, you will be back to a 1-up!
On the other hand, the 15th club on a stroke play, which is strictly against the rules will incur an additional of two strokes for each hole played as a penalty.
Moreover, you should take note that you can only have a maximum of four strokes as a penalty.
If you will ever incur a penalty in your golf game, don't ever feel bad. As a matter of fact, even professional golfers end up being penalized for carrying too many golf clubs.
The most popular example of this is Ian Woosnam.
The unwanted penalty happened in the 2001 British Open when his caddie told him that there is the 15th club in his bag.
He was already at the second tee, looking at a possible victory during that time. However, Ian's honesty prospered and he informed the referee of the extra club.
He received the stroke play penalty and his chances at victory burst quickly like a bubble!
That was a careless mistake, though. He used an extra driver during practice and he forgot to remove it.
That's why before entering in a competition, do not ever forget to count your golf clubs! Always check about how many golf clubs can you carry and go get that victory without penalties!
Something to Ponder On
I cannot think of a game or sports that are not bound by rules. Rules are there not just to make things more organized and prevent chaos. They are existing to provide equal chances with everyone.
If you would think of it, there is a limitation on how many golf clubs can you have in your bag because not all can bring many clubs in a game.
That puts them at a disadvantage because they won't have many choices when circumstances arise.
We all know that buying golf clubs can be pretty expensive and not all have the privilege of buying every high-tech club out there.
So, before you complain that 14 clubs can be very limiting, think of the players out there who have the skill but not the money to get their hands into the best kinds of golf equipment.
Last Updated on March 2, 2023 by Paul Roger Steinberg