When you aspire to be one of the greatest golfers in the world, it is important to know what golf clubs do pros use. Some say equipment does not matter when you have a high skill level.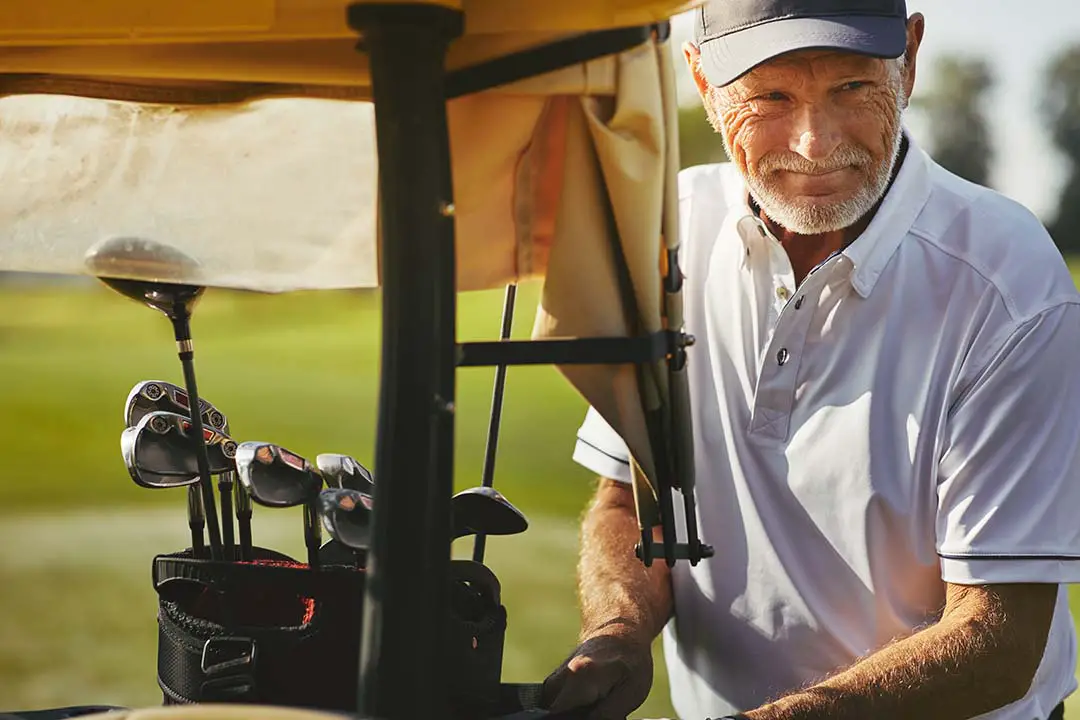 But that is not entirely true!
In fact, having the right golf clubs can greatly affect everyone's success in golf, even those who have won on golf's biggest tournaments.
So now, let us learn what golf clubs do pros use and you may try them out to improve your game.
What Golf Clubs Do Pros Use
Let us check out what golf clubs do pros use by going through some of their go-to brands.
Drivers are best used when teeing off. So, if you want to know what golf clubs do pros use when teeing off, check this list of drivers:
Callaway Epic Flash Driver: Made with the classic Callaway Jailbreak Technology which combines two titanium bars to the sole and crown for superb ball control.

Cobra King F9 Speedback: A driver that offers you better ball and spin control courtesy of its lightweight carbon-composite crown around the top of its club head.

TaylorMade M5 Tour Driver: A driver with an increased surface area on the clubface and a lightweight sole to help you better control your shots from many different situations.
Wondering what golf clubs do pros use aside from drivers? Here are some of their go-to fairway woods:
Callaway Epic Flash Star Fairway Woods: Made with signature Callaway jailbreak technology which features a lightweight shaft that will help you get faster swing and ball speeds off your shots.

PXG 0341 X Gen2: Guaranteed to help you get the distance and accuracy you want. It's quality construction materials and weight design allows for forgiveness to lessen the effects of a bad swing.

Titleist TS2/TS3: You can choose TS2 if you want a high launch off and low spin off your shot, and you can choose TS3 for a mid-height launch off your shots. This duo guarantees stability and distance.
Best Hybrids
Hybrids are the perfect replacement for your long irons. So, if you want to know more about what golf clubs do pros use aside from fairway woods and drivers, then check this out!
Callaway Apex: This hybrid club offers you the best out of all aspects of other golf clubs: ball speed, trajectory control, ball spin, and distance with a bonus softer feel.

Callaway Big Bertha:  This hybrid club can do all the heavy-duty work and help you get shots off almost all types of terrain. It has a sturdy steel alloy club with a larger surface area than most golf clubs.

TaylorMade GAPR: This hybrid offers three unique shapes: HI, MID, LO, which are all designed to fill in what is missing from your longest iron up to your shortest fairway wood.
Irons are the most versatile of all clubs as they can cover any distance. Want to know what iron clubs do the best players use? If yes, then take a look at this!
Callaway Apex Pro: This iron's mild-carbon steel body gives you a soft feel. Aside from it, you can count on this iron to give you consistency in the distance you want.

KING Forged CB/MB: This iron set was designed to match the play style of one of the famous golfers, Rickie Fowler. This iron set offers precision and distance to your shots.

Titleist 718 AP2: A classic golf club among PGA Tour players, this club gives stability and consistency for your shots, just as it did for the pros.
Best Wedges
The list of what golf clubs do pros use will not be complete without the wedges! Here are the top wedges you should check out:
Callaway Mac Daddy 4: This wedge has one of the best spin technology allowing for as much ball spin as possible.

Cleveland CBX 2: This wedge was built for players who want major game improvement. Get all the spin, ball control, and forgiveness that you want with the Cleveland CBX 2 Wedge.

Mizuno T20 Blue Ion: Made with Mizuno's signature Grain Flow Forged HD technology for a softer and more consistent feel. Its head shape design gives more impact on shots.
Putters are go-to clubs for nearby holes. If you are wondering what golf clubs do pros use when they are near the hole, here they are:
Ping Sigma 2: This is a putter designed for all golf players who want good feedback from the clubface but also want a softer feel on the putter. It also features an adjustable shaft-length to get your preferred fit.

Odyssey Toulon Atlanta H7: The Toulon Diamond Design across the clubface will improve swings. The sole's weight can be adjusted as well depending on your preference!

Titleist Scotty Cameron Phantom X 12.5: A seasoned designer for pro golfers, Scotty Cameron introduces this new model in his line of putters which allows for an extra toe flow. This also comes with a left-handed version so everyone can use the putter with ease.
Pro Golfer's Clubs and Brands
Here are the biggest golf brands that some of the pros have carried and played with throughout the most successful moments of their careers.
Nowadays, you cannot mention golf, without thinking of Tiger Woods.
He is one of golf's modern icons having won 14 major championships from 1997 up to 2008. This man is no stranger to competition and has been to almost all of the prestigious golf tours.
Tiger Woods was once the face of Nike Golf in his early professional career in 1996 up to the point when the sports apparel giant Nike discontinued its golf line in late 2016 to focus more on Basketball and other sports.
He switched to TaylorMade golf equipment when Nike Golf was discontinued, but can still be seen wearing Nike apparel on his games.
Coming only second to Tiger Woods when it comes to the most number of World Golf Championships titles, Dustin Johnson is an avid user of TaylorMade.
He carried and played with TaylorMade equipment throughout his six World Golf Championship victories.
In the What's in the bag (WITB) 2020, Dustin Johnson revealed that from his putters up to his irons, he only has TaylorMade packed in his bag. He also wears Adidas apparel in his games.
The Irishman Rory Mcllroy was another athlete of the Nike Golf brand, helping him to win four major championships.
After Nike Golf's discontinuation, Rory switched to using Callaway drivers and Titleist golf balls while occasionally using Odyssey.
Rory Mcllroy is not committed to using a single brand for his golf games but instead mixes in the best brands in his golf bag of tricks.
This young prodigy has been using Titleist golf equipment in his two major tournament championships. Jordan Spieth is a 23-year-old golf champion who is just in his fifth season.
Unlike Tiger Woods and Mcllroy, Spieth was unfazed by the 2016 discontinuation of Nike Golf, as he remained loyal to Titleist.
The brand has been consistently listed among the top 3 of the best golf brands by many reviewers, and even pro golfers.
Tips on how to use golf clubs like the pros
Knowing what golf clubs pros use would not automatically bring your game to higher levels. You also need to develop the skill and confidence to use these clubs if you want to play golf like the pros.
Whether you are just starting off from golf or a veteran player looking to improve more, here are some tips you can follow to be like the pros:
Having the correct fit for your golf clubs is a good way to start. Golf pros do not just grab their clubs off the rack and start swinging on tournaments.
Their golf-equipment is well fitted to match their swing mechanics, height, posture, hand size, and many other physical factors that would affect their game.
Every measurement done is worth it. Fitting measurements would affect your distance, trajectory, and impact of your shots.
The age-old adage "practice makes perfect" is true for golf as well. Even pros have to start somewhere, and their skill did not just develop overnight.
If you want to get the skillset and the oozing confidence of the pros, then you need to start practicing.
Set up a schedule to practice your shots and then determine which areas you want to prioritize for your practice sessions.
Believe in Yourself
This might be the most cliche tip for all sports, but it is effective.
It is important to have faith and to trust yourself that you are making consistent progress no matter how slow it is.
Not only will this affect your attitude, but will also give you a deeper perspective on your game, and of other golf mechanics.
Last Updated on May 22, 2023 by Paul Roger Steinberg