Golf players who wish to play better often seek answers to the questions — how to hit the ball properly, what clubs to use, or even what shoes to wear for golf.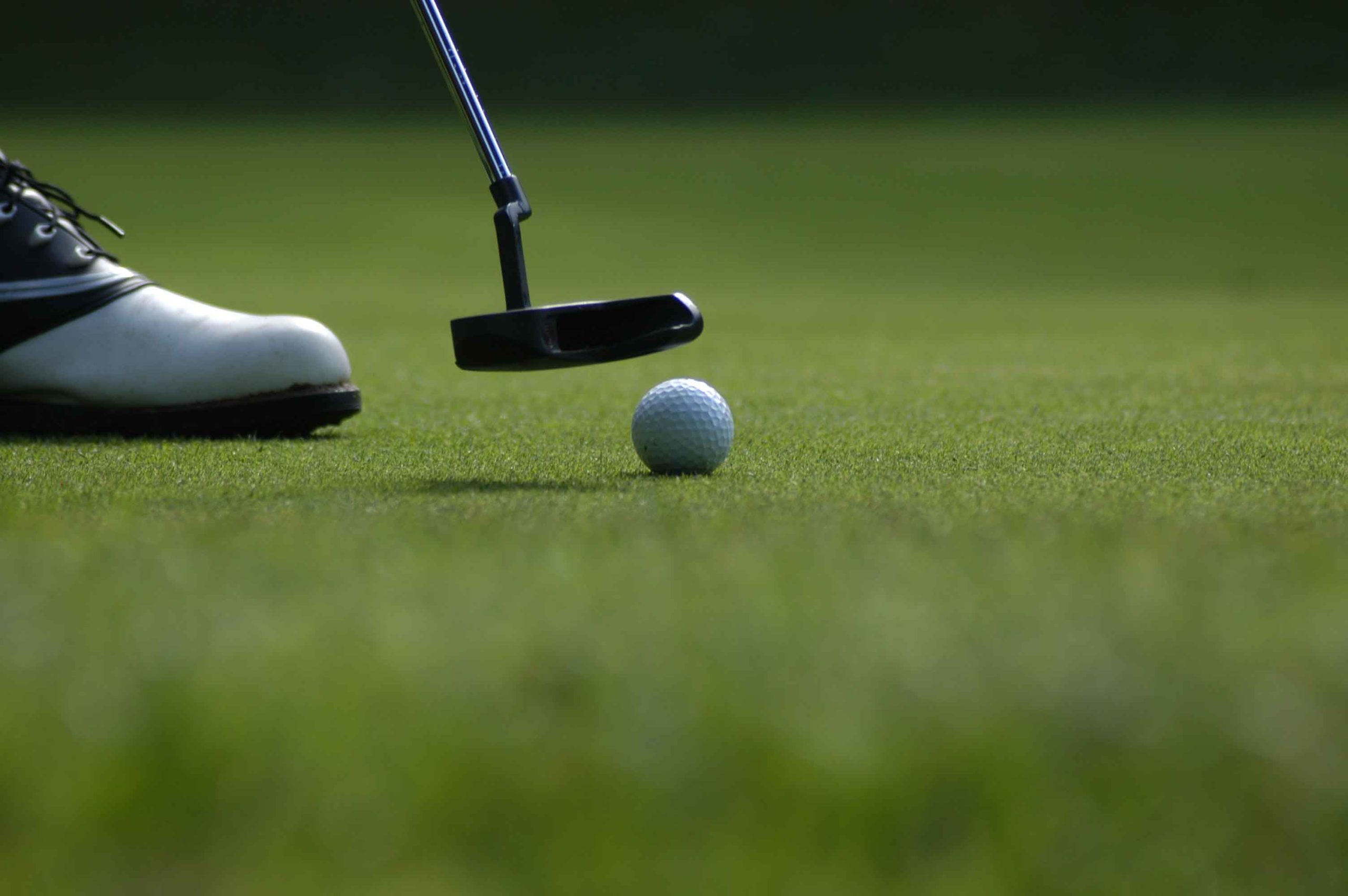 Wearing proper attire when you play any sports is essential since it affects the way you carry the game.
Oftentimes, these clothes and accessories greatly influence your movement.
However, picking the right pair of shoes can sometimes be tough, especially when you do not have plenty of knowledge about them.
Fortunately, we will cover in this article the best options you have regarding what shoes to wear for golf, so you would not have to do the selection alone.
What Shoes To Wear For Golf
Of course, choosing a pair of golf shoes should not be as simple as getting a shoe your size.
Before you purchase or select shoes for golf, it is best if you evaluate some of its features first.
These include the type, comfort, impact on your swing, etc.
But before we outline the options to the question —  what shoes can you wear to golf, let us first cover the importance of wearing proper shoes at a golf course.
Importance of Wearing Proper Golf Shoes
Golf shoes can level up your game because they are specifically designed to help with your stability while playing golf.
They keep your feet from sliding around while you swing your club, allowing you to take a good shot.
To be more specific, well-fitted golf shoes stop your feet from sliding around inside the shoe as well as sliding out from under you.
They are intricately fashioned to handle the forces brought about by a golf swing, which are downward, lateral, and rotational pressure.
If you use non-golf shoes while playing, both or at least one of your feet is most likely to slip or slide, resulting in a terrible shot.
Nonetheless, you can still use them if you are confident enough that you have great control over the movement of your feet. Otherwise, prepare yourself for a bad swing.
While it is recommended that you wear golf shoes when on the course, it is not mostly required.
However, you should still check if the specific golf course you wanted to do golfing on has a different shoe policy.
To confirm what shoes they allow, you may visit their website. So, what shoes to wear for golf?
Types of Golf Shoes
There are different types of golf shoes that you can wear when playing golf. Each kind offers its benefits.
Choose what you think would work for you best. So, what shoes can you wear to golf?
Golf shoes with metal spikes used to be the number one option for golfers or the standard when playing golf because they provide such a good grip.
However, it is not permitted in most golf courses today, unless you are a professional golfer.
So, what shoes can you wear to golf? The steel spikes can damage the greens and so amateurs are now prevented from wearing it.
Hence, you should purchase other types of golf shoes other than this if you are just starting your golf career.
This type of golf shoes is the most popular option for golf players today.
It is considered to be the replacement for golf shoes with metal spikes since it is designed with the use of plastic or rubber.
Nonmetal spikes or what is otherwise known as soft spikes are more course-friendly since they avoid tearing up the greens.
They still create some damage but not as serious as what metal spikes do.
What makes this type a better choice is that you can easily replace its spikes once they are damaged. Unscrewing them is not as tedious as removing metal spikes.
As golf technology advances, not only clubs get upgraded but also gear like golf shoes. You can now enjoy spikeless golf shoes out on the course.
Instead of spikes, what this type of shoe has are small rubber studs at its sole.
So, what shoes to wear for golf?
Spikeless shoes are a good option for golf players who experience stud pressure when walking on the golf course for an extended period.
Golf Shoes Are Not Ideal For All Players
Of course, there are some personal considerations that you also have to take into account when choosing what shoes to wear for golf. Golf shoes are not always everyone's best bet.
Players with muscle or joint-related injuries or illnesses such as arthritis would not enjoy golf shoes as much as other players do.
Tennis shoes are more suited to their needs.
So in cases like this, what shoes can you wear to golf?
Wearing Non-Golf Shoes On a Golf Course
I don't have golf shoes what should I wear?
This is perhaps one of the most frequently asked questions by golfers, especially beginners. If you also struggle with the query, we will help you figure it out.
So, I don't have golf shoes, what should I wear? Or what shoes can you wear on a golf course?
Golf courses or clubs have different policies when it comes to the shoes you can wear on the course.
More often than not, they allow players to wear non-golf shoes if they do not own one or just simply do not want to use them.
However, you should check their website beforehand to avoid being stopped in the middle of playing.
In such a case that the course you plan to play golf on permits non-golf shoes, here are some footwears that you can consider.
I don't have golf shoes what should I wear? If you do not own golf shoes but have tennis shoes at home, it is still a good option for golfing.
Since tennis shoes are designed to give stability and support in the right areas, it can help you gain more control over your movement or have the correct traction.
However, it does not offer as much stability as golf shoes.
You might still experience some slip and slide that may affect your golf swing, so make sure to still observe how you strike.
Aside from tennis shoes, what shoes can you wear on a golf course?
I don't have golf shoes what should I wear? Unlike tennis shoes, running shoes are made with more focus on the cushion than stability.
Hence, it does not offer as much support as tennis shoes when playing golf. So, what shoes can you wear on a golf course?
You can still use running shoes as long as the management in the golf course or club you are playing golf on allows.
However, you should keep in mind that your feet might slip and slide out more often. Work on your movement control so that it would not become much of a problem.
I don't have golf shoes what should I wear? Sneakers can also be an option.
But then again, make sure to check in to the course management first if they allow it before using them. So, what shoes can you wear on a golf course?
Sneakers are engineered to be more fashion-friendly.
Nevertheless, they can still be used on a golf course. They might not offer a strong degree of stability but they are recommended for those who get too much stud pressure
So, what shoes can you wear on a golf course? The answer to that question depends on what the club or course management allows you to wear.
If they require you to use golf shoes, then that is the only type of shoes that you can wear. Otherwise, you can use tennis shoes, running shoes, or sneakers.
Many golf players like the spikeless golf shoes since they can both be used in the office or field.
Recommended Golf Shoes
If you wish to save money by wearing golf shoes on and off the course, here are some of the options that are worth checking out.
A combination of leather and synthetic upper to encourage high breathability and comfort. Its design serves two purposes since you can casually wear it or use it on the course.
Street-wear inspired golf shoes. This footwear features a lightweight cushioning so you will be more at ease while you play the game with these golf designated shoes.
Footwear with a lightweight mesh upper construct for more comfort and versatility. It is engineered to have a slick appearance without compromising extreme comfort.
Are golf shoes that provide great traction without compromising beauty.
You can comfortably wear them on and off the course since they are designed to satisfy both purposes. They are typically constructed with an easy-care synthetic upper.
Waterproof spikeless golf shoes that you can wear even off the course.
The footwear uses responsive as well as light cushioning to ensure there is a powerful energy return as you play.
A revolutionized version of hybrid golf shoes. It costs around $150.
You can easily transition from golf to office footwear with these model shoes because of its great flexibility.
Offers elegant style and great comfort on and off the course. It is inspired by street fashion so you can still look iconic while playing the game.
Boasts of its style and extra power for golfing. It features grounded stability so you can take a better swing when you use this footwear.
Let's Wrap It Up
As mentioned above, there are many options regarding what shoes to wear for golf. You may opt to use golf designated shoes or non-golf shoes.
While the former makes a huge difference when you take a swing, the latter could work as well.
When selecting what shoes to wear for golf, make sure to consider your needs.
If you have muscle or joint-related problems, it would be best if you use non-golf shoes since they do not give as much stud pressure as golf shoes.
Otherwise, consider using golf designated shoes since they can give you the correct traction.
If you use them, it is more guaranteed that you would get a good shot than wearing regular shoes.
You should also remember to check the website of the course you plan to visit for golfing so you know what type of shoes to bring.
No one wants to be interrupted in the middle of the game, right?
As far as playing sports is concerned, golf shoes are not always required.
Last Updated on March 2, 2023 by Paul Roger Steinberg