Do you need some golf bag organization tips? When you have an unorganized bag, it can feel like you're carrying twice as much there is in your bag.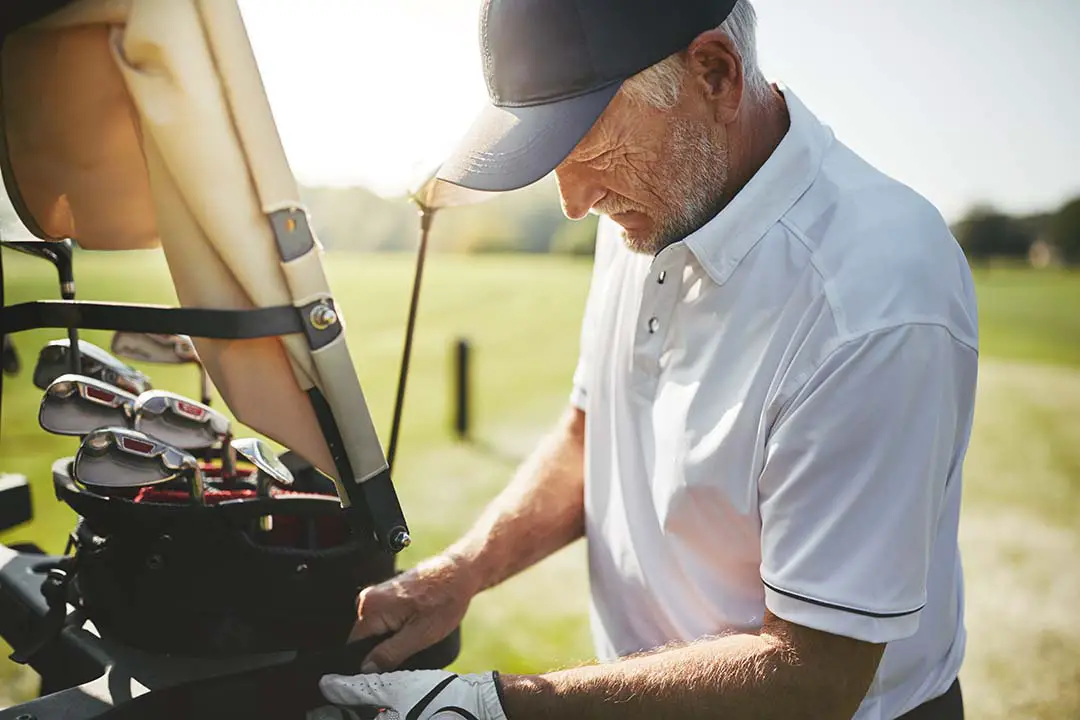 Also, it makes keeping track of your clubs and accessories extra difficult.
With that, this article will teach you the ultimate golf bag organization tips to keep your gears in order.
Golf Bag Organization Tips – Best Guidelines to Follow
Probably the most essential golf bag tips to remember is that you can only bring 14 clubs on the course. Hence, it is crucial to choose what you bring in your bag wisely.
Knowing how to arrange your clubs and accessories in your bag correctly can go a long way in your game.
By doing so, you can focus solely on your game instead of rummaging an unorganized bag to find your bags.
Before embarking on the step-by-step golf bag organizations, here are golf bag tips you need to know:
Golf clubs have a numerical ranking from 1, which is the thinnest, to 9, which is the thickest.

There are two main types of golf bags: carry bags and cart bags.

Golf bags are made with compartments where you can put each club.

Typically, the best to arrange your clubs is the shortest clubs are in the front compartment and the tallest items at the back.
It's essential to know these tips to make it easier for you to sort and place back your clubs and equipment in your bag.
With these things in mind, you'll be able to have a clearer picture of how you'll organize your bag.
Now, it's time to know the essential steps in every golf bag organization tips. Make sure to follow these steps to avoid any hassle once you start organizing your golf bag.
Step 1: Empty Your Golf Bag
The first thing in our golf bag organization tips is to empty out your golf bag. Here are some golf bag tips on how you can do this:
Make sure to remove all the equipment from your bag, including the pockets. Take out one club at a time and pile them in a single area.

Once you've emptied it out, get rid of any dust or dirt by wiping it with a clean rag. These are useful golf bag tips that can prevent the build-up of stains and dirt.

Check the storage space of your golf bag and count how many storage slots there are.
Step 2: Sort Out Your Equipment
After emptying out your bag, you have to sort your clubs and other equipment: Here are some tips on how to do this:
Group your woods and long irons together. These are the clubs you will use for longer shots.

Separate the 4, 5, 6 irons into another pile. This set of clubs is best for performing moderate swings.

Keep the shortest clubs together and put them aside.

To keep it organized, place your wedges and putters in another pile. If you have a ball retriever, put it together with this pile.
Step 3: Determine Which Clubs to Restock in Your Golf Bag
Remember, you're organizing your bag in preparation for your next game. Hence, for golf bag tips, you have to determine which clubs you will restock in your bag.
There are individual clubs that work best for specific environments and course hazards.
Make sure to research the environment of the course that you'll play in your next game. It will also help to check out the weather to know which gears you'll bring.
It allows you to know which club you'll carry and which club you'll leave.
Step 4: Pockets and Accessories
Before placing back your clubs, you also need to consider your accessories. As much as possible, try to keep them in optimal locations, which suits them best.
Here are some golf bag tips on how you can plan it:
Front and top pockets: Put essential items such as golf balls, ball markers, tees, repair tools in this pocket.

Side pockets: This is where your gloves, sunglasses, etc. go. These are the accessories that you will frequently grab.

Least accessible pocket: Put your keys and first-aid kit here. It is where you will place the equipment that you don't usually use.
Typically, there are designated slots for pens and scorecards.
Most golf bags also have an umbrella holder and bottle holder. Keeping all your accessories together allows you to optimize your movements in the course.
The next section of our golf bag tips will talk about how to organize golf bags, depending on its specific type and style.
Organizing Golf Bags: Carry Bag vs. Cart Bag
The most vital golf bag organization tips is that there are two types of golf bags.
These are the carry bag and cart bag. It's important to know this because it differs in design and the number of storage slots, which determine how you'll organize it.
A typical carry bag has 3 to 4 sections. Since it has a different number of storage slots, how you organize it also differs.
3-Section Carry Bag
A 3-section carry bag has a front, middle, and back section. Here are some golf bag organizations tips for your 3-section carry bag:
Divide your clubs into the three sections. Put the shortest clubs at the front section and the tallest cubs at the back sections. It allows you to see the head of each club when you're facing the bag.

Front section: Place your woods (driver, 3-wood, and 5-wood) in the first section of the bag. It is also where you'll put your hybrids and putter.

Middle section: This is where you'll put your long irons, including your 3-, 4-, and 5-iron clubs
.
Back section: This is where your short irons go, including your 7-, 8-, and 9-iron clubs. The wedge (pitching, sand, lob, gap) also belongs to this section.

3-section carry golf bag would usually have around 3 to 8 pockets.
4-Section Carry Bag
A 4-section carry bag has a front, center-right, center-left, and back section. Here are the steps on how you can organize your 4-section carry bag:
Front section: This is where the shortest clubs go, including your wedges. This arrangement provides you better access to these clubs.

Center-right section: Place your 7-, 8-, and 9-irons in this section. It is the perfect section for these irons because they are thicker than other clubs. Set the lofty irons above shorter clubs to access them more accessible.

Center-left section: This is where your 4-, 5-, and 6-iron clubs belong. Try to keep your numbered clubs in successive order. Arranging your irons according to its numerical scale, allows you to keep track and grab them easily.

Back section: This is where your woods, drivers, and putter in the back section of your bag. Putting these long clubs together provides you better access while playing a round of golf. Placing the putter in this section prevents it from bumping on other clubs and equipment.
When using a carry bag, you have to make sure that all your clubs are facing the bottom. Remember, the arrangement that works best for a carry golf bag is from tallest-to-shortest.
Meanwhile, if you're hanging it on a cart, arrange it from shortest-to-tallest to quickly grab them. If your carry golf bag doesn't have two separate sections in the middle, arrange them numerically.
Organizing a Cart Bag
Cart bags usually have 14 to 15 sections depending on the style and brand. Its structure has a hand-carry handle in the front. The bag would face the front of the cart when you hang it.
Here's how you can organize your cart bag:
You'll place all 14 clubs and your ball retriever in your cart bag.

How you'll arrange your clubs is from the longest to the shortest clubs. Place your longest clubs (driver, woods) at the back so as not to block off the shorter clubs.

Set the remaining clubs in descending order. You can decide where you'll put your odd and even-numbered irons and clubs for the right and left section.

There will usually be a built-in putter slot where you can grab your putter from.

The side pockets of cart bags are generally reserved for backup balls and tees. There are also designated slots where you can place your food, drinks, and umbrella.
Keep Your Bag Organized
An unorganized golf bag can negatively impact your performance.
The point of learning golf bag organization tips is to make each round more convenient for you. If you know which sections to grab each club, it will be a breeze to select clubs for your next swing.
Also, it allows you to reduce its overall weight.
An unorganized bag makes it feel like you're carrying twice or thrice as much as its original weight. It also loses the purpose of the designated sections and pockets made for each gear and equipment.
While there is no one way of arranging and keeping clubs organized, it can provide benefits for you.
Last Updated on March 2, 2023 by Paul Roger Steinberg