Apple watches with golf GPS are rapidly gaining popularity amongst golfers. Why is it so? And, are these watches worth it? We shall explore the answers in this comprehensive guide.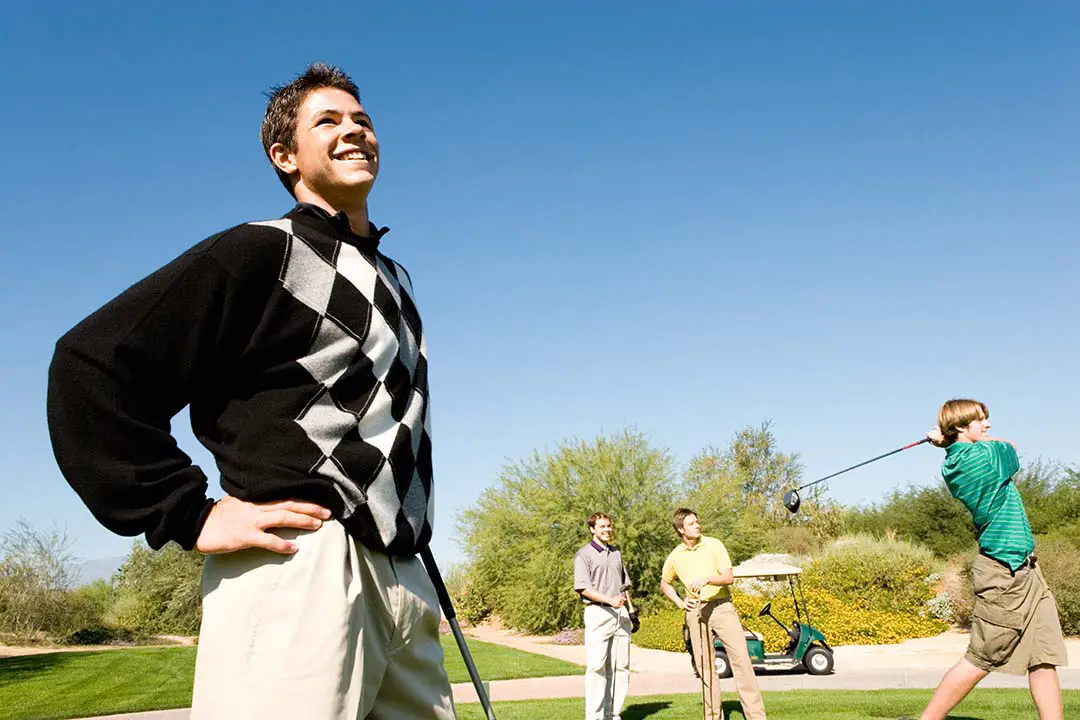 Apple watches and smartwatches have really revolutionized golfing. In fact, almost everyone uses Apple watches these days.
These watches give more accurate yardages. They even offer additional information. For instance, you give access to track scores, stats, and many more features.
Do We Really Need Apple Watches With Golf GPS?
If you ask me, as an avid golfer, I'd say YES. I mean, they are convenient. They give more accurate results. Since Apple watches come with built-in GPS, they work perfectly. In fact, they perform like the best GPS watches.
Can I Get Golf GPS on My Apple Watch?
Well, you can get a golf GPS on your Apple watch. It is an easy task. However, beginners might find the process a bit strenuous.
But, with a little practice, you will easily get the steps. With the right GPS apps, you can easily turn your Apple watch into an excellent rangefinder.
Of course, to use your Apple watch as a GPS rangefinder, you need to have the latest version of the iOS operating system.
After getting the latest operating system, open the Apple Watch App on your iPhone. Then scroll down until you find the option for showing the App on your Apple watch.
After that, start the round on your phone and you will see yardages and other information on your watch. That is how easy it is to set up your Apple watch.
Of course, like earlier pointed out, you will need the latest operating systems for the watch and the iPhone.
To ensure that your
Golf and Running GPS Watch
You use your Apple watch with golf GPS to check distances when playing golf. It is a perfect rangefinder. However, can you use the watch when running?
Well, since smartwatches have GPS functionality; you can use them to track your distance when running.
Whether you just want to keep fit or a working practicing for a marathon, a GPS watch will be of great help.
Of course, these watches keep data for you to easily check. They fit on the wrist. Therefore, you won't be an extra burden on you. Furthermore, they are small and compact. Running GPS watches will enhance your training and offer more reliable results.
Of course, regular fitness trackers still work perfectly. However, GPS running watches offer better results. They offer more reliable statistics which keep one updated on their training.
These devices are designed to keep track of every movement. Plus, they also offer an in-depth analysis of your training. For that reason, GPS running watches will improve your performance drastically. They monitor activities like rest time, speed, pace and HRM (Hear rate monitoring)
Why Not Just Use a Smartphone to Track These Activities?
Well, this is also another viable option you have to track your running. But, come to think of it. Are you really sure you want to take the risk of dropping your phone while running? I really doubt you do.
Therefore, although phones might also work perfectly in tracking your running and exercise activities, there's a bigger risk of dropping the phone when running or working out. Again, some phones are quite heavy.
Therefore, having a watch will prove more convenient and hassle-free. These are advanced smartwatches. An Apple watch with golf GPS works more conveniently when tracking your running activities.
Therefore, you can use your GPS watch as an optional running partner. They will prove more reliable than other options like smartphones or fitness trackers.
However, before investing in a GPS watch, it is good that you know some o their features and the technologies used. You need to get familiar with their operations before spending your cash on any of them.
Apple watches with golf GPS are slightly different from the usual golf GPS watches. However, they are also similar in several aspects.
So, which between the two is better? If asked, I would go for an Apple GPS watch. They are good for golfers. In fact, they are great. However, you just have to get the best models.
Of course, getting the best models might mean spending a few extra bucks. However, it is a worthy investment. After all, why would you spend less and get mediocre results?
Using Apple watches gives pretty much anything you need to know. They boast an advanced construction with next-generation features.
What Can I Do With My Apple Watch With Golf GPS?
Apple watches with golf GPS help you get access to many things while playing golf. They don't just give distances; they also offer important details which help one achieve better results.
Here are the results you will get:
Track scores easily
Hole sky views
Accurate yardages
Key hazard info
Offer key statistics like fairway hits and green regulation
Of course, some of these functions are only available on a few watches. You will cough more for these watches. In fact, most GPS watches just show distances.
Apple watches with GPS give more features than most GPS watches. Therefore, investing in an Apple GPS watch is a good idea.
Low-budget GPS watches don't give functions like detailed green view and hole overview. Therefore, you will have to spend a few extra bucks and get the best Apple watches.
Of course, you will need a golf GPS app when using an Apple golf GPS. There are several GPS apps available for Apple watches. However, some of them might not work perfectly for you.
So, which App do you choose? Personally, I hate Apps that come with adverts and in-app purchases. I want to believe everyone hates In-app purchases and unnecessary adverts.
For that reason, choose Apps wisely. Don't just go for the first one you come across. Always get information concerning the App before choosing it. I have included more information concerning how to choose these Apps in a different guide you might want to check it out.
Are there good Ladies' golf GPS watches? Well, we have Golf GPS watches for everyone. Most are unisex. However, we also have models customized for ladies.
Apple watches with golf GPS come in different colors and designs. Therefore, you are free to choose the color and the design that augurs well with your persona.
Conclusion!
When looking for Apple watches with golf GPS, get something worthy. I have used Apple GPS for some time now. And yes, they are amazing.
However, you just have to make the right purchase. As mentioned earlier, do not spend less and get a flop. You had better spend more and get something worthy.
Having conducted thorough research about Apple watches, I hope this information helps you make an informed decision.
Are they worth it? Well, I must say, Apple golf GPS watches are worth a purchase. Feel free to get one and enhance your gaming experience.
Last Updated on March 2, 2023 by Paul Roger Steinberg