A lot of golfers like to travel, so I always get asked how to travel with golf bags. Well, there are many tricks you can explore to be able to travel with golf bags. In this article, I will share them with you.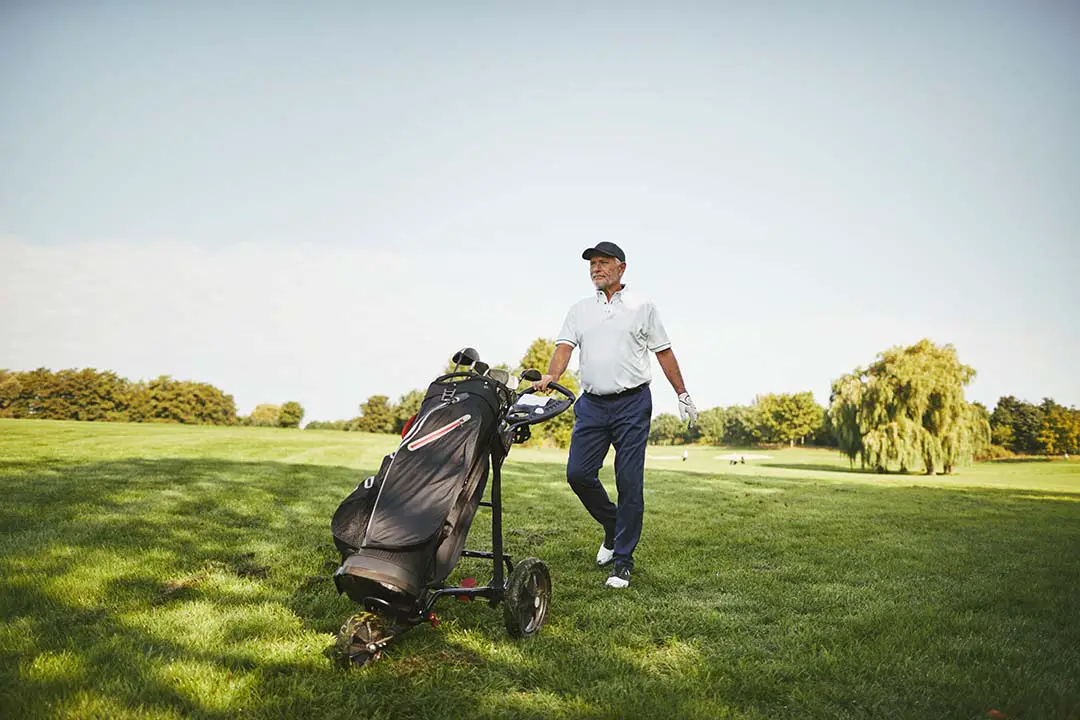 How to Travel with Golf Bags
When someone asks me how to travel with golf bags, I give them a lot of options.
There are several airlines that allow golf bags as baggage but there is also the option to ship your golf bags.
To better prepare you on how to travel with golf bags, below are some of my best tips and tricks.
Traveling with golf bags as baggage
Some golfers prefer to bring their golf bags with them to the airport. If this is what you have in mind, you can benefit from some of my tips below:
The airlines we choose are usually based on the price or miles rewards points. However, if you are traveling with your precious golf clubs, there are more things you need to consider.
One of these is how they handle baggage. Golf clubs are very expensive and very fragile. Thus, you want to make sure that they will be handled properly by the airline you choose.
Check for reviews online, or call their customer service to ask for their protocols. Some airlines also offer insurance, which you should check out.
Another thing you need to look at is their customer service. Accidents happen and sometimes, baggage can get lost. If that happens to you, good customer service is your friend.
So, that is one important thing to look at when thinking about how to travel with golf bags.
Read up on airport and airline rules and regulations
Once you have chosen the best airline on customer service and baggage handling, make sure to read up on their rules and regulations. Some airlines have rules on how baggage should be packed.
There are also rules on the dimensions and weight. Since golf bags can become quite heavy, it may incur additional fees.
Yes, I know, straight flights are generally more expensive than flights with multiple stops.
However, if you have your golf bag in baggage, the last thing you want is your golf bag getting lost or forgotten.
In the chaos and confusion of transferring flights, it's possible for you to forget to get your golf bag from the baggage claim.
If that happens, it will be a nightmare talking to customer service.
What's even worse if your golf bag somehow ends up in a different location. Imagine if you have a next place to catch and you're still scrambling to find your golf bag!
This is something you should think about in advance when you decide how to travel with golf bags.
Consider shipping your golf bag
Now, one great tip I have on how to travel with golf bags is to ship your golf bag prior to your flight.
Check around for some deals on how to have your golf bag shipped as this may even be more cost-effective than bringing it with you during your flight.
Plus, this lessens the stress and hassle of traveling.
Just make sure to check with the courier how many days ahead you should have your golf bag shipped. This way, your golf bag might arrive at your destination right when you arrive.
You might also need to make some arrangements with your hotel or Airbnb.
Staying safe with golf travel bag tips
If you decide to really bring the golf bag with you on your flight, you would need some of my golf travel bag tips.
These golf travel bag tips below will help to ensure that your golf clubs will not be damaged during the flight.
Choose between a hard and a soft case
This tip might be the most important one over all of my golf travel bag tips.
The shell of the bag is its first line of defense. Since your golf bag will be handled by strangers, you want to ensure that it will withstand any extreme treatment.
I recommend hard cases if you will be traveling by air and will deposit your golf bag into baggage. Hard cases are often more durable than soft cases and are a safer choice for air travel.
Some airlines also require you to use a hard case so make sure to check on that.
However, if you will be traveling by car more often, a soft case may work for you better. Soft cases are more flexible and easier to carry.
They also come in different materials such as leather or canvas.
Next in my list of golf travel bag tips is to make sure the padding is thick enough to protect your clubs.
While the shell protects the bag itself, the padding makes sure your clubs won't feel any of the impact taken by your bag.
As such, check the material and thickness of the inside padding. Some materials may also feel soft but are not thick enough, so make sure to check closely.
The last of my golf travel bag tips is to make sure it fits your budget. I suggest, however, to save up for a nice bag. Remember, you already spent a lot on your golf clubs.
You want to make sure that these expensive clubs will not be destroyed because you chose to buy a cheap, low-quality bag. This is not to say, however, that all cheap bags are low quality.
Some cheap bags are actually better than branded, expensive ones. You just have to check the quality beforehand and read some reviews.
Some golf bag packing tips
Finally, I have a few golf bag packing tips for you. These are to ensure that your golf clubs will endure all the travels you will make.
These golf bag packing tips also take into account your experience having to lug around your golf bag.
Club heads can be very delicate but are very important.
And so, the first on my list of golf bag packing tips concerns them. Wrapping your club heads prior to packing them helps to make sure they are well-protected.
If the heads can be removed, remove them and keep them in a well-protected pocket.
Take a picture of how you packed your golf bag
Again, incidents happen. To ensure that you're claiming your golf bag the way you deposited it, take a picture prior to leaving it at the baggage deposit.
Then, check it as soon as you claim it. This may be overlooked, but it's one of my most important golf packing tips.
Consider using a stiff arm or something similar
A stiff arm is used to absorb the impact should your bag fall head-first. If stiff arms are out of your budget, consider using even a broom handle.
However, make sure that it is longer than your longest club.
Gaps and spaces make your golf clubs prone to impact. Thus, the last of my golf bag packing tips is to fill the gaps and spaces with clothes and socks.
This way, your golf clubs will not move around too much. These are some of my golf bag packing tips. They should help you in packing your golf clubs for your next trip.
Which golf travel bag is the best?
If you need further help on golf travel bags, I can give you a recommendation on which golf travel bag is the best.
Given the considerations I laid out above, you should be able to choose now which golf travel bag is the best for you.
I'll give you two options so you will know which golf travel bag is the best as a soft case and a hard case.
So which golf travel bag is the best in the hard case category?
SKB Cases ATA Deluxe Standard
Well, the best hard case golf travel bag for me is the SKB Cases ATA Deluxe Standard Hard Plastic Storage Wheeled Golf Bag Travel Case.
PROS
Contoured

Pack golf clubs up to 48 inches in length

TSA lock to keep the contents safe

Wheeled
CONS
Might not fit a golf bag

Heavy

Can only be wheeled at an angle
Now, which golf travel bag is the best in the soft case category?
Personally, I'd go for the CaddyDaddy Golf Constrictor 2 Travel Cover. Here are the pros and cons of this bag:
PROS
Wheeled

Lockable zippers

Heavily padded

Includes compression straps

Collapsible
CONS
Might not withstand rough-handling

Prone to holes

No TSA locks included
So these are two of my most recommended golf travel bags. However, you might have a few more considerations especially if you have a special destination.
In Conclusion
It can be hard to figure out how to travel with golf clubs.
However, it is a necessary evil sometimes especially when you like to travel and play golf.
The tips I gave above should then help you make traveling with your golf bag easier and more enjoyable.
Last Updated on March 2, 2023 by Paul Roger Steinberg