Golf bags for kids don't come easy. They need some research. The market has a lot to offer, but finding the show-offs and avoiding the knock-offs is the major problem. For everyone golfer, owning the best golf bag gives them a feeling of satisfaction.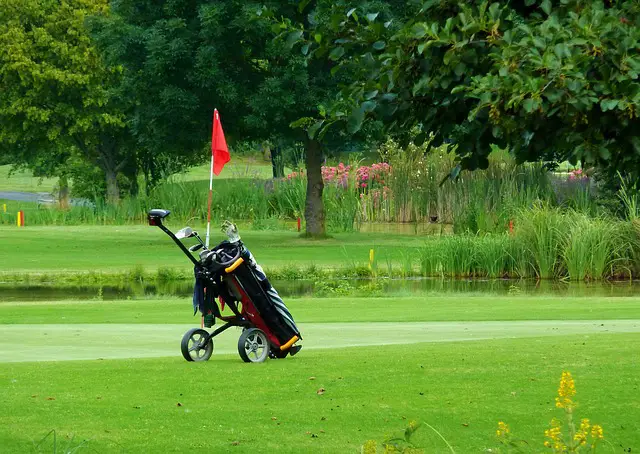 Of course, the options out there are endless.
However, when it comes to finding an ideal golf bag for your kids, things become a bit tricky. This is because factors like their age and gender also affect your decision.
Junior golf bags pose numerous benefits for the young, upcoming golfers. Of course, just like adult golfers, kids also deserve the best golf accessories.
With the right bags, your kids will definitely have their spirit lifted. Like I always say, golf is a sport of confidence. Therefore, investing in a nice bag for your young golfer means a lot to them.
Now, why not just get them adult golf bags? Are there differences between adult and toddler golf bags? Well, let's address that below.
Differences between Golf Bags for Kids and Adult Golf Bags
They are health-sensitive
You're probably wondering "Why can't I just give my kid that old golf bag that's been lying around the house for years?" Well, you could do that. However, your kid's health wouldn't understand.
First, your kid isn't as strong as you are. For that reason, giving them an adult bag to carry around could be injurious to their health.
Of course, not just in terms of health, there are other concerns as well. Junior bags boast a small, compact and light design. This way, they are perfect for your kids while walking around the course.
Since kids don't require many accessories, their bags also come with just enough compartments for what they need. For that reason, the bags don't get them fatigued.
They boast a kid-friendly design
You wouldn't want to walk around with a Cinderella-themed golf bag, would you? Well, that's because you aren't a kid. Golf bags for kids boast a kid-friendly design.
Just like you wouldn't want to carry a kid-themed bag, I guess your kids don't wish to carry an adult golf bag as well. For that reason, getting them an appropriate bag would do them so much good.
The designs appeal to your crowds, unlike senior golf bags that appeal to adults.
They are designed to fit child-sized clubs
You read it right! You don't expect your kid to use the same clubs you use, do you? For that reason, an ideal bag for kids fits their clubs perfectly.
Getting them adult golf bags would be inappropriate for their clubs. You don't want their clubs moving up and down the bag, do you?
If you are certain and serious about getting your kid in golfing, getting them the right bag wouldn't hurt at all. Of course, investing the few extra bucks on an appropriate bag for them would really lift their spirits and love for the game.
What are the Benefits of Golf Bags for Kids?
Golf bags for kids have a plethora of benefits. Of course, golf is a sport revolving around confidence and self-esteem. No golfer wants to settle for a mediocre product. Therefore, having the right bag for your kid comes with several benefits.
Builds their confidence
You wouldn't love going to a competition with an old tattered golf bag, would you? How would that make you feel? You'd probably leave even before you're done.
On the opposite, having the best golf bag would even enhance your performance. That's all about confidence. Improved confidence translates to better shots and performance.
The same applies to your kid. When you get them a nice golf bag, they will play more confidently. At the end of the day, they will grow their skills and become more passionate about the game.
Of course, they will also treat all their accessories with care since they know the value. However, some old rug in the name of a bag wouldn't even bother them.
Their items don't get lost
Kids easily lose their items, and some adults as well. However, with a bag, chances of losing their golf accessories reduce drastically.
With a top-quality golf bag, fitted with nice straps and zippers, you won't be replacing golf items after every few weeks. In the end, it is an advantage for the parent and the kid.
The bags are ergonomic
Golf bags feature an appropriate size and dimensions. Therefore, they are perfect for your kids. They fit most of their items ergonomically.
Things like the shoulder straps also fit perfectly. That way, your kid looks presentable and more equipped for the sport.
This wouldn't be the case if you got them an old adult golf bag. Kid's golf bags also ensure that your kid assumes the right walking posture. As a result, they stay healthy.
The kids own the sport
With the right golf bag for kids, your son/daughter feels more confident. They develop love for the sport and feel more connected.
Unfortunately, this wouldn't be the case if they had some large adult golf bag. To spice up the experience, have their name printed on the bag.
With their name on the bag, they feel even better and more connected.
What is a cart golf bag? Well, this is a golf bag placed on the hand or electric cart while making rounds across the course. It isn't pulled or pushed like other normal golf bags.
Can you carry the bags on your shoulders? Well, cart bags come with straps. However, they aren't quite even. For that reason, carrying them on your shoulders could prove quite challenging.
The bags stand on flat, smooth surfaces. However, they rarely stand on an upright posture. They are slightly bent when placed on the ground.
With a cart bag, you will definitely need a cart to carry it around. You could either purchase or rent the cart.
Generally, cart bags offer more space and are roomier compared to carrying golf bags.
Cart vs Carrying Golf Bag
Cart VS carrying golf bag, which one should someone pick? Well, there isn't a straight answer to that. This is because it all depends on your personal preferences and needs.
Of course, the two types serve their purposes perfectly. However, one might be more expensive than the other. Or, one might be roomier than the other.
Let's look at some of the differences
Cart bags are less tedious
While the cart bag works with a cart, carrying bags are carried on the back or shoulders. One clear benefit of the cart bag is the fact that they are less tedious. Of course, you won't be carrying them over your shoulders.
With a cart bag, you incur an extra cost of buying a cart:
While the carrying bag comes ready for use, the cart bag requires one to get a cart. Getting a cart means an added expense on the part of the user. Therefore, you should be ready to incur an extra expense of buying a cart.
Carrying bags help burn down calories
Although the heavyweights appear to be a disadvantage, they could turn out to be advantageous. For instance, you burn calories and fats. That way, you remain fit even with less exercise.
Carrying golf bags set down in all environments
This is unlike cart bags which never assume an upright position. Cart bags only set on a level surface, and still won't stand upright. Therefore, carry golf bags are more convenient.
Therefore, which is better? The answer still remains; it depends on your preferences and situation.
Can golf stand bags be used on a cart? Well, the answer is YES. However, most people prefer carrying them on their shoulders or back. This is because they are generally suitable for carrying and not for use on the cart.
Most people also want to get the health benefits of walking with a heavy load on their shoulders. They burn calories.
Can you carry a training aid in your golf bag? Well, you sure can. Your golf bag is like your factory when you have everything supplied. It is like your companion.
Therefore, there's no harm in carrying your training aid in the golf bag.
My Final Thoughts
Finding the appropriate golf bags for kids might not be so easy. However, the information I have offered above will shade some light.
These bags have several benefits, for the kids and the parents as well. For that reason, consider getting an ideal bag for your kid and witness their golfing skills improve over time.
Last Updated on May 22, 2023 by Paul Roger Steinberg