Can you bring golf clubs on a plane? Of course, you can. But don't expect to just walk into the airport with your golf bag on your shoulder while whispering your favorite country music, just as you would when walking to your local club field.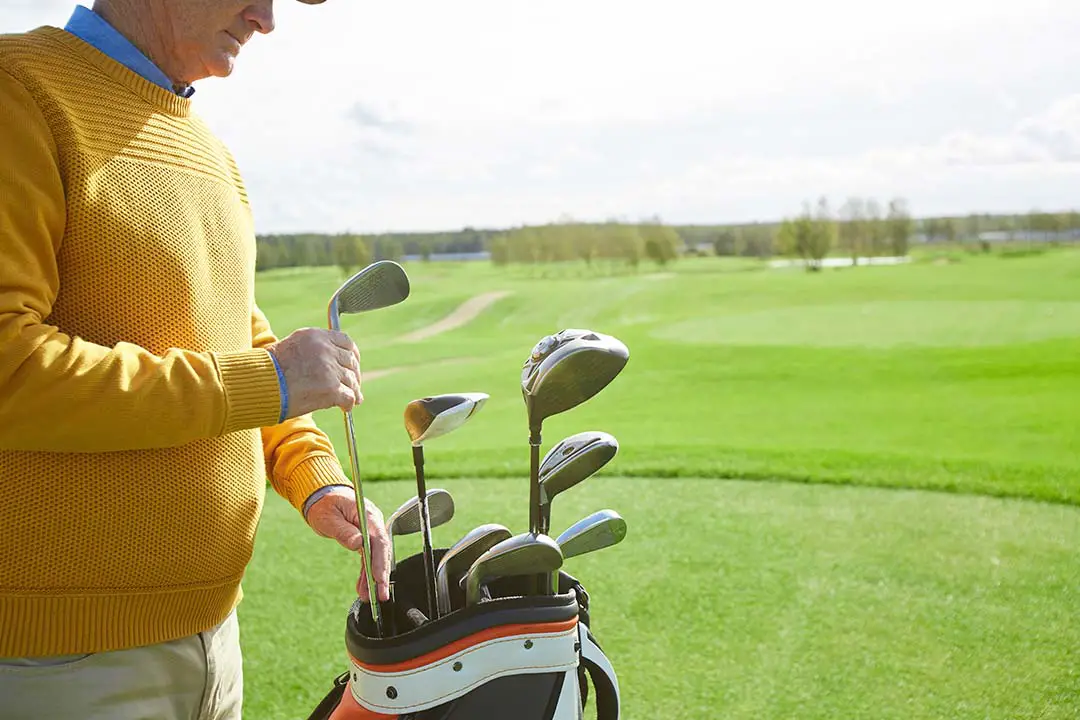 You need to know the rules. And you must be prepared!
In this article, we'll talk about a few factors to consider before bringing golf bags with you to the airport.
You'll also learn the safety measures to ensure that your golf equipment comes out of the airport in one piece.
Can You Bring Golf Clubs On A Plane?
The question, 'can you bring golf clubs on a plane' shouldn't be your top priority, you should be more worried about keeping them safe during travel.
Most baggage handler doesn't care about traveler's luggage, and your golf bag is not exempted. Worse still, they might be irritated by the weight of your golf bag.
You'll need a travel bag
Getting a travel bag for your clubs should be your first step if safety sits on top of your priority.
Golf bags are generally dedicated luggage where clubs are perfectly fitted and kept for safety, especially during travels.
What we like about golf travel bags is that they perfectly accommodate your golf bag. But before getting a bag, there are a few factors to consider.
First, confirm that the bag you're getting is sturdy. Don't just choose the hard shellbags.
While some of these hard shell bags are great, you can get really sturdy bags with no hard shells. Since this article is not about travel bag reviews, we'll stop here.
Second, be sure that your golf cap can fit into the travel bag. If your bag is the huge leather type then I suggest borrowing or buying a carry bag.
You're going to be saving a lot of weight. Plus, you'll be happy with your decision when it's time to go up a few steps, and you're unable to roll your bag.
You can also get a support rod. They are simple, affordable, and most importantly, they prevent your club from getting damaged.
Also, be sure to get one that has good wheels. While most support rods have wheels, check thoroughly for the one with durable wheels. Avoid broken wheels.
Getting your golf bag ready for travel
Since we've answered your question on can you bring golf clubs on a plane, next is to get your golf bag ready for travel.
Whether you buy dedicated travel luggage or decide to use your regular golf bag, you still need to do certain things before going to the airport.
The first thing is to empty the whole bag. Check every pouch and pocket and take out the balls and tee.
I especially recommend this for you if you've never carried your bag along to play because you have no idea how heavy it is or how much garbage you have inside there.
Things you need for your trip
In addition to solving the question of can you take golf clubs on a plane, you also need to know what should be included in your golf club.
You might think that carrying about 5 dozen golf balls with you will save the day, especially those moments when you want to show off your golfing skills repeatedly on the water.
But, realistically, you don't need to carry that many golf balls with you.
If you're going to be needing that many, buy them at your destination and try to lose them before walking back to the airport.
Check the weight of your bag before proceeding to travel. Each airline has its specific weight – don't forget to check these requirements.
What are TSA's rules on golf club carry on
Sorry, carry on clubs are not permitted, according to the TSA. I confirmed this information from TSA.
If you usually board flights within the U.S, you can just register for TSA Precheck so you can be free from those long queues and delays at the security check.
And if you're an international traveler, the Global entry is a similar option for you. While it is not recognized by all countries, you might be lucky to have your country on the list.
Avoid taking them along together on the plane
In fact, when it comes to the question of 'can you bring golf clubs on a plane', one thing I totally recommend is shipping them.
Shipping companies, unlike regular baggage handlers, have a reputation to keep, so your stuff will always get to your destination in one piece.
Why? Because that's what they are getting paid to do, unlike airlines that only care about the people and not luggage.
Popular shipping companies like FedEx are a great option; however, there are some relatively new shipping companies that focus on shipping both golf and general equipment.
While their services may come off at a premium price, you'll rest assured that your package is safe since they only focus on golf and sporting goods, which means they especially know how to handle your golf clubs.
Most hotels are already used to having their customers use the service of these shipping companies, so it will be easier for you to receive your stuff intact and in good condition when they arrive.
How To Pack Golf Clubs For Air Travel
My previous experience traveling with a golf club was pretty bad, not until I figured out how to pack golf clubs for air travel.
So I'll be sharing with you golf clubs travel tips to help keep your clubs safe during air travel.
Firstly, if you regularly travel by air, I'll recommend getting a travel case. Not only are they safe for air travel, but they also protect your golf when stored for a long time.
The first step is choosing the right case. Soft cases are your best bet if you'll be traveling by land; however, don't expect much protection.
Hard cases, as the name suggests, offer more protection than its counterpart, but with a little downside. Hard cases are bulky, making them a little difficult to fit into the cars.
However, in our case, we're focusing on how to pack golf clubs for air travel.
So if you're going on air travel with a single flight, choose a soft case, because single flights reduce the number of times others will handle your bag.
If the reverse is the case, and you're planning to go on a long trip with connecting flights, a hard case should be your go-to.
In a nutshell, both types of cases have their benefits and downsides. So choose according to your needs.
Simple ways to pack golf clubs
Carrying your golf sets from one place to another is secure because you're able to handle them with care.
But when someone else will be handling your bag, you need some extra protection strategy for your equipment.
Firstly, try to pack clubs with similar heights together. Also, use one golf socks for your putter and irons, and place them in the same compartment to maintain the same height.
The thing with this trick is that as each equipment shares a similar height and is in the same compartment, they'll also share any potential damage.
Another golf club travel tips for you (I do this personally) is to just place stuff on your club heads for support.
You can also support the case with a blanket or golf towels and prevent the clubs from damaging one another.
Also, avoid overpacking this area, and add some additional padding on top of the shorter clubs to serve as a support for taller ones.
Other ways to protect your golf clubs
A few years ago, I always used PVC pipe cut in the same length as my longest club and packed the club inside it as a shield. The downside is that the process is a hassle.
It takes a lot of effort and time to cut the PVC pipe into shape. Today, everything has changed. Thanks to the new golf clubs travel tips.
People now use extensible stiff arms to give your clubs breathing space when they are in the travel case. This is simply an extensible aluminum rod that has a support disc at one of its ends.
The height can be set to fit above your tallest club and the small umbrella on top of it supporting the travel bag.
This increases the strength of your travel bag and not just another protective cushion for your clubs.
Another option is soft travel bags with strong plastic or rubber casing where the club heads are placed, making them safe.
Golf clubs travel tips for actual flights
Although it is essential to know how to pack golf clubs for air travel, there are certain flight measures you need to take to ensure your golf's safety for flight.
First off, don't go for flights with connections. Because if you switch flights, you're increasing your chances of having your bags mishandled.
When it comes to size or weight restriction, the rules guiding each company differs.
Firstly, keep in mind that golf clubs are often termed as "oversized" luggage, so you have to check it in and check the oversize luggage retrieval counter to pick them up.
Secondly, the weight limit is set at 50lbs, which means you're going to pay extra (as an overweight fine).
Here's a trick I use; if your bag is close to the 50lbs mark, just remove some accessories from the bag and put it into another bag. That way, the weight reduces, and the two bags are below 50lbs.
You might only pay for extra luggage, which is minimal. However, it can become a problem if you need to take clothes, shoes, accessories, along with them.
Sending your golf club sets by mails remains the best step to take. It saves you the hassles of protecting your clubs at the airport. Mail services are a little expensive, so be prepared.
Just get an adequately fitted box, and you're good to go. Packing becomes easy. This method remains my best golf clubs travel tips as it is safer.
There are tons of factors to consider when it comes to how to pack golf clubs for air travel. But, it all comes down to the organization. Making a list is the best way to get organized.
Here's a checklist to ponder on:
Make sure to check the luggage weight/size for the airline you plan to use ( Most times, cheap tickets are usually more expensive especially when the luggage fees have been included)

Contact the airline upfront to confirm what accessories you should bring and what you should not.
Final thoughts
I hope we've been able to answer your question on can you bring golf clubs on a plane? If none of the options work out, just rent clubs.
But, make sure you've given all options a try before falling out to this. Rental clubs are in two ways.
First, they could be and old, whacked outset of clubs abandoned for over a decade.

Or they are some old off-the-store models that golf manufacturers sent to a rental club. And chances are they are not fit for you.
If you're a beginner golfer, the worst thing that could ever happen is to play with clubs that will work against you.
This article also discussed how to pack golf clubs for air travel.
As a recap, always get a travel case.  Not only are they safe for air travel, but they also protect your golf when stored for a long time.
Also, avoid going on flights with connections. Because if you switch flights, you're increasing your chances of having your bags mishandled.
Sending your golf club sets by mails also remains the best way to keep your clubs safe for air travel.
Last Updated on March 2, 2023 by Paul Roger Steinberg