Read on to familiarize yourself with the ins and outs using this extensive guide on how much to ship golf clubs because this article aims to help you in finding out the best and easiest way.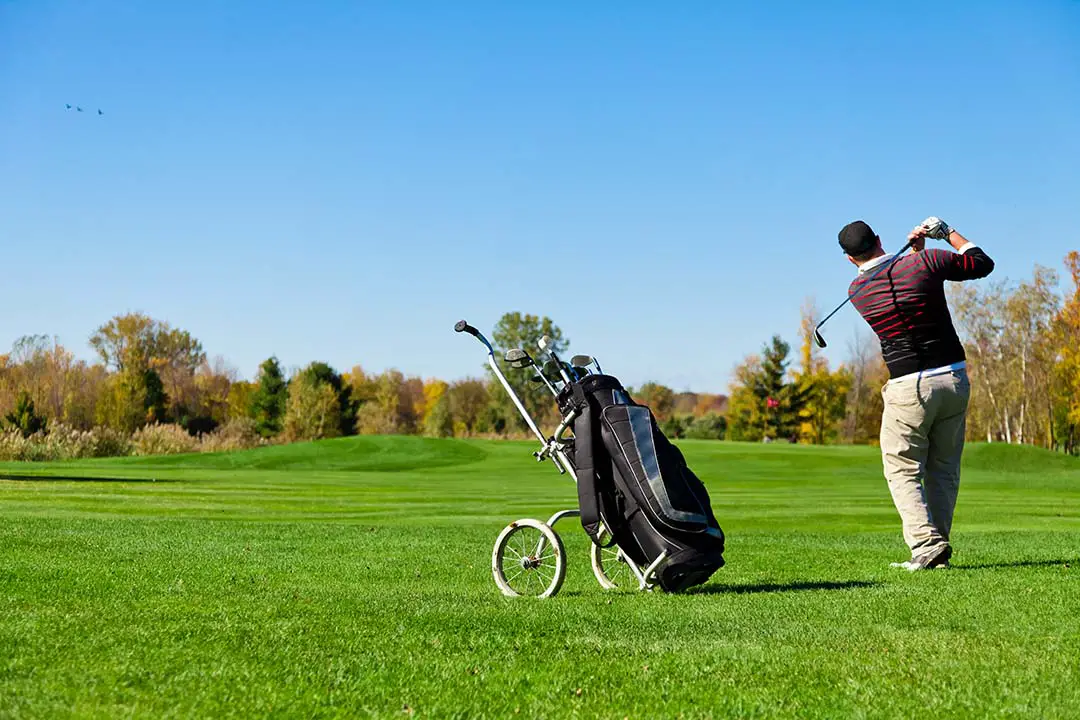 "How much to ship golf clubs?"– This is the main question of someone who likes playing golf, traveling, or someone who is an aspiring online retailer of golf clubs.
However, when you search about this topic, you might find shipping golf clubs to be a hassle.
How Much to Ship Golf Clubs – Courier Comparison Guide
So, how much would it be to ship golf clubs? There are several transport companies that pay attention to the needs of a golfer.
They are FedEx, UPS, USPS, and DHL. These companies offer incomparable golf club shipping services at a relatively cheaper price.
Furthermore, they can ship your golf essentials anywhere around the globe.
So if you are interested in knowing how much is it to ship golf clubs with these couriers, then let us take a look at their pricing and the services offered by each one.
With FedEx, you can have your golf clubs shipped in more than 215 countries and territories all over the world. However, the question here is how much would it cost to ship golf clubs with FedEx.
Well, if you are only shipping within the United States, the FedEx Domestic Ground Service will only cost you less than $100 one way.
This will most likely reach your destination in a span of four days.
For example, you might wonder how much to ship golf clubs to Florida. That will only cost you less than $100 through FedEx's Domestic Ground Service.
On the other hand, the FedEx International Economy can take up to five days so it can be on its overseas destination.
If you need it more quickly, you may opt to avail of their expedite shipping services which will only take overnight or up to two days.
FedEx Express is also available but you should know that it will involve heightened costs.
If you want to check how much is it to ship golf clubs to other locations, check out FedEx's website!
The good thing about UPS is that it can ship your golf essentials into staffed business addresses worldwide. These include resorts, hotels, and golf courses.
You might be wondering at this point how much would it cost to ship golf clubs through this courier.
To answer that, it has the same scheme as FedEx. This means that if you are shipping your clubs domestically in the United States, the UPS Ground Service will only cost you less than $100.
However, their expedite shipping option will cost so much more– an estimated several hundreds of dollars for each way.
Although, one of the advantages of using this transport company is that they have more than 5,000 outlets all over the United States and Canada.
Moreover, their staff will help you pack your golf clubs before shipping! Visit their website and read more about it online!
USPS or United States Postal Services provides free Priority Mail Cardboard Mailing Tubes when you choose to ship your golf clubs with them.
Furthermore, you can also choose Priority Mail Express or Priority Mail Boxes to ship your golf clubs.
However, you should take note that it will still depend on the size of the clubs that you are going to ship. Check out how much would it be to ship golf clubs via USPS by visiting their website!
DHL or Dalsey, Hillblom and Lynn International, is part of the German company Deutsche Post.
If you are wondering how much to ship golf clubs to Florida using DHL, you might find that their prices are a little bit more expensive than the other courier options.
If you are still stuck on the question of "how much to ship golf clubs to Florida?" after checking with some of the renowned couriers delivering globally, then you should check out third-party carriers.
The big advantage of third-party couriers is that they can offer much cheaper prices because they receive discounts from shipping companies due to the number of shipments that they normally handle.
You can find a much more competitive price offering on third-party couriers than other international courier companies.
If you want to find out how much to ship golf clubs to Florida, but also want to avail of huge discounts then try third-party couriers such as Easyship.
4 Factors Affect Airlines Golf Club Shipping Costs
Before you decide that availing of a courier for shipping your golf clubs is better than taking it with you in a plane, you must know the factors that airlines consider for pricing.
Take a look at these four factors that affect your golf shipping costs in airlines:
Imagine a golf bag filled with clubs, balls, and other accessories.
The weight of that would be about 20 lbs or more, and this weight is just for golf carry bags. A cart bag could even weigh more than 35 lbs!
While you may think that your bag falls on the 50-pound limit of airlines, there are still many carriers that consider this as one of your checked bags.
This means that there you are still going to pay for extra bag fees.
As mentioned before, your golf bag is considered as checked bags by most airlines so you may run into an issue regarding this. Oftentimes, you may run into hidden airline fees.
These fees might confuse you upon checking your receipt.
One of the examples of airlines with hidden fees is American Airlines. They treat your golf back just like any other checked bag when you are going to most places.
However, if you are flying to or from Brazil, you should expect to be charged more. The fee could be around $42.50. This amount is a confusing stipulation embedded in their baggage guidelines.
This is why it would be best to canvass how much it would be to ship golf clubs if you are planning to travel with it.
One of the factors affecting how much to ship golf clubs is switching airlines.
An example of such is JetBlue. You should expect to face additional fees if your travels will require you to switch airlines on your way to your final destination.
Moreover, JetBlue will present you with affordable baggage options but they might not be applicable because of the regulations issued by the Department of Transportation (DOT).
If you want to save a lot from shipping your golf clubs, it is highly recommended that you choose a courier that offers no switching.
It is also a plus if they can provide real-time tracking starting from pick-up up until the delivery of your golf clubs.
This can provide you with peace of mind, knowing that there will be no extra charges along the way.
Requirement Hard-sided Traveling Case
Most of the airlines make it clear to their clients that they will not be liable for any damage that will happen in your golf bag and anything inside.
That is the reason why they will require you to pack your golf essentials in a hard-sided traveling case which will incur you an additional $100.
Doing so will surely protect your clubs but there are shipping options that offer to have it packed inside a box and it also comes with insurance.
Other Considerations in Shipping Golf Clubs
In this section, we would now discuss the other important things that you need to consider on the question "how much is it to ship golf clubs?".
Selecting the courier with the most affordable delivery fees
Here are a few things that can affect how your delivery fees are calculated:
Distance between you and the place where you bought your golf clubs

Golf clubs weight to be delivered

Speed of the delivery, and most importantly

Courier or shipment company that you would choose
Couriers charge fees for their services and each courier has different mark-ups for their prices.
That is why it is important to choose the courier with the most affordable delivery fees for your golf shipments and other items.
Most of the shipping or courier companies also have websites that have a feature allowing their customers to calculate the shipping costs of their desired shipments.
This will surely help you along the process.
You may want to consider enlisting the help of third-party couriers for your golf club shipments because they offer cheaper delivery fees than mainstream shipment or courier companies.
Although, the speed of delivery from third-party couriers may be slower compared to big courier companies.
Insurance coverage for your golf club shipments
Another important consideration is the insurance costs for your golf clubs. Shipment companies and couriers are obliged by law to handle items with the utmost care.
They are required to offer insurance to their customers, so when an item has been damaged or lost, they must compensate their customers to a certain extent.
For your golf clubs, shipment companies and couriers add insurance costs to the delivery fee charged to you so that you are covered if something bad happens to your golf clubs during their delivery.
UPS, FedEx, and Priority Mail for example offer a "declared value coverage" meaning that your golf clubs are insured up to a certain value.
The insurance coverage value is based on the weight of the golf bag containing your golf clubs.
However, if shipment or courier companies failed to declare a value, you will receive automatic coverage of 100 USD.
Insurance coverage values offered by mainstream courier companies are sometimes not enough, especially if you have golf clubs that cost at least 1,000 USD and will only be insured for 100-300 USD.
To get a higher coverage value for your golf clubs, you can consider buying additional coverage from third-party couriers.
Easyship, an example of a third-party courier, can offer insurance coverage of up to $5,000 for your golf clubs, which is a big bonus considering they offer cheaper delivery fees.
Insurance claims from Easyship and other third-party couriers are also processed very quickly: taking up to an average of 7 days only before a customer receives compensation for a damaged or lost item.
How much to ship golf clubs to Florida?
There are many places to play golf in Florida such as the TPC Sawgrass and PGA National Golf Club.
This is the reason why you must be wondering about how much it will cost you to bring your golf essentials to play in that place.
If you are just within the United States, it will only cost you less than $100 to take your clubs with you to Florida.
However, if you are from another country, it is best to inquire with an available transport company to know exactly how much it is to ship your clubs.
Remember, it will depend on the distance, shipping span, and many more!
How to Pack your Golf Clubs for Shipping
If you do not want to pay and worry about insurance costs, then you have to make sure that your golf clubs are safely packed for shipping.
If you are wondering what golf club packaging does with determining how much it would be to ship golf clubs, the answer is simple: you already did the packing task that shipment or courier companies are supposed to do.
Here are some of the ways to ensure that the golf clubs are safely packed:
Use at least two layers of bubble wrap, plastic, or any protective material to wrap for each of your golf clubs. Secure tape or adhesive for each layer of bubble wrap.

Wrapped each club in a protective material, then wrap your clubs together and secure tape or adhesive on them.

Packaged the golf clubs and put them in a golf bag

Put the bag in a box fit for international shipping

Seal and secure the box with tape or any other strong adhesives

Know the weight of your box to be used for the calculation of the shipping fee.
Ship your Golf Clubs Confidently
Now that you know about how much to ship golf clubs, you must always keep in mind that there will always be risks with shipping.
In any item, no matter how much you pay for the delivery.
The courier and shipping companies are obliged by law to take the utmost care of your golf clubs.
You should do your part as well by monitoring and immediately reporting the issues you may find to ensure the safety of your golf clubs.
Last Updated on May 17, 2023 by Paul Roger Steinberg