Wondering how to put golf clubs in bag and you might have thought about that by organizing your golf clubs properly in your bag, you'll notice saving more time, your mind is at peace and you are having better focus.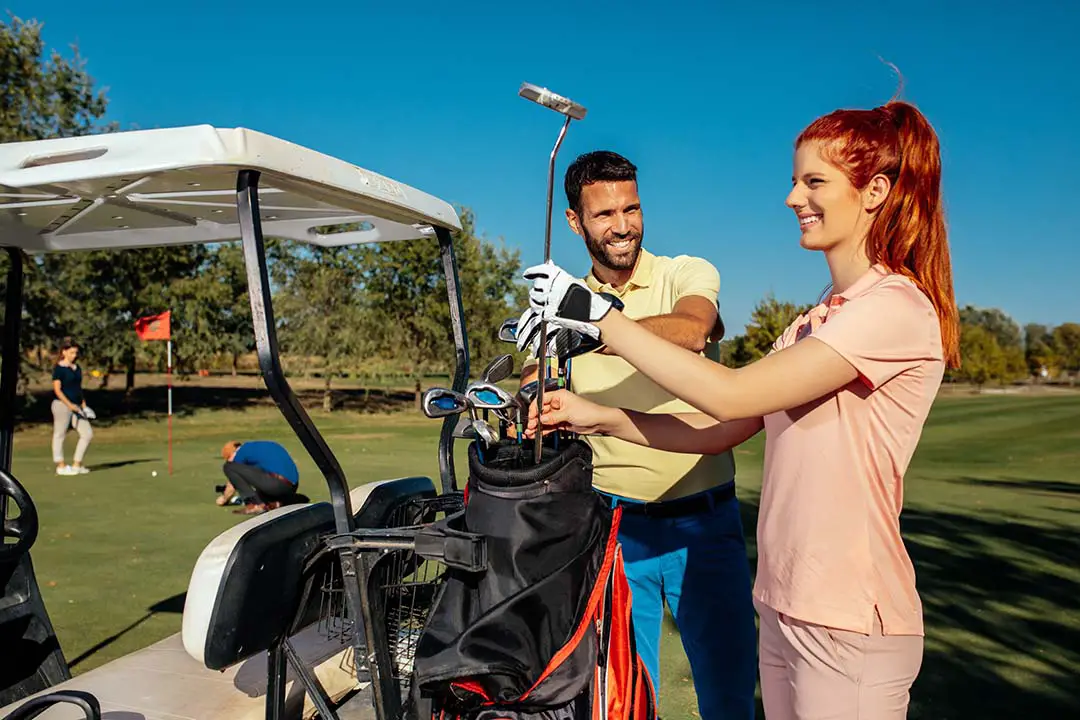 How to Put Golf Clubs in Bag
Golf requires extreme focus whether you are on the golf course practicing or competing in a tournament.
When you have to slow down or stop to try and locate one or more of your golf clubs, it breaks consistency and can adversely impact your performance.
Never enough to have all the tools you'll need on the golf course.
It is even more important that you have all your golf clubs and other essentials well organized in each designated compartment of your golf bag.
Indeed, golf may be a game you revere. But you'd be forgiven for not knowing how to put golf clubs in bag properly. Need help with that?
Here are some helpful tips to consider.
What is the Proper Way to Put Golf Clubs in a Bag?
There are two main golf bag designs, the cart bag, and the carry bag. The cart bag has wheels that enable you to push it around when traversing the golf course.
The carry bag on the other hand goes over your shoulders and on your back. Both bags have sections secluded for your golf clubs.
But a closer look at these compartments and you'll realize that they appear slightly similar yet slightly different. One may have more slots than the other.
Also, the front side for one golf bag may turn out to be the backside of another bag. Once you realize these differences this should shed more light on how do golf clubs go in bag?
Here are some tips to help you stay more organized with your golf clubs:
Begin by emptying your golf bag and carefully lining up your clubs on the floor. Start with the shorter clubs and end with the longer ones or vice versa.

Assuming the golf bag has individual slots, start by placing the woods inside the back area where the spaces are much longer, enough to accommodate their full length. At this stage, some people like arranging the woods from left to right.

Right below the woods, place your longest 3 to 4 irons. Your 2, 3, 4, and 5 irons can also go into these sections, from left to right.

Your shorter 6, 7, 8, and 9 irons can then go into the much shorter pockets or slots of the bag. Right below the 3 to 4 irons.

The putter and wedges can go to the lowest pockets remaining empty. In some bags, the section designated for your putter is located on the side of the bag away from the other clubs. Some players even prefer to place the putter at the bottom-most slot making it easier and faster to access.

Now that you have all your clubs in place and understand how do golf clubs go in bag, you can store other accessories like your gloves, golf balls, keys, snacks, water, insect repellent, markers, collapsible ball retrievers, hat, sunscreen, and extra t-shirt in the remaining pockets. It's easy to know which items go where going by the size of the pocket and whether it is zippered or not.
When all is said and done, everyone has their own unique hacks when it comes to arranging a golf bag.
The goal is to have a well-arranged golf bag that you can use effectively not just to store and carry your clubs but to also keep them in order.
Why It's Important to Organize your Golf Bag
A typical golf bag should fit up to 14 golf clubs. Each club has a unique purpose. This makes you realize how inconveniencing it can be to misplace or lose one club, let alone leave the club disorganized.
When you know how golf clubs go in a bag you'll be more organized and focus with the game. Simply put, an organized bag is way more functional than one that is not.
Wondering what all the hype is about why it's important to organize your golf bag? Read on to find out.
Guarantees the Protection of Your Clubs
Remember how you felt when you got your new set of clubs. Now think about how much you had to spend to get yourself that awesome set.
After going through so much trouble, it's only natural to want to make sure that you maintain and keep them in superb condition and that you get to use your clubs for as long as possible.
Knowing how to put golf clubs in bag means that they are not grinding against each other or bumping into each other.
If your clubs keep constantly bumping on each other, their durability is compromised. So much so that they can appear worn out from denting and paint chipping. Sometimes they may even break.
Can Reach for Each Club Quickly
Seeing as you know where every golf club is, you spend more time focusing on your game and less time fumbling through your golf bag looking for the right club.
It's advisable to place the club right back in its slot and not on a different one after using it.
Otherwise, failure to do so simply means that you still haven't answered the pertinent question, how do golf clubs go in bag?
When you organize your bag consistently, you can reach back at any club even without looking. Suddenly, you find that your focus and performance is always on point.
You swing more confidently; your momentum remains constant and you make it to the green with fewer shots.
Can Easily Tell if Something's Missing
Once you get so used to seeing clubs sit a certain way inside your bag, it won't be hard to notice when one or more clubs are missing.
When you don't arrange your golf clubs properly, you only find out too late that you are missing a club.
Probably in the middle of a round which forces you to cut your game short to find a substitute. Figuring how golf clubs go in a bag has you arranging your golf clubs the same way each time.
It also means that you can find a replacement or try to find the missing club as soon as you find out that it's not there.
Final Word
There are no two ways about it.
If you want to have an easy and undisturbed time at the golf course, make sure you know how to put golf clubs in bag.
Last Updated on March 2, 2023 by Paul Roger Steinberg