The best thing about spiked golf shoes is you can change the cleats when they are already worn out and with that being said, learning how to change spikes on Nike golf shoes will come very handy!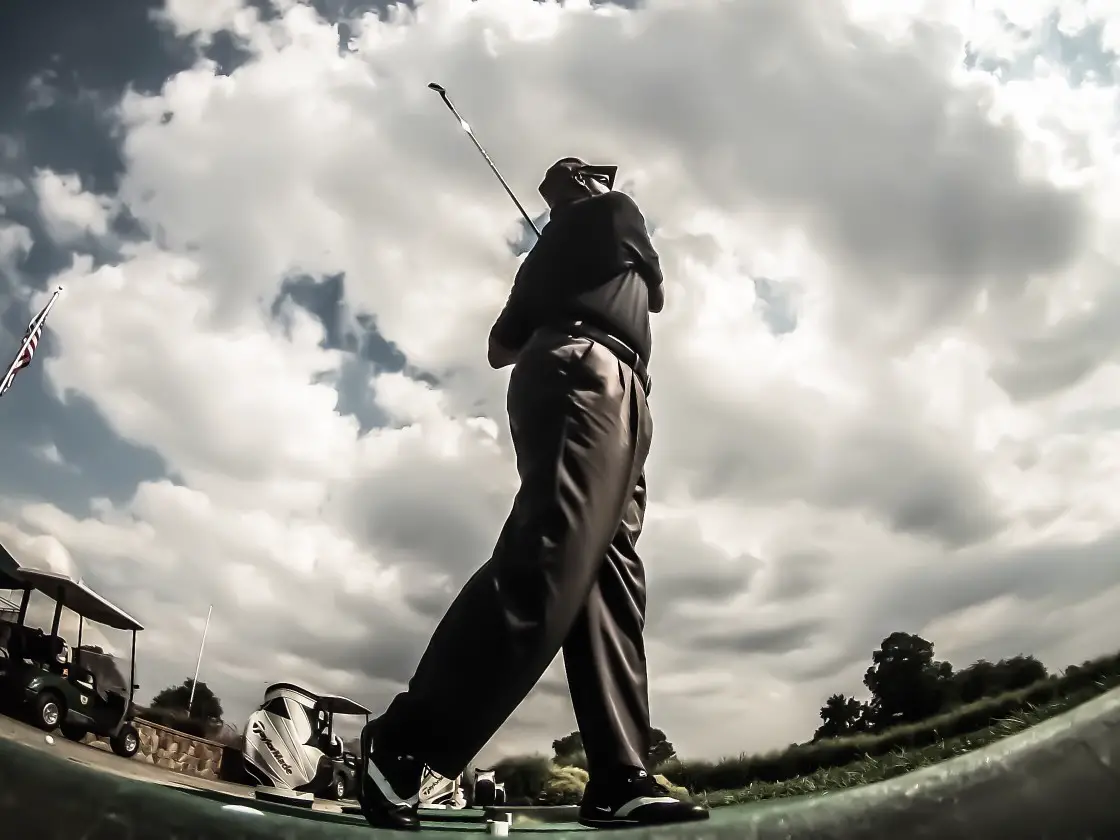 Changing to brand new spikes you will get to have the same traction that your shoes offer just like the first time that you bought it.
How to Change Spikes on Nike Golf Shoes?
The cleats on your Nike golf shoes are usually made of polyurethane or rubber.
This type of spike doesn't last long; give it six months and those cleats will be worn out.
You must always keep an eye on the condition of your golf shoe's cleats because once they become worn out, they can no longer provide the same level of traction as they did before.
To get that same level of traction back, you will have to change the spikes on your Nike golf shoes.
In order for you to be able to change the spikes, you must learn first how to remove spikes from Nike golf shoes, so here are the steps:
Prepare the cleats for removal
The first step on how to remove spikes from Nike golf shoes is to clean the outsoles where they are attached.
To do this, you must have a golf scrub or a wire brush and a basin filled with soap and water solution.
Using the brush soaked in the cleaning solution, you must scrub the bottom of your golf shoes with full strength.
You must make sure that there will be no dirt residues and grass particles left out. If there is still any debris, you must scrub it again.
Once you are sure that it's squeaky clean, get a clean towel to dry your golf shoes.
Spray a lubricant into the spike's receptacle
The second step on how to remove spikes on Nike golf shoes is to spray a lubricant into the spike's receptacle. The WD40 is the most used lubricant for removing golf shoe spikes.
Spray a little bit of the WD40 to the receptacles.
Remember not to spray too much to the point that the lubricant is already dripping off because that won't be making any difference.
When you are done with this step, you may now proceed to the actual removal of the golf shoe cleats.
Use a spike wrench to remove the cleats
Using a wrench, you may now remove the spikes on your golf shoes. Just place the wrench on a cleat and turn it counter-clockwise.
After one rotation, the cleat should already loosen up.
Other spikes would require a different tool so you can remove them. Those tools have protrusions that you should insert in the holes of the cleats.
When you have already inserted it to the holes, turn it counter-clockwise until the spike is loose enough to be removed by hand.
You should note that those holes might be clogged with debris, so make sure that you also clean them during the first step of how to change spikes on Nike golf shoes.
Clean the area where the spikes are removed from
Dirt will also accumulate inside the area where you removed the spikes from, especially if you are fond of playing on muddy golf courses.
You might have to dig out the dirt with the help of a divot repair tool or a thin metal rod. After that, wipe it clean with a damp towel.
Prepare the replacement cleats
The most important step on how to change Spikes on Nike golf shoes is to make sure that you have a new set of spikes to replace the old ones.
You may purchase the replacement cleats from Nike outlets and other sporting goods stores.
Just make sure that you get the right spikes from Nike that will fit what kind of receptacles your golf shoes have.
The last step on how to change spikes on Nike golf shoes is to attach the new spikes.
Using your finger, place the new spikes on the receptacle and turn it clockwise once. Once the replacement cleat is already in place, use a spike wrench to further tighten it.
That's it! You may now enjoy your newly replaced Nike golf shoe spikes. It's just as easy as eating a piece of cake, right?
Which Spikes for Nike Golf Shoes Should You Get
It is really a good thing knowing how to change spikes on Nike golf shoes, right?
However, to properly replace the cleats on your Nike golf shoes, you must also learn about the different Insert Systems.
With this, you might ask about the question, which spikes for Nike golf shoes you should get.
But, this question can only be answered by knowing about the different types of Insert Systems or spike receptacles.
There are nine different Insert Systems used on spiked golf shoes in the market, but Nike only uses eight of them and here is a list of those:
The Fast Twist is the most advanced spike receptacle available in the market.
This insert system is used in a huge number of golf shoes in the market. Also, it is cross-compatible with the Tour Lok and Slim Lok insert systems.
Which spikes for Nike gold shoes with a Fast Twist insert system should you get?
Well, you can buy spikes for Lunar Control, Air Zoom Precision, Air Zoom Direct, and Lunar Command 2.
The Slim Lok is the so-called "low-profile" insert system.
You can use FT3 and Tour Lock designed cleats with it since it is cross-compatible with the Fast Twist 3.0 and Tour Lock spike receptacles.
Just like with Fast Twist 3.0, you can use Nike golf shoe spikes for Lunar Control, Air Zoom Precision, Air Zoom Direct, and Lunar Command 2 with it!
The Tri Lok is the most famous spike receptacle in the market because it is the first three-click insert system ever created.
It features the so-called "locking posts" to help ensure that the spikes will stay on the golf shoe.
Which spikes for Nike golf shoes are compatible with the Tri Lok insert system?
The answer to that question is the spikes made for all Nike golf shoe styles made from 2010 to 2018 excluding the Lunar Control, Air Zoom Precision, Air Zoom Direct, and Lunar Command 2.
This spike receptacle was introduced way back in 2008 and you can find this in a wide range of golf shoes.
Which spikes for Nike golf shoes should you use with this?
You can use spikes made for Nike TW 2015 and F2 Premiere in this type of insert system.
The Small Metal Thread insert system is also found on a variety of spiked golf shoes.
It uses the mechanics of threaded twist insertion. If you are still confused about how it works, just think of screws.
All Nike golf shoes that were released before 2001 use this type of spike receptacle.
The  Q Lok is a triangular-looking spike receptacle and you can find this on a variety of Nike golf shoes prior to 2013.
This type of spike receptacle is famous for its "one turn, one-click" locking system.
With the Q Lok insert system, you can use spikes made for Nike golf shoes made from 2001 to 2009.
Improved Stability With Nike Qlok Replacement Spikes
One interesting statistic regarding Nike QLok Replacement Spikes is that they have been tested on multiple surfaces and have shown an increased grip strength by over 70%.
This shows that the spikes provide more traction during physical activities, making them perfect for athletes who require additional support while running or playing various field sports.
The concept of stability in athletic performance has been a subject of debate for many years. Some theorists have argued that increasing the weight or adding more cushioning to running shoes can improve stability and reduce injury, while others contend that it is better to use lighter, less protected shoes.
Nike QLok replacement spikes are designed to provide improved stability without the added weight or protection of heavier materials. To understand how Nike QLok replacement spikes work, it is important to look at their construction and design features.
The spike pattern on the underside helps to create grip with varying terrain types, such as wet grass or even uneven surfaces. Additionally, the flexible sole plate allows movement within the shoe so that athletes can move naturally and comfortably over different surfaces.
Furthermore, each individual spike is constructed from lightweight yet durable material which provides excellent traction throughout an athlete's performance.
Nike QLok Replacement Spikes provide greater stability when compared to other types of cleats and are available at reasonable prices. Moreover, they possess impressive grip strength on varied surfaces and come in different sizes so users may find one which best suits their needs.
Therefore, those seeking improved stability should consider investing in this product as it could prove beneficial to their performance.
Finally, research suggests that using Nike QLok replacement spikes improves both short-term and long-term stability during athletic events by reducing stress on joints and muscles caused by repetitive impacts when running or jumping.
Traction And Comfort With Nike Q lok Spikes
For any athlete that requires superior grip and stability along with comfort during strenuous activities such as running, jumping or training drills, Nike Q Lok Spikes offer a unique solution that can help maximize performance while avoiding potential injuries.
The spikes feature rubber soles that ensure excellent grip even in wet conditions while providing maximum cushioning against shock and vibration generated by high-impact movements.
Furthermore, the shoe's lightweight construction helps reduce fatigue while achieving optimal power transfer from foot to ground level.
The combination of innovative designs and technologically advanced materials makes Nike Q Lok Spikes an ideal choice for athletes looking for a safe yet effective way to increase their speed, agility and overall performance without sacrificing comfort.
With this special footwear on your feet you will be sure to experience enhanced performance no matter what kind of terrain you traverse!
Using Nike Q lok Spikes for traction and comfort is like driving a race car. It offers unparalleled control, precision and power to get the most out of your performance on any track.
y utilizing these features, athletes can reach their maximum potential while remaining comfortable throughout their match or routine run.
First, let's explore the features that make Nike Q lok Spikes so special:
Lightweight design – They are incredibly light so they won't weigh you down as you move around quickly during play.
Durable construction – The spikes are designed to last through rigorous use without wearing down too much over time.
Enhanced grip – The tread pattern helps ensure optimal traction in both wet and dry conditions.
The next step is understanding how to use Nike Q lok Spikes for optimal results. There are two key aspects to consider when using this product:
Fitting them correctly – To properly fit your shoes with Nike Q lok Spikes, it is important to follow the manufacturer's instructions carefully so that they do not become loose or fall off during competition or practice sessions.
Adjusting them for terrain – Different surfaces require different levels of grip and cushioning which can be adjusted depending on whether you are running on grass, dirt, concrete etc., making sure you have the best possible experience every time.
When used together; careful fitting, adjustment based on terrain and lightweight design combine to provide an excellent combination of traction and comfort – giving athletes the advantage they need to perform at their peak no matter where they're competing.
Features Of Nike Qlok Replacement Spikes
As if by chance, Nike QLOK replacement spikes offer a unique combination of improved stability and durability.
Crafted in the USA from high-grade titanium for resilience and longevity, these innovative components are designed to deliver superior comfort with enhanced performance on any playing surface.
By providing an optimal balance of strength and flexibility, they ensure that your feet stay firmly planted while you play. The light weight design also helps reduce fatigue over long periods so you can maintain peak performance even when tired legs start to drag. P
lus, each spike is precision molded for consistent fitment and maximum grip without sacrificing traction or control.
One of the unique advantages offered by these shoes lies within its design: they contain an integrated spike plate made up of seven replaceable short metal spikes that are able to penetrate wet surfaces easily – providing superior grip when compared to traditional rubber soles.
Moreover, this plate is highly adjustable so you can adjust it according to different terrain for better mobility or control depending on your needs.
Some key features include:
Flexible yet supportive cushioning for comfortable landings
Reactive midsole foam for energy return during each stride
Durable rubber outsole with water-resistant finish
Seven removable metal spikes across bottom sole for enhanced grip on slippery surfaces
In addition to their impressive capabilities, Nike QLOK replacement spikes are easy to install thanks to their user-friendly design – so you don't have to worry about taking time out of your busy schedule!
Whether it's helping players get back into action quickly after injury or simply ensuring long-term success on the field, these next generation parts are sure to make a difference.
Benefits Of Nike Qlok Replacement Spikes
Athletes are always looking to improve their performance and gain an edge on the competition.
According to a recent survey, over 70% of athletes take steps to ensure they have the best equipment for success. Nike's QLOK Replacement Spikes offer improved stability that can help give athletes this competitive advantage.
The benefits of using these replacement spikes are clear. They provide superior grip and traction on any track or field surface, allowing athletes to have better control when running at high speeds.
Additionally, they feature unique design elements such as flex grooves which allow them to conform more easily with surfaces while still providing strong support and stability.
This helps reduce the risk of slipping or falling during intense physical activity, giving athletes peace of mind knowing they're protected from potential injury.
In addition to enhancing safety measures, these replacement spikes also offer excellent impact cushioning technology so runners don't feel too much shock when landing after a jump or sprint.
This allows them to perform longer without feeling fatigued due to harsh impacts on their feet and joints. The combination of superior grip, sturdy construction, and advanced cushioning makes these shoes ideal for athletes who want reliable protection in all conditions.
Tips For Installing Nike Qlok Replacement Spikes
While replacement spikes for running shoes can drastically improve the stability of a runner, some may be hesitant to install them. However, with the right tools and procedure in place, anyone can easily equip their shoes with Nike QLOK Replacement Spikes.
It is important to have all the necessary materials on hand before beginning installation. These include a pair of pliers or spike wrenchs as well as appropriate size and length spikes (which are typically sold separately).
Additionally, having a small container filled with water nearby comes in handy when setting each spike into its designated hole.
After lacing up the shoe securely, one should begin replacing the old spikes using either pliers or a spike wrench depending on what type of fasteners were originally used.
It is critical that they take care while removing and inserting new ones; if done too quickly or forcefully it could damage both the cleat itself and the shoe sole.
To ensure an even fit and secure hold for each individual spike, submerging them periodically in water helps lubricate threads prior to insertion – this also makes sure any dirt buildup does not interfere with proper placement.
Once all spikes have been replaced along with any other loose parts such as cushioning foams or rubber grips added back onto the foot bed surface, give everything a good wipe down so no debris gets lodged deep inside the outsole crevices.
How Long Do Nike Qlok Replacement Spikes Last?
Recent research has shown that Nike Qlok replacement spikes can last up to five times longer than traditional metal spikes. This means that athletes are able to enjoy improved stability and performance without having to worry about their shoes becoming worn out too quickly.
The enhanced durability of the Nike Qlok replacement spikes is due, in part, to the unique construction process used by Nike engineers. The unique combination of materials allows for a much more secure fit when placed into any shoe sole with an accompanying spike plate system.
In addition, the material also provides superior grip on turf or dirt surfaces compared to standard metal spikes.
This increased longevity makes them ideal for both professional and amateur athletes who need reliable footing during sports competitions.
Whether it's running track events or playing soccer, these replaceable spikes will help keep you firmly planted while providing better traction than ever before.
Here are three advantages Nike Qlok replacement spikes offer:
Increased Durability – These specialized spikes have been designed to last up to five times longer than traditional models, allowing athletes to rely on them season after season.
Improved Performance – With superior grip and increased stability, runners and players alike can expect improved results from using this innovative product.
Enhanced Comfort – Not only do they provide exceptional support but they also allow for maximum comfort thanks to their lightweight design and breathable fabric layers.
Nike's Qlok replacement spikes offer an all-in-one solution for those looking for improved stability and performance without sacrificing quality or style.
For anyone seeking a dependable, long-lasting alternative to traditional metal spikes, these replacements should be at the top of your list!
What are the Different Types of Cleats?
Since you already know about how to change spikes on Nike golf shoes, it will also be really helpful to learn about the different types of cleats.
There are three types of golf shoe spikes and they are the metal spikes, rubber spikes, and ceramic spikes.
Let us find out the difference between the three in this section!
The metal spikes are the first type of golf cleats created. They are just like metals posts screwed in the outsoles of golf shoes.
Metal spikes are undoubtedly the most durable among the three types of golf shoe spikes, but they are also the most destructive on the golf course.
Also, metal spikes are the heaviest so you may find yourself walking weirdly and uncomfortably while wearing a golf shoe full of metal spikes.
They can also affect your swing because your mobility is compromised.
Rubber spikes are made from a polyurethane material, and they are the most famous golf shoe spikes in the market today.
Furthermore, rubber spikes are the least expensive of the three and the most flexible.
Unlike metal spikes, they are more lightweight, so they cannot affect your swing. They are also kinder to golf courses.
Golf shoes with ceramic spikes are the most expensive among all.
They have longer wear-and-tear unlike the rubber spikes, and they are not that heavy as the metal spikes.
So, you get the best of both worlds, right?
Better Spikes, Better Traction
It's important to change your golf spikes regularly, especially if you're an avid golfer. Replacing worn-out spikes will help keep your feet secure while playing and prevent any slips or falls on the course. You must always be observant about the condition of the spikes of your golf shoes.
By taking care of your shoes and replacing their old spikes with new ones, you can extend the life of your golf shoes, saving yourself time and money in the long run.
Did you know that according to a recent survey conducted by Golf Digest magazine, 79% of amateur golfers who changed their own spikes reported improved overall performance? They are the ones responsible for traction so you can give your best swing.
With damaged spikes, you cannot fully grip on the surface, making you less stable to achieve a powerful swing. So take some time out of your day and make sure those golf shoes are up to par!
Remember: changing spikes isn't just about looking good; it's also about improving safety and performance when I'm out on the green.
Last Updated on May 17, 2023 by Paul Roger Steinberg