To ensure your clubs' condition, you have to know the proper ways to display golf clubs. Since we all know how expensive clubs are, it is advantageous to keep them safe to avoid replacing them frequently.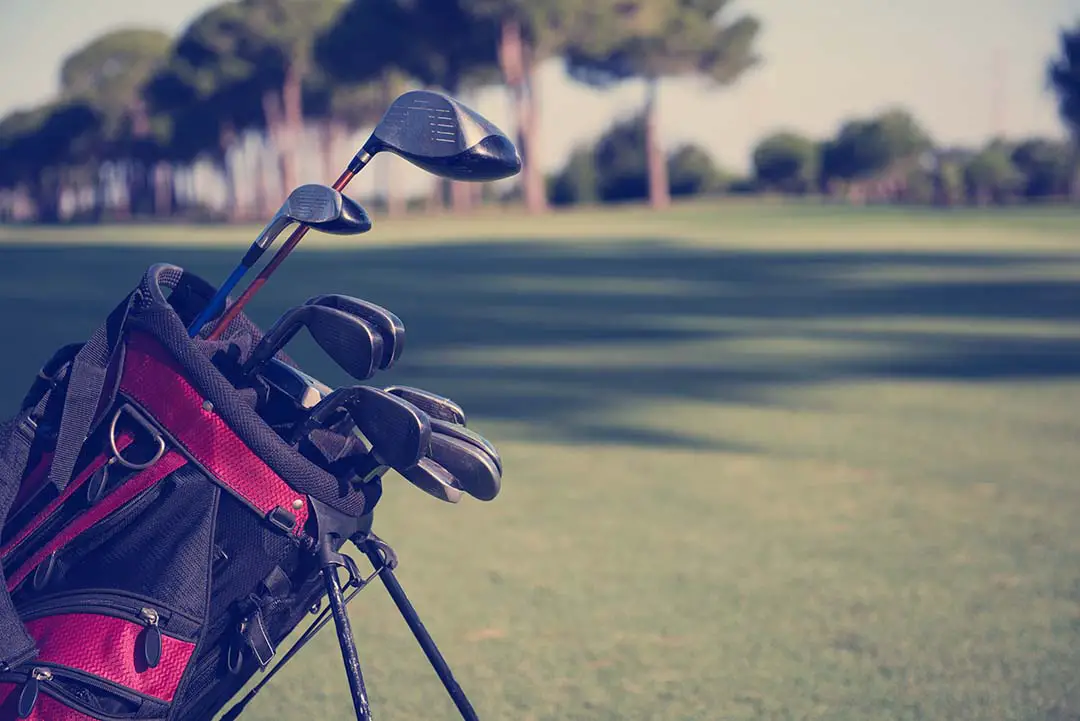 Aside from this fact, it is also valuable know-how if you want to show off your gears.
Best Ways to Display Golf Clubs
For some golfers, their clubs are more than gears. More than a piece of equipment, some golf clubs also play a sentimental value in a golfer's life.
These can be the golf clubs you have used in your tournaments, or maybe it is an autographed club from your favorite Tour player.
For some, it might also be golf clubs that their fathers or grandfathers have used over time. Fortunately, there are ways to display golf clubs and your gear collection in a secure and stylish way.
Use Racks
A rack is a framework of wood, steel, or wires where you can put and organize your golf clubs. Golf club racks vary according to sizes, purpose, and design.
Open Frame Rack: Since it is accessible, it allows you to easily restore the golf club if needed. It also provides good airflow around the club, which is essential in preventing rust accumulation.

Transport Rack: This form of a rack is easy to transfer from one place to another. You can quickly transform it from a stationary rack into mobile transporting.

Portable Rack: This kind of rack is suitable for set-ups that require frequent reconfiguration.

Round Rack: It allows you to arrange your clubs with ease according to their height.
You can also use adjustable grommets that will serve as a club holder that hangs the grips of the clubs.
One of the most flexible ways to display golf clubs as you can easily insert the grip on the holes.
Using a golf club rack is one of the most common ways to display golf clubs if you frequently use them. It is primarily because you can easily determine which golf clubs you're going to use and which needs cleaning.
Wall Hanging Display
If you have an antique or vintage golf club, the wall hanging is one of the most suitable ways to display golf clubs. By wall hanging your clubs, you can show off your collectibles with might.
Along with this, you can also make use of frames or cases to exhibit your clubs.
Shadow Box: It is an enclosed glass-front display usually made of wood. You can use it to display and view golf clubs in your home. A lot of golf courses also use this to display clubs with sentimental value.

Open Frame: This design optimizes airflow but still highlights the beauty of your golf clubs. Furthermore, it maximizes space and grants accessibility in retrieving golf clubs.

Wall Metal Hook: This is a cost-effective way of hanging your golf clubs. You can personalize and design it the way you want it to look like.
Displaying your clubs by wall hanging gives an industrial vibe to your home, office, or room. Hanging and showing off your clubs can be a great accent to your wall.
A lot of golf courses also use this way to decorate their lobbies and reception areas.
Wall Mount Display Rack
It is basically a rack attached to a wall that can serve as a holder for your golf clubs. You can easily install it, and it helps save a lot of space in your room.
It keeps your golf clubs out of your way and while having the ability to arrange them according to type and purpose.
Some of the most popular wall mount rack designs are:
Vertical

Horizontal

Downslat
This combination of rack and wall hanging idea is the perfect way to display golf clubs without accumulating too much space.
How to Choose the Best Display for Your Golf Clubs
Since there are several ways to display golf clubs, what are the factors to consider in displaying your clubs?
There are distinct ways to display golf clubs based on their different purposes and uses. It would usually depend on how frequently you use your golf clubs.
Some people display their clubs for the sole purpose of storing it and keeping it from deterioration.
While some seasoned golfers particularly highlight their limited edition set of golf clubs. They use displaying techniques as an accent to their home or their offices.
Since you use many clubs, it can take up space from your house or office. Hence, you should decide whether you want to hang it or keep it inside a shelf or rack.
Measure your golf clubs' overall length and width to determine where it is best to display it.
Your clubs must always be kept inside your house to avoid extreme heat. If placed inside the car, it can sustain damage and breakage from heat.
The humidity and heat inside your car's trunk promote rust and breakdown of glue in the grip. Thus, keeping it inside your home with controlled temperature prevents potential damage to your clubs.
It is where personal preference and taste comes in. Decide what color or type of material you want to use for your rack or shelf.
Do you want it to be arranged vertically, horizontally, or diagonally?
Would it look good on a certain wall color? For this criterion, it is more about the aesthetic and appeal of your club display.
The golf club itself is already expensive, so investing in storage or display is a must.
You want to keep and maintain it longer. By having a rack, wall mount case, frame, you can ensure the security and safety of your golf clubs.
Show Off Your Clubs!
Your club plays a vital role in your engagement in the sport. As much as it can improve your game performance, it can eventually become your source of pride and confidence.
Thus, you must take care of it properly. You are not only showing off your clubs by finding a special spot for them; it can also prolong their lifespan.
Make sure to apply the ways to display golf clubs above and become more confident in every round!
Last Updated on March 2, 2023 by Paul Roger Steinberg