With the increasing popularity of golf, newbies and seasoned golfers no longer have to worry about the availability of golf balls for sale.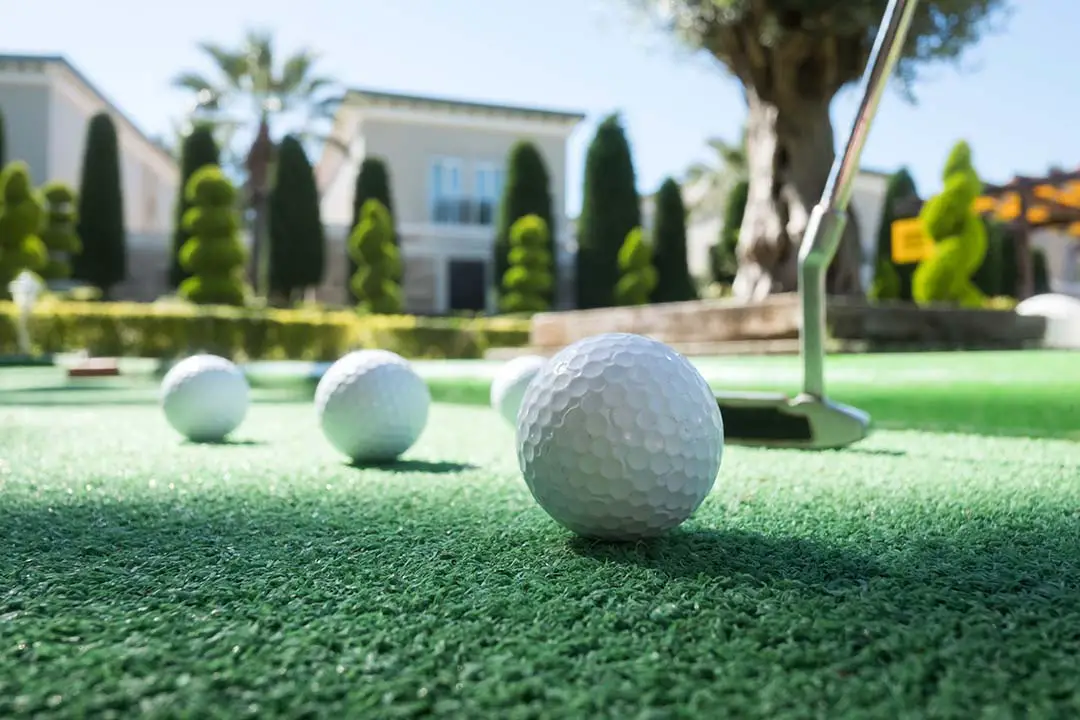 This small item's massive demand has caused major golf manufacturers to redesign their golf balls and distribute them across thousands of physical stores.
But what makes this benefit even more exciting is that you can now easily order and browse through a vast collection of golf equipment online.
Many golfers, especially beginners, tend to overlook the significance of choosing the right golf ball for their game style.
However, this typical error can make or break your performance on the golf course.
So do not be fooled by their tiny appearance because these golf balls' quality and material play a massive role in boosting your games.
Today, we will look at the best golf balls for sale in the market over the past year. I have tried these golf balls before and highly recommend them to those who want to improve their gameplay.
We will also dive into the various aspects you would need to consider when choosing the perfect golf ball in the market.
What Are The Best Golf Balls For Sale?
Whether you are a beginner or a professional golfer, knowing the best golf balls for sale can give you an added advantage over your competitors.
In this section, I have highlighted the unique characteristics of every golf ball on sale in the market. Below is a list of the most notable golf balls in 2020:
First on our list of the best golf balls on sale is the Bridgestone e6. This golf ball is known for its enhanced stability while maintaining its soft and comfortable grip.
It is one of the most sought out golf balls for mid to high handicappers who want to achieve a consistent flight throughout the game.
Disappointing hooks and slices may limit your performance on the golf course. But with this golf ball, you can say goodbye to these errors and focus more on your shot execution.
Maintain a straight and consistent flight
What stands out the most about this premium golf ball than other golf balls on sale is its ability to maintain a straight flight in the air.
Amateurs are in love with this particular feature because it increases the distance and enhances their golf ball's spin without sacrificing its feel.
Excellent three-piece design
In contrast to its predecessors, the Bridgestone e6 uses a three-piece golf ball design to ensure its performance on the golf course.
It has a new and improved anti-spin mantle in between its rubber compression core and soft Surlyn cover, reducing the likelihood of side spins off the tee, as well as during long-iron shots.
Next on our list of the best golf balls on sale this 2020 is the TaylorMade TP5.
This manufacturer is known for its best-selling drivers. But its golf balls have also captured the hearts of many golfers.
Are you wondering what makes the TaylorMade TP5 series an excellent golf ball?
Compared to the past golf balls we have discussed, the TP5 and TP5X have a five-piece ball design to maximize their spins.
But wouldn't increasing your golf ball's layers decrease its performance? Well, worry not because the TaylorMade TP5 series' five-layer characteristic has an added advantage.
You can now adjust your spins while using your short irons or driver.
Aside from its unique five-piece ball design, the TaylorMade TP5 series also provides you with higher launch distances while minimizing its spin off the tee.
Similarly, this golf ball also has an excellent and soft feel, especially on the greens. You can also expect improved distances and performance with your putter and wedge.
The Callaway Chrome Soft is another popular golf ball for sale in the market. Unlike the Bridgestone e6, lower handicap golfers can make the most out of this golf ball.
With Callaway's newest and most in-demand golf ball on sale, almost anyone can experience what it feels like to become a pro.
This high-end golf ball is perfect for slower swing speeds.
On top of that, its three-piece ball design boasts of a Soft Fast core and DuraSpin cover, resulting in a low-compression golf ball that can go from low to high spin rates depending on the club you use.
Sounds exciting? Well, its surprising features do not stop there! You can also get this golf ball at a seemingly reasonable price.
Now, you no longer need to limit your potential.
Better speed and stability
Generally, golf balls with a softer feel tend to be slower and less stable. But the Callaway Chrome Soft defies this common thought.
Its Soft Fast core provides you with enhanced ball speeds, while its unique Hex dimple feature allows consistent flight and stability in the air.
Enhanced performance on the greens
Lastly, the Callaway Chrome Soft has made a name for its own because of its excellent performance on the greens.
It is a perfect combination for chips and pitches due to its consistent spin rate, especially during short games.
To cap things off, the last golf ball on sale on our list is the Titleist ProV1. Among the golf balls mentioned above, this particular brand is the most used golf ball worldwide.
It has a three-piece ball design and a thinner and more enhanced cover, giving it a better spin profile and increased distances, especially around the greens.
Where To Get The Best Golf Balls For Sale Near Me?
Now that you know the best golf balls for sale in the market, you may have asked yourself where to get golf balls for sale near me?
Well, do not fret because many golfers have also wondered about the best shops for their golfing needs.
In this section, I will answer your question about where to get high-end golf balls on sale near me.
I will provide you with some of the most popular and accessible shops around your area that offer the most affordable golf ball prices in the market.
Below are five of the highly-renowned stores:
To answer your question of where to get the best golf balls for sale near me, the most obvious way to go about it is by getting them from their physical or online stores.
Bridgestone, Callaway, TaylorMade, and several other popular golf ball brands allow you to browse through their vast collection online.
You can also visit their physical stores to see their products up close.
One advantage of purchasing your golf balls in their shops is that you can be assured that their products are of high quality.
You can also ask their staff about their golf balls, especially if you are new to the golf scene.
Now, let us move on to the next shop you may visit around your neighborhood – Target. This local store is known for its extensive array of products retailed at affordable prices.
So it is safe to say that Target is an excellent answer to your question of where to get the best golf balls on sale near me. You can also visit Target's website and place your order online.
Although they have fewer golf ball choices, they have some of the best brands and can deliver your order to your doorsteps in no time.
If you asked yourself where to get golf balls for sale near me, then you may have thought of visiting Walmart. After all, Walmart is one of the biggest retail stores in the country.
Fortunately, they also have the best golf ball brands in their stores. So make sure to visit the nearest Walmart storehouse in your area if you have ever wondered where to get golf balls on sale near me.
Costco is also an answer to your question of where to get golf balls on sale near me.
Like Target and Walmart, Costco also allows you to get the best golf ball brands in their physical or online stores.
So if you are still wondering where to get the best golf balls for sale near me, then head over to Costco and see its magic.
Are you still thinking about where to get the best golf balls on sale near me? Compared to the previous stores we mentioned, you can only order golf balls from Amazon online.
But unlike Target, Walmart, and Costco, it has a broader array of items for sale.
How To Choose The Best Golf Balls For Sale?
When choosing the best golf ball in the market, you need to consider various aspects to ensure that you get your money's worth.
However, expensive golf balls do not necessarily mean better game performances.
In addition to this, it may get a bit tricky identifying the perfect golf ball for your game style, especially since almost all golf balls look the same.
So here are some of the essential factors you need to look out for during your search:
The number one thing you should consider when buying your golf balls is their performance. Generally, the three aspects of ball performance include the distance, control, and spin rate.
For instance, more rigid golf balls tend to travel greater distances when hit with a driver. Generally, this type of golf ball gives you an added ten yards.
But they may be much harder to control around the green. Meanwhile, golf balls with enhanced control usually have reduced spins upon contact with the golf club.
Hence, this type of golf ball is perfect for golfers looking to minimize their hooks and slices.
Aside from ball performance, your preferences also come into play when choosing the right golf ball.
If you have read the sections above, you may have noticed that golf manufacturers prioritize their products' feel. This feature allows premium golf balls to deform upon contact with your golf club.
Generally, lower compression golf balls tend to have higher deformation capacity, allowing lower handicap golfers to travel longer distances.
Meanwhile, amateurs and professionals would prefer high compression golf balls because of their quicker and much harder swings.
Your golf ball's cover material is another essential factor to consider. Nowadays, golf balls may consist of a Surlyn or Urethane cover.
Surlyn-covered balls are more durable and scratch-resistant than Urethane-covered golf balls. However, the latter provides you with a better feel and spin control.
Furthermore, the dimple pattern on your golf balls also plays a role in their performance. Generally, balls with fewer dimples achieve a higher trajectory than those with more dimples.
Next up on our list the type of game you are playing in. Some golf balls perform better in short games, while others achieve optimal performance during long games.
Lastly, it would help if you also considered your golf ball's price. Remember that expensive equipment does not necessarily mean better gameplay.
You can still release your inner potential with affordable golf balls for sale in the market without sacrificing your game style and performance.
Wrapping It Up!
With various golf balls for sale in the market, choosing the right one for your game style is one of the most intimidating tasks a golfer can have.
Almost all golf balls have the same appearance, so understanding how you play and your golf ball's performance and characteristics can influence your gameplay.
Overlooking this simple rule is a massive gameplay error and can make a huge difference to your golf ball's distance, spin profile, and control.
So before heading over to the nearest golf store in your area, make sure to do some research.
And remember, not all expensive golf balls are worth their price.